Jane Russell's Height
5ft 7 (170.2 cm)
American actress, best remembered for roles in Gentlemen Prefer Blondes, The Outlaw, The Paleface, The Las Vegas Story and The Tall Men. A 1941 The Sun article described her height and weight:
"Jane is 20, 5 feet 7, and weighs 122 pounds"
and her vital statistics were commonly reported as Bust Size: 38 D cup, Waist 24 inches, Hips 36 inches.
I'm five feet, seven. I'm short waisted and long-legged and I have as many figure problems as any woman. The average woman is five feet, four, with medium waist and medium length of leg. If she has a figure problem, she can solve it by diet, exercise, massage...but when you're tall, short of waist and long of leg, there's just nothing you can do about the problem except try to correct it by proper dress.
-- Hartford Courant, 1952
You May Be Interested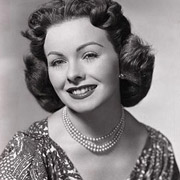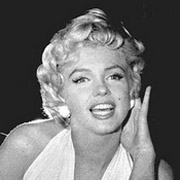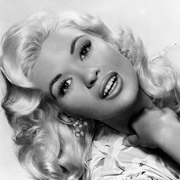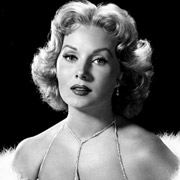 Add a Comment
24 comments
Average Guess (9 Votes)
5ft 7.03in (170.3cm)
J2Frenzy
said on 23/Nov/20
What does short waisted mean? She mentioned it in one of those quotes

Editor Rob
short of waist...just another way of saying a small waist.
The French Dude
said on 8/Aug/20
5ft 8 to me!, Marilyn was between 5'5.5 and 5'6(proved) and Jane looked way taller!, both beautiful.
Arch Stanton
said on 10/Jun/20
Jane was supposedly highly intelligent, spoke five languages and played the violin. I'm not sure I believe the IQ of 163 but but she was certainly far more intelligent than you would assume.
Mouse22
said on 14/May/19
The height difference between Marilyn Monroe and Jane Russell looks about 2 inches which would make the listings here just about right. I don't know which film people saw who claim Marilyn barely came up to Jane's shoulders but it wasn't the movie I watched. Jane was certainly tall but not so tall to make other actresses look tiny.
Rojina
said on 22/Jan/18
I ve always heard the name but couldn't place her face. She's stunning
Arch Stanton
said on 15/Sep/17
Minimum 5 ft 7 barefoot with Mitchum in shoes in His Kind of Woman, she was about 6 inches shorter.
Lee168cm
said on 26/Jul/17
I doubt marilyn came up to Janes shoulders that would make her around a foot shorter than Jane. Marilyn was easily 5'5 and a half and looked quite tall in heels. Plus I saw gentleman prefer blondes and marilyn wasn't much shorter and both wore equal sized heels. Scarlet I saw your comments on marilyns page and wonder why your tying to downgrade her so much? I sense abit of jealousy here
Scarlett Rose
said on 12/May/17
Marilyn Monroe only came up to Jane Russell's shoulders in Gentlemen Prefer Blondes and Marilyn was wearing 4 inch heels at least. Jane Russell was tall, Marilyn was not. Remember Jane Russell starred in the sequel, which was called Gentlemen Marry Brunettes, but it never gets shown, because Marilyn is not in it.
Sandy Cowell
said on 24/Mar/17
Love the black halo of hair and the pose! My Mum used to pose like that! I wonder if she harboured a secret admiration for Jane?
She had a beautiful slim figure and I can believe the 8st10 weight and 24" waist!
5ft7 for a woman then was usually only achievable in high heels! She was tall for her time - tall and smouldering!
Arch Stanton
said on 26/Mar/16
Rob, can you add her measurements, reportedly 38D-24-36. Those are impressive aren't they? Can you think of anybody with more impressive stats from that period? 44 DD-18-40 LOL. I think you could argue 5'6.5 at times but did look this with Marilyn.

Editor Rob
yes I've seen those figures mentioned from that era...after an hour of close examination I can conclude they are probably correct.
Arch Stanton
said on 26/Apr/14
Rob can you add The Paleface, The Las Vegas Story and The Tall Men? She played Calamity Jane in The Paleface. She's not much shorter than Bob Hope in it
Arch Stanton
said on 1/Sep/13
Good lord, she didn't age well...
Arch Stanton
said on 1/Sep/13
This gentleman prefers the brunette to the blonde in Gentleman Prefer Blondes!
Arch Stanton
said on 1/Sep/13
Spot on, about 1.5' on Monroe in Gentlemen Prefer Blondes.
Maximus Meridius
said on 19/Aug/12
Rob is it possible he was 5ft 6in in her later years she was defiantly 5ft 7in when she was younger.

Editor Rob
always likely ladies lose height as they enter elderly life
Tdub
said on 12/Sep/11
If you look at Russell's shoes in Olympic team workout scene in Gentlemen, het shoes were hellahigh. Monroe's weren't as high which may explain height difference
gregory lehmann
said on 17/May/11
Sure handcuffed the panel on her 1962 "What's My Line?" "mystery guest" appearance,battling a nasty coughing chest/head cold,but panelist Karl Malden fired a 50 footer at the buzzer to guess Russell. (Jane's scratchy bronchial hacking cough from her chest/head cold opened the door for Malden to nail Jane.)
jtm
said on 6/Mar/11
rip jane russell. i would say she was 5'7 maybe a tad over and i think marilyn monroe was 5'4.
Matt
said on 1/Mar/11
I agree with the other posters...about 5'9". She looked a LOT taller than Monroe.
Dianne
said on 26/Dec/10
Yes, I agree with an earlier post...Jane looks more like 5'9" than 5'7". I am not simply basing this on the Monroe comparison, but the men in some of her movies. Maybe I am deceived by the heels...who knows.
anon
said on 18/Apr/09
Marilyn was 5'5 and a half, so I think she's about 5ft9.. this needs updating.
September
said on 7/Sep/08
I think she was taller than this- she dwarfed Marilyn Monroe by a good 3 inches in Gentleman Prefer Blondes; especially in their opening "Little Rock" number where they were wearing the same shoes. It's very possible she lied about her height to get more work- a 5'8 1/2"ish woman would have been very tall for the 50s.
Zoe
said on 22/Jun/07
I'd say she is (or was back in her days) about 5'7-5'8. She looks more than an inch or two taller than Marilyn Monroe in Gentlemen Prefer Blondes, and Marilyn was 5'5, so yeah, probably 5'7.5.
Viv
said on 20/Apr/06
Yes, I always thought she looked in the 5'7"-5'8" range, too. Perhaps, she rounded down a half inch or so? Only a handful of actresses in that era were that tall.