Jeff Kober's Height
5ft 11 ¼ (181 cm)
American actor best known for playing Sgt. Evan 'Dodger' Winslow on TV series China Beach. In film he has appeared in Tank Girl, A Man Apart, The Hills Have Eyes II and Alien Nation. In this convention photo he had cowboy boots, which were an inch thicker than my sneakers.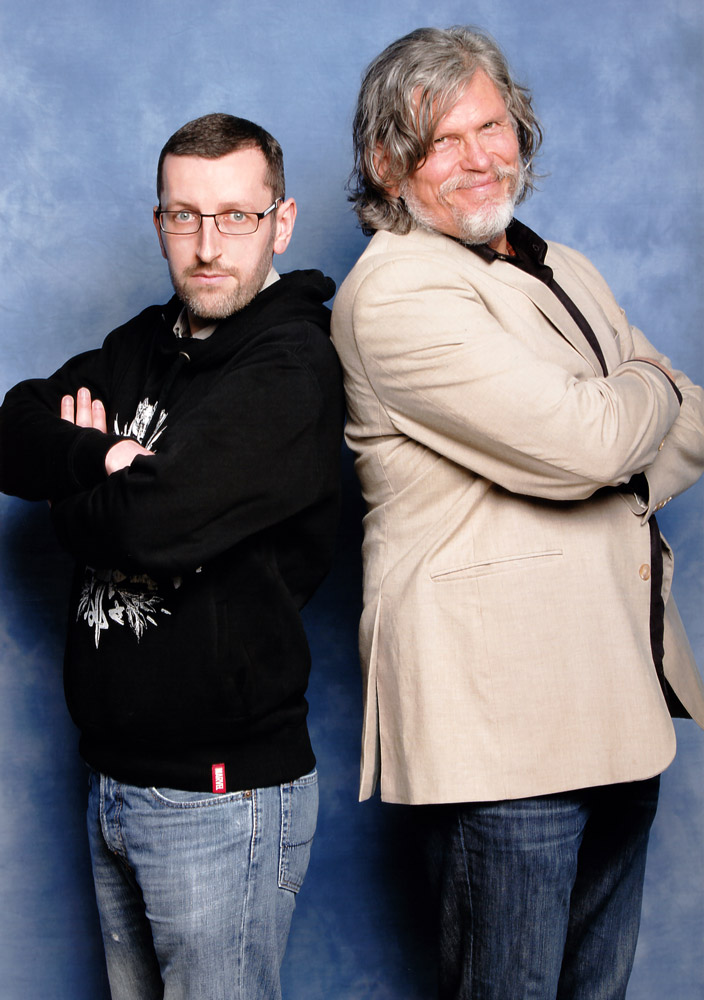 5ft 8 Rob and Jeff @ Collectormania 2014
You May Be Interested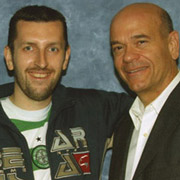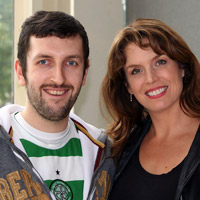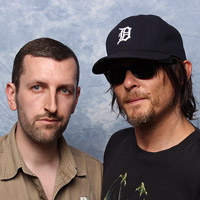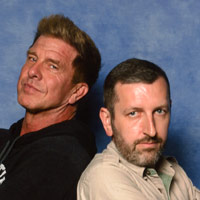 Add a Comment
34 comments
Average Guess (21 Votes)
5ft 11.52in (181.7cm)
Peter 180cm
said on 9/Feb/21
180cm flat.
Eric W Tam
said on 28/Dec/20
Wow so Google has him as 5'10, apparently he's only 5'11 and change, but he looks 6'1 here next to Rob! I would think he would be over listed by an inch or two on Google if he can look this tall next to a 5'8 guy with some subtle tricks.
Man of culture
said on 15/Jul/20
Rob, over the time I've spent on this site apart from height I've also noticed your hairline receding slowly over time and now it looks just like my father and also you're looking better and better with every convention shoot, what's your secret rob 😁📸👌

Editor Rob
The photos on the site span from age 29 to 43, so it will be interesting to see in the future some more changes. A bit of recession and more grey hairs is a natural progression through my 30's into 40's...I expect by early 50's I would be quite grey all over, with a bit less hair too!
Pierre
said on 22/Jun/20
Funny like this Jeff looks a lot like the other Jeff in "True Grit" (or vice versa)
Nik Ashton
said on 22/May/20
He ain't over listed!
OriginalAnon
said on 6/May/20
He's still not standing straight. I think he could be over this listed height quite easily.
Canson
said on 20/Jan/19
@Zampo: that's a good estimate. Probably like Rob where he could be 5'11.25 at lunch and 5'11 1/8 a couple hours later
Christian 6'5" 3/8"
said on 18/Jan/19
Good listing, he looks a good 3 inches taller than Rob.
Zampo
said on 16/Nov/18
Somewhere between 5'11-5'11.25 in the afternoon. I think he is a solid 5'11 range. 5'11.25 at lunchtime, I could see.
Sandy Cowell
said on 15/Oct/18
He's a chunky -ucker, isn't he? Ooh! I wouldn't wish to mess with him!
Did I just say that? I'd better run and hide!
Jeff gets (back!*) a full 6ft!
For the younger among you, there was a musician in the Yardbirds called Jeff Beck!
Rourke
said on 30/Jul/18
Often looked 6'1.5 Potter in the eye
Sandy Cowell
said on 23/Jun/18
Totally cool picture, Rob!
He looks the said height (5ft11.25) AT LEAST! In fact, I think he could well be 5ft11.5+, so that is what I will put for him!
Jim
said on 22/Nov/17
gotta pity the guy. he's listed over an inch below his actual height, by google.
Jim Hopper
said on 2/Nov/17
Always reminds me of lead singer of the Cult
Colberto
said on 2/Sep/17
He looks 6'0"' range with advantage but 5'11" is what he really is barefoot.
World Citizen
said on 31/May/17
Exactly as listed.
Dmeyer
said on 7/Sep/16
At night i am usualy 4-5mm over 5 ft 11,25 , so 5 ft 11,5 is closer for me than 5 ft 11,25
Sam
said on 19/Dec/14
Yeah, he does look like he could be related to Josh Brolin, more so in the photo than otherwise. I think part of that is due to the beard, which tones down Kober's scary cheekbones and makes him looks somehow less creepy.
Andrea
said on 4/Nov/14
He looks about 6' with an inch more advantage, 5'11-5'11.25 is fine but he's not over it! Connor noway he's 181.5-181.6, Dmeyer would be taller for sure, probably at least a cm!
Arch Stanton
said on 4/Nov/14
Now this guy looks more like he could be Josh Brolin's dad than James Brolin!!
Matt 5'10
said on 31/Oct/14
Looks 182cm but he have a big head
Connor183
said on 28/Oct/14
If he's not 182cm then he's got to be pretty damn near it, i bet he would measure 181.5-181.6cm in midday like Dmeyer.
Connor183
said on 26/Oct/14
Well the guy is definitely a strong 5ft 11 thats for sure, 181.5-182cm id say.
Connor183
said on 25/Oct/14
Rob could 182cm be possible for Kober?
[Editor Rob: not today, he looked near 6ft mark, but not 6ft 0.5, but minus his advantage I believe around 5ft 11.
as I said below,
This guy
is 5ft 11 in person and claims it on his acting page, but Kober's no taller in that pic...yet has nearly 1-inch more footwear, so in that photo he can look sub 5ft 11.]
Connor183
said on 25/Oct/14
Rob is 182cm possible for Kober? or do you think he could be just under it? to me he looks like he's in the strong 5ft 11.25 range and could pull off looking 5ft 11.75.
Judd
said on 25/Oct/14
does look 6'0.25-0.5" with large boots so 5'11.25-5" is fair
Danimal
said on 24/Oct/14
Even taking into account the 1" footwear difference, I still see him at close to 6'0".
[Editor Rob:
here is another jeff
(still in cowboys) with a guy (in normal shoes) who is/claims 5ft 11, although it's the same guy who was only up to the mouth of tom noonan ;)]
Connor183
said on 24/Oct/14
He looks 6ft-6ft 0.5 range in the boots, so yeah 5ft 11.25 barefeet for Jeff is spot on.
Rampage(-_-_-)Clover
said on 24/Oct/14
He looks 182cm
the shredder
said on 24/Oct/14
I knew I knew this guy , The Walking Dead , Rob should bite his neck lol.
Emmett
said on 24/Oct/14
Him next to Norman Reedus is pretty much how I look next to my Dad. My dad is Reedus's height, 5'9.75, and I think I would just edge out this guy.
GP
said on 24/Oct/14
I remember him being taller than Vin Diesel in a man apart by an inch and Diesel still had his usual chunky boots. Rob do you think that Diesel should be downgraded?
[Editor Rob: Kober's a fan of cowboy boots, I can't remember much of man apart though.
Here's pic of Kober in China beach days with
Tall Actress Nancy Giles
who claimed 6ft 1. At this event he looked right about 6ft, but with cowboys in 5ft 11 range. Here with
Gigi edgley
that weekend.]
Alex 6'0
said on 24/Oct/14
By looking at him he looks 6'0 range but with cowboy boots so minus an inch 5'11-5'11.25 is right
Sam
said on 24/Oct/14
He's a really good character actor, an expert at expressing intensity and sociopathic evil. He looks more like The Dude in the photo though.
He looks six foot range due to his boots here...in his recent turn in The Walking Dead though, you could see there wasn't a whole lot of difference between him and Norman Reedus or Andrew Lincoln.