American Actress best known for playing Catherine Black on TV series Millenium. She has also appeared on Hill Street Blues and China Beach. In this photo, Megan had about 1.5 inches more footwear than me.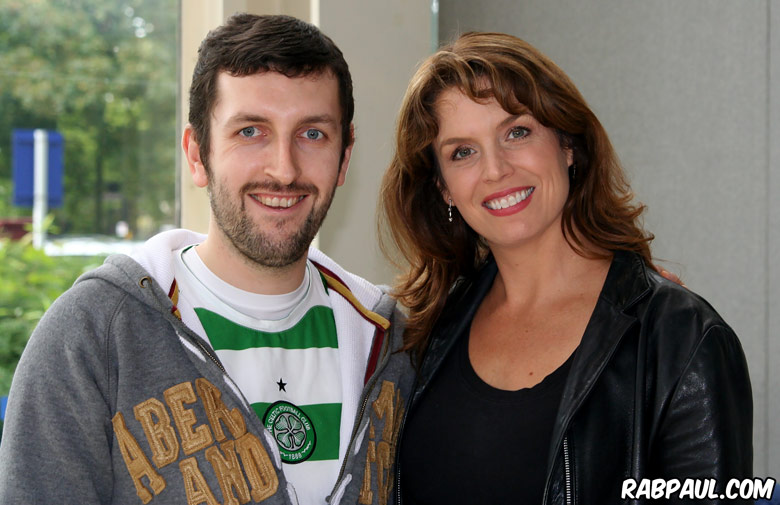 5ft 8 Rob and Megan @ Collectormania (2nd Oct, 2006)
Miss Sandy Cowell
said on 30/Apr/22
Millennium was an offshoot of The X Files, and very good it was too!
5ft6.25, which is almost as tall as Lance Henriksen, who played her husband.
Elene
said on 1/Sep/21
Looks clearly shorter here
JohnMoore-162cm
said on 11/Jul/20
I do feel she's closer to 5ft6 flat
Nik Ashton
said on 26/May/20
@ Rob - How much height will she have lost with her lean?
It's great to give Megan her 25th comment!

Editor Rob
depends how much you tilt your head, sometimes if you have ample hair, a small tilt might have little effect, but a bigger tilt could knock 1/2 or 1 inch from your height...in any case in person she was closer to 5ft 8 than 7.
Nik Ashton
said on 9/Feb/20
@ Mathew - I think you've gone too low, just look at her lean!
Nik Ashton
said on 1/Sep/19
I am ultra confident she is at least 5'6.5" when she is stood at her tallest!

Editor Rob
She is either 5ft 6 or 6.5, on Millenium at times I'd have said with Lance she could look anywhere in that range.

Nik
said on 19/Sep/18
Megan sure can pull off 5'6.5"!
Sandy Cowell
said on 15/Dec/16
I watched a film last night called 'In the Hands of a Stranger' wherein Megan played a young Mum who turns her back for a moment to find her tiny daughter has been snatched. What a horrible subject for a movie; it certainly makes you sympathize with the poor parents who live through this nightmare.
Anyway, I truly thought that Megan was much smaller from her appearance in this film. I would have gone as low as 5ft3, and definitely no taller than 5ft4.5! I also have the 'Millenium' series 1 to 3, which I haven't seen for a while. I saw 3 episodes in the summer, but Megan was barely in them so I couldn't take in her height.
She featured largely in the film though and I could have a good look, but I was very wrong indeed! I did read some time ago that certain styles of long hair can create a false impression of a shorter height. Maybe that's what happened in this case. I must say, I do pay a great deal of attention to hair as well as height!
John
said on 15/Jan/13
I find her very attractive. Perfect height range for a woman. 5'6-5'7 = ace.
richkid123
said on 19/Nov/12
Looks correct. She is aginng very welll.
Julian
said on 27/Mar/11
it's funny,the photo is taken in a way that makes him look the celeb
Mathew
said on 26/Jan/11
there's already close to a 1.5" difference without the footware advantage - 5'6" max.
Shaun
said on 5/Jan/11
What's an "average sized heel". An inch?

Editor Rob
between 2.5 and 2.75
Anonymous
said on 15/Feb/09
her head is tilted, looks more 5'7.5
Jlee
said on 15/Feb/09
Rob!! remember that girl recently that looks shorter than you by a lot but is five seven? this girl looks taller than her standing next to u. do u agree that she looks taller?

Editor Rob
she's got bigger footwear than torri.
Anon
said on 14/Feb/09
Was she wearing a full length leather coat in that picture?

Editor Rob
I can't remember that.
Anthony David
said on 28/Sep/08
And yes she's lovely for her age.
Anthony David
said on 28/Sep/08
Shes leaning a bit, so i upgrade it at 5'7" exactly.

Editor Rob
I now know - from asking the photographer since I wasn't 100% on it - that she was wearing heels here...
Jlee
said on 26/Sep/08
Rob, I have a question. if megan galligher wears huge heels and is taller than you, can she tell that your still taller if she took them off? If a girl wears heels and is the taller one, can they tell that they are only a little taller than someone cuz of heels or do they kind of lose judgement

Editor Rob
I think women might take account a couple of extra inches in height the heels would give them, although maybe some get confused?
Big King
said on 26/Sep/08
Rob, I guess you are kidding. She looks only almost an inch shorter than you.
Silver
said on 23/Jun/08
(in a heel I think) lol not sure about what she wore rob?

Editor Rob
I wasn't 100% sure on it.
Silver
said on 22/Jun/08
She looks hot
Charliemoto
said on 27/Mar/08
now that's what a true 169cm woman look like even with the head bent is quite clear. ;)
Austrian
said on 13/Nov/07
"Although if anybody really wanted to bump into me they could always" ...could that be a hint on your..... orientation? :DD
priscilla
said on 19/Aug/07
Rob
blocked
out because?

Editor Rob
I still go to events with celebs so I remain half
blocked
.
Although if anybody really wanted to bump into me they could always - if they happened to find themselves in London on the 1st/2nd September - pop along to the Film Convention at Earl's Court. I'll be there...
JB
said on 20/Apr/07
Nice catch, Rob. Man I had a big crush on her back during the China Beach days. I see she's still beautiful.
supes78
said on 31/Dec/06
Is she wearing braces in that pic?

Editor Rob
could be a leftover mark from wearing something like that I guess