Jennifer Love Hewitt's Height
5ft 2 (157.5 cm)
American actress best known for roles in I Know What You Did Last Summer and Heartbreakers. On tv she is well known for her role as Melinda Gordon on The Ghost Whisperer and as Sarah Reeves in Party of Five. In a 1996 Kansas City newspaper article she said
"I'm Really short, 5 foot 2 inches"
and in Parade Magazine (March 2000) mentioned - regarding TV movie The Audrey Hepburn Story - that
"I'm only 5 foot 2, so I was on apple boxes in a lot of the scenes with my leading men."
She also mentioned
"I never look at a scale, I have no idea how much I weigh"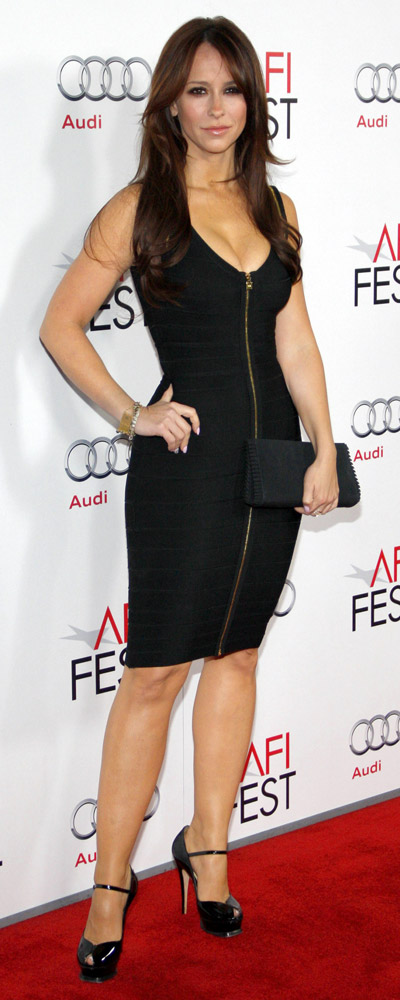 Photos by PR Photos
Add a Comment
140 comments
Average Guess (14 Votes)
5ft 1.84in (157.1cm)
Nik Ashton
said on 1/Nov/19
She is only slightly short! I am pleased to give her her 140th comment!
Littlelee5ft6
said on 22/Aug/19
Rob who has the most chance of being taller? Jennifer or Sarah Michelle Gellar? I personally believe she'd edge out Sarah if both barefoot

Editor Rob
Jennifer at times has looked similar to Sarah...it would be interesting if they were ever measured to see how close they are.
Nik
said on 14/Aug/19
She does look taller in the photograph above!
Nik
said on 11/Aug/19
H-O-N-E-S-T!
Jammes
said on 6/Apr/19
Her and Megan Fox are proof an actress doesn't need to be 5'10 - 6'0 to be drop dead gorgeous
Ben Stewart
said on 17/Jan/19
I am and have always been a big fan of Jens. Smart gorgeous talented..big or small ide happily run off with JLH.
Gladstone Screwer
said on 30/Mar/18
I first saw her in the Garfield movie. She was too gorgeous to be true. Perfection, you might say. 5'2" seems good. 💦🌽
Real Cavill
said on 14/Dec/17
This is a weird page. I'm seeing more about Jen's looks than her height and from Anonymous sources? Doesn't the screen name make you anonymous to begin with? Come on man that's just stalker worthy right there.
5'2" and looks tough as hell. Doubt most guys could handle her, but I could probably do it bros. Ahhh just kidding...but not really. Just have to watch out for her left. See how it's poised. That's her power arm.
Anonymous
said on 9/Dec/17
Shes short and Curvy. I love her😍😍😍😍
Real Cavill
said on 19/Nov/17
5'2" seems right. She looks like a nice girl, but tough. With that muscle tone, she looks like she packs a punch and that she doesn't play around with the hands on the hips and everything.
Berta
said on 13/Nov/17
She could be a fraction over this
ryan
said on 29/Aug/17
If she is very small, but that does not matter is very, but very beautiful and sensual, there are people out there very high, but they are very ugly, like the shrek ogre, so the height does not matter when you are a beautiful person .I love Jennifer.
Peter175
said on 30/Jul/17
Anything below 5'4 is short for women.
even
said on 5/Jul/17
5 foot 2 is correct
Johnson
said on 2/Jun/17
A good 5'2 a petite woman? Come on. Is just a little short.
5, 5'1 are proper short women
Sandy Cowell
said on 31/Jan/17
A few minutes later.....
Yup, Audrey Hepburn was 5ft6.5; a whole 4 and a half inches taller than Jennifer, who played her. That's quite a lot!
Sandy Cowell
said on 31/Jan/17
I saw Jennifer in 'The Audrey Hepburn Story' and never did it occur to me that she was only 5ft2! I expected her to be the same sort of height as Ms Hepburn herself! (about 5ft6 for Hepburn? I'll check!)
Richard
said on 13/Nov/16
It's strange that in the movie " Garfield " she has the same height with flat shoes as Breckin Meyer . Breckin Meyer played also with Amy Smart who is 5foot6 and he had the same height as Amy Smart in that movie . Breckin Meyer is 5foot5 and a half . How can she almost win 4 inches with flat shoes ( Ballerina shoes ) to look almost 5foot6 ?
Fray
said on 28/Jul/15
5'2" is spot on. So Pretty and so nice / professional.
mark
said on 30/Jun/15
She's gorgeous no matter how tall she is.. And of course a Texas babe..
Lorne???
said on 21/Mar/15
I really like her. :)
5ft2 is right, she is quite petite.
Flora
said on 18/Mar/15
Never knew she was short.i think she looks tall because she is wearing heels .but I still like her no matter how tiny she is.
Greg Lehmann
said on 6/Jul/14
Jenny was the fourth celebrity Vickie and I met four years ago on our California vacation. This was at Disneyland,with 5'2" Jenny wearing shorts,sandals,and a Dodgers sweatshirt. She's proof petites ARE pretty,as are other "petiteables" like Cathy Rigby,Susan Lucci,Melissa Joan Hart,Patty Duke,Patty Heaton,Jane Powell,and Barbara Mandrell.Jenny looks and feels good in anything she wears,from gowns to shorts. She's a nice woman,too. Love you,Jenny!
Greg Lehmann
said on 27/Jun/14
I guess 5'2" is Jenny's correct height,but she's small framed and small boned.Yet she's pretty.
Len
said on 12/Mar/13
5'2" seems spot on. She's a petite little thing.
Alex 6ft 0 1/8
said on 19/Feb/13
Gets listed at 5'3 sometimes too but if she claims 5'2 I'm almost sure shes no more than 5'2. Maybe 5'1.5 at worst but looks a legit 5'2 girl though
Silent d
said on 28/Oct/12
157cm and one of the hottest actresses in hollywood.
SK
said on 23/Jul/12
I saw her last year, and 5'2" (possibly even 5'1") sounds right for her. She was wearing a skirt with 4-5 inch heels, and she was average height with high heels on. She was tiny in height, but not in body type. I always thought she would be thin, but I was shocked to see how big her lower body was compared to the rest of her body. She has a very slim face, so she gives the impression of being thin when you see her sitting down, but her legs and lower body were disproportionately big when I saw her. She was very pear-shaped with surprisingly thick legs. It was weird. I thought the magazines were just being harsh when they would talk about her weight gain a few years ago, but I was shocked, too.
Chris
said on 14/Jun/12
Click Here
This is how tall she is.
Rich
said on 14/Dec/11
Here she is standing next to 5-4 Deena Kastor.
Click Here
gessy
said on 9/Nov/11
who cares.this height obsession with people is ridicules.are people that insecure they have to try and find something they think is wrong with someone to make themselves feel better?or is it ignorance?the height complex comes from all the people making fun of shorter people so don't blame small people for something society pushed on them=truth.there are things much more important like heart for one.
Silent d
said on 31/Oct/11
5 foot 2. In heartbreakers she looks 157cm next to 182cm sigourney weaver.
Person
said on 23/Sep/11
At the moment, she's 32..not 34..LOOOOL. She's so sweet though, and really pretty.
jenme
said on 31/Jul/11
I m 5'5'' she is pretty small for a girl these days. I would have thought she was way taller at least 5'4''.
Viper
said on 19/May/11
She aint 34, LOL
gregory lehmann
said on 18/May/11
Sweet! That 5'2" Jenny is.She's cute,too. And her 95 pound weight is a bit small for 5'2" women,but give 34 year old Jenny credit on keeping her weight calm. She's a nice Size 5 Junior Petite who's fun to watch.
Alex
said on 15/May/11
Min 5'1, max 5'2 for her. Shes smokin though.
gregory lehmann
said on 10/May/11
Jenny is a cute 5'2" and looks good in anything she wears,like in the Internet picture I have of Jenny in a sweatshirt,jeans,cute suntan knee/highs,and blue/white tennis shoes. You're sweet,too,Jenny!
Legend
said on 7/May/11
She's amazing :)
6'''2dude
said on 21/Mar/11
come on guys, its never always about shorter girls r hotter than taller girls n vice versa, i for one thinks that with short celebrities existing, this goes to show that u can still be hot even tough ure short
anywa, i thought Jenny is 5'7 ?? but its stated to be 5'2 ?? waw, thts i duno, i just really thought she was 5'7
Rox
said on 26/Feb/11
I've met her a couple of times 5'2'' is correct I'm 5'3'' and she's about my height. 5'5''-5'6'' when she's wearing heels. She's a very beautiful woman, more so in person than on t.v. she has a rockin' bod. I've met a few celebrities and make-up can do some wonders but she is quite beautiful in person.
Harry
said on 2/Feb/11
@mike says on 10/Dec/10
Click Here
That pic is fake... I can put a scale behind me and "proof" in a photo i'm 6'2" tall... but i'm NOT... I'm about 5'6"! I know for a fact she's quite short... I like short women and LOVE Hewitt :oP
marwa
said on 3/Jan/11
im 5'1, and i love short galz like me ,it is so weird hw ppl prefer tall galz but when it comes to men the rule is different!!!
Bon
said on 5/Dec/10
I generally find women in 5f2-5ft9 range most attractive, but it it all depends really.
yve
said on 23/Nov/10
Sorry why would only short women be sexy??? I'm just under 5'5" with nice long legs intelligent (I'm a nurse) gorgeous long thick hair, great personality, genuine person etc....all guys say on so sexy....its not in the size....its integrity sincerity confidence and how you make others feel.
MarcusTheSwede
said on 5/Apr/09
I really thought she was so much taller..strange..but it seems correct...next to Scott Wolfe in Party of Five she is few centimeters shorter then him.And he is listed as 170 centimeters so this height would be accurate.She looks taller but she is very thin so maybe that is why.
5 ft 3.2
said on 26/Jan/09
At first I thought that Jen was REALLY tiny. But when she gained weight (around 15lbs) she looked stronger, so she appeared taller than her 5 ft 2 frame.
Heightgal
said on 17/Dec/08
JLH does look 5f2 barefoot and seems of average height because she has heels on. In that picture with Glen she doesn't seem to have high heels on and often wore flat shoes when she was really young.
anonymous
said on 22/Nov/08
In heartbreakers she was 20cm shorter than 185cm jason lee and she was wearing heels. In some shots she was about 15cm shorter but she had 15cm heels on. She was towered by sigourney weaver who is 180cm. In tuxedo she was nearly the same height as jackie chan but she was wearing at least 3inch heels. 5 foot 2 is really accurate, she is really small and petite.
anonymos
said on 27/Oct/08
i think that 5'4 is nt a short woman 5'4 is average n is the perfect height. JLH seems 5'2 or smthg n btw im 5'6
FiveOne
said on 16/Oct/08
Wow . . . I thought Jennifer Love was 5'4". She just looked average height to me, but I can see her being around 5'2" now.
To Dolores: I don't believe that Jennifer was ever a size 9 or 10. C'mon, she wasn't that big! She was more likely a size 4 or maybe a 6. And cameras do add pounds . . . I'm 5'1" and weigh 97 lbs, in Misses clothes I take a 0 or 2 depending on the brand. There's no way Jen wore a 9 or 10 in my opinion . . .
Heightfan
said on 3/Oct/08
I stick with my opinion that JLH is taller than SMG. Way too much evidence in I Still Know..., Just as I said way back in '06, Jen was wearing sneaks and Sarah in heels for most of movie, and still little difference. Lots of angles. Check out my link on SMG's page of the pic of her with Maggie Grace. SMG is a very tiny girl 5'2" is generous for her, and not much over 100 pounds. It is so funny that she was Buffy, when she is so tiny!
Vel
said on 29/Sep/08
lol click the link that rentgirl posted guys!! Look at how tall Mayer is compare to Jennifer. Its obviously shes 5'2! I couldn't believe it at first but the late show also proved she is indeed 5'2.
Dolores
said on 10/Sep/08
I don't think she's been a size 2 since she was a teenager. I'm 5'2, 120 and a size 7 (everyone always says I'm "so skinny")- last year, looking at her "chubby" pics, her hips were waaaay too big to be a size 2... She obviously made that up. I would've guessed she was a size 9 or 10 at the time those pics came out, especially because of her short height.
sarah
said on 7/Sep/08
i think, shes 157, or 156..because shes soo small..the video on the late show proves it..and i think the angles in i know what you did last summer were quite bad..so smg looked smaller than her..smg is 5'2'' for sure..but jennifer is maybe actually a little smaller, just she wears heels all the time..so its quite irritating..jennifer love hewitt is 5'2'' ..
brit
said on 26/Jul/08
she's about 5'2.5'' i think..like 158, maybe 159.because she's a tad taller than smg..and smg is about 157-158..no smaller, believe me..and she looks really smaller than sigourney weaver who's about 178-180..she was about 19 cm smaller than her when they were both barefoot in 'heart breakers' because she reached her top lip..
crazybazy
said on 17/May/08
i dont thik so! Just look at her next to Iglesias in "Hero". hes 6'2'' and her being only 5'2'' that make 30 cm difference?:))I don`t thik so
Davey
said on 4/May/08
I always thoght she would be 5`5 to 5`6.Shes still attractive.
Anonymous
said on 22/Apr/08
Quote "finally, someone is honest about her height!,"
Its good to know she is honest about he height at 5'2" because she sure isnt telling the truth about her dress size. 5'2" sounds right but not a size 2
Kevint
said on 23/Mar/08
That height might explain how she's able to sport a "muffin top" waist, womanly hips (with lots of fat dimples), and still claim to be a Size 2...?
I'm not saying that to slam her, but actresses lie about their weight even morethan actors lie about their height.
Anonymous
said on 10/Mar/08
Ha, Craig Ferguson used that same bit on Rachel Bilson, who may be even littler than Jennifer.
Anonymous
said on 9/Mar/08
Click Here
Vid of her on the late late show where she was too short for her feet to touch the ground when she sat down and he gave her a stall - she's petite and beautiful!
sara
said on 7/Mar/08
come on !if she said she is 5,2 100% she is aliar because when celebs asked about their hights they dont give areal hights i think she is 5,1 but her body shape is helpin her to look taller _like my friend she is 5,1 but she looks more than 5,5 i swear
faezeh
said on 28/Feb/08
i seems taller than this i always thought she was 164 or s.th
RentGirl
said on 5/Jan/08
People Mag has her at 5'2 1'2 also.
Click Here
RentGirl
said on 5/Jan/08
USA Today describes her at 5'2 1/2.
Click Here
anonymous
said on 2/Jan/08
finally, someone is honest about her height!, i think she's the same height as sarah michelle gellar, sarah must be lying..
chris175
said on 24/Dec/07
wow, this shocked me, for some reason i assumed her to be about 5-7 lol, but after checkin out the pics 5-2 sounds about right
sf
said on 6/Dec/07
yes - you can tell EXACTLY by your own proportions just how tall someone else is! Strangely, with the same proportions, she's somehow 2 inches shorter...mmmmm...Rob, I am being a smart-ass lately...
golf girl
said on 5/Dec/07
You can tell by looking at her legs. She's 5'2"ish, for sure. I know, I'm 5'4" with her same proportions and I can tell comparing my legs to hers that she should be exactly that: 5'2". She's really cute too.
heightfan
said on 18/Nov/07
If you watch I Know What You Did Last Summer you will see that for nearly the entire movie JLH is wearing Keds type sneaks with a thin sole and SMG is wearing shoes with a small heel and SMG there is little difference in height. There is one scene after SMG has her hair chopped off that she has on sneaks and a hat and JLH is taller.
glenn
said on 11/Nov/07
2001.i think she is a hair smaller than sarah.
Anonymous
said on 10/Nov/07
she's so cute. glenn, how long ago was this? always loved her. she is 5'2-ish for sure. beautiful. great bod 4 a short girl. glenn, is she smaller than her bud sarah michelle gellar? they look about the same, maybe sarah is a full 5'2.5????
myspace celebrity
said on 6/Oct/07
was she taller or shorter than lacey chabert? if shes taller than maybe 5'6.25 with brandy
and if shes shorter than the 5'2 is perfect
Anonymous
said on 8/Sep/07
Well (on Franko's picture of JLove on NBC)..isn't that Conan O'Brien? Isn't he like 6'4"??? So it would make sense he'd tower of her..5'2" seems accurate.
supes78
said on 8/Sep/07
I just got through watching the first Last Summer movie with her and I was shocked to see that she and Sarah Michelle Geller were the same height in every scene. I thought Hewitt was around 5'6" tall for the longest time. Now I'd say 5'3" max.
Franco
said on 1/Sep/07
oh yeah i forgot to say......she's the sweetest person ever, she's totally different than most actresses who show off, shes very down to earth and funny,
saw her on LENO i was like WOW.
im sure GLENN can testify on this, she's very kind.
Franco
said on 1/Sep/07
on NBC she had big heels that night.
she's definetely 155-157cm
PICTURE
Click Here
Dunken
said on 25/Aug/07
she has AMAZING proportions, which is why most people think she's taller than average.
in reality, she's an hair shorter than her former Party of 5 co-star, LAcey Chabert and a few inches shorter than the other former co-star, Neve Campbell.
but again, her (incredible) body gives the impression she's taller than both of them.
Jennifer
said on 25/Aug/07
Are u kidding me or what? Come on! She seems about 5'7 or something!
Anonymous
said on 13/Aug/07
no way! she is taller than 157, in that movie (last summer, bla bla) she looked not that little near Brandy(1.70) so she may be 5'4'' i think!
Kathryn
said on 10/Jul/07
yes, maybe she is 5'2''.but it can´t be because if u all would take a LITTLE look at my photo every person who isnt blind is able to see that she is way taller than sarah. and sarah is never ever 5'1'' or sth. because it would absolutely make no sense! so just think of it again...
Anonymous
said on 4/Jul/07
Baby, acting is NOT the same as modeling. So, Reese Witherspoon (5'2") is short for a Hollywood actor! Salma Hayek (5'2"), Sally Field (5'2"), Natalie Portman (5'3"), the Olsen twins (5'1"/5'2"), Carmen Electra (5'3"), Hilary Duff (5'1")...I'm getting tired of writing this long list of celebrities on the shorter side.
...Stop being so ignorant. Just accept it. She is what she is. 5'2".
baby
said on 2/Jul/07
I doubt she is 157cm only? That is really short!! Especially for a Hollywood actress. She was the girl in I know what you did last summer right..she was taller than Sarah Michelle Geller..she can't be 157cm only..maybe 162?
Viper
said on 1/Jul/07
She looks 5-2 to me.
Kathryn
said on 1/Jul/07
ah, really? joke? well, then look at my photo again. jenn is definitely 4 inches taller than sarah in that one. and sarah is slightly under 5'3'' and with sneakers she is 5'3''. any questions?
leonari
said on 1/Jul/07
5'4" is such a joke...you kids have no clue...
jessie
said on 1/Jul/07
well shes definitely not 5"6.. im 5'6 and i can tell she is def. smaller. she looks taller now than she used to.. id say between 5'3 and 5'4
Kathryn
said on 29/May/07
my godness...sdarh isn´t 5'0''...5'0'' is 153 cm and that would make her 20 cm smaller than ryan phillippe who is a little over 5'7''!!and that makes no sense becuase sarah did never look like 20 cm smaller than ryan phillippe. otherwise ur blind....and jenny is way taller than her...she´s 5'4''...look at my pic!! sarah is 2.5 inches smaller than jenny and 5 inches smaller than ryan. so jenny is 5'4'' or maybea little taller.
anonymous
said on 26/May/07
she is DEFINITELY taller than sarah michelle gellar. I think even in when SMG wears heels JLH is taller than her. i think SMG is 5'0 or 5'1 and JLH is 5'1 5'2. They are both very petite and pretty!
Thomas Z
said on 1/May/07
I love her on ghost wishperers. She did put on heels on that show from time to time. I pretty sure. I noticed her taller in some scenes then in others.But who cares she not far off from the average 5ft4in white american girl. Many websites did average heights for women. In japan the average height is even smaller.
Kathryn
said on 18/Apr/07
here is the pic where where u definitely see that Jennifer is way taller than 5'2'' in contrast to "no smaller than 5'2''" Sarah M. Gellar. Check it out and u´ll see :
Click Here
Kathryn
said on 12/Apr/07
well...i would say 5'3.5'' tops. but hey...maybe she´s taller. but i don´t understand why she always gets listed in that 5'2'' -3'' corner ´cause other stars who are that height, get listed at taller heights. i even wondered about Jennifer being 5'3'' because she always looked taller in films. so i agree with ME. there is a chance, she´s taller.
me
said on 5/Apr/07
last i saw her she was wearing some tall boots and was nearly my (5'8) height so i'd guess 5'4. She is not as small i person.
Kathryn
said on 3/Apr/07
well....i take back my last comment, okay?=)well...I looked at her on some Ghost Whisperer episodes and she looks like..well...5'2'' - 5'3.5''.because she is taller than sarah michelle gellar (5'3'') but there´s not a huge height difference. u can see that in i know what u did last summer. so 5'3'' or an half inch smaller.
leonari
said on 25/Mar/07
Crazy: if you believe Love Hewitt to be 5'5" YOU ARE CRAZY!
Crazy
said on 24/Mar/07
Well i dunno but in the garfield movie in the scene in which she kisses Brekin Meyer they look about the same height + you see her shoes afterward and they are nor high heels... Meyer says he's 5'5 so shed have to be too. But who knows, if she says shes short youd think she is. on the other hand im a girl and 5'6 and id LOVE to be shorter...
Michele
said on 3/Mar/07
I dunno. SHe was on Trya show yesterday and looks a great deal taller than 5'2 sitting nect to Tyra. Didn't see her walk onstage tho'. She also looks heavier than I recall.
Dunken
said on 18/Feb/07
JLH is 5'2, 5'2.5 max.
no way she's taller than that.
Kathryn
said on 17/Feb/07
Jennifer Love Hewitt is way than sarah m. gellar , 5'2.5'',she has to be 5'5'' or 5'6''. Take a look at this photo.
ian
said on 31/Dec/06
xox, maybe those celebs think being short and petite are cute
Viper
said on 30/Dec/06
She looks dead on 5-2, nothing over that.
xox
said on 29/Dec/06
ok um why would a small person degrade their height...especially if it's a celebrity.. start using common sense.
kim
said on 29/Dec/06
yeah. i think she's around 5'3 too. i think these celebrities are too busy to measure their recent heights, some might even forgot their heights and just say their height just like they want it.
heightfan
said on 26/Dec/06
Kim, I agree she is closer to 5'3. In I Know What You Did Last Summer she was in sneaks the entire movie and was the same height as Sarah Michelle Gellar in heels. In the only scene with SMG also in sneaks JLH was at least 2 inches taller.
kim
said on 21/Dec/06
i think she's at least a 5'3.. she looks taller than 5'2 in ghost whisper.. but she's still very petite.
Alex
said on 4/Dec/06
If she said she was 5'2 then you can throw the 5'3 listing out the window because extremely rare will a celebrity downgrade themself by at least an inch. She does only looks 5'2ish anyway, very nice body though with boobs pretty big for her leaness but shes pretty hot though.
Franco
said on 16/Nov/06
oh lord....5.2 only? i thought she's like 5.5 minimum. incredible.
leonari
said on 18/Oct/06
ralph: where do you read nonsense like that?? this girl is tiny...But soooo hot. 5'6.5"..LOL... unbelievable
ralph
said on 17/Oct/06
I read she is 5'6.5"!!!!!!!
Lena
said on 5/Oct/06
Jenny is small and thin. In heartbreakers it`s visible that she`s about 1.57cm But she is one of mine the most favourite actresses,I like u
Editor Rob
said on 20/Sep/06
Back in 1996, Kansas City newspaper, said
"I'm Really short, 5 foot 2 inches"
wwildhoney
said on 15/Aug/06
she is indeed 5 feet 2 i met her at a cafe in montreal and we took a picture together and she had no heels, i'm 4 feet 11 she was a couple of inches taller not more that , and she'e pretty without make up
Glenn
said on 27/Jul/06
This is 6-5 Larry correct? lol.
Larry
said on 27/Jul/06
Glenn, 6-5 project dude: At 8 AM this moring I was 196 cms & now (just before bed), I'm 195 cms. So, I lost a full cm during the day & it was a LIGHT day. :-)
Glenn
said on 26/Jul/06
Your 6-5.a 6foot guy would look short to you.I WAS 5-7 in only a few pics.95% of the pics Im between that and 5-8 due to compression like larry sez.why would I lie about 5-8? in fact,sometimes I look taller.
Larry
said on 26/Jul/06
Well, everybody's height varies during the day. Rob convinced me of that when I took measurements of myself over a 2 week period. I'm sure the "compression" varies, but I lose a full cm (sometimes 12 mm) during the day & I average 195.5 cms tall.
6-5 project dude
said on 24/Jul/06
yea i don't think glen is 5'8 either, when i saw him he was shorter than neo compared to me by an inch perhaps, so he's round 5'7
bahbah
said on 13/Jun/06
Some times I think Glenn really isn't a full 5'8... Glenn gets stated here as 5'7-5'8, Oh yea and check this out if jackie was 5'8 and Jennifer is 5'2 it would make alot of sense. Because heres Jackie and Love
Click Here
if jennifer is wearing 3-4 heels and shes 5'2 then she looks about the right height just 3 inches short of Jackie.
But I can not explain this
Click Here
and this
Click Here
Maria
said on 8/May/06
I do think shes 5 foot 2 or 5foot 2.5 because she looks petite and tends to wear big heels. Either way, she shouldnt' have to worry about that since she does have a supermodel body.
Glenn
said on 19/Apr/06
5-3.true about that!
RentGirl
said on 18/Apr/06
what does Glen say about her height?
[Editor Rob: you think glenn noticed her height? WIth women, Glenn is only interested in one thing - smooching up to them!.... j/k ;-)]
Greg
said on 16/Apr/06
she can look anywhere from short (5'2ish) to about average (5'5ish). in "i know what you did last summer" she appeared 2 or 3 inches taller than smg. there have been other films where she looks quite small. who knows....i would guess 5'4
Pierre
said on 12/Apr/06
or seacrest is really shorter
Jake
said on 3/Apr/06
I find this picture funny, because if Ryan Seacrest is 5'9" like he claims Jennifer Love Hewitt would have to be in 6" heels, that is unless she is really taller.
Click Here
Serene
said on 13/Feb/06
She was small in Garfield the Movie wearing that red tube. Really small..could be 5'2" only??
Alex
said on 8/Feb/06
Shes petite. She could be anywhere from 5'2-5'3. Shes not under 5'2 but not over 5'3, but I've seen her listed at 5'3 often.
ice
said on 1/Feb/06
Okay, why would she downgrade her height, and she's under average height. I believe the 5'2. If she says she's that height, I believe her to be that height. Lying would not be beneficial to her. She's already tiny.
Anonymous
said on 31/Dec/05
okay .. from 5 foot 2 to 5 foot 8 is a big difference
what the hell ? hahah i think shes around 5 foot 2 - 5 foot 3
Anonymous
said on 17/Dec/05
there is no way she is 5'2''. i think somewhere around 5'7'' to 5'8''.
J.
said on 15/Dec/05
She's 5'8", eh? Hey Rob, give the woman the 6.5 inches she deserves. ;-)
Viper652
said on 15/Dec/05
What the hell??? That 5-8 has to be a typo
CelebHeights Editor
said on 14/Dec/05
From the Copley News Service,
"The smart, thin, dark and 5-foot-8 Hewitt was born in Waco, Texas"
.
heightgirl
said on 14/Sep/05
If she really is 5'2.5, why does she appear taller than Sarah Michelle Gellar in this pic?
http://tinyurl.com/88lv2
she is tiny
said on 23/Aug/05
Jennifer always had to wear heels in the movie "heartbreakers" and her co-star looks nearly a foot taler than her, she is 5"11 and i have no doubts jennifer is 5"2
link
Anonymous
said on 18/Jul/05
Question is, why would Jennifer wanna make herself shorter??
pootie
said on 31/May/05
breckin is 5'5", which is why hewitt is the same height in heels.
Anonymous
said on 3/May/05
She is 5'4 for sure. look how tall she is next to breckin meyer http://j-love.net/picturegallery/displayimage.php?album=265&pos=1558 she is 2 inches taller than alisa millano
[Editor Rob: Yes the 5ft 3 for Hewitt is reasonable, but is she downgrading her height by 2 inches...or is she telling the truth? There's a good scene where she is walking in big heels beside Sigourney in heartbreakers (and then 'falls over') and 5ft 3 does look possible, but Jennifer does love big heels a lot of the time...But breckin...he's wearing trainers and still looking short. When he's in shoes he always seems to magically grow a bit! Stiller]
CelebHeights Editor (in voice of Jennifer Love Hewitt)
said on 18/Mar/05
"[on filming the Audrey Hepburn movie] I'm only 5 feet 2, so I was on apple boxes in a lot of the scenes with my leading men"
- Jennifer in Parade Magazine.