Neve Campbell's Height
5ft 5 (165.1 cm)
Canadian actress best known for roles in Scream and Wild Things. To tv audiences she is well known for starring in Party of Five. She said on a fansite interview that
"I'm 5'5- 1/2", which is actually pretty tall for an actress. It was funny, in The Craft, I was like, this Amazon woman, because everyone was 5'1" or 5'2". It's odd that the average actress is so small."
In this photo I had an inch sneaker, Neve is in
This boot
, giving her around 3 inches.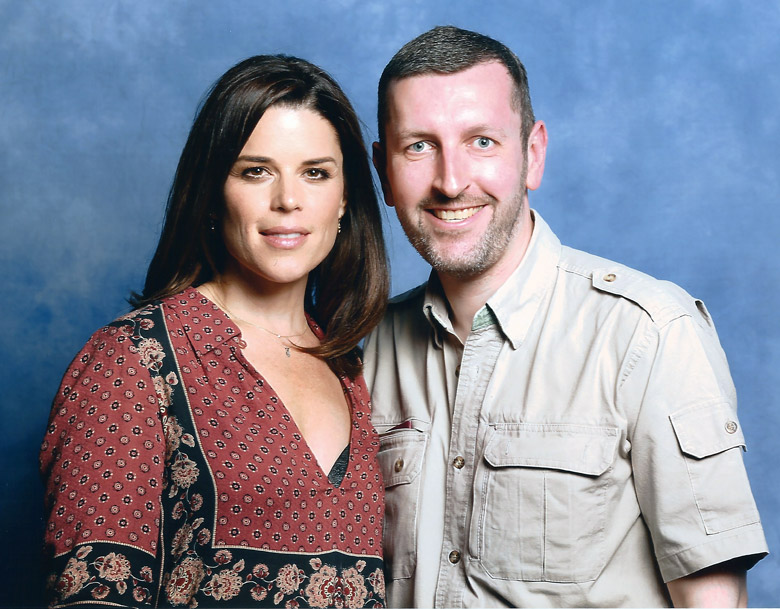 5ft 8 Rob and Neve @ LFCC 2015
You May Be Interested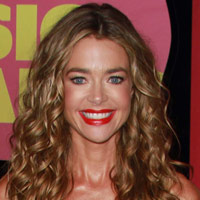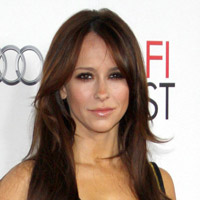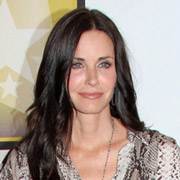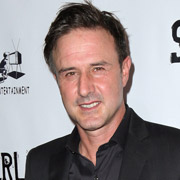 Add a Comment
62 comments
Average Guess (35 Votes)
5ft 5.23in (165.7cm)
stefkat
said on 20/Feb/21
Rob if you met Neve and she was in CL lady peep heels would she be taller than you? Also how would she compare to a 185-86 cm guy if they stood both barefoot ? Where would she come ? Thank you

Editor Rob
there is a 12cm version and 15cm...the bigger platformed Peep heels would make her look taller than me (when wearing 1 inch sneakers), the lesser version 12cm (which gives almost 10cm) would get her looking closer in height, maybe enough to pass for almost 5ft 8.
Ice (Original)
said on 19/Dec/20

I think this listing is perfect. I always give Rob 5'8.25" when I do my calculations because that's his true height in my mind, lol. So, with his shoes he's 5'9.25". She looks 1.25" inches shorter, so 5'8" in heels. Minus the heels and she is right at 5'5" flat. If you want to argue that she's only one inch shorter, that's 5'5.25". I don't see below 5'5" here.

Editor Rob
5ft 5 to 5ft 5.25 might be a fair range.
Miss Sandy Cowell
said on 17/Nov/20
Neve was in an episode of 'Medium' and literally towered over Patricia Arquette. I'm giving her 5ft5.75.
👩🌹
Miss Sandy Cowell
said on 18/Oct/20
I've just seen Neve in 'The Craft' and surely she can't be just 5ft5? However, now the first 'Scream' movie has started and Neve does look fairly small and vulnerable, not to mention quite a bit younger. Comparisons, comparisons.... 🤔! They really mess with the head. Incidentally, both these movies were made in the same year - 1996.
I'm not planning to sit this film out, having my own copy of the quadrilogy upstairs, but I've decided to give Neve 5ft5.75 regardless.
👩💐
Miss Sandy Cowell
said on 3/Oct/20
💝🎂💐🎊 Happy Birthday Neve! 🎊💐🎂💝
Many Happy Returns to Neve Campbell, who turns 47 today - unbelievable! I own copies of all the films mentioned above, and look forward to owning the entire of the 'Medium' boxsets; Neve stars in that as well and looks really tall next Patricia Arquette, 5ft1.5. In fact, when I saw her in that and 'The Craft', I'd have believed 5ft7+ for her!
This time round, Neve can have 5ft5.75. 😁🌹
💝🎂💐🎊💝🎂💐🎊💝🎂💐🎊💝🎂💐🎊
Kennedy
said on 23/Jul/20
She gets 5'5.5 for me, she looked the same height as Alicia Silverstone when they meet and Alicia had such a bad posture that day.
Nik Ashton
said on 16/Mar/20
@ Rob - Was she once listed as anything else?

Editor Rob
She was given her fraction over 5ft 5. I think measuring 5.5 earlier in the morning isn't out of the question.
Nik Ashton
said on 8/Dec/19
She's a mini amazon!
Miss Sandy Cowell
said on 3/Oct/19
🎂🕯️🎉💐 Happy Birthday Neve! 💐🎉🕯️🎂
Many Happy Returns to Neve on her 46th Birthday.
5ft5.5. Neve did look quite tall in 'The Craft' in comparison to the other actresses.
🎂🕯️🎉💐🎂🕯️🎉💐🎂🕯️🎉💐🎂🕯️🎉💐
knallpilz
said on 24/Aug/19
With about 2 inches on Rob she looks about a good inch shorter than him. I'd say 5'5 is legit.
Jammes
said on 9/Aug/19
I haven't seen the Craft in years but she looked like 5 or 6 inches taller than Robin Tunney,Fairuza Balk and Rachel True who are all listed within the 5'3 range. Even on the poster those 3 are wearing boots and Neve isn't and still looks taller,I wonder if she did in the actual movie
Nik
said on 26/Jun/19
It's great that actors and actresses are diverse in height! Neve is average for an actress!
Jammes
said on 21/May/19
I remember she wore boots in the first Scream movie while Courtney Cox were heels,she looked a bit taller than Courtney there. I need to watch Scream 2 to see her footwear she looks much taller than Court here
Click Here
Nik
said on 5/May/19
5'5" is OK for her!
Kelly Germany
said on 23/Feb/19
I think she is taller. On the pictures with Sarah Michelle Gellar (She is 5ft 2) looks much taller than Sarah. At least 4-4.5 inches difference in the height. 169 cm is my guess.
Jancys
said on 23/Feb/19
I thought she is taller, probably 5'7.5, but on this picture she is definitely 5'5".
Jammes
said on 20/Feb/19
She was listed as 5'7 once
TheBat
said on 20/Nov/18
5'5" for Neve Campbell is right.
Sean73
said on 24/May/18
5'5" is my guess. She looks good in the new Duane Johnson movie Trailer, Skyscraper.
Tunman
said on 14/May/18
Rob,only 3"?The heel seems very high like 12cm but of course there is no platform so more like 9cm actual height.Is 5'4.5" ruled out?

Editor Rob
Well, I wouldn't have thought over 3 inches, but she was shorter than myself with those heels on, so somewhere around 5ft 5...I could see her claim being possible if a bit earlier in the day like 9am.
Nik
said on 16/Oct/17
She is no more than a flat 5'5"!
Pierre
said on 28/Jul/17
Rob,
Her shoes seem very high,only 2 inches more than yours?I see a good 3 inches difference of shoes compared to your 1 inch sneakers by the picture of her shoes

Editor Rob
1 inch for me and 3 inch for her, so she has 2 inches more or simply a 2 inch footwear advantage
anonheight
said on 2/Jun/17
She looks close in height to Kevin Spacey, even with heels. 5'7.

Editor Rob
barefoot she's 5ft 5 range, like she says, but in heels could be 5ft 8-9.
Sandy Cowell
said on 4/Feb/17
I saw 'The Craft' last night and I see what Neve means about being taller than the other girls! If I hadn't known already, I would have guessed her to be 5ft7, honest!
Then she was also guesting in an episode of 'Medium', with the delightful 5ft1.5 Patricia Arquette! She looked positively tall next to her!
GP
said on 23/Jan/17
I notice that you changed her listing to 5'5.25. Which doesn't make sense since 5'5.25" is still 166cm. She can't be that height with you Rob. If she is, then those massive heels should put her closer to you in height. She is still 3-4cm shorter and you are also losing a little due to your posture and slight head tilt. I think 164-165cm is more accurate.

Editor Rob
I wouldn't go under 5ft 5 for her.
5'2
said on 17/Jan/17
5'5" with heels, 5'2" without heels

Editor Rob
she's still somewhere in 5ft 5 range, they aren't massive heels, although are very close to 3 inches in reality...
Sepanta
said on 17/Jan/17
She might be 5'3" without heels.
JEREMY
said on 31/Dec/16
Really attractive woman in this picture
Sandy Cowell
said on 31/Dec/16
Who's a lucky boy then? 😄😋

Editor Rob
lucky I got her photo this day as I think another day she was knackered and was on a stool.

nothing more useless to me than a non standing celebrity 😂

understandable in some cases, I couldn't sit at a signing table talking with hundreds of fans and writing my name for hours, I'd go insane! ☠️☠️
Sarah
said on 29/Dec/16
At least 5'5.
Peter 179cm
said on 28/Dec/16
No more than 165cm considering footwear.
J.Lee
said on 28/Dec/16
Rob, she looks like she is wearing pretty good heels, yet you still are obviously taller than her.

Editor Rob
yes J.Lee, she could be closer to 5ft 5-.25ish
Andrea
said on 27/Dec/16
I don't know about 5'4.5 but yeah... She doesn't look over 5'5, considering she has near 2 inches more footwear than Rob!

Editor Rob
a chance she is a 5ft 5 flat, though I think she could have been 5ft 5.5 earlier in the day.
GP
said on 27/Dec/16
Photo with Rob confirms that she is under 5'5", 5'4.5" in my opinion. If she was 5'5.5", with those boots on she should at least be the same height or taller than Rob.
Andrea
said on 26/Dec/16
Rob, I've seen the footwear photo but how much actual difference there is, in inches?
She looks around 3-4 cms shorter than you in the photo and can pull off looking 169-70 but I guess she's got more than just one good inch more footwear than you...

Editor Rob
Andrea, her boots I'd guess would give 2.8-2.9 inch.
SJU
said on 26/Dec/16
Always looked a strong 5'5"
BilboBaggins
said on 10/Nov/16
Gosh, I remember her being described in the media as being about 5' 7" during the '90s. I sort of believed it but, looking at her now, I'd say she's maybe under 5' 6" alright.
Sandy Cowell
said on 3/Nov/16
I stopped at Neve Campbell because I thought she looked at least 5ft6 in 'the Craft', but I bore in mind that the other actresses were fairly small. I don't agree with her saying that the average actress is small at all! They come in a variety of shapes and sizes, just like male actors! It needs to be that way so that all people, as they are in real life, are represented!
Michael
said on 31/Aug/15
5'4.5 seems fair
Arjuna Korale
said on 3/Nov/13
Yeah, I also think that she is around 166 cm (5 ft 5.5 inches) tall just as she herself states!
Silent d
said on 23/Jun/13
Little shorter than 5 foot 6 denise richards in wild things. Hot and 166cm.
Libertariandude
said on 6/Jan/13
165-166 seems right for her. Hey Rob, I think she´s actually Canadian.
Minimus
said on 9/Apr/11
On this site, Michelle Rodriguez is listed at 5ft4, Neve C. at 5ft5.5. Granted you don't see their footwear in this photo
Click Here
, they appear equally tall(or short)
justin
said on 30/Dec/10
Neve campbell is really short. I was in praty of 5 with her on a few episodes and she is about 5'1 to 5'3
marios
said on 19/May/08
i have to say that i have never seen neve to wear high heels shoes like jennifer Aniston.if she wear maybe is going to be taller than a lot of guys
Matt
said on 18/May/08
she is one of those women who appear even taller then she is cause her legs are long, like Demi More, Stacey Keibler, Niomi Campbell and other modely types
marios
said on 17/May/08
i have seen one pic with neve and alicia silverstone and neve is about 1 inche taller
sf
said on 11/Feb/08
Read many, many times that's she's 5'5".
grace83
said on 11/Feb/08
On The Ellen DeGeneres show, both Neve and Ellen had no shoes on, and she Neve looked slightly shorter than Ellen who is 5'7". So I would say that Neve is 5'6", and no more, no less....
Because I HIGHLY doubt that Neve is 5
DEE
said on 27/Dec/07
I just saw Neve at Whole Foods, she was standing right next to me at the checkout, I'm 5'11 and she had on about 2 to 3 inch heels and was maybe 2 inches shorter, She is MOST DEFINITELY taller than 5'6! As a matter of fact the guy at the register asked for her ID to prove who she was, she was fun, joking in the line stating " yeah it's really me" when he questioned her. Then we both commented on how she was taller than her pictures. All this I swear on my kids! Oh and the Whole Food store is off of Riverside going toward Sherman Oaks.
Anonymous
said on 3/Oct/07
kathryn, you're 100 % right. these people literally make up stories about seeing these celebs in person to try to prove their lies b/c they actually believe them. if mark had indeed seen her, he would know she really is in the 5'5-5'6 range. from the quote above, the movies and shows she's been in, and the pics of her and smaller celebs like gellart, it's quite obvious this height is her true height.
sally
said on 11/Aug/07
5'6'' - 5'8''.really diffcult to find out..im looking forward to a pic with u glenn? =)..so we can see more what she´s like..
Kathryn
said on 18/Jun/07
oh my god. really? well, this can´t be true. because sarah m. gellar who is a little under 5'3'' is much smaller than her. on I M B D is a photo which shows that. so think of it again and maybe your girlfriend isn´t 5'6', hm?
Mark
said on 18/Jun/07
I've seen Neve in person at a movie premiere. I've walked within a few inches of her and can say with great certainty that she is much shorter than my girlfriend, who is 5'6". Movies make her look a lot taller than she is. I'd guess 5'3" or less.
jess
said on 6/Apr/07
neve looks alot taller! just saw her on a programme, dont know what it's called. but she was almost as tall as all the guys, and she didnt wear heels.
i'd say she's at least 5.6 probably moore
Kathryn
said on 2/Apr/07
and......Laurie Metcalf who plays "Debbie Salt" in Scream 2, is 5'6.5'' (169 cm) and when Neve and Laurie in the end try to kill each other, Neve has about...1-2 inch heels on and Laurie 1 inch heels and Neve is still taller than her. So Neve has to be taller than 5'6'' (168 cm).
Kathryn
said on 1/Apr/07
well.....i think, her height lies somewhere between 5'6'' and 5'7'' because she was really taller than other females in THE CRAFT. and in SCREAMshe looked that way, too. So, try to meet her and take pictures, Glenn, because we useres need pictures to "catch" her at the right height, =).
mcfan
said on 10/Aug/06
I thought Neve Campbell was a tad taller than Denise Richards in Wild Things.
guru
said on 10/Jun/06
neve looked shorter than denise richards in wild things when they fight near the pool barefeet
Tess
said on 15/Mar/06
Went to see her in her play at the old vic - waited for autograph after it...shes about 5ft 5....maybe a touch under! I said to her that she looked smaller in real life, and she said "not only does the camera add weight, it can add height too = heels!"
frizzy
said on 5/Dec/05
i don't know...she seems taller in the Scream movies, even next to the high-heel clad Courteney Cox, whose listed at 5'5". Neve looks more like 5'7 1/2" to me. or could be the fact that she has those lean attenuated dancer's limbs that give the appearance of height.
Z2
said on 5/Jul/05
If you watch the movie "The Craft", the scene where Fairuza's(Nancy)friends come over to check out her new apartment, you'll see 5'7" Helen Shaver has about 2 inch heels on, and is still taller than Neve Campbell(who has on chunky heels). I'm writing this because Neve said she was like the tall Amazon woman in "The Craft." But she's not--Helen Shaver is the TALL one.