Sarah Michelle Gellar's Height
5ft 2 (157.5 cm)
American actress best known for starring in tv series Buffy the Vampire Slayer and in films such as Scooby Doo, I Know What You Did Last Summer and Cruel Intentions. She was happy to film The Grudge in Japan, commenting that in one scene
"I'm 5 foot 3 inches and I'm the tallest one in an elevator"
. In Teen Celebrity magazine earlier in her career she mentioned
"I'm okay with my body. It wouldn't be very nice in I had big boobs anyway because I'm 5'2"."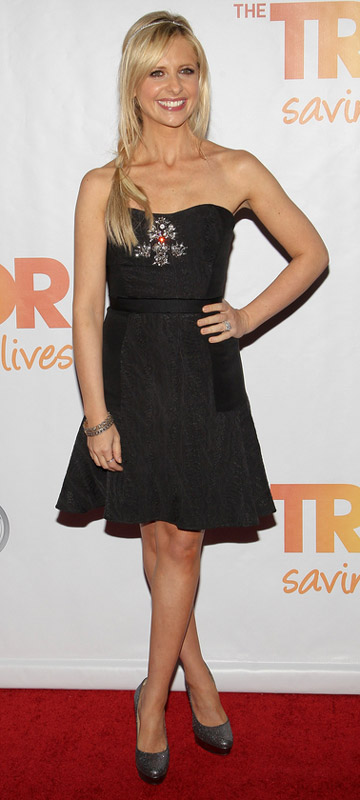 Photos by PR Photos
You May Be Interested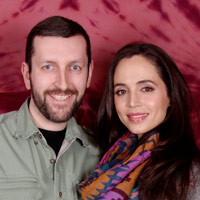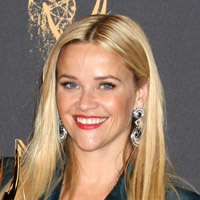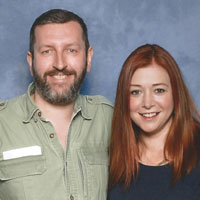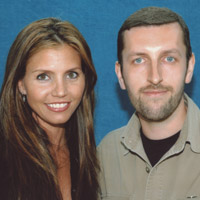 Add a Comment
133 comments
Average Guess (25 Votes)
5ft 1.98in (157.4cm)
Littlelee168cm
said on 10/Feb/19
Most woman on the Buffy page are listed between 5ft 3 and 5ft 6 not all that short really
Jammes
said on 9/Feb/19
Alot of the women on Buffy were short
Sandy Cowell
said on 27/Oct/18
The film 'The Grudge' offers a supreme opportunity to view Sarah's height in all its glory as she walks about without shoes quite a lot of the time. There's no way I could see her at taller than around the 5ft2 mark; 5ft2.5 at the most.
I have decided to go for 5ft2 though. I must add that I am really fond of her voice, and I find it very soothing in the scary films I see her in!
Junior Hernandez 1990
said on 3/Jul/18
Freddie look 6'1 with her. If Freddie is 6'0 shes not over 5'1.
MAD SAM
said on 2/Jul/18
Under 5'2" at 156 cm
Ventri
said on 7/Apr/18
5'1", maybe a hair taller. Very petite gal.
Lyndsey Doore
said on 12/Feb/18
I thought she was quite tall like 5ft6/5ft7.
Ventri
said on 6/Feb/18
Would say 5'1" or 5'1.5".
She wears REALLY big heels or platforms a lot of the time, for a reason.
SBClimber
said on 27/Dec/17
Sarah is definitely shorter than 5'2. Spent about an hour with at a kids event today and my wife is not a hair over 5'2 and she was visibly taller than Sarah. They were both in sneakers.
Tamberlain
said on 11/Nov/17
Very petite. Probably 5'1".
They had a lot of short girls on that show.
Heightist
said on 15/Oct/17
She looks 5'1.5-5'2" based on her frame and how she looks next to other people, particularly Freddie Prinze Jr. She has a petite person's face and build. I see lots of women her height around here, so I have a good feel for her height. I'd guess 5'1.75."
Morris
said on 15/May/17
less tall than Seth Green (see pics). Now read what people tell when they met Seth Green.
Sandy Cowell
said on 24/Jan/17
I was wearing the 'Buffy' nightie last night when I thought "Phwoar! What's that stench?"
One of my naughty cats had piddled on it, but it had dried! It was off like a shot!
😹👗🚽😹 🙅
Editor Rob: I don't even think Jenny has a buffy pyjama or nightgown, and she's a massive fan.
Sandy Cowell
said on 14/Jan/17
@ Billy - Hi there! You don't mince your words, do you? Just say exactly what you mean! Lay all your cards on the table, no faffing about! 🃏🃏🃏 👏
Anyway, I have always been of the opinion that Sarah is 5ft3 and so I'm going to stick with it. She must have been mighty fit to play 'Buffy', and that sort of thing doesn't just go out of the window because you start a family! Ergo, I don't think she's lost any height at 39!
I have a 'Buffy' mug and a 'Buffy' nightie, which still fits me! Yes, I used to be something of a fan! 👸 👍🙆
Billy
said on 13/Jan/17
Weird, I always thought she was tall for some reason. To me, she always had the face and body shape of a tall person. She looks like a tall woman stuck is a short woman's body. She's still so beautiful, height doesn't matter, still wanna bang her.
Marquis
said on 3/Nov/16
She's looks 5'1.5", 5'2" at absolute most.
LOL'ing at her claiming 5'4" officially elsewhere.
Claire
said on 20/Mar/16
Sarah Michelke is 5'2".
Brad
said on 17/Sep/15
5-2. Obviously on boxes in some close-ups.
jake
said on 4/Jul/15
@6'1" Guy - I'd sure consider the likes of Hannigan and Dushku petite. It's a combo of slightly below-average height and being skinny.
They're just not big gals.
A6'1Guy
said on 13/Jan/15
@Len I wouldn't consider 5'4.5 petite for a woman (Relative to me it would seem short though), that's in the average range for a woman. Average is neither petite nor tall. I'd consider (My opinion) 5'1.5 and down as petite for a woman, 5'2 to 5'3 as shortishaverage.
LT
said on 23/Dec/14
Under 5'3" definitely. She made not many people can make Alyson Hannigan look tall.
blue
said on 20/Dec/14
in Buffy's audio commentaries, someone says that she's less than 5ft3.
So i'd say between 5ft2 and 5ft3.
wishbone
said on 15/Nov/14
Tenderly warming up to 5'3" Sarah. I'm comfortable with her at 5'3".
Wishbone
said on 12/Jul/14
Sarah's 5'2". Slowly warming up to her,but I didn't watch Buffy The Vampire Slayer too much during its 8 year run.
Edy91
said on 15/May/14
Same than linda cardellini in scoobydoo 160 cm !
Thompson
said on 11/Jan/14
5'1" or 5'2" gal who's still trying to claim 5'4" officially.
Stop it, Sarah. We all know you're tiny, but that's okay, good things can come in small packages.
Ted
said on 27/Nov/13
5'1" or 5'1.5". And I doubt she weighs even 100 lbs, soaking wet.
I \\\'m a shortie so everyone is tall to me
said on 24/Apr/13
Yeah I 'm 5"1' but in denial as well. I said 5"4' on my I.d. too. I have little man syndrome. But it 's cute when a woman is small, if you are a man people treat you like a child. Not fair!
Len
said on 22/Apr/13
She's 5'2", absolute tops. And 5'1" wouldn't be shocking.
She does wear very high heels/boots sometimes to try to disguise the fact though.
VERY petite gal, even amongst the cast of mostly short gals they had on Buffy (Hannigan, Dushku, Benz, Caulfield).
Jen
said on 9/Apr/13
She's 5 ft 1 at most.
Hullywood 1.75.5m
said on 13/Nov/12
No way, Nicolas Brandon was a full head taller in a scene on "buffy". And she was wearing heels.
Len
said on 19/Aug/12
@shemp... LOL at SMG for claiming that, 5-4 is laughable for her.
She's 5-2 at most. And dear god, on Buffy she made petite girls like Eliza Dushku and Allyson Hannigan look almost like Amazons standing next to her.
Silent d
said on 7/Jan/12
She has big boobs anyway. What is the problem? Se was hot but now she is freakisly skinny. Still hot though. I can buy 5 foot 2 but she looks really short.
shemp
said on 18/Nov/11
Here's a article where she's claiming 5'4.
Click Here
max
said on 23/Oct/11
met her in person 5'2 would be right iwouldn't argue 5'1 all i know she was so small in both height and weight i just wanted to hug her like a baby lol she was so cute and tiny
John
said on 12/Oct/11
This is typical Hollywood, add 2 inches to your actual height, so if she is stated as being 5'4" she is really 5'2".
David
said on 17/Sep/11
Looking at this photo of the Buffy cast she's standing next to Seth Green, who on this site is generously listed at 5'3," and they're almost eye to eye. But she's wearing at least 4 inch heels, so my guess is she's way shorter than 5'2."
Click Here
Kyle
said on 15/Sep/11
Her character's driver licence in the first episode of "Ringer" claims 5-4 but she's nowhere close to that height.
mv
said on 31/May/11
If you compare her to freddie prinze jr., who is 6'1'', she looks at least a full foot shorter than he is.
gregory lehmann
said on 12/May/11
Sarah is cute,but she is rather skinny,just 95 pounds,but she's comfortable with her weight,but because she's so skinny,some of the slacks she wears are cut below her waistline,but she's pretty and sweet!
gregory lehmann
said on 10/May/11
A cute actress who looks and feels 5'2." She's fun to watch!
megan
said on 23/Apr/11
she's 5'1!!
Guidette617
said on 7/Apr/11
She looks exactly 5.2''. I'm 5'2" & she looks the same height as me. She is very skinny which makes her look 5'3"ish but still small.
craigyboy
said on 19/Mar/11
She is 5ft 2 the exact same as my ex,but alot prettier! Lol
Kayla
said on 31/Jan/11
I`m 5`1" and I am 12 but she is probably like 5`2" because she looks a little taller than me because i have seen tons of movies with her in them shes my favorite actress and she has inspired me to want to go into acting and someday i would ABSOLUTLY love to meet her :)
Charles
said on 6/Jan/11
She's probably more like 5'1", given how short she looked next to other cast members on Buffy.
Sarahishot
said on 18/Feb/09
She is definitely at least 5'2 maybe 5'3 because she has said herself alot of times "I'm 5'2 5'3" and lets face it I think she knows her own height more than any of us.Plus the fact she has said a ton of times that she considers herself really small so its not like she would bother lying about it and shes a girl so it wouldn't matter to her as much
ice
said on 18/Feb/09
Rob, you have Charisma Carpenter at 5'5.5, so is Gellar really only 3 inches shorter?
[Editor Rob: sometimes she could look 3 or 4 shorter on buffy.]
Anonymous
said on 4/Feb/09
I met her and she's really sweet. But I managed to catch her on an off day (without heels). I'm 5'6" and she made me feel like a giant. I don't usually consider myself tall for a girl, but I'd say SMG is 5'2.
5 ft 3.5
said on 2/Feb/09
Yeah, she's minimum 5 ft 2, but she is not 5 ft 3. Someone should tell Sarah that big boobs look great on short girls.
monique
said on 31/Jan/09
Yeah, 5'3 with heels, maybe. I don't think she looks much over 5ft. She usually wore heels on "Buffy" and looked about the same height as 5'4 Alyson Hannigan without heels - you do the math. She is tiny. But that's OK. ;)
brett
said on 20/Jan/09
she's tiny i would say about 5'0 to 5'1
runt
said on 3/Jan/09
No way she's 5-6. She's at least 5-8. HA HA.
Click Here
5-6 Jack Black is basically barefoot (spiderman uniform) and Sarah is in heels so Sarah is obviously 5-8 because she's like 4" taller than him HA HA
Heightfan
said on 22/Nov/08
LilLee, the only way that SMG is 5'6" is if she wears 5 inch heels, which she normally does.
anonymous
said on 22/Nov/08
No way is she 5 foot 6. I would give he 5 foot 2 max and i'm being generous. In cruel intentions she was towered by ryan philipe and salma blair was slightly taller. She is hot and petite. On the late show, she was towered by david letterman. In scooby doo she had heels on. She always has heels on. A lot of petite women are hot. 5 foot 2.
leonari
said on 17/Nov/08
haha 5'6. I just cracked up when reading this!! Please stop you make it sooo obvious that women can't gauge height if their life depended on it!!
LilLee
said on 17/Nov/08
Sarah is easily 5'6" in an episode of buffy with one of the potentials who is listed as 5'3" she was 3 inches taller so her official height is 5'6"
Heightfan
said on 21/Oct/08
Here is a good pic of JLH and SMG from I Know What... This is where both girls have on sneaks.
Click Here
Heightfan
said on 26/Sep/08
Click Here
Check out this pic of Sarah Michelle Gellar with Maggie Grace. Even though SMG has on super high heels-at least 5 inches and Mags is virtually barefoot, she is still towering over little Buffy by 4 inches. Way back in 2006, I said she was giving up height to Jennifer Love Hewitt in I Know What You Did Last Summer. 5'2" is generous for her.
Big King
said on 20/Sep/08
Strange, she's 5'3". In the films she always appeared to be tall for a woman. Maybe she was wearing high heels or something.
Anonymous
said on 29/Jul/08
sarah is really this height-bet 5'2 And 5'3. she gets listed anywhere from 5'2-5'4, but she is more of 5'2. she's so cute!!!
Vegas
said on 27/Jul/08
Sid says on 14/May/08
rose, the heights in madame tusaudz are fake anyway, BRAD PITT is 5-9, STALLONE is 6-2
its interesting to note that people on this site struggle to estimate the height of inanimate objects which you can get as close as possible to and take as much video and photos with as possible, what does that say about real people whom you cannot get photos or video with :)
brit
said on 26/Jul/08
@rose: but brad pitt isn't 5'9'' and if his wax is that height, then it's wrong because he's taller..so i really think that sid is right with her suggestions..as far as i know smg wasn't there to watch her wax-figure or watch how it was made..only those wax figures are accurate which were made while the stars were there to join all the make out..i think smg is 5'2'' period..anything under really is too short..cause she's taller than reese witherspoon by 1 inch..
Anonymous
said on 24/Jun/08
she is more of 5'2, very tiny and cute.
rose
said on 12/Jun/08
i dunno - i think the wax models are extremely accurate - i saw a program of them making kylie manogue's waxwork and they do it 100% to scale...oh and there is no way silvster stalone is 6-2"! I have met him twice and he is smaller then that trust me! my dad is exactly 5ft 11" and sly came up to his eyes - id say the wax wor of him is perfectly accurate - especially his height anyway...
Sid
said on 14/May/08
rose, the heights in madame tusaudz are fake anyway, THE ROCK is 6-2, BRAD PITT is 5-9, STALLONE is 6-2, WILL SMITH 6-4 etc.
rose
said on 8/May/08
her wax work in madam tussads is absolutely tiny! she was way shoter then me in her heels and im only 5' 4.5"! she probably came up to me eyes whilst wearing (ok, not huge) heels...they were about 2.5" i think....she must be only about 5'1" or something...
heightfan
said on 14/Apr/08
I am guessing that SMG has on has higher heels, Trachtenburg in small heels-as not to show up the star, and Green with lifts in his shoes.
runt
said on 31/Mar/08
Usually always looks tiny but she looks 5'5" with Michelle Trachtenburg(5'7"?)here
Click Here
At first I thought it must be much taller heels but in the same set of shots she doesn't tower Seth Green (5'4"?) by much
Click Here
But maybe this puts Michelle Trachtenberg into question.
x
said on 21/Mar/08
yh i think she's definately 5"3, because when i was 5"1 i was standing next to a wax work, and she was atleast 2 inches taller than me, but now i'm 5"5 and a half lol.
El
said on 3/Mar/08
well if her waxwork in madame tussauds London is to scale she is about 5ft2 and a half!
lottie
said on 2/Mar/08
She is 5 1!! Mayde 5 2 on a good day. One episode in Buffy she and David Borenaz
( 6 1) are both barefoot and she looks so tiny!! There is 30cm differense atleast!
anonymous
said on 2/Jan/08
no way she's 5'3'', other actresses like julianne moore are 5'3'' and look average, she looks a bit short not that much though, 1.57 would be accurate.
Lee
said on 3/Dec/07
She's tiny... 5' 1" or 5' 2", in all likelihood. Everyone towered over her in Buffy, even Allyson Hannigan who isn't even tall.
Why do actresses that short even try to make it sound like they're taller? It's not like with guys, where if you're short its a major drawback. Look at Hayden Paniettiere or Kristen Bell, they're both tiny and both doing extremely well in TV land.
Height for women is only an issue if you want to be a runway model. Otherwise, don't worry ladies, you can be 5' 0" and the guys will still adore you if you're cute.
Anonymous
said on 8/Nov/07
glenn, what do you think? less than the listed height? i'd give her 5'2 flat
Eliza
said on 6/Nov/07
I am constantly getting different heights for Sarah. In Lucky magazine they notes her height as 5'3 and then in another magazine I saw recently it said, "At a petit 5'4, the actress has trouble finding clothes that fit her little frame."
Ashton Ayres
said on 28/Oct/07
I'm a huge Buffy fan, so naturally, I listened to the commentary on one of my box seasons, and one of the producers or writers said "Sarah is so tiny, what is she 5'3''?" and the other commentator responded, "no, she's not even 5'2'' Case closed. I'd say 5'1'' plus maybe a half an inch. She's very petite.
George
said on 13/Oct/07
No way is she 5'3". I'm 5'10", so I obviously towered over her, but my friend, who's 5'4" was at least 2 inches taller, maybe 3. She's 5'2" tops, maybe 5'1.5". Very friendly though.
any
said on 29/Sep/07
well, could be 5'3''. but maybe she's 5'2.5'', who knows. but never she's 5'2'', that's too small for her, i guess...
Anonymous
said on 28/Sep/07
she's so tiny and cute! def more of 5'2 i think. met her a few times, once in 99, another time around 02. very petite. pretty. sweet.
emilyjade
said on 18/Aug/07
watch the first epsiode of season four of buffy. when she slays the vampire and she's standing on the couch. she's short, around 5'2''. i'm around the same height :)
lizzy
said on 26/Jul/07
oh, yes, she is 5'3''. saw her on an event show and in heels she was quite an inch shorter than me..5'8''..so this could be right..
glenn
said on 20/Jul/07
i guess i have to agree on blond.this is the only time i ever saw her.she sneaks out of her hotel.
Anonymous
said on 19/Jul/07
glenn-have u seen her blonde in person?
Anonymous
said on 14/Jul/07
i prefer sarah blonde, though, how bout u, glenn?
glenn
said on 13/Jul/07
me too.
Anonymous
said on 13/Jul/07
true. both very pretty, lovely ladies. big fan of both.
glenn
said on 13/Jul/07
its possible.sarah probably had more superior footwear than shannon.
Anonymous
said on 13/Jul/07
she appears more of 5'2-ish, but i guess looks can be deceiving...glenn, i think shannen is smaller than her pal sarah in person, since you're saying sarah is more 5'3, and shannen is listed at 5'2.5, but i think she's a tad under that, what do u think?
Dow Jones
said on 12/Jul/07
I think it is important to keep in mind that downgrading and upgrading is a more serious issue with shorter people. 1" is bigger as a percentage of height when dealing with someone near 5' than someone near 6'. As an extreme example, Mini Me is 2'8". A dwarf that is 3'2" is gigantic in comparison because 4" is hugh down there! But the difference between Shaq at 7' and Brad Garett at 6'8" is way less noticeable.
Kathryn
said on 12/Jul/07
and was this photo taken on the 2005 CFDA Fashion Awards? cool...=)
glenn
said on 9/Jul/07
rob lists what he wants.and he is usually right.usually.im usually right too.dicaprio pulled a fast one on me though.yeah,for my taste,sarah is 5-3.
Kathryn
said on 8/Jul/07
so, sarah will be listed at 5'3''?;)..well, 5'3'' is her true height. maybe she´s 5'2.5'' but i think 5'3'' is really accurate. look at her and husband Freddie Prinze jr. who´s 6'1'', i high heels she´s 15 cm smaller than him.
PS: and maybe in that teen magazine she was not even 20 and so she maybe grew one inch.
glenn
said on 7/Jul/07
shannen i met many times from 1992 to 1996.never posed with me.actually hung out with her once and she still turned me down.now she is very nice and poses up a storm.when im not around.she gives a smaller appearence to me for some reason than sarah.
Anonymous
said on 6/Jul/07
thank you, glenn. and she's supposedly best friends with shannen doherty, who is also listed as 5'2-5'3. did u ever meet shannen? i wonder if she's very small in person as well. she sure looks it!
glenn
said on 3/Jul/07
closer to 5-3.she was sweet to me.i heard otherwise too.but thats i think with autograph dealers and papparazi.all i asked for was a photo with her.she likes fans.though i heard conflicting stories with that too.maybe i got lucky cause nobody was around.she doesnt like crowds of people waiting for her.
Anonymous
said on 2/Jul/07
glenn, more of 5'2 or 5'3? and, i'm curious to know if she was sweet. i've heard mixed things. big fan, so please, let me know!
runt
said on 30/Jun/07
With 5-5.5 Neve Cambpell
Click Here
dafunman
said on 28/Jun/07
she works out at my gym in Westwood a few days a week...5'3
Kathryn
said on 19/May/07
well, but i saw her heels and she was slightly smaller than me and i am slightly taller than 5'7''. so she was 5'7'' with high heels and high heels have 5 inch heels. that made her 5'7'' which made her slightly smaller than me and i am slightly taller than 5'7'', got it?=)
Cpt. Crunch
said on 17/May/07
When you say someone looks 5 ft 3 because "she just looks that way", i think it matters who is saying it. A person in the 5 ft 1 to 5 ft 5 range could probably judge that better than a 5 ft 7.5 person. I know guys who all have said I look 5-11 but those guys are treetoppers. My friends who are close to me in height have me pegged at 5-9 tops--I'm just skinny.
Kathryn
said on 18/Mar/07
I would say 5'3'' (160 cm) because she just looks that way. And I met her at a after-show party last year. I am 5'7.5''(171 cm)and she was in 4-5 heels a bit smaller than me and I wore Sneakers. So...5'3'' is obvious. There´s no making her smaller.
Glitter1
said on 15/Jan/07
DEF A 5'2 GAL. VERY, VERY PETITE, GORGEOUS IN PERSON. I'M 5'6.5, AND W/O HEELS I TOWERED OVER HER IN HER HEELS! VERY SWEET, DOWN TO EARTH. MY BEST FRIEND, WHO'S 5'1.5 ON A GOOD DAY WAS ABOUT THE SAME HEIGHT, MAYBE A SMIDGE SHORTER THAN SARAH.
heightfan
said on 16/Nov/06
I was watching I Know What You Did Last Summer and noticed through almost the entire move SMG was weaing heels and JLH was wearing Keds sneakers and there was no difference. There was a scene when SMG was also wearing sneakers and a hat (she just got her hair chopped off) and JLH was a coulple of inches taller.
sunbeame
said on 11/Nov/06
Sorry ment to say that when i stood next to her waxwork we were exactly the same height. I had a slight platform in my shoe so maybe she was 1/2 an inch to an inch taller than me. That would bring her to 5 ft 2 absolute maximum.
sunbeame
said on 10/Nov/06
Ok i went to Madame Tussauds a few months back, and had my picture taken with her waxwork. I don't know how accurate they're ment to be but i'm only barely 5ft 1!!! Her wax work was super tiny.
Henry
said on 18/Oct/06
ok, check this out
Click Here
and this,
Click Here
I think is obvious.---5'2"---- that´s all.
Gonzalo
said on 11/Oct/06
Show some respect, Brad. English is not mother tongue for many of us, so we make mistakes here and there. I would like to see many of you speaking or writing in other languages. We will share laughs
Brad
said on 11/Oct/06
"Bear foot". Now bears have big feet. "Bare" ones don't. What's "falts to stil"? Sounds like a Yugoslavian wine machine. She's itty-bitty.
little minx
said on 2/Oct/06
to anonymous i see your point but i think the fact that smg is wearin heels and u cant even see am feet proves you cannot judge height in footwear it would have to be bear foot to be a fair judge as heels vary from falts to stil!
Brad
said on 15/Aug/06
"Bending a lot"? Probably a whole lot, she's 5' 2" and Lucci cool.
Stephanie
said on 13/Jun/06
She was probably 5ft 2 "several years ago" and is now 5ft 3. She's not that much shorter than 5' 4.5" Alyson Hannigan.
Glenn
said on 11/Jun/06
5-2.Im bending alot.
RentGirl
said on 10/Jun/06
Has Glen said anything about her height?
messedaroundchic
said on 17/May/06
she looks short in trainers im a bit taller than her & im just under 5"3 i'd say 5"2
Anonymous
said on 21/Mar/06
She's 5'2". Here she is with 5'4" Alanis Morissette. She looks 2" shorter.
Click Here
Serene
said on 13/Feb/06
Sarah can't be 5'3"..she is shorter than 5'3" I think..maybe 5'2.25"..?
arua
said on 25/Dec/05
Hi! It seems a bit too small, but I was watching some buffy extras last week and at a certain moment joss weddon said speaking abour the Riley caracter "he looks so tall because sarah is not even 5'2".
Just thought you would find it interesting
Amanda
said on 16/Dec/05
IMDb's heights are not confirmed; they are submitted by users.
And SMG is 5' 3".
sam
said on 15/Dec/05
does anyone know if the heights on the IMBD thing are officialy confirmed or not cz they seem to be contradicting with what the the heights that the celebs say they are.
sunbeame
said on 2/Dec/05
I think she could be more 5'2 judging by the photo of her next to Kelly Ripa.
heightgirl
said on 14/Sep/05
Here is Sarah standing next to 5'3 Kelly Ripa, both wearing heels. So I'd have to say the 5'2.5 height is perfect.
http://tinyurl.com/dff2p
http://tinyurl.com/bfqjv
[Editor Rob: gellar cannot decide her height. I begin to think 5ft 2 looks more correct from seeing a few buffy reruns with hannigan/benson]
CelebHeights Editor
said on 29/Aug/05
In RollingStone,
"Most actresses are all, give or take, the same size - we're all between five-two and five-five, and between 95 and 125 pounds"
CelebHeights Editor
said on 26/Aug/05
In one of the interviews where she says 5ft 3, fellow co-star of Swan's Crossing/All My Children Shane McDermott said 'I'm 5ft 9'
CelebHeights Editor
said on 17/Aug/05
She's consistantly inconsistant:
"I'm naturally thin, and people forget that I'm only 5ft 2"
.
CelebHeights Editor
said on 17/Aug/05
Here's another quote from movieline (unless transcripted wrongly) where she can't seem to decide if she's 5ft 2 or 3 ;)
"I'm a little person, and to see this five-foot-two, 100-pound blonde girl kicking ass is exciting"
Anonymous
said on 13/Aug/05
I am guessing that 5'2.5 is about accurate. I don't believe she is 5'3. http://imdb.com/gallery/granitz/2511/SarahMiche_Grani_2975535_400.jpg?path=pgallery&path_key=Gellar,%20Sarah%20Michelle&seq=6
McFan
said on 13/Jul/05
She is in no way 5'3. At the most 5'2.
CelebHeights Editor
said on 14/Jun/05
Hmm, in 2002 she didn't sound as thought she knows exactly:
"Eh...maybe like 5' 3"
Anonymous
said on 13/Jun/05
The height difference between Sarah and Michelle was actually quite dramatic, even by the end of season five. In the finale, Michelle was barefoot and Sarah was wearing heels, and the two were nearly eye-to-eye:
http://www.screencap-paradise.com/caps/albums/upload/Buf_522/normal_Gift785.jpg
Clearly, the height difference was quite significant.
Gigy
said on 11/Jun/05
It only logical that Michelle. T would tower over Sarah M.G, cos Michelle is 5'7/170 cm and Sarah M.G only 5'2/159 cm... That´s like 11 cm difference in height, and the odd thing is, on Buffy you didn´t notice it all that much! Sure Sarah still looked sharter but not that much shorter! I guess they had her stand on boxes (like Kristin Kreuk on ´Smallville´), especially when she was standing next to David B.
The Fan
said on 1/Jun/05
There is a picture of SMG and Michelle Trachtenberg standing face to face, with both of them wearing heels. Michelle clearly absolutely towers over Sarah, and is easily 4 inches taller.
http://www.screencap-paradise.com/caps/albums/upload/Buf_722/Chosen153.jpg
ChickKick
said on 20/May/05
I've met her before, she's 5'3. Besides, if she said she was 5'2 several years ago, couldn't she have grown by now?