Jonathan Breck's Height
6ft ¾ in (184.8 cm)
American Actor best known for playing The Creeper in film Jeepers Creepers. He has also appeared in W., Spiders and Parkland.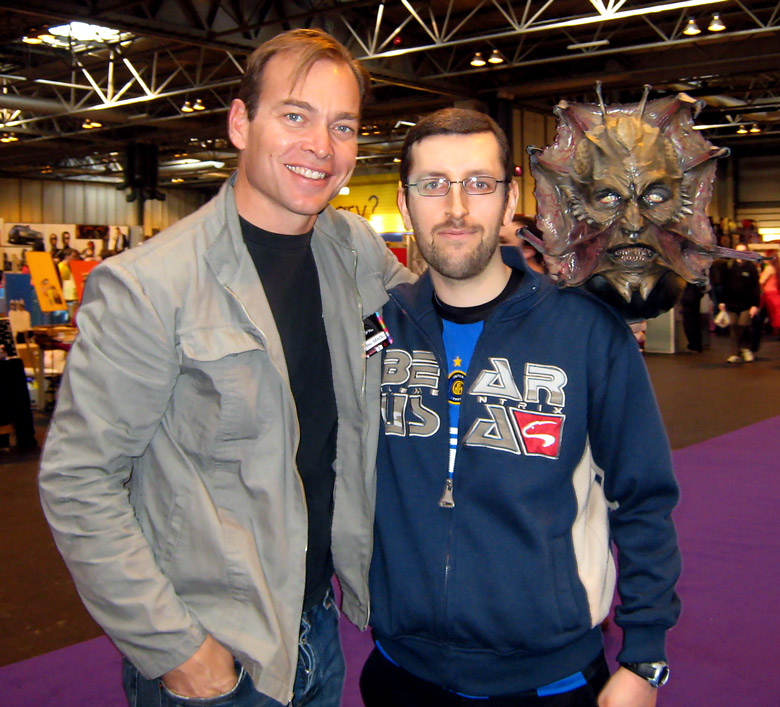 5ft 8 Rob and Jonathan @ Memorabilia, 2007
You May Be Interested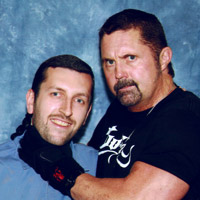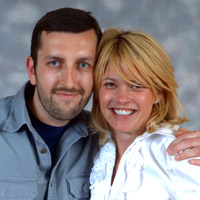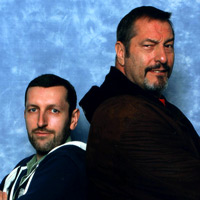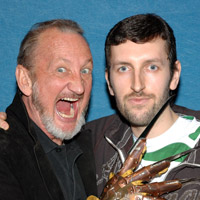 Add a Comment
56 comments
Average Guess (13 Votes)
6ft 1.15in (185.8cm)
ladeez
said on 9/May/20
close to 6' 1.5
Miss Sandy Cowell
said on 7/May/20
What a great idea, Rob, to add him to the Horror Page! 👹👍👍
6ft and three quarters of an inch this time round, giving him a rise of a quarter of an inch.

Editor Rob
I was updating the image size and saw he wasn't listed there.
Rampage(-_-_-)Clover
said on 26/Apr/20
6ft2 in shoes is believable. Given that Rob has met him, there's no reason to change this listing
Miss Sandy Cowell
said on 13/Dec/19
That's a bit of an improvement to the Creeper creature Jonathan plays in the 'Jeepers Creepers' Quadrilogy! He did look quite monstrous, and much taller than just under 6ft1.
From this pic - 6ft0.5. 👹
Christian 6'5 3/8"
said on 21/Jul/19
I don't get why the average guess is 6'1.25" when he doesn't look anything over the 6'0.75" listing. He looks just 6'0.5" to be honest.
Rampage(-_-_-)Clover
said on 23/Jul/17
186-187cm zone out of bed is likely but if he woke at 188cm he wouldn't drop to the height he's listed at
Mimi
said on 23/Jul/17
So he's the actor who portrayed the creature that terrorized my childhood.
Timur9717
said on 14/May/17
Wow he looks at least 188 cm to me?
berta
said on 12/Apr/17
he looks like someone who is 187 out of bed and 185 before bed. maybe little under that right before bed. in jeeperc creepers they make him look my size, atleast 193 ore bigger.
Bigs
said on 6/Nov/16
185cm barefoot ,Where's some big boots in J.Creepers making him look around the 188/9cm mark. hence why he can look 6'3 dressed as the creeper
gman56
said on 19/Aug/16
The creeper looked around the 6'4 mark in the movies ? How can this be rob
Editor Rob: been a fair number of years since watching the movie, but in person he is certainly far from that height.
Peter 179cm
said on 5/Jul/16
183cm or a solid 6'0.
Rampage(-_-_-)Clover
said on 8/Jan/16
I think to hit 6ft2 out of bed, you have to be at least a strong 6ft1 guy.
Rory
said on 21/Nov/15
Yh id have thought itd be rare for a 6'0.75 guy to hit 6'2 out of bed..usually itd be 6'1.5.
Rampage(-_- 🍀 -_-)Clover
said on 25/Aug/15
Rob, 1in+ is more common in 6ft5+ guys
[Editor Rob: the longer the spine, the greater the chance of shrinking more than average.]
Rampage(-_- 🍀-_-)Clover
said on 22/Aug/15
Rob, wouldn't he have to be a legit 6ft1 guy in order to wake up almost 6ft2?
[Editor Rob: 0.75-1 inch is typical range of shrinkage, sometimes less, sometimes more...so it's roughly that zone I'm thinking of. The taller someone is, the more chance 1-1.25 range.]
chestbrah185
said on 11/Jul/15
would 6'2 be possible out of bed rob?
[Editor Rob: not sure, 6ft 1.5-2 range, somewhere in there.]
Rampage(-_-_-)Clover
said on 23/May/15
Rob, is 6ft flat possible?
[Editor Rob: not sure he'd be that low.]
Themotorbikeman
said on 26/Jan/14
Just scraping 6ft in the photo.
Alex 6ft 0 1/8
said on 6/Jan/14
I think 6'0-6'0 1/4 range may be more accurate
Rampage(-_-_-)Clover
said on 1/Nov/13
In fairness, hes got a wee bit more advantage than you, Rob. In Jeepers Creepers he looked more like a solid 6ft guy. But he can also pull off 6ft1.
"Jonathan Breck's height is 6ft 0.5in (184cm)"
6ft0.25 isn't unlikely either. I wouldnt go below that.
Greg
said on 29/Oct/13
Really, 6ft? He's listed at 6'1" on I M D B and easily looks that height in the photo with you, Rob.
[Editor Rob: it wouldn't surprise me if he measured nearer 6ft than 6ft 1.]
SAK
said on 24/Sep/13
Mark says: A good example of someone who is 6ft i believe :)
----------------------------------------------------------------------
He easily looks 6f1.
Mark
said on 9/Jun/13
A good example of someone who is 6ft i believe :)
Scott 5'11
said on 26/Jan/13
Looks almost 6'2 here, thought he'd be taller considering the 'creeper' is said to be something like 6'10
steven
said on 20/Jan/12
in full picture he look like 182-183cm. definitely not a lift wearer. so practically he is 6'0. he maybe ever 6'1 for awhile.
Rampage(-_-_-)Clover
said on 26/Dec/11
Weird how he looks just under 5ft11 with Mamun
But with Rob looks near 6ft2
Chuck Testa
said on 3/Dec/11
Solid 6 ft 1. Period.
Alex
said on 8/Sep/11
Def looks a solid 6'0.5 with Rob
James
said on 31/Aug/11
Strange with mamun he looks 5'11 (180cm)
Ikbob
said on 27/Aug/11
Yeah he looks around 6'1. And Rob, is that an Inter t-shirt you are wearing there in the picture ? :D
[Editor Rob: yes it is Inter!]
Rampage(-_-_-)Clover
said on 9/Aug/11
185.5-186cm on the left. If he stood straighter he could maybe pull off looking 6ft2
[Editor Rob: his head's nearer camera in both those shots...]
Legend
said on 21/Jul/11
He's 183.5cm
yourstupid
said on 17/Jul/11
once again I see stupidity with claims of "he's standing closer to the cmaera" when even in the pic you can see them side by side. If rob is over 5'8 the guy is obviously roughly 6'1
Lenad
said on 1/Jul/11
solid 184cm i can see
Rampage(-_-_-)Clover
said on 17/May/11
He's closer to the camera in Rob's pic so that way he'd give a 186cm impression
James
said on 26/Apr/11
Yeah i agree strong 5'11 but mamun is standing a lot better.
Rampage(-_-_-)Clover
said on 16/Mar/11
Looks 180-181cm with Mamun strangely enough
James
said on 26/Feb/11
With Mamun loks 182cm not standing as straight. maybe 184 or 185cm if he stood properly?
With rob he does look 184cm bending his head down and 186cm with better posture?
Lenad
said on 27/Jun/09
Yeah I agree with Hugh
Kevin
said on 20/Jun/09
Mofo- 185cm = 72.835 inches. Closer to 6ft.75 than 6'1.
mofo
said on 10/Jun/09
erm rob 185cm is 6ft1 not 6ft0.75.
And he does look every bit 6ft1.
Doug
said on 29/May/09
Looks an EASY 6'1" here
Hugh 190cm
said on 28/May/09
not quite 6ft1 with rob. More 6ft0.5. Up straight he's probably a very solid 6ft1 like 185-186cm.
Anonymous
said on 11/Feb/08
Rob you're a legend. I LOVE that Inter jersey.
FORZA NERAZZURRI!!
[Editor Rob: well, my second team after celtic...]
Slh
said on 29/Dec/07
nooooooo rob you cant wear inter shirt :D
Old Roomie
said on 10/Jul/07
First off, I know him as Breck... full name Jonathan Breck Harmel. We shared an apartment in LA for a couple of years. He's over 6 foot. Probably 6'1" or so. I'm 5'8", and remember him wearing cowboy boots alot, but he's definately solidly 6'1" or taller.
The Height Wizzard
said on 6/Apr/07
Jeepers creepers this man is tall!!!
Viper
said on 5/Apr/07
In some ways I liked the 2nd film more. Not saying it was better than the first because the first really is a horror classic, but the 2nd showed the monster more.
glenn
said on 3/Apr/07
good to know there will be another movie.
Anonymous
said on 3/Apr/07
Rob, what convention was this at?
[Editor Rob: this was memorabilia last saturday, these uk shows have more lesser known names that attend, I just fly down and back same day. Had really wanted to see that chick from hellraiser but some guy said she slipped a disk on her way to airport or something and couldn't go. Only saw a handful of b-c graders, but still...everyone knows jonathan breck ain't 6ft 5 now ;)]
The Horse of FUNK
said on 3/Apr/07
Okay, thanks for the notification! Now I know why some of my posts aren't going through.
Was trying to say how shocked I was when I saw innernet-movie-data-base listing him at 6'5", and then to see him as a weak 6'1" here. Talk about height inflation. He's in the same league as Kid Rock.
[Editor Rob: 4 inches isn't that bad, close enough for some folk lol. I bet Jonathan laughed at being called 6ft 5 anyway...]
footballed28
said on 3/Apr/07
he looks at least 5 inches taller than you Rob...even tho the camera is tilted in his favor...I say 185.5 LOL
[Editor Rob: evens out, he's a little closer, the guy taking pic is very close actually, that little camera has a suprisingly wide lense]
Anthony
said on 2/Apr/07
Looks about 6'1. The first film scared the crap out of me.
The Horse of FUNK
said on 2/Apr/07
Rob, do you have filters on for words? I've noticed when I include certain words in my posts they won't go through.
[Editor Rob: yes, I filter unreliable sources...]
glenn
said on 2/Apr/07
cool.i loved those movies.kinda based on real life sightings.well,at least their have been sightings of gargoyles is what i mean.i think its a gargoyle like creature.
[Editor Rob: said to me to look out for jeeper creeper 3 to go into production this year]