Josh Bowman's Height
5ft 11 (180.3 cm)
English actor best known for playing Daniel Grayson on tv series Revenge. Joshua in So Undercover and Prowl. He's listed 6ft on his resume.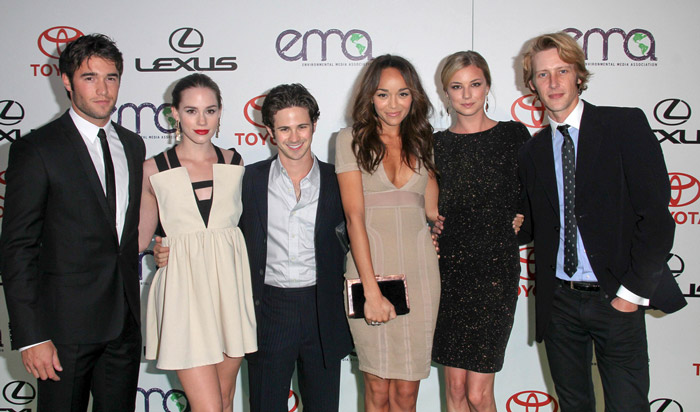 Josh,
Christa B Allen
,
Emily Van Camp
,
Ashley Madekwe
,
Gabriel Mann
Photo by PR Photos
Add a Comment
20 comments
Average Guess (20 Votes)
5ft 10.98in (180.3cm)
Andrew M
said on 18/Jul/17
I thought he looked more like 5' 8" on Revenge, didn't look that tall at all. Which surprised me, given he was a leading man in such a hugely-hyped and presumably expensive drama.
BT
said on 27/Mar/17
@Editor Rob: Yeah he looks a little closer with better posture, but Stroma is still clearly taller. Maybe Stroma is more 5'11.25 and Bowman a weaker 5'11.
BT
said on 26/Mar/17
@Editor Rob: Here he is with 5'11 listed Freddie Stroma:
Click Here
Click Here
Click Here
Is Stroma over 5'11 or is Bowman under 5'11?
Editor Rob:
in that first photo he has less footwear and less posture, he can look
Closer
with better posture I think.
Mike 1.80 barefoot
said on 6/Nov/16
Im 1.80 cm but sometimes maybe for back issues marks 1.78 cm. Josh i think 1.79 because his hair. 1.83 with a cool shoe
S.J.H
said on 27/Sep/16
Bowman 5'11 looks it
Gabriel Mann 6'1.25 (A typical american fan met him up close insist he was 6'2.5 atually acountable in shoes)
Barry Sloane 6'2.5 legitmate
Dmeyer
said on 16/Feb/16
On Google image type Bowman vancamp And counting footwear hé does look à legit 5'11 you could even argue 181 but 5'11 is fair à solid 180cm
Dmeyer
said on 16/Feb/16
Thanks rob for the new listing , 5ft 11 looks right since vancamp is about 5'11,5 heels on he looks close to her height so near 6ft shoes also hé looks à solid 3in under 6'2 sloane , is not much taller than Czerny , 5ft 11 is right
Dmeyer
said on 13/Feb/16
Rob sorry to bother you with this , but josh looks 3-3,5in under 188cm Sloane , so max 5'11
Editor Rob: I had a look at some more clips and yeah I think 5ft 11 is probably a safe enough guess.
dmeyer
said on 10/Feb/16
Can look 5'10.5-11.25 on revenge
Dmeyer
said on 9/Feb/16
rob , josh realy has a hard looking over barely 180cm 5'10.75 , on revenge looks barely 2 in over 5ft 8.5-9 czerny
Editor Rob: you can argue a lot of time 5ft 11 ish
Dmeyer
said on 4/Feb/16
So 5'11,25-11,5 ok
Dmeyer
said on 3/Feb/16
Thanks rob but you seem to think that 5'11,5 is closer than 5'11 , but since you said he could be around 5'11 so 5'11,25 is possible , 5'11-11,5 is closer than 11,5-6ft , he could be 5'11,5 11am And 5'11,25 night
Editor Rob: I think 11.5 is probably a limit, I am not as sure he would only be 5ft 11-11.25 though.
Dmeyer
said on 3/Feb/16
Rob 5 ft 11-11,25 is closer 180-1cm looks much closer hé can look 179-180cm on revange And also 5ft 11 180/181cm , Emily vancamp is 173-173,5cm And shouldnt apear over wath à 5 ft 11 men would apear in à 1in shoe And hé can oftenly look à bit shorter that her she is max 5'11,5-6ft heels on , if he was à legit 182cm hé would be near 185cm in most shoes And look taller i could buy 181cm but not 182 or almost 183cm ,
Dmeyer
said on 31/Jan/16
On revenge hé looks much closer to 5'10,75 than 11,75 as hé looks smaller than 173cm Emily thorne when in heels that shouldnt happen if hé was 6ft 0,75 shoes on , And hé looks à weak 3in taller than her whe she is in flats , so on the show hé looks much closer 5'10,5-11 , rob are you sûre hé is this tall
Editor Rob: he could be around 5ft 11
Ally
said on 30/Dec/15
What, really? There is a picture of him with Oscar (football player) who is 179 cm tall and Josh looks 2 cm shorter than him
thetruth
said on 16/May/15
no taller than 5'11
Hypado
said on 11/Oct/14
Josh Bowman is 5ft 11.75in (182 cm)
Perfect listing.
cole
said on 29/May/14
@Editor Rob: You sure on this one? I mean I haven't seen a whole bunch of him other than on Revenge, but he generally looks a little more than 2 inches shorter than the 6'2 claiming Barry Sloane wouldn't you say? And what he looks with 5'8ish Emily VanCamp with and without heels isn't convincing me he's a solid 6ft guy either. He can look near it though, I'll give him that, but mostly he strikes me more as a 181, maybe 182 cm zone guy. 5'11 flat may be a little too low, but I'm not ruling it out until I've seen a bit more of him...
Click Here
Click Here
Click Here
(looks about 6ft there, but probably a little less if Sloane stood taller)
[Editor Rob: yeah I had a look and can see him in weak 6ft range.]
BoboAshanty
said on 21/Apr/14
This guy can't be 6'0" coz he looks 1" taller than 5'8" Van Camp in heels on most scenes on Revenge. He's 5'11"(180cm) tops. Rob, I think you should downgrade him
Sarah
said on 19/Feb/14
Looks pretty close to 6'0". 5'8" Emily Van Camp is about 1 inch shorter than him in 3" heels.