Madeleine Stowe's Height
5ft 6 (167.6 cm)
American actress best known for roles in movies like Last of the Mohicans, Stakeout and Twelve Monkeys. On tv she can be seen in Revenge.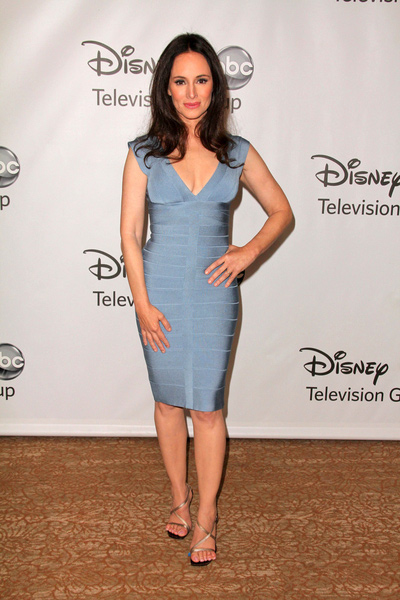 Photo by PR Photos
Add a Comment
17 comments
Average Guess (8 Votes)
5ft 5.94in (167.5cm)
Miss Sandy Cowell
said on 18/Aug/20
💐💝🎂🎈 Happy Birthday Maddy! 🎈🎂💝💐
A Very Happy Birthday to the gorgeous Madeleine Stowe, who celebrates her 62nd Birthday today. I remember her as a young, partially-sighted schoolgirl in 'The Little House on the Prairie', with a gift for painting. Doesn't time just fly by?
5ft6 😁👌🥂🎊🖌️
💐💝🎂🎈💐💝🎂🎈💐💝🎂🎈💐💝🎂🎈
Sandy Cowell
said on 12/Jun/17
I've just recently watched Madeleine in a film called 'Octane', and as she has a taller daughter, played by Mischa Barton, one can easily make the mistake of thinking Madeleine is a little shorter than 5ft6, but I'm still going to put it for her height!
Bijou Phillips is also in the film and at, I believe, 5ft5.5, she looks rather small next to Mischa, and I think that's evidence enough to keep my guess at 5ft6 for Madeleine!
Rob - I think 'Octane' might be worth adding to her list of credits, as indeed is 'Blink', 'Unlawful Entry' and the star-studded 'Shortcuts'!
Shredder
said on 22/Apr/17
She looks at least 5 ft 8 in Bad Girls
Sandy Cowell
said on 26/Jan/17
Last night I saw Madeleine in 'The Little House on the Prairie' (series 7, episode 6), playing a beautiful blind 16-year-old artist. I don't know if this was her first role ever; I compared her height to that of Mrs Ingalls, played by Karen Grassle, who is 168cm, or around 5ft6, according to her website. I checked this out in the hope that Karen's still alive and well and she is!
Well, the young Madeleine didn't look as tall as Karen. She was noticeably littler than her when they sat together on the horse-drawn 'team', as they called their mode of transport, and also she looked shorter than Karen when they stood side by side. It makes me wonder if Madeleine was really 16 then, as she didn't look quite the 5ft6 that she became and most girls are pretty much fully grown at 16. I thought she looked 5ft4.5 to 5ft5, tops. She looked slim and elegant even then, with her trademark abundance of dark hair!
I wondered if playing that blind girl, named Annie Crane, was the reason she was chosen to play another blind girl undergoing an operation to have her sight restored in the film 'Blink'. I think it's possible!
Madeleine is a nice feminine height and I thought she was less than 5ft6. In 'Unlawful Entry', she comes over as quite petite as well in comparison to the other cast members. I thought she might be 5ft5, but with Matthew Modine as her screen husband in the 3 hour drama 'Shortcuts', anyone can be fooled!
I shall settle for 5ft5.75 of damn near perfection! 🌹👩
Arch Stanton
said on 30/Dec/16
She looked absolutely gorgeous in Shortcuts. Gets fully naked too, one of the best bodies I've ever seen!
jtm
said on 18/Jun/16
she wasn't taller than Dreyfuss in stakeout but maybe he wore lifts.
Arch Stanton
said on 17/Jun/16
In the early 90s she looked paler/more willowly and could seem tallish at times, but if you see with Kurt Russell this is about right.
Arch Stanton
said on 17/Jun/16
Yes, you strongly associate her with that late 80s early 90s era. Around 1993 she seemed to be in everything. Attractive but hauntingly so if you know what I mean, she always looked really shy and reclusive looking, the silent sexy type who could suddenly become volatile at any moment undeterred. Perfect face for horror/thriller films or those with exploitative themes really.
Sean73
said on 15/Jun/16
I remember this beauty from Stakeout. That's the first time I saw her, and I was hooked ever since. 66" flat would be my guess.
Matt
said on 2/Feb/16
In the movie 'Stakeout' from 1987, he description is given. The height mentioned is 5-foot-6.
2344
said on 28/Nov/13
Emily van camp is taller
Ras
said on 7/Apr/13
Well Rob, I guess if she is 5'6 then that puts Gary Sinise at no more than 5'7, probably 5'6.5.
Click Here
[Editor Rob: depends, what footwear she could have]
Mrs.Grayson
said on 1/Dec/12
She looks average height on tv so if they say shes 5'8 then Emily must be at least 5'10 or 5'11
richinkle
said on 1/Feb/12
5'-6" max. Always looks at least 2" shorter than 5'-8" Emily VanCamp in Revenge.
DJ
said on 23/Nov/11
I dont know about 5'7.5". She looked 5'6" in unlawful entry with kurt russell
steve hendrix
said on 9/Apr/11
Not sure how tall she is, but she sure is pretty.
William Case
said on 17/Feb/08
She looks almost petite in China Moon. Like around 5'-5'1". 5'7" seems real tall for her build.