Julianne Moore's Height
5ft 3 ½ (161.3 cm)
American Actress best known for roles in films such as Boogie Nights, The Big Lebowski, Hannibal, Far from Heaven, Still Alice, The Hours, Short Cuts, Children of Men, The Kids Are All Right and Magnolia. She was quoted in the 1997 Virginian Pilot (May 25) saying:
"I'm 5-3 and both the leading men (Jeff Goldblum and Vince Vaughn) are over 6-3."
although in 2011 InStyle Magazine is quoted saying
"I'll wear a really high heel when I go out, because I'm 5ft 5in and I want to be 5ft 8in"
. Her modelling agency give her vital stats as: Bra/Bust size 34B, Waist 26 inches, Hips 36.5 inches and shoe size 7.5US.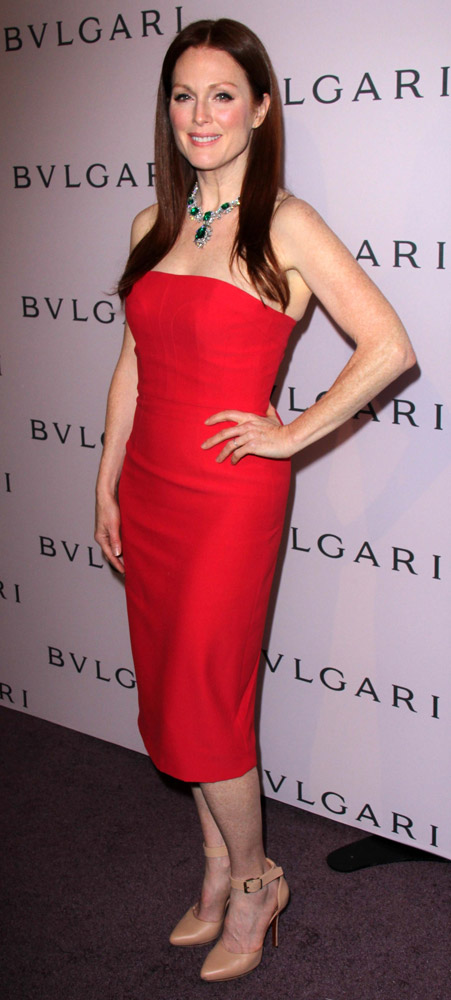 Photo by s_bukley/BigShot.com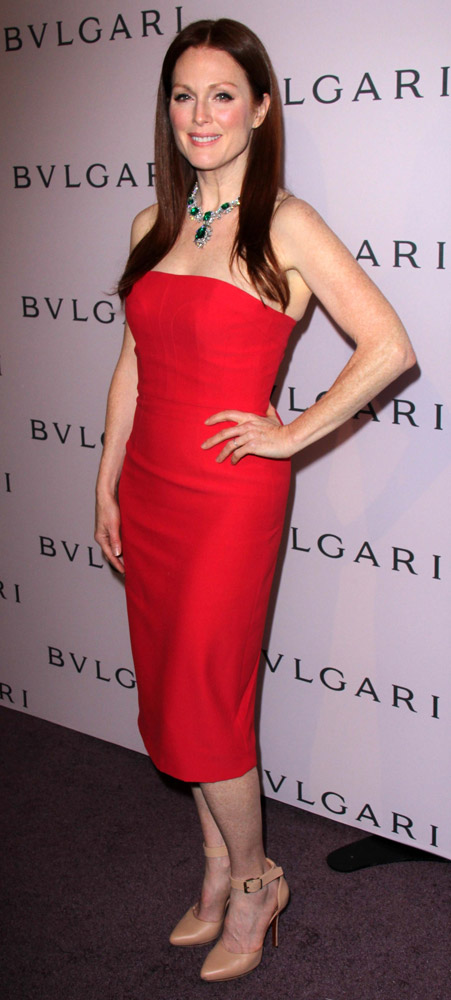 You May Be Interested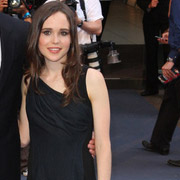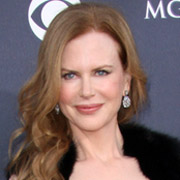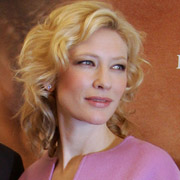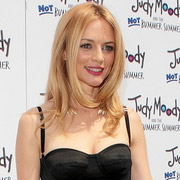 Add a Comment
42 comments
Average Guess (15 Votes)
5ft 3.5in (161.3cm)
Nik
said on 8/Dec/19
It's interesting that she didn't claim that Jeff Goldblum and Vince Vaughn are 6'4" or 6'5"!
MaryAnne
said on 19/Nov/17
Click Here
Beautiful Julianne with Beautiful Brooke
Lulu
said on 20/Sep/17
She is 5'5". I am 5'3.5" and she was in line behind me at the cinema. She was taller than me and did not look short but def under 5'6". I was surprised as I thought she would be shorter in person. Very beautiful in person.
Heightist
said on 17/Apr/17
My guess was initially 5'3" to 5'4", based on what I've seen of her in movies. I've seen women of that height in person, and she has that build/vibe. But I believe the comments that say she's shorter than that. As we all know, many celebs are much shorter than they claim. She looks very short next to her family:
Click Here
Her husband Bart Freundlich looks about 6', or maybe a lean and lanky 5'11". CelebRiot claims he's 6'2", but that's obviously an exagerration. A pic of her and her husband:
Click Here
She looks about 5'2"-5'3" next to him, and he looks about 5'11'".
Phil
said on 12/Nov/16
she looks like a 5 foot 3 woman
Sandy Cowell
said on 9/Nov/16
I would have estimated Julianne's height to be nearer the 5ft5 mark. She is on the Ellen show right now and I really don't think she looks under 5ft4.5!
She is wearing a mustard-coloured frock and she does look fantastic! It is hard to believe she is the age she is.
Merky
said on 18/Sep/16
With 5'4.5" Naomi Watts, it's hard to believe she could be the 5'5" she claims to be.
Click Here
James B
said on 28/Jun/16
At times she looked rather attractive in the lost world
Sam
said on 29/Jun/15
Agreed, Rob would you consider adding these?: The Hours, Short Cuts, Children of Men and The Kids Are All Right. She was pretty sexy actually in Kids Are All Right...
Arch Stanton
said on 25/Jun/15
The Hours, Children of Men and The Kids Are All Right.
Arch Stanton
said on 25/Jun/15
Also worth mentioning I think is The Hours.
Arch Stanton
said on 25/Jun/15
Rob it's called "Still Alice"!
Arch Stanton
said on 23/Jun/15
Rob can you add Still Alice, she won the Oscar for that!!
Sam
said on 10/Mar/14
It's hard to believe that she's almost 54, she has been aging extremely well. Julianne looked good in person when I saw her at a Big Lebowski event a couple of years ago. I think she might be a solid 5'4", maybe a bit more in the morning.
Arch Stanton
said on 11/Feb/14
Rob can you add Magnolia and Far from Heaven? She was incredible in those!
[Editor Rob: yeah Far From Heaven was a well made film]
little sue
said on 25/Jan/14
I would put her between 5ft 3 to 4, lower average. Nice shapely legs!
Arch Stanton
said on 24/Jan/14
She's unusual in that her bone structure screams very tall lady like 5 ft 11 or something but she's actually a bit on the short side. It's like she should of course be at least 5'8 but she isn't if you know what I mean LOL and she also feels it.
Banpan
said on 4/Oct/13
@marla singer.
Julianne Moore and Chloe Moretz is exactly the same hight. Look at this pic,
Click Here
taken at the Julianne Moore Hollywood Walk Of Fame Ceremony, October 3.
I'd say 5'3½ is spot on. :)
marla singer
said on 8/May/13
She's taller, 5 ft 4 minimum
with 5'2.5 Seyfried
Click Here
with 5'3.5 Moretz
Click Here
she's visibly taller than both
ka
said on 8/Nov/11
She looks about 5'1" to me next to other celebrities. She's got a very feminine stature contrasting her strong facial features. What a lovely combination!
Phil
said on 27/Sep/11
5 foot 3 flat is generous. Why did you change her height?
5'8.498765
said on 23/Jun/11
maybe even below 5'3, she looked really really really small next to Seagal, Carrey and Kidman. She even had a really petite body which starkly contrasted with Nicole's slender tall built.
cb
said on 16/Jan/11
actually now that i think of it, she was quite a bit taller, maybe 5'3.5 or so.
cb
said on 24/Dec/10
Saw her in a play and afterwards at the stage door - I'm 5 ft and she was only a little taller than me - my bet is 5'2 or so.
carpenter
said on 18/Nov/10
In "Fugitive" she is absolutely drawrfed by Harrison Ford. No way she can be any more than 5'3". Less seems likely.
nm
said on 17/Nov/10
Ms. Moore is no taller than 5'2". I saw her on the street in NYC. I am 5'7" and she was much shorter than published. I was wearing wedge heels (2" max) and so was she. I'd guess she's 5"1 or 5'2". She is absolutely stunning and very beautiful even when she is wearing jeans and no make-up.
pb
said on 10/Nov/10
my friends and i saw her at an italian restaurant in nyc's west village a few years ago. our group walked right past her as we were entering and she was leaving.
we were all surprised at how petite she was - most of us estimated that she was 5'2", with one member of our group adamant that she was even shorter than that. hard to tell for sure because she was not standing still, but in any event there is no way she's 5'4" or 5'5" as some publications have claimed. every member of our group got a very up-close look at her, so the fact that none of us felt she was more than 5'2" or so speaks volumes in my opinion.
i'd even go so far as to say that i'm 100% sure that she's not 5'3" as listed on this site. perhaps she's 5'2.5" in the morning, but in all honesty i feel she's 5'2" on the dot. attractive woman, sure, but certainly not as tall as some people out there seem to believe.
Little lee
said on 17/Jun/09
In Lost World jurassic park she came up to vince vaughns shoulders he's 6'5" so she is a foot shorter. 5'5" at the least. no way 5'3" she doesn't look petit
Mr. R
said on 26/Mar/09
People Maga says she is 5-5.
Akshay
said on 17/Mar/09
Its funny i never thought she looked 5-3..but i watched this **** film blindness and i think she looked 5-3..mark ruffalo was not very much taller than her..so this confirms it.
Amy
said on 21/Dec/08
is she that short? i thought she was taller. I watched her in a movie with Gary Sinise who is 5'10", but she wasn't that short i think. maybe she was wearing heels haha..
Ange
said on 1/Nov/08
Saw her in Restoration Hardware years and years ago. I was wearing chucks and she was definitely 2-3 inches taller than me. She is so gorgeous that you lose your breath. For some reason she comes across as sort of scrawny in her movies but she was very womanly looking and quite sexy! 5'3 seems low, but I believe it. She has the air of a taller person.
Betty
said on 31/Oct/08
I saw Julianne Moore today while getting coffee at the Starbucks in the East Village. She seemed very polite and friendly and she looked great (her skin is amazing). As for her height, she looked to me (a fellow short person) to be at least 5'3", but I could have been thrown off because she's well-proportioned. Oh, and she smiled at me!
Lanie
said on 10/Aug/08
I tend to believe she is 5'3". I clicked on those pictures of her in runts comment and found that she has on a 2 or 3" platform shoe - not just a heel, but a platform; lifting her entire body.
Maria
said on 13/Mar/08
it just goes to show you that a woman like Julianne with a more "womanly figure" who is 5'3 can appear taller - while someone like natalie portman (who i think is 5'2) is so petite and skinny that she looks shorter than her height (she looks 5'1). 5'3 is not that short though, especially on someone who carries herself with such poise and confidence.
runt
said on 4/Mar/08
I'm one of her big fans and I won't upgrade beyond what she herself said in '97.
Here she is with 5-6.25 Kate Winslet and don't let JM's hairdo fool ya!
Click Here
Here is a shot of her build
Click Here
D
said on 22/Nov/07
She looks 5'4" in Hannibal.
Becky
said on 16/Nov/07
at first i thought she was 5'6" or 5'7" but i saw this and i am thinking what?? she's 5'3"??
Mike
said on 29/May/07
I don't believe the 5'3. She doesn't look that small
Anonymous
said on 8/Apr/07
I think 5'3" is correct. In recent interviews, she's always said she was 5'5. Since celebs seem to give themselves an extra 2 inches, I'd say that Julianne is 5'3". Plus, she often looks petite (at least to my eyes).
Chris
said on 7/Mar/07
No she looks taller, 5'5'' is what I think. She never looks that small. Do you believe 5'3'' Rob?
Editor Rob
said on 7/Sep/06
Woops,
"I'm 5-3"
, 1997 Daily Break.