Kavan Smith's Height
5ft 8 (172.7 cm)
Canadian Actor known for roles in TV series When Calls the Heart, The 4400, Stargate Atlantis and Eureka. On KavanSmithFans.com he said
"5-9, 175 lbs"
as his height/weight.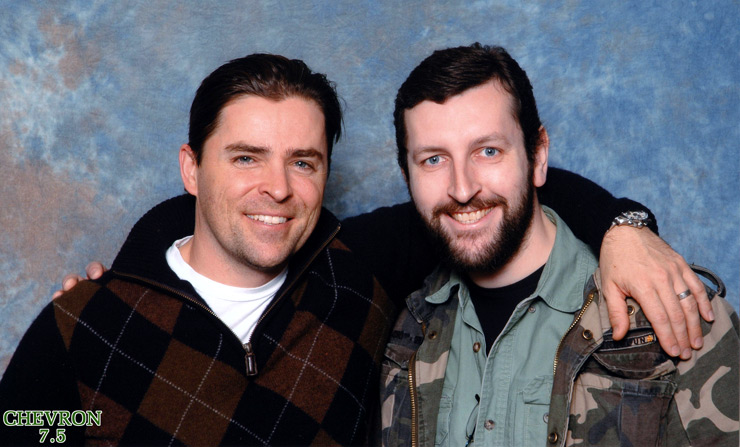 5ft 8 Rob and Kavan @ Massive Events Chevron 7.5, 2010
You May Be Interested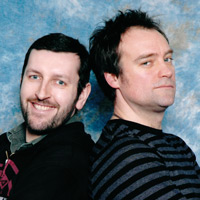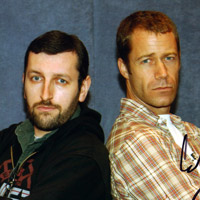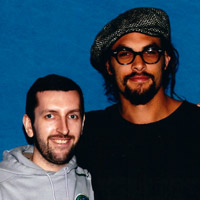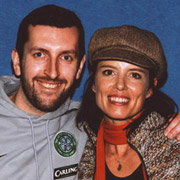 Add a Comment
31 comments
Average Guess (14 Votes)
5ft 7.82in (172.3cm)
Jkiller
said on 14/Aug/20
5'8 seems somewhat accurate. Could argue 5'7.75.
JohnMoore-162cm
said on 8/May/20
I think he is 172 cm
Nik
said on 8/Dec/19
@ jason - That is very interesting!
It is more likely that he is under 5'8" than over 5'8"!
Pierre
said on 17/Mar/19
Imo Rob break his neck/posture in the pic,with same postures Rob 5"8 1/8' Kavan around 5"7 is my guess
Blake
said on 13/Dec/17
Rob, surely Kavan Smith is overdue a 1/4 inch slice off his listing?
Editor Rob: possibly, at worse 5ft 7.75.
World Citizen
said on 8/Jun/17
Looks more 172 cm
NBAer
said on 26/Jun/15
Rob this guy looks shorter than you here,atleast 1cm,i think 171 is his real height,so about 5'7.5 based on the photo.Would you consider a downgrade?
[Editor Rob: 172cm in possible for him.]
It's me
said on 9/Dec/11
Height: Is it possible he kinda shrank? I saw him years ago in a pic with my (former)good friend from his (first or second) Convention & he seemed taller to me. At least 0.75 inches than what you say, Rob.
Weight:
I read the interview, it's from his fan page. Around the time, when he did answer the question for it, he was 175lbs. He was much thinner than in this pic.
You need to remember that he's got a wife & 2 young kids(according to pics on his twitter), maybe he gained some weight with his wife. Husbands do tend to eat with their pregnant spouses & maybe he didn't loose all of it. Also age! ;)
Scrattie
said on 28/Jul/11
He should get a photo with me so he'd look tall :D (I'm 5ft3)
hm
said on 18/Jul/11
Is his height really important, to ho well he does his job(acting)?
Seems like a case of heightism to me...
Also, I wouldn't say the man is fat per se, more like well build. He seems to like food and might be more muscular under that comfy sweater.
Dom
said on 28/May/11
He does look 5'8"
JellO
said on 10/May/11
If you're 5'8.125 here, Smith looks more strong 5'7. 5'7.5 in this picture.
d wade
said on 9/May/11
rob he is atleast a half inch or more shorter than you so should list himself 5,8 1/2 or downgrad him to 5,7.5 that you list him the same height as you doesnt make sense.
bigup
said on 8/May/11
does not look 5foot8 if rob is 5foot 8 he looks smaller.
soviet_rebel
said on 6/May/11
Rob is taller, I would say 5'7" Max, nothing more
burby
said on 6/May/11
The old arm around the shoulder bit....weak 5'8".
ka
said on 6/May/11
Don't know Rob, you're bending down your head by little bit, the guy looks to pushing you down, and you're still a little taller than him. A very weak 5'8?
[Editor Rob: yeah, if you look at stargate atlantis - a weak 5ft 8 - it fits him amongst the other characters aswell.]
d wade
said on 5/May/11
why is he 5,8 when he is clearly shorter than you Rob ?
[Editor Rob: he's a weak 5ft 8]
linke
said on 5/May/11
he's not fat
T.J.
said on 5/May/11
the old push down technique haha
the shredder
said on 5/May/11
he is not really fat , but he is lying about his height and weight ... more like 5'7.75 and 185 lbs
Legend
said on 4/May/11
Thats the fattest 5'9 175 pounds I have ever seen. More like 5'7 175 pounds.
Brad
said on 4/May/11
He isn't what he says. 5' 7.75".
jtm
said on 1/May/11
a very weak 5'8.
James
said on 30/Apr/11
looks 5'7.75
miko
said on 30/Apr/11
He actually looks a hair under 5"8.
sf
said on 28/Apr/11
5'8" is spot on..
whoa
said on 27/Apr/11
where's the pic for the proof?
[Editor Rob: I've moved house twice in the last couple of years. I have a 'professional' photo with him which when I get it out and scanned will go up ;)]
Anonymous
said on 1/Nov/08
With that smile he could even be 1.70
I couldn't care less. :D
jason
said on 1/Feb/07
174-175 cm, more like 174 cm.
horacle
said on 1/Feb/07
in stargate he looks 5'8 max