Kelly Osbourne's Height
5ft 1 ¾ (156.8 cm)
Singer. She is quoted in MegaStar
"I don't see myself as fat. I'm 5ft 2in and weigh around 120lb"
. On her twitter she mentioned,
"I'm 5'2 on a good day."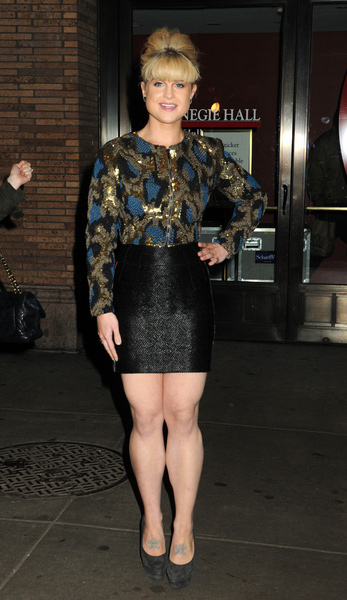 Photos by PR Photos
Add a Comment
58 comments
Average Guess (5 Votes)
5ft 1.5in (156.2cm)
Miss Sandy Cowell
said on 27/Oct/20
💐🎈🎂🎊 Happy Birthday Kelly! 🎊🎂🎈💐
Many Happy Returns to Kelly Osbourne, who celebrates her 36th Birthday today.
5ft1.75 😁👍🎁💝
💐🎈🎂🎊💐💝🎂🎊💐🎈🎂🎊💐💝🎂🎊
Nik Ashton
said on 29/Jun/20
She may be over 5'2" on a good day!
Littlelee168cm
said on 29/Jan/19
If kelly is this height then Sharon must be around 5ft 1 she always seems shorter than kelly in photos though at 66 may be shrinking and used to be 5ft 2
Sandy Cowell
said on 21/Nov/16
Kelly seems to have an ongoing battle keeping her weight down and which shorter girl cannot relate to that?
Having said that, I have seen Kelly looking so stunning that her efforts are well worth it! She has a uniquely chiselled face which shows beautifully when her weight is down!
I love her sense of humour and when I read that she burps and breaks wind in public without caring, I thought, "now this is the kind of girl I'd like to have round for a social evening!"
Karen
said on 8/Dec/13
I saw her in person and 5'2 sounds right
sarah
said on 31/Oct/12
coooome on i'm 5'2 and i weigh 135 lb , i look defiantly much thinner than her :s
the AMAZING Babushka
said on 25/Jan/12
she is short 5'2"eems right, and she looks just like Ozzy, and as much as i love Ozzy. kelly is just not the least bit attractive
Daphne
said on 20/Aug/11
SO...If Osbourne is modeling for "MATERIAL GIRL", then, and because I am 5'4", 115 lbs,beautiful and still 14, what means that I will be around 5'6" or 5'7" at the future, and IF every model adds 2-3" then we ALL can model!!! :D GO GIRLS!!! Victoria's Secret and other companies are waiting for us...!!!
Button
said on 28/Jul/11
I honestly thought she was between 5'2.5" and 5'3" and would probably have gone with 5'2.75" (159cm). But now I'm not so sure. I've found a picture of her with Amy Winehouse and Amy was taller than her by a noticeable amount. It looks like 1.5 inches difference discounting Amy's beehive. However, her heels were just a bit higher than Kelly's, so taking that into account, I could therefore see Amy barefoot being just an inch or so taller than Kelly barefoot, perhaps even 0.75 inches actually. I think potentially Amy could have been a full 5'3", but she's listed 5'2.75" which still seems a good estimate. I doubt she was anything over 5'3" though. If she was a weak 5'3" as listed then Kelly really isn't 5'2.5" or 5'3" like I once thought she was. In that case, I think I would agree with this 5'2" listing here.
DrJJ
said on 25/Jul/11
Definitely wrong. She is much shorter than Amy Winehouse (RIP) in every picture together. In flats, in heels, whatever. If she's 5'0" she is lucky.
jamie
said on 10/Feb/11
deceptive. but on that height chart looked barely 5ft 1. and def no taller than mum who has consistently claimed 5ft2. I would put both at slightly under based on the pics put up, but have to admit had previously thought she was taller. proportions in photos i guess can really shape your perceptions. for instance selma blair has wide shoulders and always looks taller to me than 5ft 3- more in the 5ft 6 and over range.
J
said on 3/Dec/10
Kelly Osbourne is 5'3" and now 118lbs from 160lbs. I would say she looks pretty good now but no matter what she will always have a funny looking face. But hey, there are lots of funny looking faces everywhere. One thing for sure is that she looks the sexiest and most seductive when she's in the black corset and tight pants with the short black hair and dark red lipstick. mmmmm. That short black hair that frames her face really does something for her pale complection and also hides her wide jawline. But ya know, I really go for those dark somewhat freakish girls. So there ya have it.
Anonymous2
said on 22/Nov/10
Well she's the same size as her mum her recently admitted that she's barely 5f2. I say that Kelly is the same too, around 5f1.5.
kris
said on 29/Oct/10
I'd say she's about 5'2" but the claim of 105 is silly, I'm 5'3" and i was emaciated at 115 and she's' a bigger build than i am, I can't see her being less than 125
Somebody
said on 20/Jun/09
Kelly has lost quite a bit of weight recently. I do not know her eating habits, or how hard it is too lose weight for her, but I do think she would look a little better, if she was a little thinner, yet I do not think she is fat at all.
Kelly has a very round baby-face. The hairstyle she choices she makes for herself do not help, nor does the heavy make-up that she wears. All that make-up on such a small and round face looks silly and adds weight to her face.
Her arms are also out of proportion with the rest of her body too, which is actually pretty little, and very narrow in the torso. You can easily see that from pictures of her:
Click Here
If she had a thinner face and smaller arms, you would think she was thinner. She looks close to 120 pounds give 5-10 to me, and not overweight really at all. Nobody would be making wacky guesses like 150 for a body as small as Kelly's.
Being on the shorter side, and having a small frame as well as a round face too, I can attest to fitting into smaller sizes, but looking and being fatter than taller people that fit into the same size or bigger. At 105 lbs I am shopping in the kiddy department to find clothing that fits.
sue
said on 5/May/09
Why are all of you getting so worked up over this. So what if she is size bla or bla. I admire her because she isn't like one of those typical girls who needs to starve herself. She mentioned many times before that she is confident of her shape. Being overweight is not a healthy thing neither is being grossly skinny. Kelly managed to lose weight and she looks great now, she lost just the right amount of weight.
Lee
said on 30/Apr/09
in the osbournes seems an inch taller than her mum sharon who is 5'2"
angie
said on 12/Sep/08
it all depends on what picture she is talking about because im 5 2 as well and weigh 130lbs and in some pics look smaller than her and i wear a size 4 or 28 waist
brapp
said on 2/Aug/08
Don't tell me MY dress size. Dress size isn't determined by weight anyway pillock.
for one, size 0 doesn't exist in the UK. It's size 4.
For two, size 4 is equivalent to the old size 10.
For three, to be a real size 8 you need 24 inch waist, 34 inch hips and 33 inch bust. How the **** can Kelly Osbourne be that small?
Size numbers are shifting down, like the measurements you need for each dress size are getting smaller. as the population gets fatter, the numbers get smaller otherwise today's size 16's would be size 22's and that doesn't sound good. It's called vanity sizing and Kelly Osbourne's taking advantage of it, but even she can't pass for a modern size 8-10.
Yvonne
said on 17/Jul/08
Yeah I agree, she's like way over 120. I'm 5'4" and I weigh 118 pounds.
Hani
said on 17/Jun/08
Yeah she is short but she definitely weighs more than 120lb, more like 140 -150lb
glenn
said on 24/Apr/08
im bent over.i thought that was noticable.and she had big heels.thats a given.
Peetie
said on 24/Apr/08
why she just only 8 cm. different with Glen ?
high heels ?
Glen leaning ?
Charliemoto
said on 24/Apr/08
the perfect baby for GLENN......LOL! :D look good together.
seen her on the OSBOURNES without shoes and she barely looked 5'2.
Shut the f*** up brapp
said on 31/Mar/08
@ Brapp if you were 5'6 and under 7 1/2 stone you wouldnt be a size 8 - 10 youd be a size zero
brapp
said on 19/Feb/08
I saw a picture of her with Amy Winehouse, who is frequently described as tiny and who has said herself she's 5'2" and her brother said she's barely 5'2".
In the picture, Amy had a good 4 inches on Kelly (similar shoes).
So I think Kelly is 5ft TOPS probably and inch or so less. She also claims she's a size 8-10 - she's got to be REALLY short to fit in that dress size for how chubby she is, cus I'm 5'6" and less then 7 1/2 stone and I'm a size 8-10!
Danimal
said on 29/Dec/07
Funny how you guys need another guy to give you support on how you look, or should look. Have some confidence in yourself guys. Besides, this is about KELLY, who is a female, not about guys seeking validation from other guys.
Kelly, probably weighs 155-160 pounds.
ER.
said on 29/Dec/07
Chuck: I'd say so. I'm 6-2 1/2 and weigh only 165 lbs - I don't really LOOK skinny at all though. Also, I'm trying to gain weight through exercise - but it's going very slowly. So yeah, I'd say 190 - 200 is a good weight for 6-2, that's about where I'd like to be myself.
Chuck
said on 29/Dec/07
Im 6`2" and weigh around 190-200 pounds. Im fairly well built, am I?
dina
said on 8/Dec/07
My sister weighs 160 and my best friend weighs 240. But my friend looks nowhere near as big as my sister, so I can believe it.
Franco
said on 24/Sep/07
i suppose you were bending a lot there Glenny? :D
ive seen her barefoot in the Osbourne reality show or whatever is called and looked 157-158cm max, she's chubby and a bit too extravagant but oh well, daughter of Ozzy can wear as she wants :P
so yes 157-158cm is correct.
redrum
said on 11/Sep/07
Amanda, you're 131??? its amazing at your age that you can even use a computer! What's your secret???
Chris
said on 21/Aug/07
Robotix, Tom Cruise is under 5'10" and could well be a candidate for sexiest man alive.
Amanda
said on 6/Aug/07
This is funny. I am only 5ft tall and 115 pounds, but I was 130 a year ago and I looked nowhere near as big as her. i understand that some people carry weight well, but I honestly think she must be more.
Austrian
said on 22/Jul/07
well, the good thing is, you can change your weight
but you cant change your height (unless youre sylvester stallone)
Realme
said on 13/Jun/07
Rachel says on 14/May/06
She is 5ft2 but at 160 lbs as she stated on that whole osbourne show. The healthy weight for 5ft2 according to health advisers is 120.
For real!!! She got to be at least 140 at least! Why would she say such a stupid lie like that?!
antron
said on 4/Jun/07
She's not 120 lbs. I've dated girls that are 5'2" 115-120lbs and their bodies do not look like Kelly's. I'd put her more like 14x.
robotix
said on 3/Jun/07
Here's the rest of the list (sexiest man alive): Mark Harmon 6', Harry Hamlin 5'11", JFK jr. 6'1", Sean Connery 6'2", Patrick Swayze 5'10", Nick Nolte 6', Richard Gere 5'10", Brad Pitt 5'11", Denzel Washington 6'1", George Clooney 5'11",Harrison Ford 6'1", Pierce Brosnan 6'1", Ben Affleck 6'2", Jude Law 5'11", Mattew McConaughey 5'11"
robotix
said on 3/Jun/07
ms crababel actually i'm on excedrine and nyquil. Last 20 years Sexiest Man Alive: 3 were under 5-10. Mel Gibson (back when they thought he was 5-10), Tom Cruise (back when they thought he was 5-9) and Johnny Depp 5-9. I stand corrected.
Mike
said on 30/May/07
She has a cute face. Actually looks good on the pic. without the weird makeup, weird haircut and hair dye. And if she lost some pounds, I'm sure she'd look hot.
robotix
said on 29/May/07
"its ok to be short if your a female"--Glenn. Ain't that the truth. A guy under 5-10 will never be a candidate for People Magazine's Sexiest Man Alive, but Eva Longoria at about 5 foot even is entitled to the highest honors.
sidewinder
said on 5/Apr/07
120 pounds no way, more like 150
Anonymous
said on 1/Apr/07
Don't beleive for a second that she is 120 pounds..no way. When is this quote from?
Liv
said on 6/Jan/07
I saw her yesterday in Topshop on Oxford Street. She was standing right next to me and was shorter than I am.. I'm definitely 5'2". I'd guess she's nearer 5'1"
Glenn
said on 28/Dec/06
Im bad at judgeing women.with footwear and all.and its ok to be short if your female.for males its sadly frowned upon.5-2 sounds right.
jonathan
said on 28/Dec/06
how tall did Glenn think kelly was?
Zapp
said on 25/Dec/06
I think she carries her weight quite nicely. 120 to 130 on a 5ft 2in frame can look nice as long as a girl maintains her hourglass figure.
Leah
said on 22/Dec/06
Haha. She's more than 130 trust me. I'm 5'2" and I recently rose up to 130 lbs and I look no where near the weight of her. But then again most of my weight is muscle so I don't know.
Wicked Kid
said on 9/Sep/06
Doesn't EVERYONE take pictures? It's untrue that the camera adds pounds. Just take a photo of a friend who's 5'2" and 120lbs and compare it to Kelly. She's like 130lbs.
Rachel
said on 14/May/06
She is 5ft2 but at 160 lbs as she stated on that whole osbourne show. The healthy weight for 5ft2 according to health advisers is 120.
Glenn
said on 28/Mar/06
I thought this picture was up?
[Editor Rob: I don't think I ever seen this one in any batch, sorry...I will look through again and see if there was any I have missed]
Leah
said on 28/Mar/06
Wow, that can't be right. I'm 5'2" and 125 lbs and I look nowhere as *ahem* "fat" as her. No offence to Kelly or anything.
[Editor Rob: the camera adds pounds and takes away inches, but I agree, 120lbs sounds rounded down just a little]
ice
said on 24/Mar/06
The weight may be accurate. She might just be shorter than 5'2. That plus the extra 10-15 pounds the camera add. Voila! Kelly Osbourne's size.
Amanda
said on 27/Dec/05
She's in the normal range. I thought 120 was heavy for 5' 2" but I looked at a medical site and she's doing just fine.
TNTinCA
said on 4/Dec/05
Love that quote from her. Reminds me of Garfield's favorite phrase:
"I'm not overweight, I'm undertall!"
:)
foxxxxxy
said on 4/Dec/05
Look at this pic of Kelly Osbourne next to Julian Casablancas, of The Strokes
He
anonymous
said on 3/Sep/05
i know for a fact that kelly is 5'1"
KATS
said on 8/Jul/05
I know this is celebheights, but let's play celebweights for a second... WAHAHAHA... Kelly at "120lbs" according to her quote?! L.M.A.O. What, when she was 11? Seriously, she's no 120lbs. Unless she has lost weight very recently and I haven't caught it.