Kenneth Cranham's Height
5ft 6 (167.6 cm)
Peak height was 5ft 7 (170.2 cm)
British actor best known for roles in films such as Hellraiser 2, Layer Cake, Hot Fuzz and tv show Rome. I met him at a Memorabilia event in 2007 and then at a Glasgow Collectormania in 2013, I think he has lost a bit of height. On his agency resume he was listed as 5ft 8, and in the past used to have himself as
Height 5 feet 9 inches
.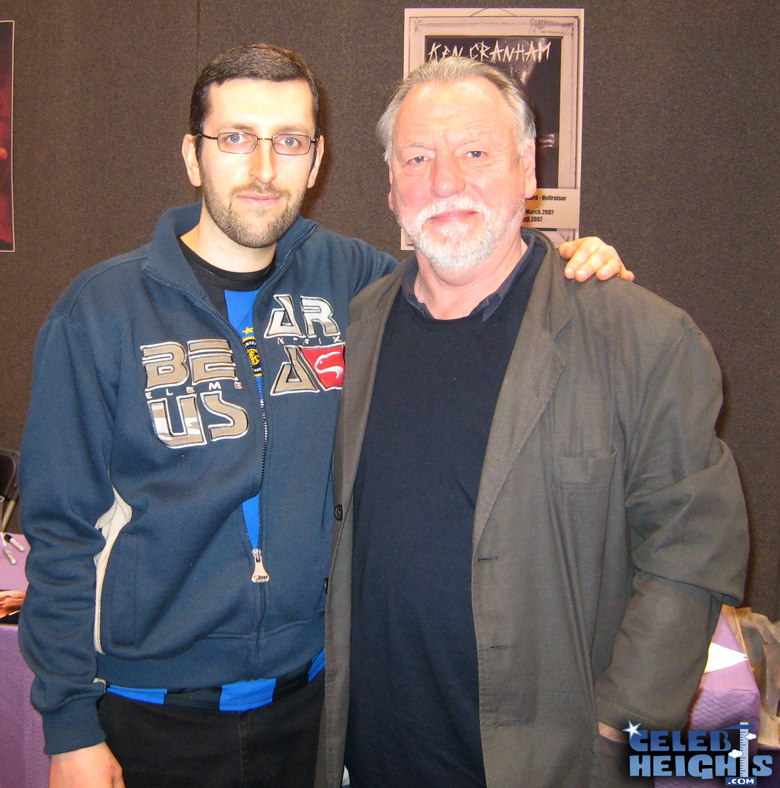 5ft 8⅛ Big Rob and Kenneth
You May Be Interested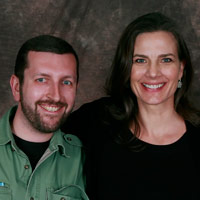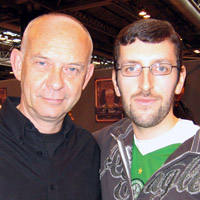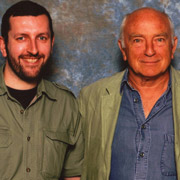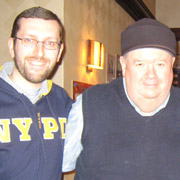 Add a Comment
22 comments
Average Guess (9 Votes)
Peak: 5ft 7.06in (170.3cm)
Current: 5ft 5.58in (166.6cm)
dio21
said on 28/Oct/19
Rob, how big his head was?

Editor Rob
I doubt less than 9.5 inch range
Mel
said on 6/Nov/18
Solid 5'6
Sandy Cowell
said on 23/Jul/18
Kenneth looks noticeably below average in 'Hellbound', the second 'Hellraiser' film, which I have just started watching after not having seen it for quite some years. I first saw it at the pictures when it came out and the special effects are still superior by today's standards. Those days, back in 1988, they were something else!
I know he has a nasty, sadistic part in this and becomes a cenobite!
I can't see him being much taller than 5ft7 peak height and right now I reckon he is 5ft5.75.

Editor Rob
He had a scene in that film I believe walking with William Hope who is over 5ft 9 and seemed a couple of inches smaller.
EdD2_171.4cm
said on 2/Jun/17
I recognize this actor from Valkyrie (Fieldmarshal Keitel) and most recently from The White Princess (Bishop Morton). I actually thought he was a 170cm guy, but I appreciate the pics because he is clearly 168cm (or below) now.
World Citizen
said on 29/May/17
Spot on listing.
James Edward Crowley Maximus Meridi
said on 11/Mar/17
Rob did you know this guy was Oliver when I watched Oliver I never knew this guy would be on celebheights I didn't recognise him at first when I saw in the first picture of you he looks unrecognisedable from when I saw him on Oliver he was only in his 20s back then I didn't realise it was the same guy have you seen Oliver.
Editor Rob: yes he looked a lot younger back then!
same
said on 26/Oct/16
poor guy, he lost a crucial inch
Dmax
said on 27/Nov/15
Rob do you think it is possible he was 5'8 as his peak during that time his agency had him as and shrunk to 5'7 when you measured him at 2007?
Editor Rob: it's hard to say, there is always a chance 5ft 7.5 at peak
east meets west
said on 13/Apr/15
He has definitely lost height by now (2015)! I met him recently and he was barely taller than me in my flat shoes, and I am just 5'4". My husband wasn't even convinced Kenneth Cranham was actually taller than me at all, but I reckon he was by about 1-2 inches.
J.Lee
said on 19/Sep/14
rob he looks only an inch shorter
[Editor Rob: today he looks around 5ft 6 in person and in the new photo that's what he looks to me.
By comparison, I'm on 2 inch block beside Jenny about 10am in this photo below (so closer in height barefoot and this is one with jenny having a thicker hairstyle):
Click Here
.]
cd
said on 16/Dec/13
Thanks for the peak listing Rob. But do you think there's a chance he could stretch out an extra half inch (5'6.5) when being measured?
[Editor Rob: not sure, but not impossible]
Mike T
said on 2/Dec/13
I'd say that this is an accurate listing. That's definitely a 2-inch difference
cd
said on 13/Nov/13
In the recent pic (assuming the right pic is the 2013 one), he looks more 5'6, so he's probably around 5'6.5 now given probable slouching. In the other pic he does look 5'7. Peak height listing needed?
[Editor Rob: he looked around 5ft 6 this year to me]
Editor Rob
said on 25/Aug/13
Here is a recent photo, he's 6 years older than the other one I got in 2007.
Shaun
said on 25/Aug/12
Crikey this guy has a passing resemblance to that guy from the Allman Brothers when viewed from a distance.
Mark
said on 3/Aug/12
Soooooooooo........this is the guy that killed Pinhead!
Joe257
said on 16/Sep/11
His head is so big it makes him look taller somehow. Rob, don't you think his head is too big for his height? Maybe you should do a section on body proportions/wide frames and how they affect how we view heights.
[Editor Rob: that's what the height challenge page might be useful for, to see different heights/face dimensions etc and see if it does effect guesses on average that much.
]
FC 1908
said on 30/Jan/11
Forza INTER!
M.o.r.g
said on 28/Nov/08
Dr channard?
[Editor Rob: that's him]
Anonymous
said on 3/Mar/08
he looks 5'7.25-5'7.5
Anonymous
said on 24/Apr/07
Hellraiser 2 was an incredibly strange film. Looks a short stocky man so height seems about right. Showing my age but he was great in Shine on Harvey Moon.
glenn
said on 18/Apr/07
ahhh.the doctor.i was trying to figure him out.great pic.had no idea he was this height.