Lawrence Dallaglio's Height
6ft 3 (190.5 cm)
English former Rugby player, who played for London Wasps and captained the England team. In his book 'Blood, Sweat & Tears' he mentioned his height saying
"During my playing days I was 6ft 3in tall, weighing in at about 17st."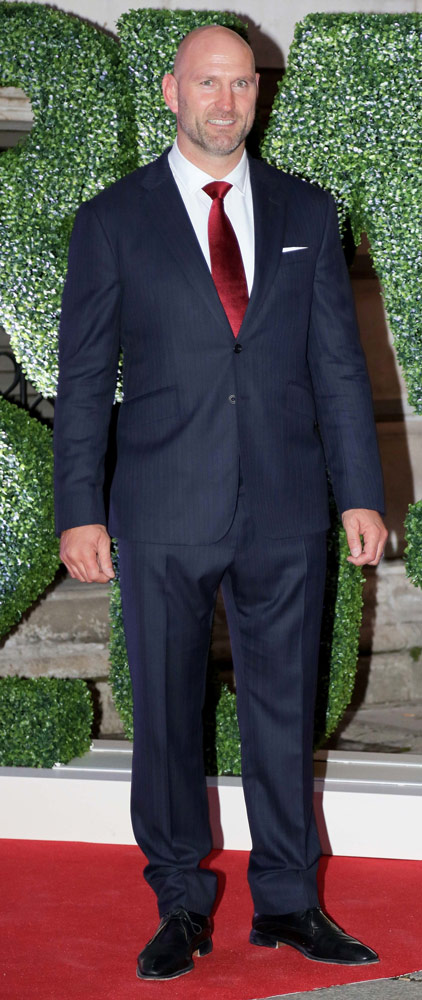 Photo by Landmark / PR Photos
Add a Comment
28 comments
Average Guess (7 Votes)
6ft 2.86in (190.1cm)
ChaosControl 6'2 1/2
said on 26/Jan/21
My measurement in studs was taken somewhere between 9-10 am I think, so I would've been 6'3 or near it at the time of day. Rugby boots add 1 7/8"
Rampage(-_-_-)Clover
said on 25/Jan/21
In studs probably clears 6ft4...
ChaosControl 6'2 1/2
said on 24/Jan/21
Rugby boots add 1.75-2 inches I'd guess. I've measured in my studs, I got just short of 6'5 (like 6'4.9)
JohnnyBravo
said on 22/Jan/21
6'3" in rugby cleats, or barefoot?
Rampage(-_-_-)Clover
said on 19/Jan/21
secondrowback, I passed him in a supermarket about 19 years ago and was stunned straight away to find that he was slightly shorter than me (I'm 6ft4). He was with one of his kids so I didn't want to bother him. Based on what I saw, around 6ft3 is fair. I expected him to be much taller....his presence on the field as England captain just made him look so large, comparable to Martin Johnson. But obviously he's about 4in shorter than Johnno in photos
Mr L
said on 17/Jan/21
@secondrowback
Great to hear about Paul. He always seemed like a top bloke and I always enjoyed watching him captain the lions.
Found this quite interesting:
" Height loss is related to aging changes in the bones, muscles, and joints. People typically lose almost one-half inch (about 1 centimeter) every 10 years after age 40. "
Source:
Click Here
Also rugby being a 'collision sport', it's likely that the cumulative effect of burly men repeatedly bashing into one another has had an effect on the spine etc.
Does a 50 year old Jonno still measure up to his 6'7 claim...?
Seems unlikely.
secondrowback
said on 16/Jan/21
@Rampage
Did you mention before that you had met Dallaglio? If yes, do you think 6'3 is a good call for him?
Arch Stanton
said on 15/Jan/21
Yeah he always looked a big 6'3 guy, quite good looking in a bald, rugged way.
ChaosControl 6'2.5
said on 15/Jan/21
@Secondrowback yeah I'm down from about 115kg, although a little shorter than you at 190.5 morning and 188.5 evening. I put pounds and kilos cause I didn't know which system you use
Rampage(-_-_-)Clover
said on 14/Jan/21
No, Dallaglio is slouching and still looks taller than Jack. Upstraight it'd be closer to 2in
secondrowback
said on 14/Jan/21
@MrL
There is a recent group photo of former British and Irish Lions captains where Paul O'Connell is stood beside Martin Johnson. MJ has 2 inches on POC. I live in the same town as POC and have passed by him often. POC is 6'5. I know he is listed 6'6 but he is not that height imo. MJ was easily 6'7 during his playing days, probably has lost little to no height today at age 50.
secondrowback
said on 14/Jan/21
@ChaosControl
I wake at 194cm and am 192cm at night. Not too sure about weight as I've come down a little. I think I'm about 88kgs (down from 97kgs).
Mr L
said on 14/Jan/21
@secondrowback
You could be right. Johnson was a powerhouse and at his peak may have measured close to that impressive 6'7 mark. He's 50 now and at the very least has probably lost an inch or so in height.
Click Here
At 0:11 Dallaglio looks similar in height to 6'1 listed Jack Whitehall. Rough 6'2 seems more accurate for the current day Dallaglio.
Canson
said on 13/Jan/21
@Rampage: interesting. I should've known by the Clover!! I always thought you were from the US
Big T
said on 13/Jan/21
Also interesting that by the time of his photo with Rob, Lomu almost looked thin by his standards. In those 2009 photos, he's a bit pudgy compared to his peak but also just plain bigger than 240lb Dallaglio across the board. He would've been 265lb+ there for sure.
Big T
said on 12/Jan/21
Click Here
Click Here
He looks noticeably shorter than Jonah Lomu in 2009 imo. Lomu losted 6'3" here and looked shorter than that at times. Perhaps supports the idea that Lomu lost height in the last 5 years or so of his life. It seemed to me Lomu for whatever reason went from about 6'3 1/2" to more like a strong 6'2".

Editor Rob
he can look like he's under 6ft 3 there.
ChaosControl 6'2.5
said on 12/Jan/21
@secondrowback since you mention height and weight, what are your stats? I'm carrying 94.3kg/208lbs on my frame and usually play number 8
Sulu2020
said on 12/Jan/21
There are quite a bit more 6ft 3 listings than 5ft 4 listings for male celebrities on this site, making 6ft 3 be closer to average height than 5ft 4 in this case.
Rampage(-_-_-)Clover
said on 12/Jan/21
Canson, Ireland
secondrowback
said on 11/Jan/21
@MrL
Martin Johnson is 6'7, not 6'5.
@Rob
There should be more rugby players on this site imo. Height and weight are important features for most rugby positions. Rugby players tend to be seen in public more than most sportspeople so good targets for height estimates.
Canson
said on 11/Jan/21
@Rampage: do you live in the States or the U.K.?
Rampage(-_-_-)Clover
said on 10/Jan/21
To be honest, only a handful of them I think make the cut here...as amazing as they are in on the pitch doing their thing, most of them are really boring to listen to....few exceptions...Jonah Lomu would be the Muhammad Ali of New Zealand...Dan Carter was the David Beckham of rugby in his day....over here in Ireland we've got Brian O'Driscoll....Dallaglio, Johnno (Martin Johnson) and Wilkinson are the main men in England....Matt Dawson wasn't a stand out player but he has the show...
OriginalAnon
said on 10/Jan/21
6'3'' is about right.
Miss Sandy Cowell
said on 10/Jan/21
Being a rugby fan, my boyfriend will be familiar with Lawrence. Personally, I am not, but I have great respect for anyone who goes to the trouble of writing a book about his life's work and doubt whether this guy would lie about his height when he's proved himself as a writer.
6ft3. 📝👍
Mr L
said on 10/Jan/21
Granted Lawrence may have been close to that range at his peak, but the following footage of him with 6'1 Jack Whitehall and the circa 6'5 Martin Johnson, Dallaglio looks a weak 6'1.
Click Here
Chris Junior Hernandez 1990
said on 10/Jan/21
From the first glance looking it, i thought Lawrence Dallaglio was Johnny Sins.. 😂😂😂
ChaosControl 6'2.5
said on 10/Jan/21
Have we got enough rugby players on this site for their own category now?

Editor Rob
maybe 8 or so, not quite enough I'd have said.
Rampage(-_-_-)Clover
said on 9/Jan/21
I've seen him up close...around this mark is fair