Li Gong's Height
5ft 6 ¼ (168.3 cm)
Chinese Actress best known for roles in films such as Raise the Red Lantern, 2046, Farewell my Concubine, Curse of the Golden Flowers and Memoirs of a Geisha.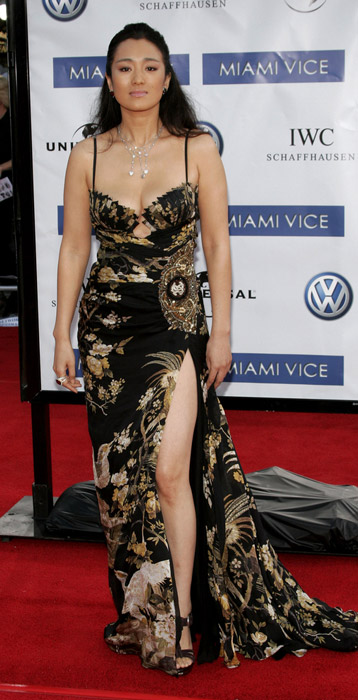 Photo by PR Photos
Add a Comment
41 comments
Average Guess (7 Votes)
5ft 6.57in (169.1cm)
Ryan Roar
said on 13/Nov/19
I am legit 166cm under very strict measurement and she looks tall compared to me. Easily 170cm for Gong Li imho.
Sam
said on 1/May/15
Not a great photo but she still looks great, definitely one of the most beautiful actresses of all time. Raise the Red Lantern & Farewell My Concubine are powerful, beautiful films but, God, I felt pretty depressed after both!
Arch Stanton
said on 28/Apr/15
Thanks. You'd not have thought this in Raise the Red Lantern though. Seemed smaller in that film. 5'6.5 is pretty tall for a woman in China I think.
heightobsessed
said on 25/Sep/13
I think she's rather tall. And thats a horrible photo of her.
linke
said on 7/Dec/11
I'm really curious why asian names are being listed from last name to the first name.Weaky[lol,cant name that site] still has gong li and chow yun fat but other sites are now referring yun fat chow and li gong?
Lu
said on 24/Jun/08
5'6" is an extraordinary height for Chinese women of Gong Li's generation. She is 167cm-tall barefoot MAX. BTW: height difference between Chinese and Caucasian male population may be still 5cm or 2", but Chinese women on average are about the same as white chicks...
lookuptothetallpeople
said on 13/Nov/07
even with 4 inch heels that would place her at 5'10.5. she looks that tall evebn whi;lst leaning (at least to me) in this picture she looks at least 6 foot if she had her back standing up straight, so if u give her 4 inch heels thatt woul place her at 5'8 giving glenn th benefit of the doubt on his height that seems odd.
glenn
said on 19/May/07
she is wearing heels,im not.and im bending a bit.
sf
said on 18/May/07
dmeyer - don't you think she might have high heels on? Ummm..three or four inch heels would do the job. Glenn - did you forget to wear your heels that day?
glenn
said on 18/May/07
most of the time,maybe not here,they cozy up to me.so i lean in.
glenn
said on 17/May/07
im not standing straight in photos with girls.
[Editor Rob: I wouldn't blame you...I guess its hard not to half the time, even I've been doing that lately aswell, some leaning, poor posture, but some of these are on purpose for future.]
dmeyer
said on 17/May/07
how come she is so mush taller than glenn a 5'6.5 girl shouldnt look more than 5'8.5 to 5'9 max
Viper
said on 17/May/07
White chicks
Jason
said on 16/May/07
Thanks eh Glenn. Miami Vice is awesome (Heat's much better even BTW ... also by Michael Mann -- similar movies in some ways) ... I haven't seen Hannibal, though. I can't watch that **** (gross stuff). lol
Viper says on 14/May/07
''Whats up with you and Asian chicks Jason.''
Just a preference. ;) Maybe Mario's, also. lol What's yours??
Leung
said on 15/May/07
Mario, I read Raise the Red Latern years ago and thought it was great, haven't seen the movie yet.
Leung
said on 15/May/07
Viper, it sounds like a case of asian fever.
Gong Li has got a lot of fans, even the RHCP wrote a song named after her.
Throughout her career she has had to deal with people focussing on her looks rather than her acting talent. It's bizarre how people get carried away with her looks because she's not even that hot.
Mario
said on 15/May/07
Watch Raise the red Lantern and Houzhe. That's where she really shines.
Does she also look young in real life (she's almost 42)?
Viper
said on 14/May/07
Whats up with you and Asian chicks Jason.
glenn
said on 14/May/07
this was the party for hannible.she was great in miami vice.
Jason
said on 14/May/07
F*uck ... you are a lucky mutha, Glenn. lol Where did ya meet her & how recent is the pic? Have you seen Miami Vice? She was very close to Colin Farrell in heels, walking side by side in one scene.
Theodore
said on 13/May/07
i myself is 5ft 8 and i happenned to stand beside Gong Li while she was wearing about 5" heels.All i remember is that the top of my head could hardly reach the nose of that chinese goddess
glenn
said on 18/Mar/07
thank you pc and anonymousxx
PC
said on 17/Mar/07
Satan you fool. A chick an inch shorter than you in heels is gonna be TALLER than you (Unless you're a transvestite male/weirdo with a thing for heels yourself). Glenn pretty much always looks 5'8" in his pics, but obviously sometimes may not be standing at his tallest (maybe 1-2cm) less, which is the same for ALL of us. And believe it or not, many celebs DO wear lifts/big shoes!
person
said on 17/Mar/07
Looked 5 inches shorter than 6ft Jiang Wen in "Red Sorghum".
Julie Dot Leo
said on 17/Mar/07
Being an Asian woman,she is very tall but vey NOT beutiful!
glenn
said on 16/Mar/07
5-6.5 to 5-7. she was somewhat nice.not overly friendly,not mean.yes,she had heels.
UK
said on 16/Mar/07
so Glenn...how tall would you say she is then, witout any heels of course!?!?
BTW...was she wearing high heels in this pic with you? And what did you think of her as a person?
Satan
said on 15/Mar/07
It seems funny to me how in every pic with Glenn, we have an explanation as to why the celebrity in question appears taller in comparison with Glenn than their listed height (aka: boots, high heels, slope in the ground). Unless celebrities are all lift wearing freaks, then there's only one explanation for this......
D. Ray Morton
said on 15/Mar/07
Awesome pic - of Gong and Glenn.
2046 ruled. Geisha was a joke.
glenn
said on 15/Mar/07
also from hannibal rising and miam vice.yeah;everyone forgets heels.she was ok.
Mario
said on 15/Mar/07
I personally think that she isn't any less than 170cm.
By the way Glenn... How is Gong Li in real life?
CoolJ
said on 15/Mar/07
Ever hear of heels Anonymous?
Anonymous
said on 15/Mar/07
um. if glen is 5'8, and lil gong is about 10 cm taller than him on that pic then she must be at least 5'8
Anonymous
said on 21/May/06
Ziyi Zhang fanbased site lists her at 5'5". I think Gong Li is taller just because of her look from Memoirs of a Geisha. Gong Li is definitely hotter than Ziyi Zhang. At 40 years old, I dont think Ziyi Zhang would look as good. Gong Li is a breathtaking natural beauty!
John
said on 12/Feb/06
i'm Chinese£¬maybe she is 168 or 170£¬at least 168.
In my memory,she's taller than zhangziyi.
Serene
said on 25/Jan/06
She is one gorgeous aunty!!! She is already 40 years old and she still looks so FINE!! Oh my god, my role model.. haha
In Geisha, she was a bit taller than Michelle Yeoh and Zhang ZiYi, so she can be almost or about 5'7"..
Anonymous
said on 25/Jan/06
She is about 3-4 cm taller than ray.she may be 5'8
ice
said on 24/Jan/06
one of the few times I think we may be short-changing someone. I think she's a full 5'7
Danny
said on 19/Sep/05
Rob I think she might be slightly taller than 169. Take a look at this photo beside 5'7 Aishwarya Rai and Laetitia Casta. She clearly looks taller and her heels are average sized ones.
http://www.boxofficeprophets.com/hyde/images/gongcastarai.jpg
Heres another view of the same day
http://www.vnn.vn/dataimages/original/images178148_Cannes2004_GongLi_AishwayraRai_Casta1.jpg
JustKathy
said on 22/May/05
She is definitely not that tall, she always wears higher heels than normal 3-4" heels. She likes the platform shoes which makes her no taller than 5'5".
http://www.us.imdb.com/gallery/granitz/1420/Events/1420/GongLi_Vespa_463700_400.jpg?path=pgallery&path_key=Gong,%20Li
[Editor Rob: ah, sometimes if she wore such heels it gives her the impression of being fairly tall. Those are pretty big platformers...but yes the more I see of her the more I think she can be shorter than I imagined! She does love her heels.]
Detective
said on 21/May/05
I think she is 5'6", cause she looks 2 inches shorter than 5'8" Andie Mcdowell in this picture. http://www.us.imdb.com/gallery/granitz/0416-caa/Events/0416-caa/mcdowell.ago?path=pgallery&path_key=Gong,%20Li
[Editor Rob: sometimes of course she might not look it. There's a series of images on wireimage of her beside 2 other 5ft 7ish ladies Aishwarya Rai and Laeticia Casta. I think she can be in the 5ft 6 - 7 range]