Martin Scorsese's Height
5ft 2 (157.5 cm)
Peak height was 5ft 3 (160 cm)
American film director best known for helming movies such as Taxi Driver, Goodfellas, Raging Bull, The Wolf of Wall Street, Casino, Mean Streets, The Aviator, Shutter Island and The Departed. He has once been given 5ft 5.5 in a newspaper.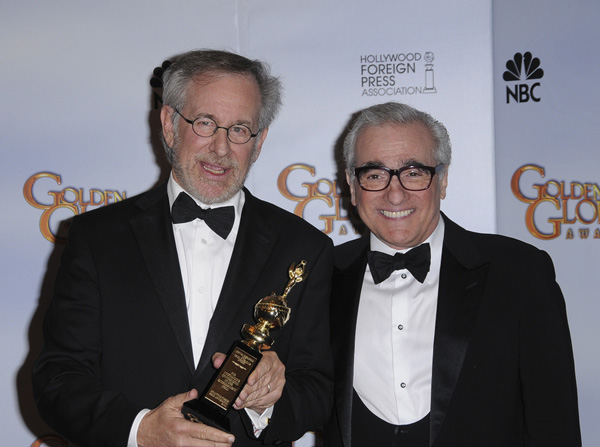 Scorsese with
Steven Spielberg
Photos by PR Photos
You May Be Interested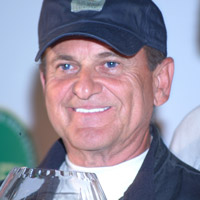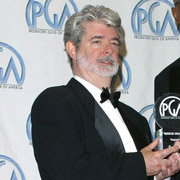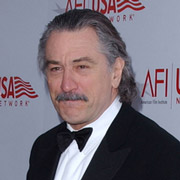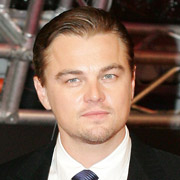 Add a Comment
64 comments
Average Guess (17 Votes)
Peak: 5ft 2.85in (159.6cm)
Current: 5ft 2in (157.5cm)
Sonny Black
said on 12/Jan/19
He always looks about an inch shorter than Pesci who's peak height couldn't have been more than 5'4. 5'3 or shorter for Scorsese.
Greatman
said on 14/Oct/18
I'm surprised he's that tiny. Makes Leonardo DiCaprio look like a giant.
Tall Sam
said on 9/Mar/18
Rob, any chance you'd give him a current listing of around 5'2", not a lot of loss but he's in his late 70s?

Editor Rob
Yes, today he looks to be nearer to that 5ft 2 range.
Tall Sam
said on 6/Mar/18
Well, I don't know about Danny Aiello not being cast because of his height, many tall actors in his films like several in Goodfellas (Samuel L., Mike Starr, Sorvino, etc.) Wonder if Marty was ever a strong 5'3" guy, although he may have shrunk to nearly 5'2" these days. Would interested to see how he'd look with Van Morrison!
Rick
said on 23/Oct/17
Marquis, or maybe because Joe Pesci is a good character actor. Just a thought...
Warren
said on 25/Jun/17
Danny Aiello is of the opinion that Scorsese never cast him because of his height (not listed here, but claims 6'3").
Marquis
said on 12/Jun/17
Well, Scorsese's Lilliputian height certainly does help explain his odd casting choice of equally tiny Joe Pesci in so many 'tough guy/macho man' roles.
In real life, 5'3" Pesci would probably get atomic-wedgied by the big tough guys he's allegedly intimidating and beating up in Scorsese's films. But, fantasy-wish fulfillment by Martin, I'm thinkin'.
Sandy Cowell
said on 18/Oct/16
@Ian C. It doesn't strike me as whimsical at all to suggest that Scorsese could have been more accepting of shorter leading actors like deNero and Pesci because of his own shortness! I think you have made an excellent and valid point!
Sandy Cowell
said on 18/Oct/16
It doesn't matter to me how small Martin Scorsese is as he makes up for his lack of height by bringing us some of Hollywood's best heavyweight films! I have 7 of the 9 mentioned above and more besides. I was convinced that he was 5ft4 though, but only because I'd read it and of course, there is every likelihood that he has got smaller over the years.
Ian C.
said on 9/Jul/16
Ahah. Although it is whimsical to suggest it, Scorsese's height may have been a boon to short guys Robert DeNiro and Joe Pesci. Because Scorsese was short he would have been tolerant of short leading actors.
5'11 Guy
said on 28/Mar/16
5'4 peak???
Sam
said on 1/Apr/15
If any director needed 10 credits...
Could you add Mean Streets and After Hours above, Rob?
Markus from Italy
said on 14/Nov/13
Well considering De Niro 173, in this photograph Scorsese looks very short compared to him. De Niro is probabily wearing lifts here as he probabily wore in Taxi Driver or Scorsese is a little shorter. Here he looks at best 161 while De Niro looks 175. So the listed height is pretty accurate for this guy in my opinion, I don't know how De Niro is listed on this site, I will take a look ;)
Click Here
cd
said on 31/Jul/13
@marla singer
He wouldn't have lost a whole 2.5". He could have been close to 5'4 at peak maybe but definitely nothing over that.
marla singer
said on 16/Dec/12
He does look 5'3 nowadays but the 5'5.5 listing has a reason, he's old and he shrunk for sure some inches.
The Exorcist
said on 28/Oct/12
5'3" is fair.
Shaun
said on 10/Sep/12
Funny how a lot of the most powerful men in Hollywood, Scorsese,Woody Allen, Steven Spielberg, Tom Cruise etc are all under 5 ft 8!
Reality
said on 4/Jan/12
Phil says on 8/Oct/11
Hope Rob will downgrade Scorsese's height.
You HOPE he'll downgrade him?That's just ridiculous to see how some guys desire downgrading so much.Btw it wouldn't change anything:it'll not make you taller,it'll not make people think that you're taller,so what do you really hope to get by this?
Btw he he could be about 5'5 in his youth so 5'3 is already his present height.
ebw343
said on 7/Dec/11
He can't be too sensitive about being that short, a lot of "Hugo" premier pics show him standing next to Asa Butterfield who's at least 2" taller and still looks more like a young kid than a teenager.
jake, 1.82 m
said on 6/Nov/11
Yes Phil, he looks a head shorter (sorry) than 5ft11 range guys.
jake, 1.82 m
said on 6/Nov/11
Yes Phil, he looks a head taller than 5ft11 range guys.
leonari
said on 9/Oct/11
I say he always was below 5'3".
Phil
said on 8/Oct/11
Agreed. He is a 5 foot 2 guy nowadays. Hope Rob will downgrade Scorsese's height.
5 foot 2 or 5 foot 2 and a half is more precise.
jake
said on 2/Sep/11
Rob could he be below this even? It's just that he looks tiny these days next to guys like Leonardo DiCaprio.
[Editor Rob: he could be near 5ft 2-2.5 range]
sk8 punk
said on 12/Jul/11
I met him I am 5'4.5 and I was a good inch to inch and half taller than him. He is one of my favorite directors who directed one of my favorites Taxi Driver. He is proof that little people can do big things.
michael martin
said on 7/Jun/11
Stalin was short, and people tended to take him seriously.
PJKAKA
said on 4/May/11
Martin is a 100 foot tall guy when you consider his achievements and talents. The man can get any actor to stand in a queue and eat out of his hands for a role in one of his movies.
anon
said on 8/Mar/11
"So if directors Martin Scorcese and Michael Crichton stood next to each other for a photo op, they wouldn't even fit in the same frame?"
Right. Scorsese would have to lie down for both to be visible.
slanted_enchanted
said on 19/Jun/09
I'm 5'4 and I think Bob's comment is hilarious gosh lighten up.
kenneth
said on 1/May/09
same height as me. thats pretty cool, considering he's one of the world's best directors and having to command an entire crew and cast which are probably heads over him is not easy.
Doug
said on 11/Apr/09
Finally the truth. I always found it difficult to see 5'4" actually, he is dwarfed even by 5'8" ers. 5'3" must be about right. He is one of the worlds greatest directors though, his diminuative height adds to his status I think!
RisingForce
said on 22/Mar/09
What the hell? I just read Bob's comment...I'm speechless. What a braindead moron. That was quite possibly the dumbest thing I've ever heard and no that's not an exaggeration. He can't take his favorite director seriously now thta he found out he's 5'3"? Incredible...
leonari
said on 14/Mar/09
Parker: Thanks man. I appreciate you words. I am a nice guy. I truly am. But guys like bob or other discriminating pricks who seem to come more often than ever around here. I would love to give you a lesson. Like Glenn I hate violence but with fools like that I think I would do them a favor with a little ass whooping. I'm only around 5'7.5 - 5'8" myself but if a giuy like bob comes around and disses me the way he just dissed Scorsese who is considedered a genius as a director (I don't fully agree-but he made some good flicks) I would ask him to go outside to see what it's like when a little guy has more. skills, brains, strength etc. Guys like bob need lessons. And if life doesn't provide these lessons, i am willing to step in.
Parker
said on 14/Mar/09
Leonari - Your the man. I remember a friend talking to me about heightism some time back (we are both very short), but I never realised it existed until I started visiting this site. Especially the General Height section...people over 5'10 depressed about their height...one guy saying guys under 5'5 'hide away' with shame.......truly unbelievable. And Bob....your an absolute Kn.. head.
Anonymous
said on 14/Mar/09
yeah, Bob is ridiculous. He's afraid to see the movie of a 5'3 director... I've never heard something that stupid. Shame on him, really.
leonari
said on 12/Mar/09
bob: you are joking right? How does height correlate with his accomplishments as a director?? That is one of the most discriminating posts ever. Shame on you man. i pity you.
bob
said on 11/Mar/09
I didn't realize that Scorsese was so short. He used to be my favorite director, but I don't think that I will be able to take his films seriously anymore. I wish I hadn't found this out, it's kind of like finding out that Pam Anderson has herpes.
joe
said on 14/Nov/08
I'm 5'7 and a half, and still feel slightly short. But you have to be grateful that your in the average zone at least, it's really not that big of a deal. Tall people often don't care about it as much as you think they do. That's one thing I've learned. I used to think, when I was SUPER short, that all the **** I got or whatever disrespect I perceived was in regard to my height. Howeve, if you pay attention, people are often assholes to everyone and often there not even insulting you when you think they are! So i'd guess that about 90% of height prejudice is in short people's mind. And often when they do encounter it, it's just being used because the "insulter" is to stupid to think of anything else to say. It's pathetic. But don't worry if your short, in the end, it will make you a stronger, more resilient person.
Real
said on 14/Oct/08
Runt - I'm 5'6ish with size 10.5 shoes :)
Cedric - I'm actually creeped out by girls that are several inches shorter than I am.. It feels like I'm with a kid and I kinda feel like I'll break them (lol). Plus, we all know that that short guys are often said to have a complex, but I think it's much more apparent in short females.
Jack Brown - Dude, you're the man.
runt
said on 8/Sep/08
Cedric says on 12/Jul/08
"I normally prefer smaller girls than I not because I have a complex but because I don't like to date someone with bigger feet and hands than I.It's just creepy."
Wow I never thought about that. I'm 5-7ish and I wear size 10 and 1/2 shoes (sometimes 11) and I've dated a couple of 5-11 girls. Their hands and feet were smaller than mine. In fact, I've never known any females with bigger hands and feet than me.
denis
said on 2/Sep/08
i doubt he is even 5'3 because he looks much shorter maybe because of his body
Norton K
said on 13/Aug/08
wow he's lucky to be so short! i'm 6ft7 nd i'm tired of constant gawking and looks everywhere i go!
Cedric
said on 12/Jul/08
I have to disagree with Arturo too. I am 5'6 ish and I never had a problem getting a date.Considering the fact the average American woman is only a tad taller than 5'4", it's not hard to find females shorter than me.I have even been approached by girls that are a couple of inches taller at bars.I normally prefer smaller girls than I not because I have a complex but because I don't like to date someone with bigger feet and hands than I.It's just creepy.
I have taller friends who sometimes attempt to make a joke over my height. I reply to them that I wouldn't trade my good looks for their height. Not to sound conceited, but I have always been considered good looking by the opposite sex (and by some members of the same sex as well!)
As far as work is concerned, I am one of the highest paid employees at my job.I have a successful career thanks to my education.
The thing is that you can't blame your failures in life to lack of height. Look at Scorsese! With only 5'3" of height he has more money than you and I will see together in our lifetimes combined!
Jack Brown
said on 24/May/08
There's nothing wrong with being on the short side. I'm close to 5'7" and I have no complaints. Sure the guys will make a few cracks now and again but its all in good fun. It also opens up plenty of doors in terms of women and athletics. Most girls are 5'6" and under and enjoy being with a guy whose around their height. I'm also a swimmer/triathete so my height makes me perfect for the sport. You're height doesn't constitute a damn thing in this world. And in a world where people suffer from cancer and poverty, you should be concerned with a few more things than what people think of you Arturo. The more time you spend complaining about life is time lost. So Arturo, put a tampon in your vagina and man up. People don't respect you because your a tool.
bigballin
said on 21/May/08
That is ridiculous, anonymous. The reality is that Arturo couldn't possibly be more right. It's pretty obvious that you are not a short guy. If you were, there's no way you could disagree. Being a short person myself, I couldn't even begin to tell you about the bull**** we receive ON A DAILY BASIS. Yes, every day I am reminded of my height. I'm 5'5" which isn't even THAT short. Although some of you would disagree. It's only a few inches below the male average of 5'8" to 5'9". But still, I find it pathetic that people seem to think so highly of themselves because they're a few inches taller.
anonymous
said on 9/Jan/08
I have to disagree with you, Arturo.
Unless the person you're talking to is 6'1+, then there's really no head tilting if you're at least 5'7. A few obvious inches in difference, but you're still looking directly at them eye to eye. Build can also affect the perception of height. I'm sorry you had to deal with what you dealt with, but that doesn't speak for everyone's experience in this height bracket.
There are many A-list actors in the 5'7/5'8 range - in many countries that is an average, even taller than some male averages. What a few a**holes say on a messageboard or in real life doesn't override reality.
Arturo
said on 14/Dec/07
Sigh. Why do humans crave a reason to marginalize each other? Are we so insecure that we need to sit around and feel bigger than the famous people who are physically smaller than us? If it's not obvious enough from the tone of my message I am a soft 5'7" and I can't tell you how much hell I receive. Women, employers, men...no one takes you seriously when they have to tilt their head down to talk to you and one's height is not a choice! It is a total crap shoot and the people who are "lucky enough" to hold their skull a few inches higher than other people LOVE to lord it over them. What can you do...
Bserious
said on 2/Oct/07
You know what? Regular guy is right. It all seems to be bottom-lined to the height of the short guy, like he is a genius for a midget... Let's you know why some fight so hard for that extra inch.
Regular Guy
said on 27/Apr/07
See it's so funny how people give short guys so much hell when they're doing all they can to be sucessful and acomplish their goals and when they finally do they'll get their credit for it but from generation to generation they're still gonna get picked on and laughed at all over again in a repeated cycle.
Anonymous
said on 9/Apr/07
I think Martin Scorsese should team up with all the short guys in Hollywood on a movie Pacino, Pesci, Cruise and Stallone should all be cast in it. It would be very interesting. Comedy maybe. What should we name it?
Mr. T
said on 10/Feb/07
DeLaurentiis is pushing 90, though, isn't he?
footballed28
said on 6/Feb/07
there was a teacher from Spain who claimed he was 5'2...tho I suspected he was more in the neighborhood of 5'...he was a head shorter than everyone in our school
leonari
said on 4/Feb/07
I say 5'3" was his peak height! Rarely does one see such a short individual as him...Departed sucked.
the shredder
said on 2/Feb/07
I say Pesci 5'4 peak , 5'3 now !
Gonzalo
said on 2/Feb/07
Pesci I guess is around 5`4.
Mario
said on 1/Feb/07
And how tall you guy´s think Pesci is? To me they look practicly the same height.
Glenn
said on 1/Feb/07
Amen to that Gonzalo.and yes,5-3.just got Dino Delaurentis who was 5-4.
Gonzalo
said on 31/Jan/07
He is a midget. 5`3 sounds reasonable for him. He made Deniro a giant
footballed28
said on 30/Jan/07
he is only 5'3? I guess I am just a little surprised...always thought he was around 5'5
Mario
said on 21/Jan/07
Well he's exactly as tall as Joe Pesci, who is here listed here as 5 ft 4.
Anthony
said on 20/Jan/07
THANK YOU, ROB!
5'3 is bang on for his peak, though I'd wager closer to 5'2 nowadays. Small guy and along with Spielberg the finest director of the post-Hitchcock days of cinema.
Marc
said on 20/Jan/07
I always figured 5'4", but after seeing him on the red carpet, he seemed even shorter. 5'3" seems correct.
leonari
said on 20/Jan/07
absolute max height for scorsese. He never was above that.