Michael Gross Height
6ft 3 ½ (191.8 cm)
American actor best known for playing Steven Keaton on tv series Family Ties and as Burt Gummer in Tremors movies.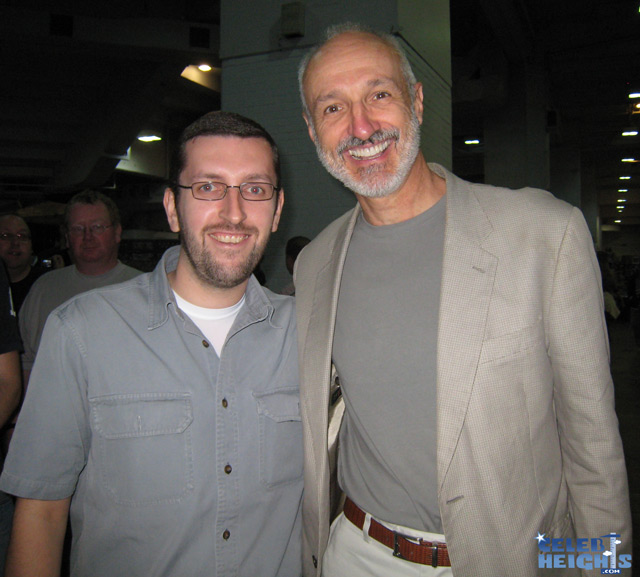 5ft 8 Rob and Michael
Add a Comment
31 comments
Average Guess (7 Votes)
6ft 3.29in (191.2cm)
Rampage(-_-_-)Clover
said on 2/Oct/18
Rob, is he this today?

Editor Rob
I'd expect now to have lost some height
Junior Hernandez 1990
said on 28/May/18
Maybe 6'3.5" peak but had already gone down 6'3.
JJAK
said on 20/Aug/17
Mike often walked around very loose giving a lanky tall 6 2 ish look.
Also camera angles were used to keep him from towering but still happened and made his loft apparent.
Best guess a weak 6 4 so 6 3 .5 probably cleared 6 4 back in the 60s.
Brad
said on 24/Nov/14
6'3"? no way. He is 6' MAX.
avi
said on 24/Nov/13
Hard to tell. He Has an extreme advantage here as he's closer to the camera. Could be 6'2.5-6'3 guy
Hob
said on 7/Aug/12
did't he look 6'1.5 here? i bet 6'2.5 in real
Michael Voisinet
said on 26/Dec/11
In an episode of Law and Order CI Michael Gross is about the same height as Vincent D'Onofrio. 6'4'' is a more accurate depiction of his height.
said on 14/Jan/11
he's tall alright, his sister Mary is 5'8".
Steven Davis
said on 15/May/09
we're about the same height, I stand 6 ft 3.75in (192 cm) , so we're both roughly six-four tall. Michael Gross played Steven on Family Ties, I've been Steven in real life since late 1972.
Hugh 190cm
said on 24/Mar/09
If he stood straight he appear close to 6ft4.
OutBenchThis
said on 13/Oct/08
Yeah, thanks Rob. He looks it when you factor in the lean. Tall guy.
Anonymous
said on 13/Oct/08
Guys, he only looks shorter here because he is leaning .
OutBenchThis
said on 13/Oct/08
Rob, since his posture/stance isn't the best, what did you think he was in person? A full 6'4" or just under?
[Editor Rob: wasn't convinced he was 6ft 4.]
Roger
said on 12/Oct/08
Looks to be exactly my height.
Debbie
said on 24/Sep/08
Gross does a guest spot on Law and Order Criminal Intent "Crazy" in 2002 and stands right next to Vincent D'Onofrio. They are pretty much the same in height. 6'3" to 6'4" range for sure.
supes78
said on 25/Sep/07
He was definitely 6'4" at his peak. I also thought he was around 6'1" but then I saw him on Night Court and he was as tall as Harry Anderson. Check him out with 6'8" Richard Moll;
Click Here
venus
said on 16/Sep/07
He's a tall guy. He towered over everybody in family ties. He looks like he shrunk a teeny bit.
saga
said on 15/Sep/07
I've always thought he was 6'1-6'2 but i guess i was wrong, actually he looks about 6'3 (taking into account his bad posture) in that pic.
Danimal
said on 13/Sep/07
He's 6'4".
TJ
said on 13/Sep/07
Not sure he is quite that tall. I think more 6'2.
Austrian
said on 13/Sep/07
you know whats funny?
i mean not only that "gross" has a meaning in English, it also has a (different) meaning in German: gross/groß = tall/big
so its fair to say Michael Gross is a gross man (ein großer mann)
Danimal
said on 13/Sep/07
I also noticed that Michael has lost a tremendous amount of weight. Is he sick?
Franco
said on 12/Sep/07
GROSS!!!!! loooool j/k
hmm, looks 194cm in that pic
JK
said on 12/Sep/07
Id say he is 6'3'', i am 6'3'' and i have more inches on a 5'8'' - 5'9'' guy than he does
Anonymous
said on 12/Sep/07
More like 6'3
tallish
said on 12/Sep/07
Thats a nasty looking whitehead you have bang in the middle of your face Rob.
Viper
said on 12/Sep/07
I do kinda remember that hes been listed at 6-4. He might still be a full 6-4. He doesnt have the best posture there.
Antin
said on 12/Sep/07
6'1 max. I am 192 cm and look so next to 5ft10-11 guy.
Danimal
said on 12/Sep/07
The man was always listed as 6'4". He's older now and hence, he HAS lost height like everyone his age. Was taller than Harry Anderson on an episode of Night Court.
Danius
said on 12/Sep/07
6'3.5? only looks 6'2.5-6'3
leonari
said on 12/Sep/07
wow!! that tall!