Michael Trucco's Height
6ft 1 (185.4 cm)
Peak height was 6ft 2 (188 cm)
American actor, best known for roles in One Tree Hill and Battlestar Galactica. He said on his official forum:
"And finally....I'm 6'3", I played football and wrestled in highschool"
. In 2007 he had a car accident and fractured several vertebrae in his back, which likely effected his height.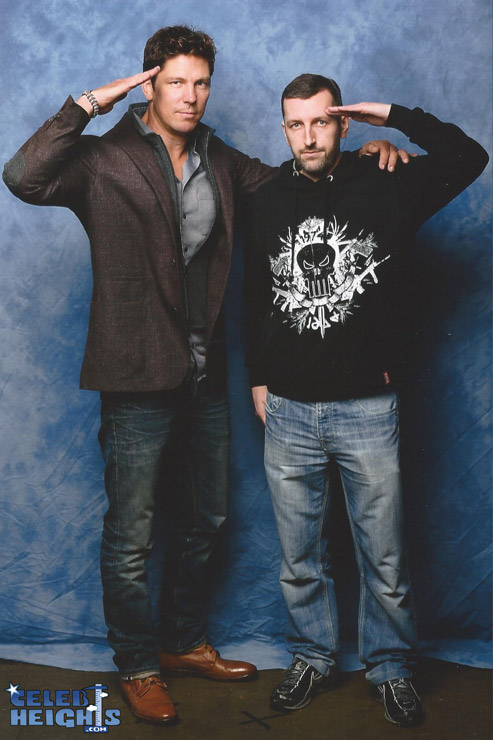 You May Be Interested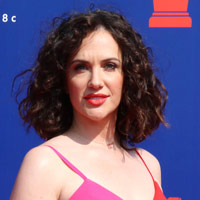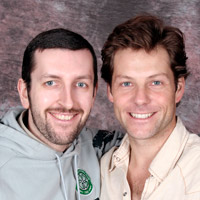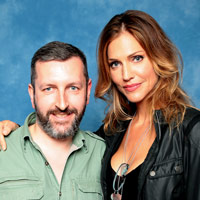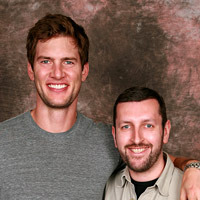 Add a Comment
47 comments
Average Guess (18 Votes)
Peak: 6ft 1.51in (186.7cm)
Current: 6ft 0.79in (184.9cm)
Jkiller
said on 6/Aug/20
6'3 claim is ridiculous, around 6'1.75 peak (187cm), nowadays 6'1.
Chris Junior Hernandez 1990
said on 30/Jul/19
Jordan87, the quote says In 2007 he had a car accident and fractured several vertebrae in his back, which likely effected his height by an inch. He look at least 6'0 with Rob in picture. He tilt down eye level may result to look a few cm shorter.
Paul NS (6ft 0.5)
said on 6/Sep/18
@Jordan87
He probably used to be 6'3" or near it in shoes. It's not even close to being one of the most egregious claims I've ever read.
Jordan87
said on 22/Aug/18
He Claimed 6'3". For Christ sake. He gave himself over 3 " of Height b/c he is not even 6'0.
Junior Hernandez 1990
said on 27/Jun/18
Trucco gave me an impression he could beat out legit 185cm Kevin Richardson by a fraction taller.
188cm peak
185.5cm now
Rampage(-_-_-)Clover
said on 20/May/18
Yeah, a full inch looks extreme and certainly should not qualify as only "a fraction". 188cm peak and 186cm now is more reasonable
berta
said on 28/Mar/18
i dont believe he have lost 1 full inch either. 186 today and probably strong 187 peak. cant have lost more than that. 1 cm is alot just that even with accident. i know one guy who was working with construction and fell 10 meters down and broke his legs and destroyed his back. he was back to normal after 1 year but was limping a little. It didnt look like he lost any height from it. Of course he could have lost 1 cm but nothing that i have noticed
Junior Hernandez
said on 18/Feb/18
If i don't know rob is 5'8 1/8 and Trucco 6'1, i would have thought Trucco look 5'11 range and Rob a bit over 5'6 by looking at the photo posted on the top. Incredible how camera angle deceiving people.
TheReel
said on 28/Dec/17
Jesus Christ what kind of accident robbed him of a inch?, I had a friend who t boned his motorcycle and was lucky to not have his leg amputated but he still didn't lose anything on his height
berta
said on 25/Oct/17
dont really see him under 186. i beleive he is legit 186 guy today and was close to 188 before accident
ArnieDan
said on 8/Oct/17
Looks 6ft with Rob, not even counting the footwear advantage. Must have been a helluva accident.
Rampage(-_-_-)Clover
said on 6/Jul/17
He'd still pull off 186cm today, IMO and 188cm peak is spot on. I think Lafferty could maybe have been more of a solid 187cm guy. Trucco and Paul Johansson (also a 188cm guy) edged him
Balrog
said on 15/May/17
He edge out Lafferty in OTH by a fraction. Lafferty is listed at 6'2" but he probably is 6'1.5" - 6'1.75" (he has claimed "about 6'2"). So on OTH he did looked 6'2", but on HIMYM next to Segel he looked at least 2in shorter. I think Rob has peak and current listing spot on.
Rampage(-_-_-)Clover
said on 2/Mar/17
Now we're guessing less than 6ft1 for him...pathetic trolls
S.J.H
said on 15/Jan/17
I believe after that bad accident he is at least 6'1 now
Importer
said on 8/Jan/17
Rob, ur hoodie looks sick, do you have a link by chance to the one you wore above?
Editor Rob: I don't know if they make that one anymore, it was "Marvel Comics Men's The Punisher Skull Hoodie"
Rampage(-_-_-)Clover
said on 19/Nov/16
Looked at least 6ft2 in One Tree Hill
Peter 179cm
said on 20/Oct/16
Am i the only one here who thinks this guy is only 183cm tops?He might look near 184 but it seems he has a little more footwear than Rob too,maybe 5-6mm advantage. I don't get it how he claims 6'3 when he's not even 6'2 with shoes on.I think he's 6'0.25 now and legit 6'1 prior to his injury.
Rampage(-_-_-)Clover
said on 10/Oct/16
He was listed 6ft3 at first, as I recall
Linke
said on 9/Oct/16
Rob, what was his initial listing? If I'm not mistaken, he was listed 6'2.5. I think that's what his height was before the injury.
Editor Rob: yes over 6ft 2, I don't know if he'd lose as much as 3cm though.
Rampage(-_-_-)Clover
said on 6/Oct/16
Rob, do you think he can still clear 6ft1 today?
Editor Rob: I think if measured he might a little.
Rampage(-_-_-)Clover
said on 14/Sep/16
I think at least give him 6ft2 peak. He never looked under that on One Tree Hill. Looked 189cm if anything.
Editor Rob:
maybe it is fair, his injuries to his back/neck area might mean he also can't stand quite as tall as well.
I mentioned before, but this singer
Here
claimed she lost 1.75 inches with 4 compression fractures to her back and she was in 20's.
Rampage(-_-_-)Clover
said on 12/Aug/16
I wouldn't have guessed under 6ft2 peak
Anonymous_1
said on 3/Aug/16
Hey Rob. How was Trucco's peak height 6'1.75" if on OTH he was taller than legit 6'2" James Lafferty?
Editor Rob: he may well have lost a bit more than I thought, in person he really wasn't near 6ft 2 range, although he could have been that on One Tree.
Rampage(-_-_-)Clover
said on 26/Jul/16
Today I would definitely say more 6ft1 range
But, Rob why not 6ft2 peak?
Editor Rob: I think almost 6ft 2 zone might be what he is at least on Galactica I thought after watching a few episodes again.
Andrea
said on 19/Jul/16
Similar shoes, Rob?
He looks roughly around 185, certainly not anywhere near his claim!
Did he look similar to the 186 challenger in person?
Editor Rob: I think his shoe was close to 1 inch, so within a small fraction. he is roughly 6ft 1 in reality.
Rampage(-_-_-)Clover
said on 2/Jun/16
Rob are you going to list him at 187cm then?
Editor Rob: I keep meaning to look at him before 2007 to see if 6ft 2 looks right. His accident meant a few vertebrae fractures and some disc fusing, so I think a bit of loss is likely, how much? 1/4, 1/2 inch...I wouldn't have guessed him near 6ft 2 today though.
spainmen191cm
said on 5/May/16
Rob, he was 188cm at his "peak" but after his car accident how tall is now?
Editor Rob: I think he has lost half inch, in person I would say he didn't look over 6ft 1.5 anyway.
Tommo
said on 21/Nov/14
@Rob haha yeah I notice you stagger how you upload them! Good idea though, builds anticipation...I know we're all eagerly awaiting your picture with the mountain that rides ;) *hint hint*
[Editor Rob: I like the mountain as he stood good.]
Tommo
said on 18/Nov/14
What picture are you referring to Andrea? If you got a pic with him Rob I'd love to see it!
[Editor Rob: don't worry I'll put it on here...I don't have any other event planned for a good number of months and don't have that many photos left for the site ;)]
Rampage(-_-_-)Clover
said on 17/Nov/14
I don't understand what you mean. He's lost height so yeah he'd be 6ft2 flat now but prior to his accident he was possibly a fraction taller?
[Editor Rob: today more chance 187 than 188.]
Rampage(-_-_-)Clover
said on 13/Nov/14
Is there a chance he was 189cm and lost 1cm, Rob?
[Editor Rob: no, 6ft 2 out of bed for him today.]
Andrea
said on 13/Nov/14
I've seen the picture with you and he doesn't look over 6'0.5... And he claims 6'3, that's crazy! If you listed him at 6'2, you must have your reasons but he certainly doesn't look it!
Andrea
said on 20/Oct/14
Rob, did you see him in person? Is he really a big 6'2.5 guy? I actually only looked a few things of him in the past and thought he wasnt this tall...
[Editor Rob: yeah he ain't that tall up close...but it is quite possible because of his car accident (he had several fractured vertebrae) he had lost a fraction, I don't know, but it is a possibility.]
Balrog
said on 15/Oct/12
Rob, I watched How I Met Your Mother last night and Trucco looked easily two inches shorter than Jason Segel. Also I remember he was barely taller than James Lafferty, who I think is 6'1.5''. Any thoughts?
Silent d
said on 8/Oct/12
In fairly legal he has nearly 30cm on sarah shahi who is at least 5 foot 2. 6 foot 2 is good.
Jonas
said on 6/Oct/12
Looked almost the same height as Neil Patrick Harris. I'd say he's 6'2 tops
Vtec
said on 2/Oct/12
Looked 6-1 next to Jason segel
ray 6' 158 lbs
said on 8/Aug/12
i think he is 189 cm
ray 6' 158 lbs
said on 8/Aug/12
i think he is 189 cm or i think he seems only 1 cm taller than 188 cm paul johanson and 2 cm taller than james lafferty and around 6-8 cm than chad
Cindy
said on 22/Nov/11
Im rewatching One Tree Hill and he's about an inch taller than 6'2" James Lafferty and a couple of inches taller than 6ft/6'1" Chad Michael Murray.
Katie
said on 16/Nov/11
Since there's no mention of it anymore, footwear is 4" stilettos in Six (bottom photo), 3" heels in Dr. Girlfriend (top photo).
Rampage(-_-_-)Clover
said on 24/Feb/11
Only a bit taller than 187-188cm James Lafferty...6"2.5(189cm)
[Editor Rob: I saw him on an episode of castle and it is true he didn't look a big 6ft 3 guy.]
el toppo
said on 15/Jun/09
On a different note, this guy should have been cast to play Superman in Superman Returns. Watch Wishmaster IV. When ever he pops up in it, it's like watching a scene with Clark Kent.
Growl
said on 12/Feb/09
He was involved in a serious car accident about a year and a half ago and suffered serious back injuries. Doctors had to fuse together several vertebrae. 3 I believe. I'm pretty sure a procedure like that causes some height loss. Maybe more like 6'2 today?
luca
said on 4/Apr/08
in "next" he is taller than Cage.191 is exactly
Art
said on 27/Feb/07
Looks about right. Somewhere around 6-2 to 6-3.