Naveen Andrews Height
5ft 7 ½ (171.5 cm)
English actor best known for playing Sayid in Lost and Jafar in Once Upon a Time in Wonderland. In film he can be seen in Planet Terror and Diana. He mentioned his height in an interview with Yahoo, saying
"I'm small - I'm 5'8" ½"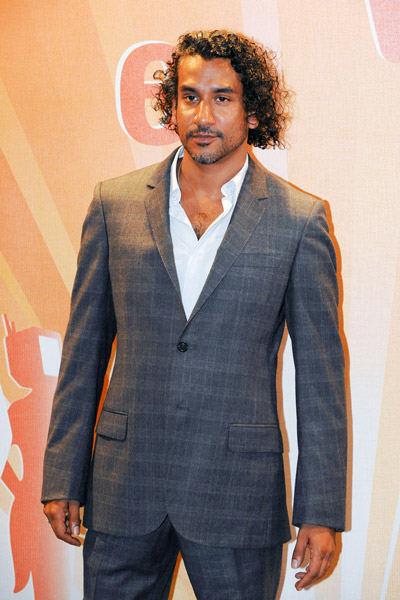 Photos by PR Photos
You May Be Interested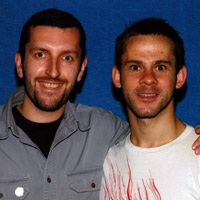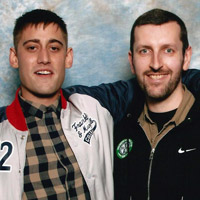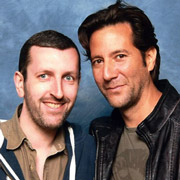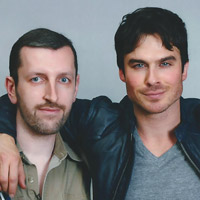 Add a Comment
63 comments
Average Guess (25 Votes)
5ft 8.21in (173.3cm)
Slim 6'1"
said on 8/Aug/20
173cm maybe
Nik Ashton
said on 23/Mar/20
He ain't small, short, or tiny.
@ Sarah - Too true. 😀👌
Jkiller
said on 21/Mar/20
5'7.75.
Gracian
said on 18/Mar/18
Rob, please read my comment. I agree that Socha may look a little higher but not much! Look at this photo, where Socha has thicker shoes than Andrews:
Click Here
Another proof that Andrews should get a quarter inch upgrade is that he looked a little less than 5'9" Maggie Grace:
Click Here
Please, Rob, give him an upgrade to 5'7.75".
Slim 186
said on 12/Dec/17
yeah he looked 5'7.75' throughout lost, average in third world countries but short in the west. yeah give this guy a quarter inch, he'll appreciate it!
Adijos
said on 27/Apr/17
@Editor Rob: Photo with Michael Socha, look at their shoe:
Click Here
Adijos
said on 19/Mar/17
He is 5'9" tall - 175 cm!
berta
said on 5/Jan/17
i dont thinkhe is over 170. looks tiny in everything.
Shredder
said on 20/Nov/16
Was thinking he claim 5'9 , he does look as listed , so in shoes
Clay
said on 28/Dec/15
5'7 is my guess.
Liz
said on 6/Nov/14
Your way to determine height on your photos makes me laugh. It's silly and not correct. And can not claim to be 100% correct. So the height of Michael Socha is also still a question. I saw a more and more Naveen and I confident that he 175 m. Agents Naveen in London generally indicate 5'10.
184.3cm
said on 6/Nov/14
Noway he is 5'9, im watching Lost now and Matthew Fox completely towers him
Liz
said on 3/Nov/14
Nonsense. Naveen isn't shorter than 175 m. And to you Rob nothing to be engaged? Except how to part gossips on this site? My message won't be added of course ((((
[Editor Rob: I think Naveen at 175cm is hard to believe, you've seen him with someone like
Michael Socha
who is about 5ft 8, see Michael with me on this site...]
teej
said on 24/Oct/14
5'7 sounds right for him. I remember him on Lost he was always 2 inches shorter than maggie grace atleast. And she's 5'9. Because i was thinking she must be awfully tall for a woman if he's 5'9. Brillant actor though. I never recognised him as being of short stature
Sarah
said on 4/Jan/14
This is a good listing. I don't think that 171 is short! Sayid was a great character... tough and intelligent.
Dom
said on 18/Dec/13
Funny how his height is never that noticeable on LOST. Always has an intimidating presence, maybe because he was a former torturer lol. Definitely looks in the 5´7 range in scenes with Michael Emerson and Dom Monaghan though...
Funny
said on 3/Jul/13
Why all People say he is smaller ??? I see it everywhere here .... all people saying : No no he's smaller but nothing know the actor/tress xD So funny He is 1,72m!!
Lo sgozzatore
said on 12/Jun/13
Rob, you agree that he's looking barely 5'7 here:
Click Here
?
[Editor Rob: the girl Zoe Bell there is 5ft 8 so he can appear 5ft 7 range]
kennyi
said on 8/Feb/13
I recently saw him at a shopping mall, he looked about 5'7", no more than that, I'm 5'11" and he looked about 4" shorter than me.
lew
said on 29/Sep/12
no way he is that short, I'd def say he is a solid 5'9
jake
said on 18/Jul/11
Alley, I'm only guessing but I'd estimate he is around 155lbs.
kilopt
said on 17/Dec/10
martin henderson is barely 5'8.. this guy must be 5'7 or even less..
Dereks
said on 2/Jun/09
I think He is 5'9 , doesn't look so short.
KennyI
said on 18/Oct/08
I saw him last year in a drugtore here in Honolulu, he looked more about 5' 7" instead of 5' 73/4", I'm 5'11", he looked much shorter than he does in the TV series "Lost", where he does tend to look taller.
Balto
said on 7/Oct/08
Man in nearly every single pic I've ever seen this dude he looks a certain 5"10. The funny thing is this is still so when he's standing next to someone who is actually TALLER than he is !:) He's not skinny, so I can't think why he gives off such a "big" impression.
steve
said on 16/Sep/08
he seemed like 5'9 at least
cc
said on 25/Aug/08
that's 5' 7
JJ
said on 25/Aug/08
Wow, I definitely thought he was 5'10-10.5"
Missy
said on 7/Aug/08
I agree with Antron, he does appear loads taller when he's on TV. I never thought he would be this short, had him figured for 5 ft 10, or thereabouts.
Antron
said on 31/May/08
Naveen is one of those guys whose build makes him appear taller on tv. Dominic Monaghan was never a ton shorter than Naveen, but clearly is not as broad. A lot of it is characterization on Lost. Sayid is portrayed as being able to take care of business in a fight, ergo he's not thought of as a small guy.
Anonymous
said on 26/May/08
this guy is coser to 5 ft 8 strong
dmeyer
said on 25/May/08
he looks nearer 5 ft 9 on lost i have to check on this guy this guy could be nearer 174 cm
none
said on 15/Apr/08
i met him in the hawaii airport. i'd say he's 5'8
Bill
said on 10/Mar/08
Mighty Joe Young was on TV the other day and Naveen is in that. Bill Paxton towered over him. Bill Paxton is listed as 5' 11". Naveen is a little guy.
the shredder
said on 1/Mar/08
Rob , on this weeks Lost this guy was around 2 inches over Fisher Stevens who you have at 5'6.5 ! They were on a ship ! ... I think this guy can get away with 5'8 easy !
the shredder
said on 13/Feb/08
yea , I think 5'8 can fit him !
Charliemoto
said on 13/Feb/08
Naveen Andrews next to Jodie Foster (160cm) - full body shots side by side.
Click Here
she makes Naveen look like a giant, the shoes he's wearing in the movie are quite normal dont look like elevators yet he looks a strong 5'9.
Naveen is 5'8 imo.
Anonymous
said on 29/Aug/07
Maggie is 5'9
Lizzie
said on 27/Aug/07
Well he's shorter than Maggie Grace (Shannon) and i'm not sure of her height though :]
the shredder
said on 18/Aug/07
Rob , what was the highest and lowest you listed this guy ? .. I can't remember .
[Editor Rob: can't remember. He's been 172 for a long while, not lower anyway I think.]
Anonymous
said on 24/Jul/07
They look about equal height, with Naveen maybe a few CM taller.
Click Here
Charlie
said on 2/May/07
i agreed with leonari perfect.
MD
said on 2/Apr/07
Well, that much seems to have already been decided.
the shredder
said on 2/Apr/07
Rob , has this guy claimed a height ??? ... What do you think is minimum and max ??? ... I just can't see 5'9 ! ... He looks too short to be that height !
the shredder
said on 30/Mar/07
yea, this 172cm or 173cm seems right ! over 5'7 , but no 5'9 !
leonari
said on 19/Mar/07
I think you got him perfect ROB. Never is this guy taller but I think he sure looks taller than Dominic by a good inch.
MD
said on 18/Mar/07
When compared to a soild 5'9"er (i.e. Ian Somerhalder), he really does look a definte 2 inches shorter.
(far left)
Click Here
G-unit
said on 17/Mar/07
In the recent lost episode im kinda sure he is 5'8 max, but before in the show he always looked to be about 5'9.
G-unit
said on 29/Dec/06
in lost he looks like 5'9
Kenny
said on 6/Dec/06
I saw him shopping in Longs drugs store in Honolulu on 12/05/06, I'm 5-11 and it seems his height at 5-7 or so is quite accurate.
Anonymous
said on 4/Sep/06
lost is realy dificult to judge height since they standidng on uneven floors
Elio
said on 2/May/06
In Lost, the camera angles and comparisson shots seem very carefully put together when he's in them. I can only guess that this is to make his character appear like a tough, bigger guy.
Strange how they tend to make out Dominic Monaghan's character out to be a shrimp, when in reality he's the same height as the tough Sayeed character.
My opinion : 5'7"
MD
said on 1/May/06
Actually, he looks around the same height as Dominic:
1.
Click Here
2.
Click Here
Naveen is definitely closer to 5'7" than 5'8". Actually, I believe he's probably even 5'6.5" barefoot, seeing as how I'm sure Dominic added at least an inch to his height of his driver's license.
Dagger
said on 30/Apr/06
I would think that he is about 5'7, which is the same *listed* height as Dominic Monagham if you believe he's 5'7 too, which I don't, even though that's whats on his licence. So, my point is that if Dom is under 5'7 at about 5'6, then Naveen is just a little taller at 5'7...
dmeyer
said on 5/Apr/06
he is close to 5'8
BackStageJim
said on 14/Mar/06
I was recently with Naveen at LOST con, and he is just under 5'8. We both were in same height footware, and I was just slightly abouve him at 5'8 flatfoote.
Damn nice guy too. The brit accent does take a bit getting used too.
808surfer
said on 30/Oct/05
5'7" is right. I live in Hawaii and I saw him at Barnes & Noble. I'm 5'9" and I was actually looking down at him.
RLG
said on 25/Oct/05
I also thought Naveen was taller as well but it's true that he's about 5'8".
This is the cast of Lost... on level ground for a change (at the Emmy Awards):
http://www.lost-media.com/modules.php?name=coppermine&file=displayimage&album=712&pos=47
Although some of them are not standing straight, you can clearly see that Naveen is not much taller than Dominic Monaghan.
With 6'1.5 or 6'2" Josh Holloway at the Paley Festival, you really can see that Naveen is around 5'8" or so:
http://www.lost-media.com/modules.php?name=coppermine&file=displayimage&album=336&pos=7
darkie
said on 24/Oct/05
NO way man he looks Taller
james
said on 14/Oct/05
I know it's tough to tell with the uneven natural surfaces on Lost, but he always appears to be at least a little taller than Dominic Monaghan, who has been consistently listed as 5'7" for years now. I think 5'7.75" is probably right, but not 5'7" even.
ey-harrlow!
said on 11/Oct/05
he's taller than that, no really! 175 minumium
Mr. R
said on 17/Jul/05
He has been listed in People Magazine at 5-9.
MD
said on 16/Jul/05
Really? I always thought of him as average height or above, no anywhere below. Where did you get this information, or figure it?