Oded Fehr's Height
6ft 1 (185.4 cm)
Israeli Actor best known for roles in films The Mummy and Resident Evil: Apocalypse. He told USAToday,
"I like to say I'm 6-foot-2, but I'm 6-foot-1"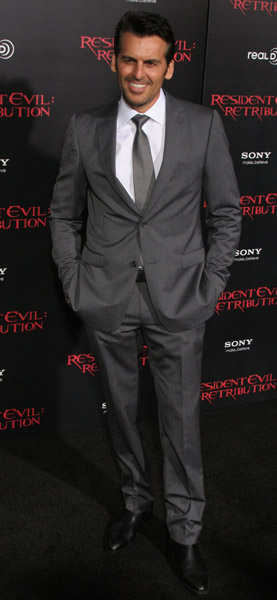 Photos by PR Photos
Add a Comment
29 comments
Average Guess (5 Votes)
6ft 0.9in (185.2cm)
berta
said on 22/Apr/19
weak 6 foot 1 guy. Possible heights for him is from 184-186. I guess 185 cm flat ore 1/8 under that.
Junior Hernandez 1990
said on 18/Sep/18
6'1 listed Brad Greenquist was certainly an inch or more taller than Oded.
Click Here
Brad had camera advantage but it clearly sees that Oded had to look him up on his eyes in Sleeper Cell.
Rampage(-_-_-)Clover
said on 1/May/18
Might have been the shoes he was wearing but he did look 186-187cm range w/h Brendan Fraser.
185.5cm at his low, IMO.
Vexacus
said on 28/Feb/18
Def 185.5 .

Editor Rob
To back up what his quote says, he used to list himself in the Spotlight directory as 6ft 2, tall guys certainly aren't immune to inflation.

It was interesting to see that Oded admitted he liked to boost himself.
Dude 173 cm
said on 16/Jan/18
Weird looks shorter than Mike Epps when Oded is a decent 6'1
Rampage(-_-_-)Clover
said on 28/Jun/17
He's a solid 6ft1 guy who could easily get away with claiming 6ft2
berta
said on 13/May/16
In the mummy he looked 186-87 but he had a big heel that makes him 185. In the resident evil Movies he looked 184,5-85. Weak 185
Rampage(-_-_-)Clover
said on 25/Oct/15
Rob, is a fraction over 6ft1 possible?
[Editor Rob: earlier in the day, but I think this guy is roughly around 6ft 1 mark.]
Ivy 5ft 7
said on 4/Oct/15
He's probably likely to be 6ft 2 in boots and 6ft 1-1.25 barefeet, but yes he did look 6ft 1 in apocalypse and extinction.
[Editor Rob: please change your name back (clear your cookies first). I think if you to post here, it's important to remember the name of the site: celeb heights...I let a little extra talk about user heights, but sometimes we can step over a line and seek attention and repeat ourselves to the point you *need* a break!

The vast majority of the talk is about the height of the celebrities themselves.

There are other forums, such as reddit.com/r/tall or short which have a focus on the individual, their height, experiences and observations...that might be useful for you to check out as well.]
Armandy
said on 5/Aug/15
Looks 186-187
Judd
said on 22/Oct/14
a friend of mine has met him...he said 6'1-1.5", so he really could belong to 6'1" club
Dmeyer
said on 12/Aug/14
From wath i saw in person 185/186
Rampage(-_-_-)Clover
said on 1/Mar/13
Looked 186-187cm range with Brendan Fraser
Rampage(-_-_-)Clover
said on 14/Apr/11
He's 186cm...
Xena
said on 20/Feb/11
He looks so complicated yet handsome. I liked him in the Mummy and The Betrayed.
AnonymousIntx
said on 22/Jan/11
In Mummy, he looked exactly same as Brandon. Where is he anyways? I was hoping he could be the next action hero guy in Hollywood but haven't seen him much.
Rampage(-_-_-)Clover
said on 2/Dec/10
Strong 6"1 guy
Big King
said on 25/Mar/09
Well, Oded looked about 3 inches shorter than Brendan Fraser. I would give him 6'0.5", nothing more.
linebacker40
said on 7/Jan/09
very solid 6'1"
Hugh
said on 3/Dec/08
I think he's 185-186cm.
Hugh
said on 10/Nov/08
Between 6ft1 and 6ft2. He could definately pass for 6ft2 even though he's not quite that height.
Squirrel
said on 3/Oct/08
Id say 6'1-6'2 tops.handsome as well.
Yaspaa
said on 12/Aug/08
George Harrison!?
nate
said on 22/Apr/08
he looks like george harrison...
nate
said on 31/Mar/08
he looks to be only an inch shorter than brendan fraser in the Mummy.
Alex
said on 3/Sep/07
I thought he was actually at least 6'2 by looking at him.
dmeyer
said on 12/Jul/07
he did walk by me 3 years ago he looked close to the height above but he sloush a lot cn make he look 6 ft
dmeyer
said on 11/Jan/07
i met ealy he looks 178 cm we were both barefeet in a scene at the very least 177 strong but more like 178 but i met fher quickly he was taller than me he has a long body and he sloush a lot so 6 ft 1 in make sens
DMeyer
said on 29/Aug/06
he dosnt look to mush taller than ealy he is slim he can give the impresion he is 6 feet 2 but more like 185 186 cm
[Editor Rob: he doesn't look no more than what he claims...6ft 1]