English professional snooker player. A former winner of the World Championship of Snooker in 2002. In this photo Peter had a 1/4 inch more shoe than me.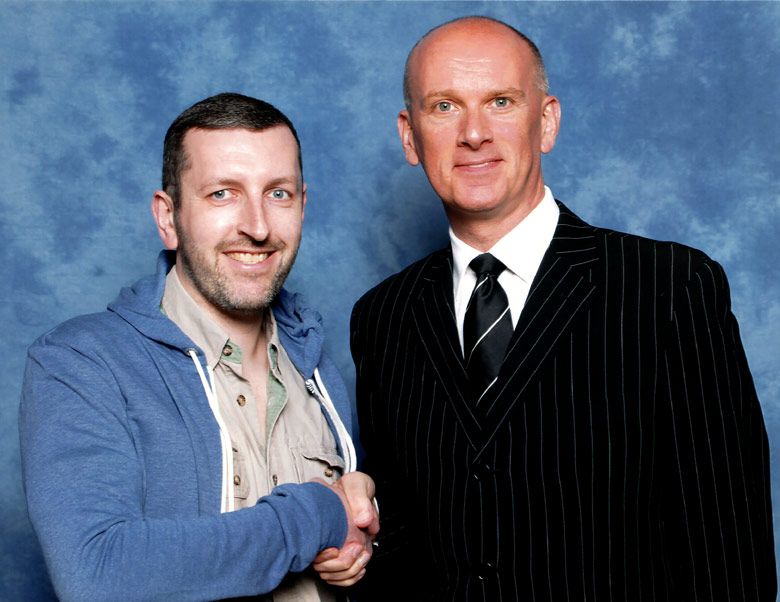 5ft 8 Rob and Peter @ Collectormania 2015
Sandy Cowell
said on 9/Jan/23
I'm giving friendly looking Peter 6ft0.5. His picture cheered me up!
😊🤝😀
Gian 181cm
said on 11/Dec/22
184.2cm
Abdul-DK
said on 26/Nov/22
184.4 cm.
5'7 and a fraction
said on 20/Sep/22
Easily this tall, regardless of the slight footwear advantage.
Rampage(-_-_-)Clover
said on 10/Mar/22
Rob, was this guy really taller than Selby?

Editor Rob
They are close, but in person, I'll mention again.

Ebdon and Carl Froch where right in front of me (within 2 feet) talking and Ebdon looked at least half inch taller (albeit a fraction more footwear than Froch)
Cold Water
said on 28/Dec/21
6ft 0.5
Progking184
said on 13/Sep/21
Looks over an inch shorter than Steve Davis but it may be the angle in the videos ive seen. At least 6'0, 6'0 1/4 max. Probably 6'0 at a low and then a 1/4 over during the day.
Rampage(-_-_-)Clover
said on 30/Mar/21
This guys looks comfortably above 6ft
Sakz
said on 28/Feb/21
@Rob What about his head size? Looks to be below average. I'm curious because if I'm measuring correctly, my head seems to be around 8.5" and his doesn't look much bigger than mine...

Editor Rob
Wouldn't have said 8.5, near 9 inches I'd have went with...maybe because he has 2mm of hair it reduces size a bit more.
stefkat
said on 26/Feb/21
Rob what would be his eye level standing tall for a measurement?

Editor Rob
I think for 6ft to 6ft 1/2 range guy his eyelevel is a little higher than average, so I'd think 5ft 7.7-7.9 range. I'd mentioned in the past he was beside carl froch in front of me and about 1/2 inch taller, but a little more footwear than froch.
OriginalAnon
said on 16/Aug/20
I would've bought 185cm for Ebdon. He always looks around that kind of height but doesn't look over 183cm in the photo. I've probably been overestimating him. He does have very good posture. An absolute master of the sport of snooker. Slow, yes, but his all-round game and innovation was second to none. Loved how he would use the jaws of the middle pockets to get back to balk after striking the blue. He is missed on tour.
Nik
said on 29/Jun/20
Legit!
Peter just popped up as a random celeb!
Nik Ashton
said on 5/Sep/19
@ Sandy Cowell - What you have said is very interesting, it's also fascinating that your poor ex-boyfriend's Dad was taller than him by two inches!
I would like to know who the smallest professional snooker player is too!
Miss Sandy Cowell
said on 21/May/19
@ Nik - No it wouldn't! My poor ex-boyfriend wasn't able to watch anything when the snooker was on! His Dad, who was 6ft2 to his 6ft, always got his way! Do you know what he did at such times? He made things and played music. I can't think of better ways of passing the time! Oftentimes, I prefer listening to music!
This fella can have 6ft0.25.
Nik
said on 5/May/19
It would be interesting to know who the tallest snooker player is!
Zampo
said on 21/Nov/18
Looks around 6'0.25. Well..I think this would be the nearest 0.25 inch mark he could measure to. No higher than this listing though, from this photo.
Rory
said on 15/Nov/18
Kyren Wilson I'd say was about 181, looked a good inch or so taller than Ronnie O'Sullivan at the Champions of champions event. I think 6ft is a bit much for him though. 11.25 or 11.5 Imo.
6ftMedium
said on 4/Jun/18
6 ft without footwear advantage I think.
Faza
said on 23/Apr/18
Always thought peter was about 6ft1 looks a tall player.
Wonder how tall is kyren wilson must be about 6ft any idea on kyren?
Rampage(-_-_-)Clover
said on 16/Dec/17
Rob, maybe the full 6ft0½ is closer?

Editor Rob
it's not impossible, he was definitely taller than carl froch, but maybe a bit more footwear.
Anonymous
said on 26/Sep/17
who is the shortest snooker player currently ?

Editor Rob
not up to speed on Snooker, last short player of note was Graeme Dott who looked 5ft 6 at most.
Christian-6'5 3/8
said on 9/Aug/17
Legit 6'0.25", good listing Rob.
World Citizen
said on 30/May/17
Listing seems to be spot on. No less than 184

Editor Rob
Ebdon standing right in front of me talking with Carl froch edged him out, but still in person about 3cm shorter than Steve Davis...
Rampage(-_-_-)Clover
said on 10/May/17
I think maybe a solid 184cm for this guy...same range as Robertson.
Rampage(-_-_-)Clover
said on 4/May/17
Rob, who looked tallest out of Shelby, Ebdo and Robertson?

Editor Rob
Ebdon is a good inch shorter than Steve Davis in person...both neil/ebdo could be roughly similar, I think peter would edge out selby, after all he edged out carl froch right in front of me...
Redwing
said on 8/Mar/17
Oh I was gonna say he looks 186.5-87 cm tall but you said he has more footwear so he must be 183.5-84 cm tall :-)

Editor Rob
a bit taller than Carl Froch that day, but not much.
Victor Surratt
said on 27/Feb/17
Looks 184.
Rampage(-_-_-)Clover
said on 11/Jan/17
Looks 184-185cm