Stephen Hendry's Height
5ft 10 ½ (179.1 cm)
Scottish Snooker player, who was world champion 7 times during the 1990's. Fellow player Mark Williams once described Stephen as "5ft 10 and 14 stone"
You May Be Interested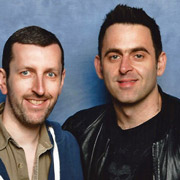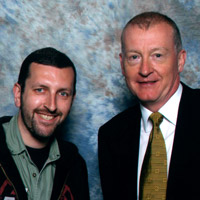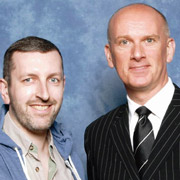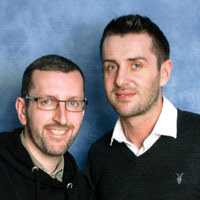 Add a Comment
28 comments
Average Guess (29 Votes)
5ft 10.83in (179.9cm)
Nik
said on 3/Dec/19
It would be interesting to know what he claims!
Nik Ashton
said on 5/Oct/19
It's interesting that Mark Williams described him as 5'10"!
Miguel Calado
said on 28/Dec/18
seems accurate. marginally taller than ronnie from what i've seen of them together
6ftMedium
said on 4/Jun/18
5'9.5" he is.
PhysicsEnemy
said on 13/May/18
Williams is right, Hendry a legit 5' 10", Ronnie's 0.5" shorter at 5' 9.5".
Andrew Hodgson
said on 25/Mar/18
Whenever I see Hendry stood next to Steve Davis he looks at least 2 inches shorter. He is a tiny fraction taller than Ronnie O'Sullivan.
john
said on 28/Jul/17
Stephen Hendry is about 1inch and a half shorter than mark Williams so mark Williams needs to be downgraded to 6feet or else Hendry is about 5'11.5 and then that would make mark Williams about 6'1.
Rory
said on 9/Jul/17
5'10.5 is about right. I'm 6'0.75 and was comfortably taller than him so any guesses of 6ft or more is totally bogus.
marable79
said on 7/Jul/17
I know Stephen Hendry's listed height of 5'10.5 has been disputed on here , I am 6ft 1 ins tall and was eye to eye with stephen when I met him in 2007 at an exhibition , I had a few pictures taken with him he was wearing normal leather shoes,so I am convinced that Stephen Hendry was 6ft tall. This is my opinion .what other evidence is needed? If Stephen Hendry was 5'10.5 I would say that Ronnie was only 5'9 as he is fraction shorter but I can't because I know that Stephen was 6 ft!! I can't say anymore than that so I hope this helps rob ! but I have met him and can say that in my opinion he was definitely 6 ft tall Kind regard
RisingForce
said on 23/Jun/17
Hi Editor Rob Stephen Hendry in an interview April 1997 Stirling castle which I found on YouTube. His height claim is interesting, I must admit. Stephen did in fact say when I was junior pot black at 14 I could barely see over the table now luckily I'm exactly six feet seems strange for something like that to come out of thin air from Stephen, Stephen never appears to be someone who inflates his height by 2 inches I can't see Stephen any taller than 5'11 there really is very little difference on video with a roughly 5'10" Ronnie O Sullivan, when you the video of the 1997 final with Ken Doherty who claims 5'8 The difference really doesn't look like much more than 3 inches to me when they're equal distances from the camera, Hendry also wasn't that much taller than Jimmy White I saw about 2 inches between them in a video from 1994 final I believe jimmy was 5'9" as someone on celebrity heights said, but no more. His natural posture, however, was great in the 1990s which helped him to look taller than he actually was . Never imagined him as being particularly that tall, always felt he was closer to 5'10 than 6'0. I'd bet he is somewhere in the 5'11"-5'11.5" range. I cannot see Stephen as 6'0.
Editor Rob: always a chance of 5ft 11, but honestly Joe Calzaghe was an inch taller that day than Hendry, with less footwear...and Joe is arguably 5ft 11.75 barefoot!
tony
said on 10/Jun/17
Hendry is not 6ft1 No way is he over 6'0 he is not as tall as Mark Selby or Neil Robertson he is a bit taller than Ronnie. He's 5'11.5 barefoot or 6 feet at best, I believe Jimmy white is not the 5'11 he claims he is about 5'9 and he is still hunched, If he stood straight up at least 2 inches shorter he would be . Even standing next to Jan Verhass who is 6'6 , He atleast looks 6 inches shorter. 6 feet
Editor Rob: I've seen White up close...he's around my range, at most 5ft 8.5
asper
said on 6/Jun/17
I met Stephen Hendry during the 2002 world finals I have pictures with him he was 182-183cm my height needs an upgrade !
Colberto
said on 23/May/17
I think he is either 6'0 or just under. He struggles to look only 5'11" and I think he at best looks 5'11 1/2".Looked close enough to get a 6ft listing here when next to a mark Selby, 5'10.5 looks too low. Looked more like a 6ft guy than a 5ft11 range to me, not average
toby nunn
said on 19/May/17
I think Hendry is closer to 6'0 than 5'10.5, I say this because I'm 5' 11.5" without shoes and I stood two feet from him once at the winter gardens during the world championships in Sheffield and he seemed to be my height, to me he definitely looks taller than 5'10.5 I would say between 5'11.5 and 6'0, maybe the not a full 6'0 I would think a 5'11.5 listing for Stephen would be more accurate, if you look on youtube at a video of the 1999 world snooker final between hendry and mark Williams where hendry won his seventh and final world crown if williams is 6'1 like he has said, there is no way hendry is over 2 inches shorter than Williams, they look quite close in height, i think you should look at this height listing again editor rob !
WeeburaiJones
said on 10/May/17
6'1" as some sources on the say seems a bit tall for him, but he's still taller than your listing of 5'10.5 look at him with Selby they are similar height and he is not much shorter than 6'2 steve davis I think so 6'0" seems more accurate than 5'10.5 !.
Somborac
said on 16/Apr/17
5'10.5?! Are you kidding me? I'm 6ft without mt shoes on & was eye-to-eye when I met him! He's 6ft even!
MacReady
said on 26/Mar/17
Mark Williams is known for good-natured jokes about Hendry. So I suspect he was having a laugh with '14 stone', and quite possibly with his height estimate too, as Henry as always looked 5'11''+ to me.
anon
said on 15/Mar/17
14 stone? What planet is Williams on? Looks about 5'10''
Bernice
said on 6/Mar/17
Hi Rob I am curious if you put Stephen Hendry into the search engine like google it says his height is 186cm 6'1 but you have listed him only 5'10.5 179cm !, I think that sounds a bit conservative ? I have seen photos and videos of him with mark Selby who is 6'0 and they look very similar in height, while I believe 6'1 is impossible do you think he could 5'11.5 or even 6'0, Stephen did say in a interview in a newspaper in May 1999 just after he won his seventh world title he was about 6'0?
Editor Rob: I seen Hendry up close years ago at an event, he really wasn't as tall as you'd think. Was comfortably an inch smaller than Joe Calzaghe that day (and calzaghe had less sneaker)...
Jake
said on 6/Mar/17
surprisingly tall actually. I met him once and he was around 5'11 or 6 foot.
Arch Stanton
said on 3/Mar/17
Yes, he doesn't look 14 stone!
Arch Stanton
said on 3/Mar/17
Yeah, 5'10.5 seems a good shout, 5'10.5-75 is arguable.
Lmeister
said on 3/Mar/17
Looks taller than 178cm. I'd give him 180cm since he is a tad taller than Ronnie O'Sullivan. BTW Stephen is usually listed 186cm :D
The Exorcist
said on 2/Mar/17
He's definitely filled-out since he started as a teen, but I doubt he's 14 stone. 12 1/2, possibly 13.
Height vote: 5'10.5"
Editor Rob: I would have said in recent years probably 13 stone range.
Rampage(-_-_-)Clover
said on 2/Mar/17
Rob, do you think this guy rounds down?
Editor Rob: I don't know his exact claim, though it was a tweet to him by Mark, so he could have corrected it...
ty
said on 2/Mar/17
naw he not 14 stone
GUK
said on 1/Mar/17
Never been 14 stone in his life. Also seems taller, 5ft 11 would be fairer.
belvis
said on 1/Mar/17
at best weak 5.9