Steve Davis Height
6ft 1 (185.4 cm)
English Snooker Player, six-time winner of the World Championship. On twitter he replied to site visitor Josh saying he was
"6'1" but feeling 7' today 😂"
. In his autobiography he also mentioned
"Being around six foot one"
.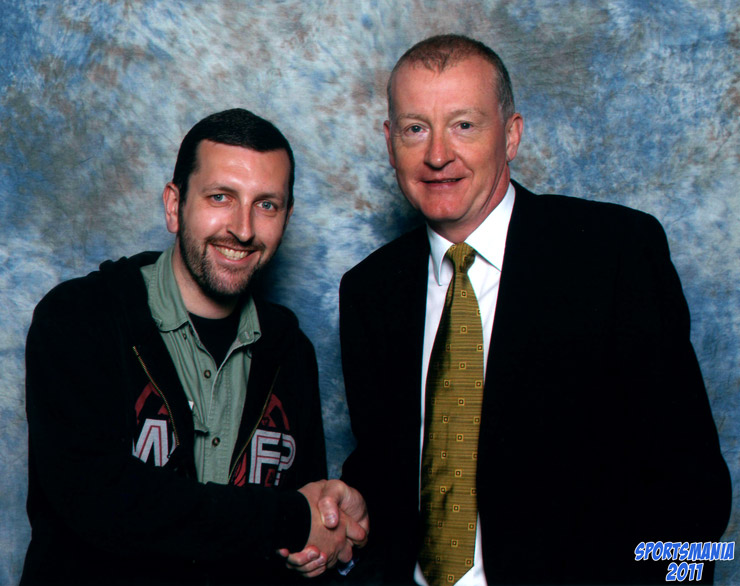 5ft 8 Rob and Steve @ Sportsmania 2011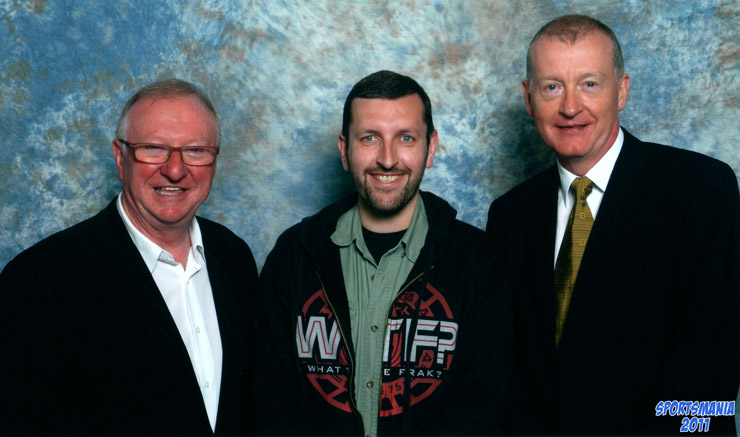 5ft 8 Rob with Dennis Taylor & Steve
You May Be Interested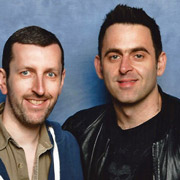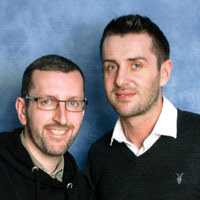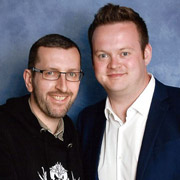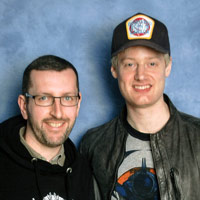 Add a Comment
55 comments
Average Guess (21 Votes)
6ft 1.12in (185.7cm)
Rampage(-_-_-)Clover
said on 20/Aug/20
186cm possible L
Nik Ashton
said on 20/Jun/20
R.I.P Willie Thorne.
Arch Stanton
said on 18/Jun/20
RIP Willie Thorne, younger than my mother who turned 68 yesterday! Always seemed a larger than life character. Looked a bit shorter than Steve, I would guess 6 ft even a smidge over peak. Thought he'd have a page as a legend.
Gladstine Screwer
said on 12/Jun/20
Steve seems 6ft max these days. He's in his 60s after all. Nice guy.
Nik Ashton
said on 3/Feb/20
6'0" - 6'1" is possible 2day!
Nik Ashton
said on 2/Feb/20
@ Rob - When was his twitter reply to Josh?
I'm chuffed to give Steve Davis his 50th comment!
Rory
said on 9/Dec/19
Rob, do you think Davis was 6ft1.5 peak and 6ft1 today or something else ?
Vibram
said on 11/Nov/19
Look 6ft0 today. 6ft1 peak.
Nik Ashton
said on 5/Oct/19
It's interesting that he is the joint tallest snooker player on celebheights! I am delighted to give him his 50th comment!
Nik Ashton
said on 5/Oct/19
@ josh b - I-N-T-E-R-E-S-T-I-N-G!
Nik Ashton
said on 5/Oct/19
@ Christian 6'5 3/8" - Interesting!
Christian 6'5 3/8"
said on 4/Oct/19
@Nik
He looks around 6'0", at least in the pic he does.
Christian 6'5 3/8"
said on 4/Sep/19
6'1" is absolutely ridiculous.
Rory
said on 6/Aug/19
Probably 6ft1.5 peak and then 1cm lost today I'd say.
Redwing
said on 24/Jun/19
Rob was his peak height 187 cm the height u had him at at before?

Editor Rob
yes, I haven't seen him recently
josh b
said on 11/Jun/19
Hey Rob he replied to a tweet of mine on twitter and claimed 6'1.

Editor Rob
Great, I'll mention it at the top. That's an honest claim from Steve!
Nik
said on 9/May/19
@ Rob - What about a page for Dennis Taylor please?

Editor Rob
I felt just leaving it to Steve Davis was enough.
6ftMedium
said on 4/Jun/18
6'1 ½" would be his peak height.
He looks 6' here.
World Citizen
said on 10/Mar/18
He looks no more than 183 184 cm
Anonymous
said on 24/Dec/17
dennis looks 5.6 actually he looks below u.
Editor Rob: big Dennis Taylor was shorter than myself that day...but not hugely so, I mean no way under 5ft 7.
Redwing
said on 17/Nov/17
He looks 182 cm
movieguy
said on 10/Nov/17
A lot of those 80s snooker players seemed on the tall side. Wondered if it gave some kind of advantage with reach etc. Nowadays though I'm not sure most of them are that tall so probably coincidence that a lot of tall players came along in same era.
Rampage(-_-_-)Clover
said on 29/Sep/17
Might have been 6ft2 in the 80's-90's.
bonnie
said on 31/Aug/17
I think steve was 6'3 in an interview in 1987 on the match room series he said he was 6'3 he looks taller than most of the players I always believed he looked that in 80s
jim
said on 29/Apr/17
Steve was 6ft-2-3 in 80s jimmy white was 5ft-10 Davis was much taller than jimmy white in world final of 84 pic of both with trophyat table so no way Davis is only 3 inches bigger than jimmy white was big difference.jimmys height came from barry hearns matchroom snooker
anon
said on 15/Mar/17
Maybe 6'2'' during his prime. Deceivingly tall. 6'1'' now.
Dane
said on 16/Jan/17
I've had the fortune of playing John Parrott at a frame of snooker last year in Manchester, I'm 6.5 and he's a solid 6ft2.5, Remember him having huge hands.
Nik
said on 24/Nov/16
Rob, how tall is former snooker great Dennis Taylor ?
Editor Rob: Nik, in person he seemed a bit shorter than 5ft 8 although I think 20 years ago he might have been that mark.
mickey
said on 21/Nov/16
seems correct based on the photo... maybe half an inch less at worst
Mark
said on 17/Apr/16
Just heard he's retired. Steve Davis may be 6'1 but in Snooker terms he's a true giant.
david
said on 3/Oct/15
rob do you know who is taller out of steve davis and john parrott.
The Exorcist
said on 8/Sep/15
He doesn't look much different next to you than Mark Selby and Neil Robertson, Rob. The top of your head seems to come up to the eyebrows on all three of them.
[Editor Rob: Davis is taller in person than selby, neil robertson and
Ebdon
. Peter in person, I stood talking with him and Carl Froch, Ebdon was taller than Carl (although had slightly more shoes than froch and me), but I can still see Peter a fraction taller than 6ft.]
movieyguy
said on 23/Aug/15
John Parrott is a tall man I believe . His estimate of Davis height might not be too far out. Maybe 6'3.
alexandra
said on 1/May/15
I can't understand how he could be six foot four but I think 6'2 is a fair estimate
alexandra
said on 30/Apr/15
steve is no more than 6'2 he has quoted in his book quiet interesting in 1995 he was 6'3 i don't think he was ever 6'4
megan
said on 30/Apr/15
steve davis according to john parrot was 6'4 in the 1980s he said on the snooker today is that an impossibility rob i think he was 6'2 maximum
[Editor Rob: it's a mad estimate.]
Rampage(-_-_-)Clover
said on 15/Apr/15
Rob, is it possible that he's just 6ft1 today?
[Editor Rob: this photo was a few years ago...maybe he has shipped a small fraction in 4 years?]
Rampage(-_-_-)Clover
said on 3/Mar/15
Don't doubt 6ft1-2
Rob is 188cm peak a possibility?
[Editor Rob: not sure if he was a full 6ft 2er, although at times could look near enough it in 80's and 90's]
Arch Stanton
said on 1/Mar/15
I once read 6 ft 3 for him and always thought it looked unreal!
Mathew
said on 11/Feb/15
The Michael Jordan of Snooker (6 time world champion).
Rampage(-_-_-)Clover
said on 2/Nov/14
Looks 186cm
Judd
said on 19/Oct/14
In the picture above he does look 6'0-0.25" but with bad posture.
His shoulder's height is higher than a six footer's one, so 6'1.5" is reliable.
andy
said on 26/Apr/14
there is evidence that Steve is not 6ft 1.5in (187 cm) check out this photo from
http:.dailymail.co.uk/i[2011/05/01/article-[ parrott and davis are the same height parrott is 6ft 0.5 he has said that so davis 6ft 0.5 i believe he should be downgraded
mark
said on 14/Mar/14
Mark williams is 6ft 3 steve is fractionally shorther maybe at peak 6ft 2 but he is noway only 6ft
tom
said on 3/Mar/14
Explain how davis is at least 3 inches taller than o sullivan then why would he quote that height in his book he looks every bit of his 188cm
joe
said on 1/Mar/14
Davis I met him recently and I am 6ft and we were actually the same height he is nowhere near 6ft 3 I fell to understand how he ever was that height
viky
said on 15/Feb/14
I think steve was that height he quoted 187cm in book he looked 6 inches taller than white back in 80s 185 for him even mid 50s in age is crazy is is 187cm any day
hess
said on 14/Feb/14
Next to 6ft 5 stephen fry at last year world final steve looked like 6ft 1 he claimed in his book 6ft 3 I doubt he was ever that height
johno
said on 21/Apr/13
About 6'0.25 at his lowest and bit over 6'1 in the morning.
Mathew
said on 24/Dec/12
Looks a bit less than 6'1.5" in the photo but it's still a believable listing.
miko
said on 6/Nov/12
He never looks tall on TV, but alas he is a big 6'1 guy.
Mr-KILLER-SHRIMP
said on 3/Nov/12
Based on the picture, I would say 6'1"/185cm for "The Nugget". Dennis Taylor is 5'7" I think.
This means John Parrott is 6'0" as he is a fraction shorter than Davis.
Avi
said on 20/Aug/12
Solid 5 inches
Rampage(-_-_-)Clover
said on 17/Aug/12
Does he claim a height, Rob?
[Editor Rob: I don't remember but I don't watch kuch snooker for the last few years ]
short man syndrome
said on 25/Jul/12
didn't realise he was this height. Tall man!