Shaun Murphy's Height
5ft 11 ¼ (181 cm)
English professional snooker player. A winner of the Snooker World Championship in 2005. On his twitter page he mentioned his height, saying
"I'm 6ft 1"
, although in person Shaun didn't seem that tall.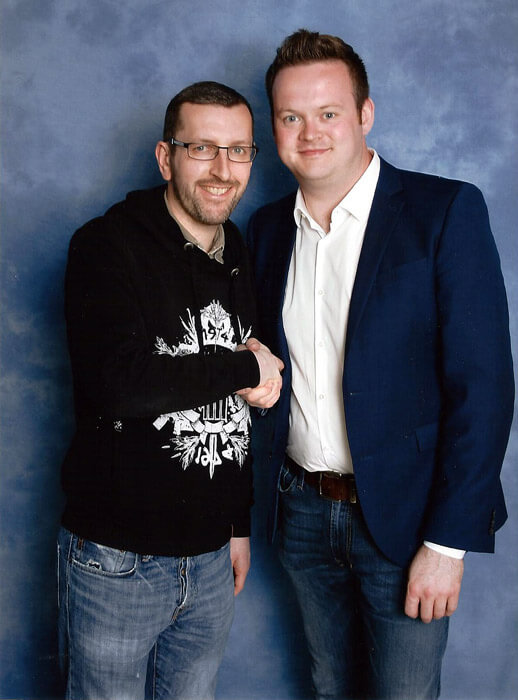 5ft 8 Rob and Shaun @ Collectormania 2014
You May Be Interested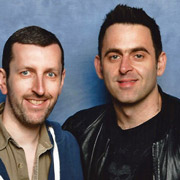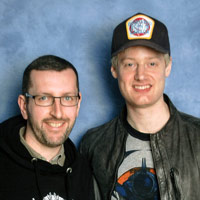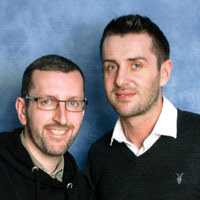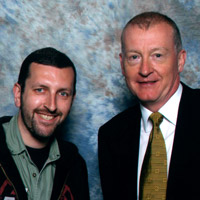 Add a Comment
46 comments
Average Guess (42 Votes)
5ft 11.05in (180.5cm)
OriginalAnon
said on 25/Apr/21
Grace is about Ricky Walden's height and he has said he is 6'4''. I'm not sure who is taller out of the two. I think Grace looks a bit taller, maybe by 2 or 3cm. Walden has bad posture and walks around like the hunchback.
Alex V. (5'10'')
said on 7/Feb/21
Yeah, Murphy seems to me, of being a 181cm fellow.
David Grace is maybe the tallest snooker player, from the "known" ones.
The guy must be very close to the 2 meters, somewhat similar to the referee, Jan Verhaas.
Regards
Nik Ashton
said on 17/May/20
6'1" is way out!
OriginalAnon
said on 26/Mar/20
6'1'' claim is ludicrous. Despite the relatively large forehead, I think he is indeed 5'11'' or just over.
Vibram
said on 11/Nov/19
Wow. This guy always clamied 6ft1 and even 6ft2, and to be honest I believed it. This guy Murphy is a mid 5'11 range i think, like 181cm. This would put Mark Allen at 5ft8.5 (not 5ft10) and judd trump at 5ft10.5.
184guy2
said on 14/Apr/19
@Rob
Is Big Dale really 6'2 ? Because he should look taller in this photo considering the fact that Shaun Murphy has an extra long eyelevel for his height
Click Here

Editor Rob
I've not measured him, but he looks nearer 6ft 2 than 1 when standing tall.
Johan 185 cm
said on 8/Apr/19
His low eye level doesn't help his crazy claim either. He looks 5'10" range because of that but 5'11" seems fine.
Zampo
said on 18/Oct/18
A flat 5'11 is fine for Shaun.
Christian 6'5 3/8"
said on 19/Jul/18
@Canson
I have some friends who inflate height, but at least none of them try to inflate others or make excuses. I would say about half of all my friends claim honestly and the other half don't. Some of the honest ones are 5'8", 6'2.5" and 6'1". Some of the dishonest ones are 5'11.5" (claims 6'1"), 5'9" (claims 5'10"-5'11"), and 6'2" (claims 6'3").
Canson
said on 15/Jul/18
@Christian: I'd say if they inflate others then the "no respect" can be thrown in like Rampage said. I actually don't really hang out with or associate with many people who even lie about their height to be honest. But especially not those who lie and inflate others. Terrible combination lol!
Christian 6'5 3/8"
said on 21/Jun/18
@Rampage
"No respect" might be a bit harsh. Someone inflating their height doesn't necessarily reflect their overall character. Some of the nicest and most genuine people I've met inflate their height. I have some friends who do it but I still respect them.
Rampage(-_-_-)Clover
said on 19/Jun/18
No respect for guys like this who claim 6ft1.
6ftMedium
said on 4/Jun/18
Why is he listed 176 cm? Anyway 177 is his extreme low,He is 177.8 (5'10") I think and it is ridiculous he claims 6'1"
Tunman
said on 24/May/18
No way 5'10 he's more like 5'11.Keep in mind his eyelevel is very low (a good 5-5.1) while the lower part of his face is quite small (4.4-4.5"max) especially from bottom of nose to mouth.Would have been better if his nose and eyes were 1cm higher in his face,but well,that doesn't make him less of a gentleman.
Yht
said on 4/May/18
5'10 guy claiming 6'1 lol
Doge
said on 17/Apr/18
Rob, how tall do you think Mark Allen is? Looks 5'9 or 5'10 to me.

Editor Rob
5ft 9 for Allen is possible.
electricblue
said on 24/Jan/18
i don't know how you could see 6 0. especially because mark selby claims 6 0 and looks it, and this guy is clearly under him. i dont really know exact measurements but i think unless a guy is tilting their head down their eyes should be around big robs hair to be 6 0

Editor Rob
In person, Murphy looks shorter than how 6 footers look up close.
josh b
said on 16/Jan/18
Well his claim ties in with Ronnie's 6 foot claim :D Selby puts both to shame though claiming 6 foot also. I think there's a load of snooker players to add really, Dott, Allen, Fu, Ding, Wilson, Hawkins.
TheChosenOne
said on 29/Dec/17
I see a 5'10.75 - 5'11.
Bobby
said on 11/Dec/17
I'm seeing 6ft for this guy, I'm surprised he's as low as 5'11.25. He's looking at Rob's forehead and he's dropping height, I can see a case of 5'11.5 for this guy because he pulls off looking 6ft.
Shredder
said on 19/Oct/17
As listed.
World Citizen
said on 31/May/17
I see a 5 ft 11 flat.
Mickey
said on 26/May/17
strong 5ft11...
anon
said on 15/Mar/17
6'1'' claim is ridiculous. I agree with the listing. Can't be any lower than 5'11'' though.
anon
said on 21/Dec/16
Legit 5'11 range guy- No lower than 180-181 range I doubt, the 176 listing is a joke just like Trump he is listed 175 they dont update players heights, most of them are just random guesses it seems they listed Ricky Walden down as 183 when he is likely 190- 193 lol
184guy
said on 3/Jul/16
13cms eyelevel ?
Rob,there is the possibility of someone eye-chin being less than eye-top of head ?

Editor Rob
yes you will find people with eye-chin a little less than the eye-top measurement.

It is probably more common with women who have smaller jaws than men.
Flyin
said on 1/May/16
If footwear is equal this guy has 1-1.5cm on me. Good listing. The strong 5"11 for Murphy. Now watching the final and Ding is not the 176cm he is listed at. Definitely a flat 5"8 with the 6"0 Selby.
Adam
said on 18/Feb/16
Shaun Recently said on Twitter he's 6ft 1? That seems a bit exaggerated don't you think? He always looks shorter than Neil Robertson.
david
said on 3/Oct/15
hi rob are you sure that Ronnie o Sullivan is 5'10 because he looks more like 5'9.5 when he is standing next to you.
Mr-KILLER-SHRIMP
said on 21/Jan/15
Definitely no more than 180cm for Murphy. I think his hair in the picture makes him look taller than he really is. When Murphy and Robertson (listed at 184cm here, which I can buy) shook hands at this year's Masters Final, the delta between them looked at least 4cm.
kevin
said on 11/Nov/14
I doubt Trump is shorter than Murphy, He is probably closer to 6'0, Saying he is under 5'11 is pushing it, I have heard 5'10 for Trump no way he is for sure taller than Ronnie O'Sullivan, but similar to Robertson his skinny frame makes him look taller and hair etc, But I would say around 5'11.5 for Trump at a guess.
callum
said on 8/Nov/14
Glad he is on here, I gussed him 5'11 so got that right- Looks solid 5'11- 181cm good height.
Rob, Any Idea on Judd Trump and Ding Junhui?, not too sure on Ding, I feel Judd might be same as Murphy or tad taller maybe 5'11.5 for Trump is possible?

Editor Rob
trump can look at times close to 5ft 11, ding can look maybe 5ft 7.
176,2Tunman
said on 19/Aug/14
Thanks for the detailed answer,Rob.Number 16 is also interesting,this means that from lowest point of the nose to top of head there is only 15,9cm in average.
The thing is that will be correct only if the person's head is perfectly straight not tilted up or down,even slightly
Just consider this example,Rob:one of my friends reaches exactly the lowest point of my nose,trust me he's no more than 158,no way 160 I'm absolutely sure.
On the same path I know a guy whose head is probably 10" (so the bottom of his nose is like 6.6 or 6.7 if that makes sense),I don't think he's a flat 6'4 more likely 6'4.5 or even 6'4.75.
So when the person is taller we should always think that the head has real chances to be tilted down maybe even unconsciously,hence the head measurements are superior to reality for eyelevels,nose,etc...

Editor Rob
yes tilt up/down and add/remove a fraction. Generally women dimensions are a bit smaller aswell.
176,2Tunman
said on 18/Aug/14
Trump for me doesn't look much taller than Sullivan,no more than 5'11.
Robertson I would have thought is a good 187,taller than solid 6'Selby,close to 6'2 in my opinion.
@Chris
Murphy's head still looks quite big even for a 181.
Rob's head is 24,4cm (9.6")and definitely Murphy's head is at least that height if not slightly bigger.Well maybe 24,5 is more likely?

Editor Rob
he has a thicker hairstyle, but
Comparing
I can't see his head being longer than mine.
kevin
said on 3/Aug/14
I would have guessed Robertson in the 6ft1 range at least, Looks at worst 185cm maybe 186cm he is easily at least and Inch taller than Selby who looks 6'0 on here, I guessed Murphy in 5'11 range, I think Trump is 6'0 like Selby he looks more than 5'11
Chris
said on 31/Jul/14
No way is his head 25 cm. Looks around 24 cm i think. But he does have a weird head with his squished looking face that leaves room for a bigger forehead
Dmeyer
said on 29/Jul/14
Rob when you list Someone do you mean they dont dip under 5'11 or they are realy 181cm

Editor Rob
I think there's a good chance he could measure a little over 5ft 11, I don't think this guy would dip shy of 5ft 11
Dejavu
said on 18/Jul/14
Robertson is probably 186-187 range.

Editor Rob
he's not much taller than selby!
The Exorcist
said on 16/Jul/14
This is what you'd probably look like next to Arnold Schwarzenegger, Rob.
iyolo
said on 12/Jul/14
Final question,Rob.:) What was his footwear,coz in snooker matches he wears brown boot type shoes with at least 1-1.5 inch heel :)

Editor Rob
not much more than my sneakers I think, at most 3-4mm
176,2Tunman
said on 11/Jul/14
his head is possibly 25 cm and has 13 cm eyelevel.Would have looked better with 1-2cm higher eyelevel in my opinion
Mathew
said on 10/Jul/14
He looks to have a low eye level, which will make people perceive him shorter at times.
iyolo
said on 9/Jul/14
How was he in person (in interviews he seems a really nice guy and he resides in my home country Bulgaria too :))

Editor Rob
he was pleasant, but really didn't say or see him much this day
Crypto139
said on 9/Jul/14
I have seen equal head-eye and eye-chin levels (Christopher Meloni) but not when your eye level is longer! Wow. Looks 181 btw.
iyolo
said on 8/Jul/14
This means Neil Robertson is around 6'2
176,2Tunman
said on 8/Jul/14
Seems very similar to Trump and a hair taller than Sullivan,I would have thought a flat 5'11 max,but he looks rather 181 with you.
Any idea about his eyelevel,Rob?5.1-2"?