Neil Robertson's Height
6ft ½ in (184.2 cm)
Australian professional snooker player, a 2010 World Champion. This photo (by Duncan) was from a 2014 collectormania event.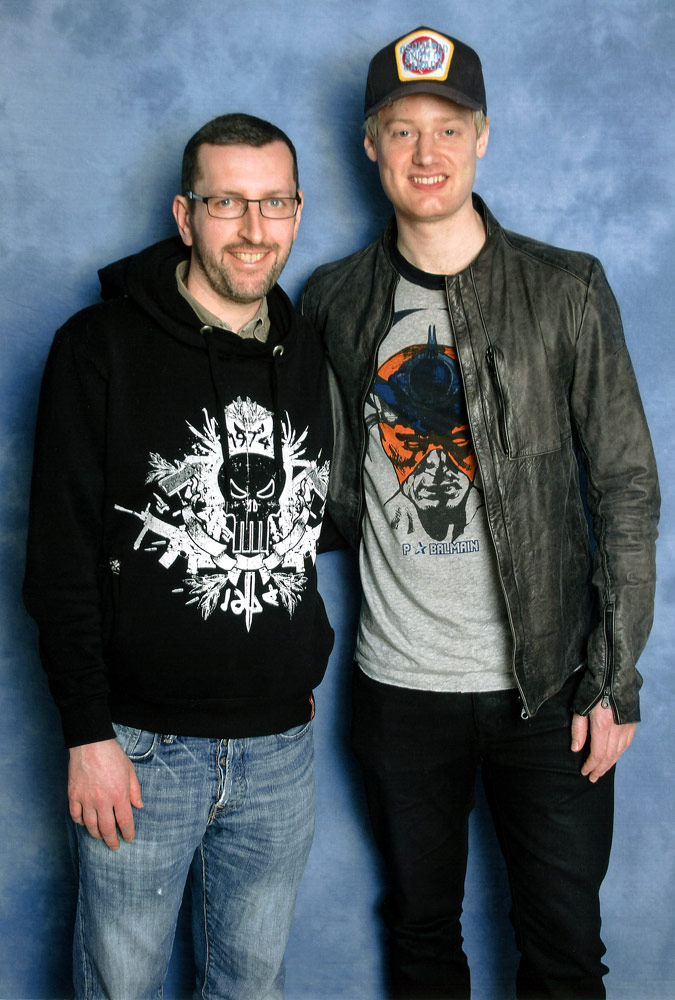 5ft 8 Rob and Neil
Add a Comment
34 comments
Average Guess (22 Votes)
6ft 0.48in (184.1cm)
Miss Sandy Cowell
said on 28/Feb/20
This picture is new to me but I see that it's already around six years old! What do they say? Blink and you miss something, or someone, as the case may be!
I agree with Rob's 6ft and half-an-inch. 😁👍

Editor Rob
I am sure there are some that even I've forgotten.
Yang (5 footer 8, 172-173)
said on 15/Sep/19
He is solid 6 footer ish cause you are standing his eye level.
tree
said on 26/Apr/19
Rob what do you think about 185 for him?
With Murphy
Click Here
and with Selby in pretty much every picture.

Editor Rob
In person I would stick with near 184 rather than 185
buwq
said on 21/Oct/18
looks a good 6'1 to me maybe a touch under
Tunman
said on 11/Oct/18
Very similar to Alex from this site solid 6' on the pic,did he look taller than Mark Selby in person?I swear I thought he was around 6'2 when I first started watching snooker but he's nowhere near that.

Editor Rob
I think he would edge mark a little.
Redwing
said on 8/Jul/18
What does he claim rob?

Editor Rob
I've not read anything from him.
tree
said on 19/May/18
Rob what program you use to compare people like down with robertson the plumber and the other guy
I have paint but it only allow one picture,can't put 2 side by side.

Editor Rob
I'm only using a very old photoshop version from about 10 years ago.
Dejavu
said on 29/Apr/18
He could look an inch taller than legit 6'0 Selby in many shots.
Redwing
said on 5/Feb/18
I saved that to my phone thanks rob; so that's what a 184 cm person would look with a 187 cm man? Looks noticeable.
Redwing
said on 11/Jan/18
Hey rob, I don't have the adobe height that would let me compare this guy with the plumber but could you do one pls with Robertson and the plumber?
GARY
said on 26/Dec/17
Hi Rob, Just wondering how Tall would you guess Judd Trump?
He is another top snooker player, From what I have seen he might be 5ft10-11 range, I Think he looks a couple Inches shorter than Neil but I feel he is a tad taller than 0'Sullivan maybe 179cm for judd?
I thought Neil was like 6ft1- 6ft1.5 watching him on tv, lanky impression but this estimate looks good looking at the pic, shows how tall a legit 6ft- 6ft 1 guy can look especially with a skinnier build
Editor Rob: Trump looks at least 5ft 10 range, and probably a bit taller than ROnnie, so you could say 5ft 10.5 is possible.
James
said on 19/Dec/17
Click Here
How tall do u thinks the big guy is? Neil looks like a shrimp next to him. I 'd say around 6'7''.
Editor Rob: that's self-proclaimed 6ft 7 Richard Osman, who is what you'd call a BIG 6ft 7.
travis
said on 19/Dec/17
good listing height rob thie is correct
Redwing
said on 22/Nov/17
He looks pretty young I would've thought well under 28 years; looks 23...
Anonymous
said on 15/Nov/17
Rob, was he really 1in shorter than Steve Davis?
I get a similar impression from this photo...
Editor Rob: yes he looked shorter than Steven, no less than about 2cm.
Faza
said on 11/Oct/17
Judd trump would be a good addition to this site not sure on how tall he is but he does looks taller than ronnie o sulivan
Victor Surratt
said on 27/Feb/17
This guy looks like a solid 6'1.
Lemur
said on 26/Feb/17
Rob how tall Ian Veerhaas looks next to Neil?
Click Here
50:35
matt
said on 9/Nov/16
Rob, have you seen anything at all of the young Indian snooker Player Aditya Mehta?
He looks lanky could be 6'2 or close to it im guessing, Un Nooh a player from Thailand is tall too, looked similar to Robertson
Editor Rob: not so familiar with Aditya
PhysicsEnemy
said on 17/Oct/16
Exorcist - Rob's head is above Neil's eye-level, closer to his eye-brow level. Neil stands a fraction straighter too. Solid 4" difference tho.
mick
said on 16/May/16
mark Williams is slightly shorter than neil Robertson I have seen them standing next to each other so that makes mark Williams 6 feet the same height as mark Selby.
Arch Stanton
said on 4/May/16
I've seen Mark Williams in person, about 10 ft away. Tall guy I think in 6 ft 2 range, I doubt 6 ft 3.
david
said on 3/Oct/15
hello rob do you know who is taller out of steve davis and mark Williams.
[Editor Rob: never seen mark williams in person, but he looks a tall player...
Davis is a good 6ft 1 plus guy, he's taller than ebdon -
See Here
- who is a decent six foot range.]
john
said on 23/Mar/15
@max, aditya mehta is also tall, looks about 1.86-1.88m seeing him play in Indian open tournement
john
said on 26/Feb/15
@max, ryan day is tall too. looks over 6ft when i see him play
ray
said on 29/Oct/14
Rob, Have you met any other snooker players in general, Judd Trump is an interesting one- He does not look as tall as Robertson so I would guess him 5'11- 6'0 range maybe- I would say he is 180 at least and 183 max I am not really sure on Judd though?
[Editor Rob: just the ones on this site, but couldn't get a photo with stephen hendry/jimmy white as back then the convention organisers hadn't quite thought that a few photosession areas would help. They got there eventually but quite a few names I could never get a good photo with.]
The Exorcist
said on 15/Oct/14
Top of Rob's head is at Neil's eye level. Eye to head is typically 4.5". Listing is spot-on.
Like most people here, I expected him to be taller.
Bud
said on 14/Oct/14
Rob, if Robertson is only 184 than Higgins is only 171?
Click Here
I ask it cuz he looked 173 with Ronnie?
Click Here
Click Here
[Editor Rob: never met Higgins, but I'd think he is somewhere in 5ft 7-7.5 range]
Arch Stanton
said on 14/Oct/14
Good grief, is he really a year older than me? Looks quite similar to some actors I've seen in 20-22 age group.
blink
said on 14/Oct/14
Ye around 184-5 seems right. What happened to mark selby's page rob?
josh b
said on 14/Oct/14
I second what Miko said, he always looks tall on to I assumed he was close to 6'2 but clearly he's barely taller than Selby and definitely shorter than my guess. Goes to show that a lanky 6 footer in a suit can look far taller than they are.
Judd
said on 14/Oct/14
6'0.5" is spot on
176,2Tunman
said on 13/Oct/14
I could have sworn he didn't look under 187,but here there is no way he's that tall,184 seems fine.what height did you think he was before meeting him?his built gives really the impression that he's taller,you agree?
[Editor Rob: I thought he could have been anywhere from 6ft up to 6ft 1, but in person I really didn't think he was more than 184]
miko
said on 13/Oct/14
Looks very tall on TV. Just shows a lanky 6'0.5 can give off a taller impression.