RJ Mitte's Height
5ft 11 ¼ (181 cm)
American actor best known for his role as Walter "Flynn" White Jr. on TV series Breaking Bad. On his twitter, on being asked how tall he was in 2013 mentioned he was
"6'1""
tall. This photo was taken by Martin at an MCM Expo event.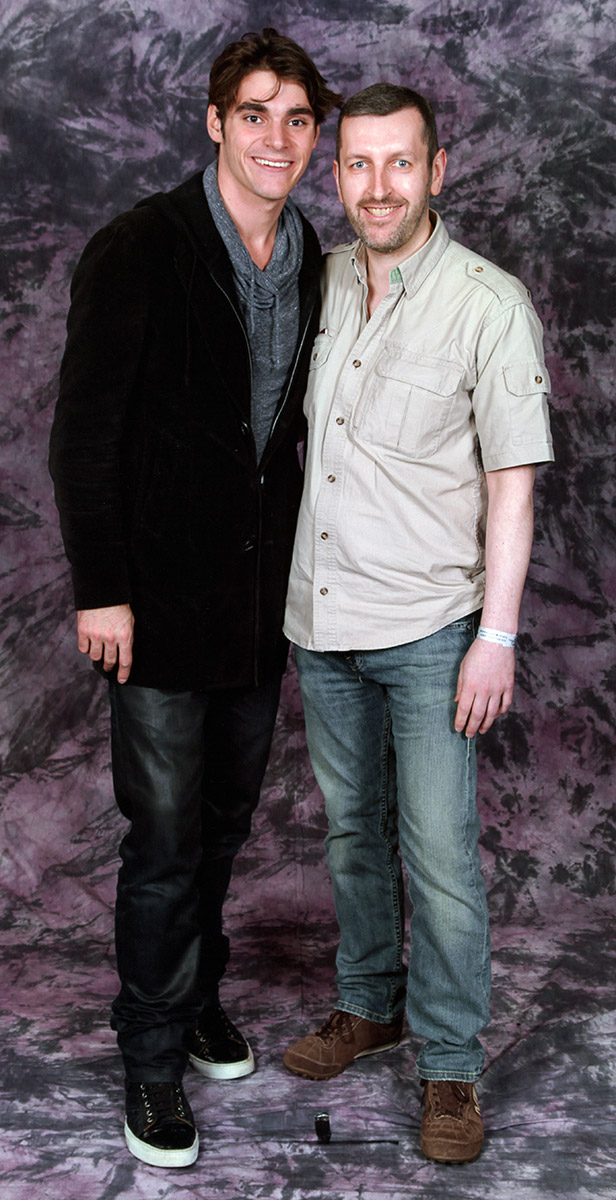 5ft 8 Rob and RJ
You May Be Interested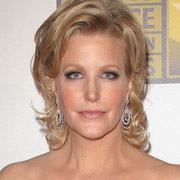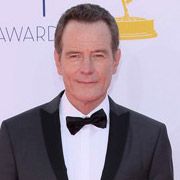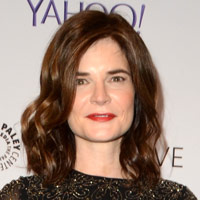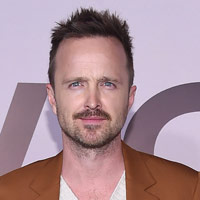 Add a Comment
48 comments
Average Guess (49 Votes)
5ft 11.47in (181.5cm)
Greg
said on 19/Oct/20
Looks about the same height as one of my friends who claimed to be 6'1 or almost 6'1, but if straightened out for a measurement would be about 5'11.5" I think.
191 cm Jason
said on 10/Feb/20
He never looked tall next to Bryan cranston I knew he couldn't be 6'1'
TheBat
said on 13/Dec/19
Looks as listed. He looked 5'10" flat at most with Bryan Cranston since cerebral palsy can affect posture.
Greg
said on 3/Aug/19
Seems to me he's claiming an in shoes morning height rounded up.
Christian Hall
said on 17/Jan/19
There's way too much propaganda online when it comes to these celebs. They think they can get away with fibs because they're famous. Just tell the truth for god sake! Bryan Cranston is 5'10 so where he get 6'1 🙄
Click Here
Christian 6'5 3/8
said on 26/Oct/18
@Rob
Maybe he's just 5'11" flat.

Editor Rob
Having spoke to him up close that day, I feel he was about 3 inch taller, although maybe he could for a measurement actually manage 11.5 - I suppose I couldn't rule that out...6ft 1 though is impossible.
Zampo
said on 26/Oct/18
I'm read my initial post again. Not sure where I got 3.5 inches from (maybe I mistyped, unless my assumption was based on Rob standing at 5'8 but can't remember exactly). Looking again, I can buy a 7 cm difference from the photo if we assume both RJ and Rob are losing the same amount. So I agree with you on possibly nearer 2.75.
Andrea
said on 24/Oct/18
Zampo, Rob said that he dropped 3-4 cms, so he's standing 169-70 here. That being said, I doubt the difference between them looks anywhere near 3.5 inches in the picture, but more 2.5-2.75 (maybe add a height chart, Rob?). Taking all of that into account, RJ is probably standing somewhere in 176 range here. How much height he's losing with that stance is the question, but I doubt it would be much more than Rob's, so he would probably come in at 180 MAX, if both of them were standing normally...

Editor Rob
he's closer to 5ft 11 than 6ft in person.
Zampo
said on 18/Oct/18
Tricky photo, difficult to assess unless one know how much height Rob is losing. I see height loss in the hip/back area. All I can say is that as a starting point, there seems to be around a 3.5 inch differential.
Christian 6'5 3/8"
said on 27/Sep/18
5'11.25" is fair, but so is 5'11.5"
World Citizen
said on 26/Sep/18
Very good listing.
Nik
said on 14/Sep/18
North of 5'11.25", south of 6'1"!
Bobby
said on 11/Sep/18
He looks 6ft here.
Junior Hernandez 1990
said on 29/Jun/18
@arubani @Height @Sacred @Letorgi
5'8 (172.7) , 5'8 1/8 (173). There is a bit difference. Rob is 5'8 1/8 and RJ look legit listing here. Look carefully from the top of their head differences its only slightly over 3", please don't get fool by RJ hair volumes if not you will get a 6'0 impression. Lol.
arubani
said on 29/Apr/18
I know you're only 5'8" but this guy just looks really tall, I don't know what it is about him but he just has this very tall imression.
JB - 5'9
said on 11/Mar/18
He has to be at least 6ft. He's done runway modelling which usual requires tall models. I doubt he'd be aloud to do it at 5'11.
Smiles03
said on 21/Jan/18
No he's like 6'0 maybe almost 6'1
Height
said on 9/Jan/18
A solid 6 feet
Slim 185
said on 17/Nov/17
5'11.5".181
Sacred
said on 6/Nov/17
182 cm for Rj Mitte
Faza
said on 26/Oct/17
At that height he could get away with claiming 6ft not 6ft1 but i have seen doctors measurements be inaccurate so its not even like most people blatantly lie some will add height or simply call height in shoes
Peter175
said on 30/Aug/17
He looks gigantic here(I know you're dropping 2 inches but still)
Just looking at this I'd have thought him a big 6'2
MJKoP
said on 12/Jul/17
He has cerebral palsy, which can affect posture and stance. I kind of see Rob matching his leg positioning, with one knee slightly bent. Was this intentional? Not many of your photos are full body shots, so do you consciously try to mimic whatever celebs' poses before the shutter goes off? RJ's upper body appears to be losing a fair bit more height than Rob's is; as though he's trying to appear shorter than he really is for a better photo op. Of course Rob's worst nightmare, if that is the case! I could buy 182 for Mitte.
Editor Rob: I couldn't lean to my right because he was leaning to his left, so I did drop height in hip/back.

S.J.H
said on 21/Jun/17
If rob standing about Big G height which is 169.5cm given fraction bonus plus 7cm for RJ is about 176.5cm standing in this posture at best 5'10.5 stood up straight
Rampage(-_-_-)Clover
said on 6/May/17
He's losing a noticeable amount of height
Paleman
said on 3/May/17
If he stood up straight in that picture I think he would look 6' tall. Still having a hard time believing he stands at only the listed height, 5'11"5 is the least I can buy for him.
Editor Rob:
...bear in mind I'm standing about Big G height myself here.
Christian-196.5cm (6ft5 3/8)
said on 3/May/17
Mark(5'9.25 said on 1/May/17
A solid 5'11" claiming 6'1"?
As if Timberlake's 6'1"-6'2" claim is already ridiculous.
------
Still not as bad as some guys like 5'9" claiming 6'0"
Mark(5'9.25
said on 1/May/17
A solid 5'11" claiming 6'1"?
As if Timberlake's 6'1"-6'2" claim is already ridiculous.
Rampage(-_-_-)Clover
said on 14/Nov/16
Wasn't he already this height when Breaking Bad started?
Aza
said on 14/Nov/16
Rob
He looks taller than listed. Both of your stances are similar but he seems to be losing more height in his upper back area. He could be a weak 6'
Editor Rob: for me, I wouldn't have guessed him over 181cm from talking to him.
BT
said on 27/Sep/16
Doesn't RJ look taller than Cumberbatch compared to Rob?
Editor Rob: benedict is very likely taller.
Rimbaud
said on 15/Sep/16
Looks tall on the last leg, like 6ft easy
Andrea
said on 26/Jul/16
Well, if you are 169-170 in the picture, RJ looks more around 176 in the picture!
It is believable that standing straight he'd measure somewhere near 180, though! I don't know about 181, maybe 5'11 flat would be a slightly better listing...
One thing is sure, he's not a 6'1 or even 6'!!!
Editor Rob: you can see in premiere photos his height varies a lot, as it can in person.
Andrea
said on 25/Jul/16
Wait... So you're standing as tall as G (169-170) there? Ffs, i swear i thought you were standing near enough your measured height!!! That's how you gonna make Kim look 6' next week XD
Getting back to RJ, if you're dropping the same amount of height, he looks more 179-180 than 180-181 here!
I mean, it's pretty clear RJ isn't standing at his tallest, not so much in your case!
Editor Rob:
I can't lean in to my right as I'm too close, so to try to match I'm dropping my right hip (hence the left knee is bent, which mimics RJ) and dropping more in my back (pushing belly forward to curve spine)...it's exactly what Charles Dance was doing to lose more height. If you went through his photos from those conventions you would probably think he wasn't a big 6ft 2 guy.
I'm standing worse here than in the example I did with
Linda Blair
to show 3cm posture drop...
Andrea
said on 25/Jul/16
Wtf, Rob? Stop adding photos without putting them on the homepage... xD
I mean, at least RJ he was worth to mention (only for the fact that he took part to one of the best tv shows ever)!!!
Anyway, great photo! I'd say he looks about 2.5 inches taller than you, so in that 179-180 range... But he isn't standing at his tallest, right? If he's got some "posture disadvantage", i can see him standing near 181! Certainly not anywhere near his claim!
Editor Rob: RJ is tricky to guess even in person...
I watched how he stood with the 2 guys in front and he naturally drops between 1-2 inches posing, so I dropped about 3-4cm myself in hip/back, he is somewhere around 5ft 11 range.
Nick
said on 18/May/15
He looks tall, but it's probably because he is very skinny and has long legs. 182 is spot on imo.
Sam
said on 5/Apr/15
Actually looking back, RJ was pretty young when they were filming BB so he was probably still growing a bit in some of the photos.
Sam
said on 5/Apr/15
Its hard to tell on BB because his character is used to slouching, but when standing tall on photos looks like he would clear 5ft11. Those numerous photos he has with Bryan Cranston are still in question for me though.
KY Jelly
said on 18/Mar/15
Keep in mind he does suffer from a (much milder) form of palsy than his character. That could make the difference; notice imperfect posture in the picturre
MD
said on 16/Mar/15
With 5'10.5" John Stamos:
Click Here
Click Here
With 6'0.25" Nat Wolff:
Click Here
The Stamos pictures may show a difference in footwear or maybe Stamos has lifts in, but the Wolff photo shows he's certainly not over what is listed. I think he might just be a flat 5'11".
Rampage(-_-_-)Clover
said on 14/Mar/15
I knew this guy wasn't 6ft1!
Dingus
said on 8/Mar/15
I think he was closer to 5'11.75"
1.89m
said on 19/Dec/14
Another arnie syndrome here,5-11.5" defo not over imo.
Andrea
said on 17/Dec/14
Mike, he never ever has looked 6'/6'1 in BB, but more likely under 5'11 even if, as i said, he never has a good posture in the scenes he's in (also because of the crutches)...
With 5'8 range Jodi Lyn O'Keefe:
Click Here
He can look 5'11 range with her...
MD
said on 17/Dec/14
He can't even be 5'11.5". He's clearly only as tall as John Stamos (5'10.5") if not even a bit shorter. And, as Andrea pointed out, he's really around the same height as Bryan Cranston. He's not even a full 5'11".
lelman
said on 16/Dec/14
Rob do you think it's possible he had a growth spurt during Breaking Bad? Since he was 18 it's not impossible. He just seems much taller in the later seasons.
I think this listing is pretty fair, looks close with Cranston at times and taller on others. Like Andrea said he can look shorter on BB, but he was walking around in crutches 75% of the time so it's hard to compare. He's a legit 5'11".
[Editor Rob: a chance of some growth at 18 for him.]
Mike
said on 16/Dec/14
Hmmm he could sometimes look 6ft-1 range in Breaking Bad, but sometimes he looks barely taller than Bryan Cranston. 5ft 11.5 seems right.
Andrea
said on 16/Dec/14
Rob, it is worth mentioning the guy who asked him how tall he is :) Anyway, his claim is clearly a BS, he's noway near 6'1! On BB, he can look shorter than Bryan Cranston in most of the scenes, i actually thought he wasnt over 5'9-5'10 but he does have bad posture in many scenes, so somewhere in 5'11 range is possible... There are also pics out there of him and Jodi Lyn O'Keefe and he's taller than her in heels so 5'11-5'11.5 is possible even if 5'11.5 is really the most i'd argue!
[Editor Rob: there was a photo of him with a model
Sigail
which should make him blush at claiming 6ft 1, she only claims 5ft 11 herself.]