Richard Dean Anderson's Height
6ft 0 (182.9 cm)
Peak height was 6ft 1 ¾ (187.3 cm)
American actor, best known for starring in TV series MacGyver and playing Jack O'Neill in Stargate SG:1. He said in a 1998 New York Post he was
"about 6-foot-2"
. I this photo I had about 0.3-0.4 inch more sneaker than him.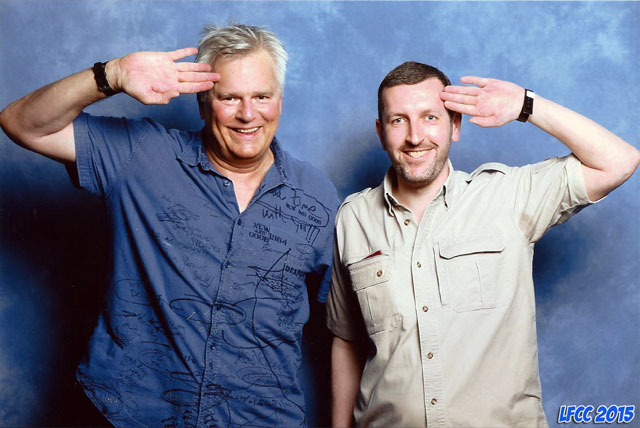 5ft 8 Rob and Richard @ LFCC 2015
You May Be Interested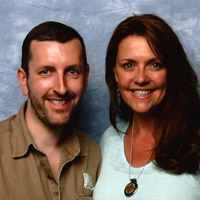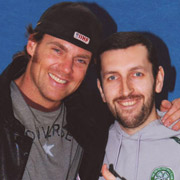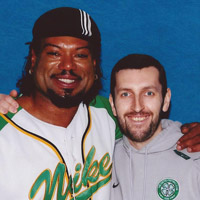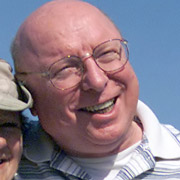 Add a Comment
90 comments
Average Guess (38 Votes)
Peak: 6ft 1.24in (186cm)
Current: 5ft 11.74in (182.2cm)
Jkiller
said on 17/Jan/20
A spot on 187cm peak, around 183cm (6'0) nowadays.
Carlos172
said on 5/Oct/19
I have seen recent episodes of McGyver, and he looks pretty tall, like about 6'-2". He easily has 2 inches above the bald guy, that works with him! Then again, he has a lot of hair too. He looks to be about 6'-0" now, in the picture with Rob!
Jesica
said on 23/Jul/19
6'1.5 peak
5'11 3/4 now
Peter 180cm
said on 11/Feb/19
He doesn't look over 180cm considering shoes,at most maybe 181cm.

Editor Rob
I can't remember where, but I did read that he damaged his back when younger, like his discs, plus had knee problems. There's no doubt on MacGyver he was over 6ft 1. I remember one episode with vernon wells, he had a comfortable 2 inches on that guy, a bit more even.

But then, he did do a lot of stunts on that show which will have taken a toll on his height in later years.
Visitor
said on 6/Jul/18
He was arguably just marginally taller than Dana Elcar (who may or may not have been 6' in the late 80's, who knows for sure?) and clearly but not hugely taller than Michael Shanks (who is definitely not a full 6 footer). He was also quite clearly shorter than Christopher Judge, whatever his exact height is.
For RDA, I think 6'0.5"-6'0.75", possibly just 6'1" would be reasonable for absolute peak, today not much over 5'11.
Sonnecker
said on 8/May/18
I agree the current quote. I'd give him 6'1,5" in the past, weak 187 cm.
Finn
said on 19/Apr/18
Average people would lost height about an inch or so by the age of 70.
I think he was about 185cm to 186cm in McGyver days and about 183cm today
Michael Voisinet
said on 1/Feb/18
He is much taller than Dana Elcar on MacGyver who is about 6' tall. I would say that he is in the 6'1 1/2-6'2 range. 6' is a very inaccurate depiction of his height. He is way over 6' for sure.
Psychedelic Earth 187
said on 14/Jan/18
I stick with my old guesstimate. 186 prime imho.
Paul NS (6ft0.5)
said on 23/Dec/17
Lol, peak 5-11 3/4 is patently foolish. He's probably that today, though.
fisherman
said on 18/Nov/17
He always had better posture on TV. Looks like 5'10.75" in that pic but would be slightly taller if he straightened up properly. I think he had knee surgery at some point so that carved a couple of millimeters out. Peak height was 5'11'75".
(check the Michael Shanks page, there's a pic, another pic, that shows Shanks is actually more like 5'11 to 5'11.25", and in SG-1 RDA was always just about that 0.5"-0.75" taller than Shanks... the image reinforced by Shanks keeping his shoulders low, hands in pockets and staring at the floor with RDA maintaining military posture...)
F97
said on 11/Aug/17
Looks a legit 6 footer to me
even
said on 22/Jul/17
a weak 6 footer
Rampage(-_-_-)Clover
said on 14/Jul/17
6ft1½ is the lowest I'd argue peak
Bugsy
said on 12/Jul/17
Rampage... : He's not in "horrendous awful shape", he is just overweight these days. That's what I was referring to in my earlier comment, in the MacGyver days he was slim and the other actors were shorter (and/or overweight... think Dana Elcar and Bruce McGill) which made him appear taller. I just watched a couple episodes of MacGyver during the last week so I have the appearances still very clearly in my head.
Actually, I wonder how tall Dana Elcar was? IMDB says 6' but you know IMDB... Anyway, in one of the MacGyver episodes I saw, Anderson and Elcar were standing side by side and the difference between them was not much, about an inch (I would say LESS than an inch), definitely not 2 in. The fact that Anderson had huge tall hair and Elcar was bald deceives you at first, but then you look at their eye level.
Editor Rob: you could say with Dana that he didn't seem any taller than 6ft 1.5, maybe Dana during the MacGyver era was about 6ft, maybe having lost a fraction...
Rampage(-_-_-)Clover
said on 26/Jun/17
No I think he was near 6ft2 in the MacGyver days and is maybe a fraction over 6ft today if measured. As you can see he's in horrendous awful shape and possibly has back problems causing him to hunch.
Slim 181 cm
said on 24/Jun/17
Looks 182 in photo, a mans receding hairline can make him look taller.
182 now, 186 prime
RichardSpain
said on 21/Jun/17
Maybe he was 6'2 with his footwear.
I think he was a solid 6'1" barefoot in peak not more.
Nowadays seems around 5'11 or 5'11.25" I agree with Bugsy
Rampage(-_-_-)Clover
said on 21/Jun/17
Shanks looks an honest 6ft even today. Browder could be a bit under it though
Bugsy
said on 20/Jun/17
DEFINITELY less than 6 ft in this picture, I would say 5'11.25 is fair. Looks 5 inches shorter than Judge does in his pic.
Don't buy him being more than about 6'1" back in the day either. He's a tall guy but mostly he just looked tall because in MacGyver he was very slim and all the other actors were significantly shorter. (Don't forget the boosting hair either! :) )
Brad
said on 17/Jun/17
I don't recognize him, I guess he was older than I thought.
berta
said on 15/Jun/17
Rob i just saw your comment on michael shanks, that he might be nunder 6 foot now? He is 46 years old and very good shape. Why do you think he is shorter now. Have you seen him and thought he looked shorter now?
Editor Rob: well he came by the stall we were at, as did ben browder...I thought Browder seemed more 6ft than Shanks!
Kourosh 5'9.5 (176cm-177cm)
said on 15/Jun/17
Legit 6'0.
F97
said on 15/Jun/17
How would Richard look like compared to 6 footers like Ben Browder and Michael Shanks. Dif they look about the same height when you met them?
Editor Rob: Shanks in 2017 may be heading a little shy of 6ft.

I do think Anderson will still measure 6ft, but he might look not much over 5ft 11 to people.
David
said on 14/Jun/17
How did he look up close compared to a legit 6ft guy like Mark Selby for instance?
Editor Rob: he looked under six foot walking and standing, but had less sneaker, so I could see him 6ft. He is aged 65 in this photo.
Rampage(-_-_-)Clover
said on 14/Jun/17
He's losing at least 2cm in the photo
berta
said on 14/Jun/17
yeah in the photo he rallyh looks like he is about 181,5 but as i said when measured he doesnt fall under 183.well maybe but i think he can be somemhwre in the range of 182,5-183,5 and probably on the higer end of it. But when he walks he can look under it
Rampage(-_-_-)Clover
said on 14/Jun/17
Possibly could clear 6ft if measured
Danimal
said on 13/Jun/17
Looks closer to 5'11"-5'11.5" with you Rob. If he was able to straighten out his back/neck, it's possible he could hit 6'0.5"-6'0.75". He was close to 6'2" in the 80's.
Rampage(-_-_-)Clover
said on 13/Jun/17
Looks awful today
World Citizen
said on 13/Jun/17
Looks no more than 5 ft 11.25 here.
ma
said on 13/Jun/17
By looking at this peak he looks around 5 ft 11.5 inc...
Do you know why Rob he did lost so much height?
187 cm as peak is fair
Editor Rob: as I mentioned below, he has had knee issues and back issues which knocked his height down.
Peter 179cm
said on 13/Jun/17
About 182cm accounting for footwear and posture.Don't know about his peak height
berta
said on 13/Jun/17
he really looks to have lost height. but i would maybe go for a little lower peak height. He can be a guy that was barely 187 and today maybe 183-183,5. He looks 6 ot flat but you never now with a little older guys if they can streath up for a measurement. barely 187 to strong 183 guy - lost about 3,5 cm is my guess
Andrea
said on 13/Jun/17
He looks more a decent 5'11 than 6' with you, considering the footwear difference of course... 5'11-5'11.5, maybe, to be generous.
Was this guy really near 6'2 at his peak, Rob? Even if he really is near 6' today, that's still quite a big amount to lose at 67...
I don't really know him, although I've heard about his MacGyver show more than once!
Editor Rob: seems a big amount to lose by age 65...but I think at mid 50's he was still 6ft 1.

But Richard has said he's had several knee surgeries and back surgeries, so I believe he's lost more than average by mid 60's due to those issues.
Nik
said on 13/Jun/17
Yes I would say he is 6'0" on the nose!
Rampage(-_-_-)Clover
said on 13/Jun/17
Wow....that low today?!
And much heavier. Hardly recognisable
Mincer
said on 13/Jun/17
He looks really different, I didn't recognize him.
jim
said on 9/Mar/17
Definitely shorter than Michael Shanks who is listed 6 ft flat
Click Here
berta
said on 21/Feb/17
was he really as tall as tom hidlestone at peak? i think that if you take away 1/4 of the listing it is better
TK
said on 10/Feb/17
187 at peak
berta
said on 6/Feb/17
the black guy was always about 2 cm taller wasnt he? and he does look at best 6 foot 2 with rob but more like 187. Maybe dean was never taller than 186?
Rampage(-_-_-)Clover
said on 15/Oct/16
Definitely doesn't look this today
Frank R
said on 24/Jun/16
In one episode of MacGuyver, Pete Thornton (Dana Elcar) said "I'm looking for my missing friend. He's about 6'1"..." If Anderson was 6'1.75", why wouldn't Pete have guest-imated 6'2" instead of 6'1"? Even if it was a mistake by the writers you'd think that Anderson would have "corrected" the error for authenticity, since actors don't generally want to be perceived as "shorter" on screen than they really are.
Rampage(-_-_-)Clover
said on 21/Mar/16
He did look 6ft2 in MacGyver so this height for his peak is fair.
Rampage(-_-_-)Clover
said on 4/Nov/15
186cm today possibly
JayZ
said on 8/Sep/15
Tall guy in his youth,long arms and legs..probably nearer to 6ft these days.Great actor.
jackie
said on 2/Sep/15
he is tall so shut up and no john Anderson is not related to him Anderson is a common name
Andrew M
said on 30/Nov/14
Actually I thought he could have been taller. Guess it's his co-stars, like Dana Elcar. Didn't his real dad guest-star as his uncle in an episode of MacGyver? He lived alone in the desert and kept calling him "Bud"! When was it revealed his actual name was Angus MacGyver? I used to call him "The Man With No First Name", as I never heard it in "MacGyver". Still, we didn't get all the episodes here in the UK, did we?!
Ted
said on 27/Oct/14
I think he has shrunk a lot. He was slouched a bit but I took a photo with him today and he was about 5'11 or under 6'. He looks about 1.5 inches shorter than me in the photo. .
Hypado
said on 8/Jul/14
Richard Dean Anderson is A legit 187cm GUY
One of my favourite actors ever.
avi
said on 2/Jan/14
@Rob
I know he looks 6'1.5 area but do you think he was 6'1.25 peak?? He was shorter than weak 6'2 Christopher judge by 1/2 inch. It is possible he looked big back in the 80s/90s due to his slim build?
[Editor Rob: there is a chance Judge has lost half an inch down his sofa because he really did dominate at 6ft 2 easy on stargate early seasons but in person last few times he looks struggling with 6ft 2. Anderson definitely in photos with friends looks 184-5 range last year, but maybe he's not standing as well today as the past.]
Rampage(-_-_-)Clover
said on 23/Dec/13
Nearer 6ft1 today, Rob?
[Editor Rob: quite likely]
Yaspaa
said on 30/Oct/13
You're boring, sugars.
sugars
said on 29/Aug/13
No he is not!! I am 5'11 and a half and trust me, he walked right by me and he is at tops 5 ft. 7 or 8. There is no way he is near 6'0 ft. I just saw him at the Fan Expo here in Toronto.
XistenZ
said on 25/Jul/13
Think he's 184.5cm peak. In episode 'D.O.A.: MacGyver' he got described as "a little over 6 feet."
Frost
said on 1/Jun/13
I've met him a few times, and he's a good 6'1 and 3/4".
Jimbo
said on 30/Dec/11
Said himself in an episode of McGyver he was 6'1, I would say a very solid 6'1 186cm.
avi
said on 25/Nov/11
yes strong 6'1 not over 6'1.5
Mohammed
said on 1/Jul/11
Only time he's been 6'2 is the second he steps out of bed in his youth. Probably 186 cm now, peaked at 187.
Observant
said on 27/Feb/11
He always looked about 1 - 2 cm shorter than Christopher Judge, so 186 - 187 is fair.
MacGyverFan
said on 8/Jan/11
He is described as around 6'1 in MacGyver.
Josh.J
said on 4/Jul/09
186cm for me
Hugh 190cm
said on 17/Jun/09
Definately close to 6ft2. This height is very possible. 186cm at the lowest. pretty tall guy.
Lionel
said on 11/Mar/09
always looked 187 cms younger
ChuckTheSchmuck
said on 6/Feb/09
He looks shorter than 6'2 tbh. 6'1 is probably right. Watched some episodes yesterday. He doesn't have the proportions of a 6'2 guy...might be because his head is pretty big.
lee
said on 20/Jan/09
i think 6'2 is about right, at least during the macgyver days. he's almost 60 now, so he may have shrunk. but he still looks over 6 feet to me. and taller than michael shanks.
miser
said on 10/Dec/08
Back in the old days he did look 6'2", not 6'... looked very tall and lean as MacGyver, but perhaps not at a first glance. Gotta love that show.
MacGyver fan
said on 25/Nov/08
Daniel and anyone else who thinks he's 6'2. Why do you think so when in the series he was stated to be lower height?
Daniel
said on 10/Jul/08
MacGyver was 1.88m at the very least
MacGyver fan
said on 27/Jun/08
One more point. In the episode "Strictly Business", Murdoc (Michael Des Barres) describes MacGyver (Anderson) as "around 6'1".
MacGyver fan
said on 14/Jun/08
Allright. In MacGyver,he manages to be taller than a fair few folks. In some scenes it seems as if he does not have much on Dana Elcar,who was an old man at the time. In addition,the man that played his grandfather (In MacGyver) appeared exactly his height,which is not very likely. Dana Elcar,as Pete Thornton,described him as "kind of tall, a little over six feet" in one episode. Six feet in centimeters is about 182,90 rounded up, so he could be as much as 188 or he could be as little as a weak 184 or something.
Daniel
said on 22/Mar/08
Of course he is very tall. In MacGyver he usually towered almost everybody, even Dana Elcar (Pete Thornton), who was himself 6'1'' peak and no less than 6' in the 80's. I would say 6'3'' was not exaggerating for RDA's height at that time.
bad english
said on 18/Feb/08
Why would somebody 6' or 6'1" tall guy lie his height one inch taller? I mean, if he was 6' or 6'1", I quess that height would be just fine to be listed everywhere. Usually guys who are under 5'11 puts some one or even two inches extra on their height. So he is 6'2".
Penysh
said on 9/Feb/08
I saw RDA on a talk show where the host ask him how tall he was, [because he towered over the host] and he said he was 6'2" Look at him on Stargate, He towers over the other members of the cast.
AshnarLynx
said on 20/Dec/07
He's probably 6'1 and wears some big shoes. In MacGyver he was always in sneakers and they can add a bit of height.
AshnarLynx
said on 20/Dec/07
I saw him once on Conan O'Brien and he didn't look 6'2 to me, surprisingly. More like 6 feet.
[Editor Rob: michael shanks on stargate, I saw him and he looks one of those legit 6 footers, dean is taller, maybe of course not 2 inches.]
456
said on 2/Aug/07
he only looks like hes wearing lifts because in sg1 there wearing boots all the time which add abit to there height, but in mcgyver he wears converse which are flat so its about right.
hb45
said on 6/Feb/07
Personnally, I don't think he wears lifts. Anyway, not in McGyver, where he was jumping and running all the time, which would be hard to do with lifts. I think he's genuinely tall, and 188cm seems good to me.
rider
said on 21/Jan/07
he wears lifts ,you can tell by the way he walks on screen ,it's VERY similar to all the other lift shoe wearers ,like arnie, sly, kurt russell, i'd say 6ft max !
Big Dave
said on 7/Jan/07
I think that he is 6'1.5, just a bit shorter than he is listed here. He looks about 1.5 inches taller than Michael Shanks And about 1.5 inches shorter than Chris Judge, particularly in the earlier Stargate series. I think he needs to be down graded slightly to 187cm.
[Editor Rob: I think probably right, whether he has lost 1cm or just always is 187 not sure on]
Editor Rob
said on 8/Sep/06
Described in 1986 chicago times "strapping 6-foot-2"
Boobula
said on 15/Dec/05
Anderson is not more than 1 inch taller than Michael Shanks, when Shanks is standing straight. Sometimes he does look a couple inches taller next to Shanks, but that's because Shanks is a terrible sloucher. In scenes where they are next to each other and Shanks takes a rare erect stance, you can clearly see there's no more than an inch between them. Shanks claims that he is six feet even, which he looks. In any event, it's extremely unlikely that he's taller than that, since actors almost always round up their heights or tack on a full extra inch.
Also, the tv show MacGyver had a couple references to Mac's height. One has been mentioned, another one was MacGyver being identified as 6'1" on an ID card of some sort, if I remember correctly.
d
said on 3/Dec/05
in a macgyver episode, Pete thorton was describing him to somebody and called him "a little over 6 feet"
Bleemo
said on 26/Aug/05
Saw an episode of Diagnosis murder with him in and he was taller then the van dykes who are fairly tall themselves so I guess he must be around this height.
Big Dave
said on 20/Apr/05
This looks accurate to me. I have been watching Stargate for years and he is definitely a good two inches taller than Michael Shanks.
Mr. R
said on 18/Apr/05
I go back with RDA into the 70's when he originated the role of Dr. Jeff Weber on General Hospital. He was listed at 6-2 then, and I still think he's pretty close to it now.
Smoke
said on 17/Apr/05
Yeah, he is indeed suprisingly tall! At first glance you definately don't notice him to be a particularly tall guy, infact in my first guess I thought he was something like 5'10", but then you see him next to other people and he really does look 6'1"-6'2". Not sure if he's still quite 6'2", but he definately had to have been close to this at his peak.
Chicky
said on 17/Apr/05
In Stargate, Teryl Rothery (Janet Fraiser) had to wear her 'big' shoes when she was in a scene with Rick, because she is only 5 foot 2. Also, he is definetaly a couple of inches taller then Michael Shanks, who is 6 foot, and is a bit smaller then Chris Judge, who is around 6 foot 3. I'd say that 6 foot 2 is right on the money
Smoke
said on 21/Mar/05
Imdb has him at 6'1.5" (187 cm) and I was shocked to even see this! In his prime on MacGyver he didn't look anything over 6'0". Then I look at some photos of the guy from various Premieres and Events and definately looks around 6'2". Either Anderson wears lifts for events or he's really around 6'2", personally I like the 6'1.5" listing better.