Rick Yune's Height
6ft 0 (182.9 cm)
American actor best known for roles in Die Another Day, The Fast and the Furious, Olympus Has Fallen and The Man With the Iron Fists. Celebheights read an article from WeGotThisCovered.com were he mentioned his stats, saying:
"The stunt double that they had for me was 5' 6'' 120 pounds, I'm six foot, 180 [pounds]"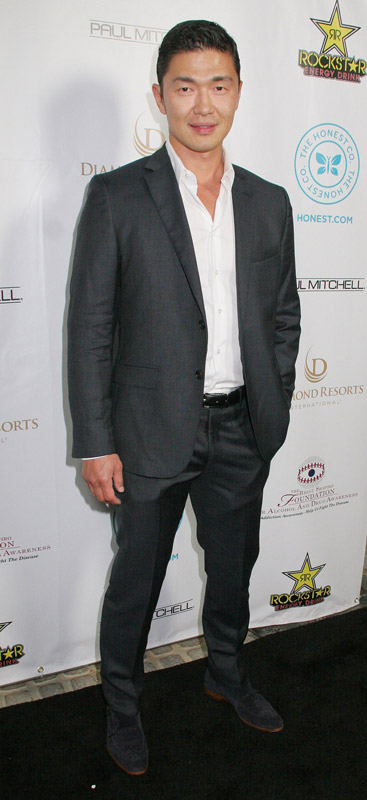 Photos by PR Photos
You May Be Interested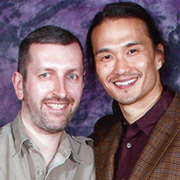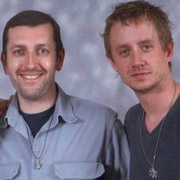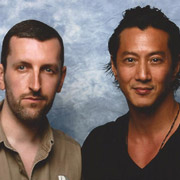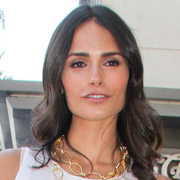 Add a Comment
72 comments
Average Guess (16 Votes)
6ft 0.23in (183.5cm)
Nik Ashton
said on 1/Jul/20
@ Rampage(-_-_-)Clover - Yup, that's true! He's very tall!
Nik
said on 20/May/20
@ Joey - Lots of men are under 5'7" in thr UK!
berta
said on 4/May/20
pierce brosnan was easy 3 cm taller could be more. wenthwort miller was about 1,5-2 cm taller at 184 cm. i dont get how the average guess is 183,5, he would look almost identical to miller if he was that. i think 182 or at best 183
185
said on 7/Jul/19
@U.S person causasian is much taller than asian. 185 cm is a very tall height in asia. I think 183 cm european is more equivalent to a 175-176 cm east asian man and could be much shorter to south east asian man.
U.S. person
said on 5/Jul/19
I think a 183 cm Euro man should be equivalent to an 185 cm East Asian man.
Junior Hernandez 1990
said on 2/Apr/19
He always look 2cm taller than Karl.
berta
said on 23/Mar/19
rampage, keep in mind that he was clearly shorter than wenthworth miller in the latest season of prison break. there could have been 2 cm beetween them. I think this guy is 6 feet at best and could be legit 182 guy. Walker was probably 186,5-87 and had shoes on that gave 1 cm that made him 187,5-88 and this guy lets say 183 with shoe that gave 3. then we only have 1,5-2 cm in difference.
Rampage(-_-_-)Clover
said on 10/Feb/19
Just saw an old clip of him from on The View with Paul Walker and he actually looks about the same height
cmillzz
said on 14/Sep/18
Average South Korean adult male is 5'7, at least back in 2010. I doubt it's changed much at all since then.
Mike5
said on 14/Sep/18
Agree with @AndrewV here, Some over exaggerations on how tall Asian men are becoming. Whilst they average height has definitely increased, a 6ft Korean man is still probably the equivalent of a 6'3 or maybe 6'4 British or American guy
AndrewV
said on 4/Sep/18
lmao the average height of young South Korean men ages 20-24 based on conscription data is 173.5 cm with an SD of 5.16 cm. A 180 cm guy would already be in the top 10% of male height among the young generation.
I am 184 cm and I was still quite tall when I was in Seoul, probably like 95th to 98th percentile. Koreans have definitely grown taller and are the tallest in Asia but you guys really exaggerate how tall they are.
MAD SAM
said on 17/Jun/18
Back when 183 cm was tall for Asians, nowadays Korean men are easily being in the 180-185 cm range
Matty
said on 8/May/18
6ft was very tall for an Asian in his time, isn't even that tall nowadays even for Asians. All the young Koreans are easily 5'10-6'0 average. I'm 6'1.5 and definitely didn't feel like a giant when I was in Gangnam.
Joey
said on 3/Feb/18
6ft is tall in Korea but not that uncommon, you can see lots of people more than 6ft in South Korea.
Slim 182 cm
said on 7/Jul/17
He's tall for a Chinese man. That's the white mans equivalent of 6"3 or 6"4, I also think he should be added to prison break page cause he's in season 5.
berta
said on 13/May/17
this guy is in new season of prison break. I thought he lookes like he could be in the 182-183 range beside dominci purcell and wenthworth miller. he is clearly 1 inch shorter then them. DOnt think he is taller than this
Arthur
said on 6/Feb/17
Rob, isn't he exceptionally tall for an Asian man?
Editor Rob: not necessarily exceptionally, given countries like South Korea and japan have increased their average height, but still quite tall.
Aza
said on 22/Jan/17
Yep good listing.
Rampage(-_-_-)Clover
said on 14/Oct/16
I think he's more likely to measure a bit over this
josh jeffords
said on 11/Oct/16
Rick looks 6ft plus in most movies he is barefoot in DAD and looks taller than dressed Bond who is listed well over 6.
He seems close to Butlers height as well was taller than eckhart and bigger only one who looked taller in Olympus was freaky tall Dylan something. "looked 6 2:
Didnt look under 6 ft across from Paul and Vin but had boots on.
To be scientific he has a big torso esp for an asian and long arms appears to have very long legs 6ft seems bare minimum.
Rampage(-_-_-)Clover
said on 5/May/16
Rob, did you originally have this guy at 6ft2?
Editor Rob: I can't recall, but his brother Karl seemed much more fan friendly in person...
Rampage(-_-_-)Clover
said on 13/Aug/15
Not surprised to hear that, Rob. He just doesn't seem like a nice guy.
Really arrogant.
Nick
said on 19/Jun/15
exactly rob,that's what I was talking about. aaron is 5'11"(180) here and rick looks he same height with him in photo,that's what make me think he is about 5'11.5",between 5'11" and 6'.what say u?rob?
[Editor Rob: I've seen both rick and karl yune up close. Unfortunately Rick wasn't wanting to take a photo, but I think actually he gave me a bit taller impression than karl.]
Nick
said on 11/Jun/15
I always thought Rick is only 181cm(5'11.5),which is his real exact height, most peoples in this height will claim to be 6ft, however if he stand with a real six footer like dylan mcdermott, he will appear to be a bit shorter and they will stand almost equal height with 180cm(5'11) guy,like aaron eckhart,which make me doubt his 6' height, Rob, I think you need to downgrade him to 5'11.5(181~2).It will make sense with this height.
[Editor Rob: aaron isn't 6ft on here, although that is kind of what he claims.]
Rampage(-_-_-)Clover
said on 1/Jan/15
6ft in Asia is the equivalent of 6ft2 in Europe/USA
184cm George
said on 10/Aug/14
Giant asian 6'0
CL
said on 15/Jun/14
That photo with Dylan is throwing me way off...I sat next to him (Dylan) on a plane once. Super nice guy...took pics with other passengers and plane staff. He was wearing flip flops, and stood the same height as me (5'10") in trendy thin sole sneakers, which makes me think he's around 5'11". But, I know a lot of people that have met Rick and have sworn his height at 6'. Maybe, they're all lifting and playing with their height?
MD
said on 11/Mar/14
Then you explain the photos. I disagree; how are you going to say he looks it without providing your own evidence.
hakim
said on 9/Mar/14
wasting your time attaching photos mr. MD. he's says he's 6'0" and looks it. give it a break.
teej
said on 28/Feb/14
He does look a legit 6 foot, tall for an asian guy
MD
said on 13/Dec/13
How do you explain all of the photos, though? I thought the Dylan McDermott may have been a one-off, but the further I dug, the more apparent it became that he can't be 6'0". Again, I suspect he may have used lifts earlier in his career, and just kind of got tired of them.
[Editor Rob: lifts in some films is always a possibility, he can look 182cm at times outwith films]
MD
said on 12/Dec/13
Rob,
Something weird is going on here. Here he is with a legit 6'0" Dylan McDermott, who may have a very slight footwear advantage:
Click Here
Here he is with a 6'0" Adrien Brody, and Rick may even have a slight footwear advantage, here:
Click Here
With a 6'2" RZA, who has a long head (second pic shows footwear for ref.):
Click Here
Click Here
A solid 6'0" seems genuinely out of the question, to me. Prior to 2011, I saw him look 6'0", but since then he's looking much shorter. The only thing I can think of is that he simply stopped wearing lifts. But, 6'0" seems too much with legit 6'0" guys to compare him to.
[Editor Rob: I've seen Yune at a London convention a few years ago...

this was one case of an actor who I thought looked very disinterested and a bit 'off' with fans...

but I did think he was near 6ft]
Pleb
said on 29/Nov/13
5'10 guy.
How in the hell is he 6ft when he is over an inch shorter than 5'11.75 Daniel Wu?
Click Here
Click Here
Rusty
said on 22/Aug/13
He looks very close to 6'1", he gives a tall impression that a six footer cant give
Rsob
said on 15/Oct/12
How much do you think Rick yune weighs? I'm gonna guess 200
Rampage(-_-_-)Clover
said on 24/Aug/12
Looked over 1in shorter than 6"1.5/187cm Pierce Brosnan in Die Another Day.
pb
said on 23/Jul/11
response to cranberries (july 18th, 2011):
i suppose rick has a big head compared to the average male of european or african descent. but by korean standards, not really.
and i wouldn't say he has "really short arms and legs". like i said on february 18th, i've seen the guy in person. his arm/leg proportions didn't seem unique or unusual in any way.
i think you're just trying to be a hater.
Cranberries (18m, 193.75-191.25)
said on 18/Jul/11
He's got unique proportions for a six-footer. He has a huge head, long torso, and really short arms and legs. Pretty typical Asian proportions I guess.
Tall asian
said on 24/Apr/11
Rick stands at 6 ft 0 inches
in comparison to Bi Rain who stands 6 ft 1 inches he is only a shade smaller.
Cw
said on 11/Apr/11
Ricks my cousin and 6'1 sounds about right.
pb
said on 18/Feb/11
i saw rick at a korean american students' conference in new jersey in 2000. i was able to get a really up-close look at him and was surprised that he was shorter than i'd expected - i'd heard from several sources that he was 6'2", but this definitely wasn't the case. i am 6'3" (barefoot afternoon height) and was wearing shoes with an average heel - as was he - but he wasn't even close to being within an inch or two of my height.
in fact, my brother, who stands at 5'9.5" and was with me at this event, appeared to be slightly closer to rick's height than i was (my bro was standing only a few feet away from rick for a few seconds).
in the end, my friends and i all thought rick was a shade under 6'0".
i actually pegged rick as being 5'11" at first, but later on i upgraded him because i realized that he was certainly more than 1.5" taller than my 5'9.5" brother.
so i'm going to split the difference and say rick was 5'11.5", maybe 5'11.75" at the absolute most. i really don't think this guy is a legit 6 footer, much less 6'0.5".
d
said on 28/Nov/10
Rick is about 6' 1". I grew up with him and last time I saw him at my cousins wedding, which he was in the wedding, he was about inch taller than me. Now I'm 6'0" exact, if that helps...Now his brother Karl is about 5'10".
Hugh 190cm
said on 14/Jun/09
A weak 6ft1
[Editor Rob: more 183-4cm, I asked him for a photo at a con last year but he wasn't 'in the mood'.]
xorsprite
said on 19/May/09
Man you can't tell how high someone is from a movie. They have all sorts of clever ways to make people appear taller. Isn't this obvious??
Nick
said on 30/Mar/09
hes 6 foot on the dot. A korean newspaper had his modeling info and he was measured at 183cm.
Doug
said on 23/Mar/09
Paul Walker had minimum 2 inches on Yune.
Doug
said on 23/Mar/09
This guy was also listed at 6'2", and hes only 6'0.5"? That explains how when I was watching Die Another Day I was wondering why Pierce looked taller!! Yune looked tall, him and Brosnan stood out amongst the little Koreans but I didn't see a massive height difference, Pierce only had around an inch on him.
-_-_-(Hugh)-_-_-/
said on 20/Feb/09
I think he's a solid 6ft1.
david
said on 18/Jan/09
rick is a little over 6ft maybe not even 6'1 we went to college together at UCSB and trained together in Tae Kwon Do. I am 6'2 1/2 so I always had a clear idea of his height.
Hugh
said on 25/Sep/08
BK_Daniel, You need to get your eyes checked. Pierce had Rick by 2 inches at least.
BK_Daniel
said on 21/Sep/08
I thought this guy was pretty big. In Fast & Furious he looked taller than Vin who is 6'2" in boots. He also looked taller than Brosnan in James Bond. I would think he is 6'3". But from reading your posts my opinion is that he probably wears lifts in movies. And that's all I have to say...
skang
said on 5/Apr/08
I used to work out at the gym at UPenn in my college days and Rick Yune before he became famous was usually there a lot of the times when I was working out. He used to stand in front of the mirror with his shirt off and work out. He is a pretty big guy. I'm sure he might have toned down a bit now, but back then he was pretty much an adonis. I would describe him as being the height and build of an NFL free safety. I'm around 5'9" at 174.5 cm. He had a good 5 inches on me when I stood next to him in the mirror. Very good looking guy as well, chiseled face and chiseled body. I'm not gay or nothing, but he would come close as possible for a human to that whole greek statue thing. Oh yeah, it's obvious at the time, the guy had a huge ego and was very into his whole look thing. I don't think he had many friends however. I always saw him alone.
Jean
said on 30/Mar/08
Grey, you are liar. Yune is not over 6'1.
Grey
said on 5/Mar/08
I'm 6'2'' (188cm) and he was shorter then me when I saw him in LA He's 6'1'' for sure.
dp
said on 29/Jan/08
Click Here
from Die Another Day with Pierce Brosnan
east
said on 5/Oct/07
the average height of east coast urban chinese and general korean males is around 5'8 ~9..so 6ft is very common in this area..and remember when your height is same to your friend you will think you are at least 1~1/2 inch taller than your friend. because you are universe.
AckiLeez
said on 6/Jul/07
I'm an Asian Male model, and although Rick is in acting, agents usually boost the height a bit for marketing purposes.
I'm really roughly 5'11(measured). But on my comp cards say 6'0.
And especially with the rarity of taller asian males, being taller is a great asset for clients.
My guess is he is probably 6'0-6-2. no more no less.
And for the guy who was checking him out and claiming to be straight, You're Gay buddy...*pat on the back*
pb
said on 15/May/07
i'm 6'3" barefoot and i saw the guy in person at some korean students conference back in 2000. didn't get to shake his hand or anything but i did stand a couple of feet from him, and thus i got a really good look. i remember being surprised that he was a lot shorter than i would've guessed, and somewhat smaller framed, although it was hard to tell for sure on that latter point because of his jacket.
anyway, i remember my friends and i all pegged his height at around 5'11" or so. i can't explain the 2" discrepancy between my estimate and what this site lists, but i know what i saw. perhaps in movies and at big hollywood events he wears high-heeled shoes, lifts, insoles, and other means of adding height to give him the appearance of a 6' 1 1/2" or 6'2" individual? regardless, there's no way he's the height listed on this site. he surely hasn't grown since 2000, and i certainly haven't shrunk.
Del Mar
said on 21/Jul/06
I'll guess so guestX, well then he really is TALL! If you are checking in here again, where did you meet him at church, in south Korea? Think to remember he grew up there?
guestX
said on 2/Jun/06
Big Dave.. yes RIck was passing by Brosnan but at that scene, Rich was barefeet and brosnan had his shoes on
guestX
said on 2/Jun/06
commenting on del mar about Yoo Ji-Tae, he's about 6'2, I know this because I grew up with him and he was the tallest at our church (I was 5'11 back then), it's weird to see your youthhood friend on the big screen =)
del Mar
said on 7/Apr/06
Well, I guess you're right, Leung, but nevertheless are the average height for asians stated much less than for west Europeans and Americans. Even if the average height is more than 5'7", it's yet more in the west.
Leung
said on 7/Apr/06
Following up on my earlier post. The Australian Prime Minister John Howard who is only 5'9" is constantly made fun of because of his short stature, his nickname is "Little Johnny".
Leung
said on 7/Apr/06
del Mar, 5'7" is probably the "average" height of asian men, however most of the younger generation of considerably taller. It's just like 5'9" being "average" height of American men, however the reality is that the average height of most younger men in America is closer to 6'
In Australia, males less than 5'11" are considered short and females less than 5'6" are considered short.
del Mar
said on 5/Apr/06
He and Ji-tae Yu (listed 6ft 1,25)from Oldboy are remarkable tall asian actors! I've heard the average height for asians is about 5ft 7,5!
Brett
said on 5/Nov/05
if henry aint 6'4" then rick looks lie 5'10 or less haha, It looks like henrys like 6'7 + in that photo
HeyYouWithTheFace
said on 20/Oct/05
I can imagine a lot of white chicks going for this guy. He's huge. I think he was just a tad under Brosnan's height in the movie -- a solid 6'1.5 like this site says. He's a solidly built guy too - so I think it gives the impression that he's taller. Plus a massive (I grudgingly admit -- good looking) face.
Anonymous
said on 5/Sep/05
Pierce brosnan is taller then rick yune, from photos one can see pretty easily. but pierce is rate 6"1 on this site. so which ones wrong, probably pierces, hes meant to be 6"2 anyhow
John
said on 28/Aug/05
I think this is about right, he may be a bit taller though. Maybe 186ish-187ish. Sidney Poitier has a tiny bit on him on this pic.
http://editorial.gettyimages.com/source/search/details_pop.aspx?iid=51220360&cdi=0
Someone should put a measurement up for his brother Karl Yune. By all accounts, he's one amazingly good looking dude. From what I've seen, Karl isn't quite the 185cm he gets listed at, maybe 183-184 ish (he looks slightly taller than the 183 Morris Chestnut at premiere pics and in the film as well).
Anonymous
said on 23/May/05
Met the dude. I'm 6-0, 6-1 with shoes. He is slightly taller than me, though at first he seemed a lot taller up close, because he has a really big face and is pretty damn buff/massive. He's actually damn good looking (though I'm straight) and all the women in the area were whispering and pointing at him.
Big Dave
said on 14/Mar/05
I think that he is 6ft at the very most, possibly a fraction shorter. In Die Another Day there is a scene where he walks past Pierce Brosnan on a bridge(exchanging prisoners) Pierce Brosnan is definitly taller than he is.
Unknown
said on 12/Mar/05
Hmm...I wouldn't bet on him being 6'2", that is if in fact the heights for Vin Diesel and Paul Walker are correct!!! In this picture he looks just slightly taller than supposedly 6'0.5" Vin Diesel and 1-2 inches shorter than supposedly 6'2.25" Paul Walker. In other words there is no way Rick Yune is anything more than 6'1", he is even standing closer to the camera than the bald headed Vince and with hair still barely looks taller. I would say he's 6'0"-6'1" on a good day.
http://www.imdb.com/gallery/ss/0232500/Ss/0232500/1?path=pgallery&path_key=Yune,%20Rick