American Actress best known for playing Jenny Calendar on Buffy the Vampire Slayer. I am not sure exactly how big her footwear was when I met her. On her agency resume she had her measurements listed as
"Height: 5'6, Weight: 112"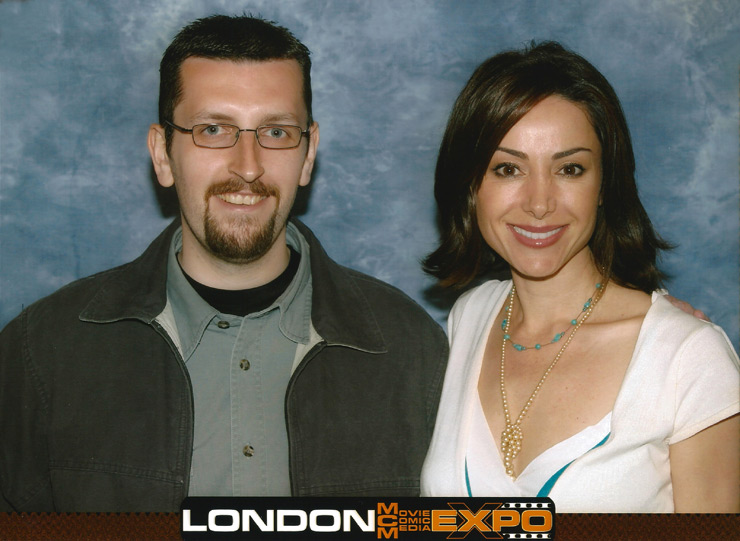 5ft 8 Rob and Robia @ MCM Expo 2005
192cm Leprechaun
said on 11/Sep/22
5'6" 112 pounds is anorexic. She's probably 5'4". 2 inches shorter than Rob with extra footwear.
cmillzz
said on 30/Jul/19
Rob, you definitely look better now than you did in that pic in 2005. Interesting that you look better with age lol.

Editor Rob
The goatee beard is of it's time 😊
Nik
said on 13/Dec/18
@ Sandy Cowell - That's very good! Yes, with a surname like that Robia ought to be found on the "Horror" page!
I know you agree with me that Robia looks far from scary, she does look to pull off 5'6" very well!
Christian 6'5 3/8
said on 13/Dec/18
@Rob
Did she have a footwear advantage over 5'8.25" Jenny? She looks 5'6.25"-5'6.5" with her.

Editor Rob
I couldn't find a photo of her sole but it was a brown suede
Boot
, might not have been over an inch.
Sandy Cowell
said on 12/Dec/18
Yes, Nik! Nice pictures, but scary surname! Her ancestors might have been mortitions!
Lovely dark-haired Robia gets 5ft6.
Anonynon
said on 11/Dec/18
Rob, you look like a dracula.

Editor Rob
I certainly have given people nightmares before!
Nik
said on 27/Aug/18
Nice pictures!
Intevel
said on 14/Jan/18
Rob is the footwear similar? I measured with another girl and the difference looked like this. I think there was at least a 2 inch difference but it didn't look like much of a difference just like in this photo. I'm trying to figure out why sometimes a 2 inch difference is noticeable with some girls and with others girls its not as noticeable just like with this pic. The girl I was 2 inches taller than said I was just a tiny bit taller. She said 2 inches is very little. But if I'm 2 inches shorter than a girl I feel it's a huge difference

Editor Rob
It wasn't a big heel or anything, but exact amount was hard to tell and I couldn't find a photo from her talk at that event. On Buffy, she could look close to 5ft 6
Bobby
said on 11/Jan/18
@Ben, what are you talking about? Rob looks way younger here.
Ben
said on 14/Nov/17
Rob, 12 years is almost my whole life! :'D Haha, I guess I'm not even born yet ;) Gotta say I feel quite tall for being so young at an age of 0 years. 😂
Ben
said on 19/Oct/17
It weirds me out that you look older in this photo than now. Benjamin Button effect, Rob? ;)

Editor Rob
that is just over 12 years old now, so I am still a 'young' 28 years old there...barely out of diapers 😂

Blake
said on 2/Aug/17
I know this photo is ancient Rob but what was the footwear difference?

Editor Rob
I usually have a schedule and note down difference as I go, then I won't forget...but she didn't seem to have a big heel or anything, so could be anywhere in 5ft 5.5-6 zone.
Lorne
said on 3/Jul/13
Spot on. She would edge out Charisma Carpenter, very similar to Juliet Landua(sic). And glad to hear she's humble. I always adored her. Lucky ****!
Len
said on 21/Mar/13
Seems about right... or maybe 5-5.
She was clearly taller than SMG or Alyson Hannigan on Buffy, but she didn't tower over them either.