Sandy Allen's Height
7ft 7 ¼ (231.8 cm)
American who once held the title of Tallest Woman in the World.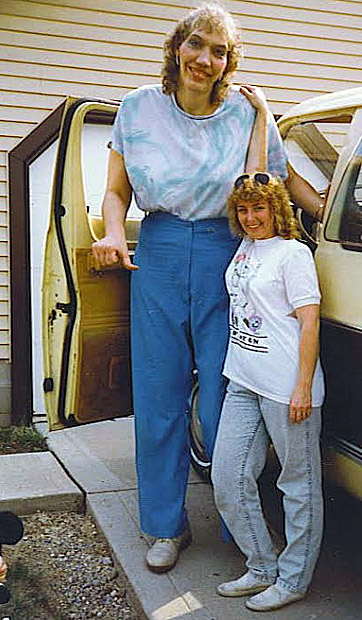 Rita Rose has to reach way up to touch Sandy Allen's shoulder in this 1980 photo.
Sandy was 7' 7 1/4" tall while Rita is 5'4".
Add a Comment
62 comments
Average Guess (16 Votes)
7ft 7.73in (233cm)
Nik Ashton
said on 3/Feb/20
@ Tunman - You are so right! It's a shame she never met Peter Crouch!
It would be great if Adam Rainer was given a page!
5ft 11 7/8 in
said on 2/Feb/20
Rob, add some of her if you can.
8ft 4½in Trijntje Keever (Dutch)
8ft 1¾in Zeng Jin-Lian (Chinese)
7ft 9-11in Jane Bunford (British)
7ft 8¾in Yao De-Fen (Chinese)
7ft 7¼in Sandy Allen (American)
7ft 6½in Wassiliki Calliandji (Greek)
7ft 6½in Maria Stylianopoulou (Greek)
7ft 5½in Anna Haining Swan (Canadian-Scottish)
7ft 5½in Delores Pullard (American)
7ft 4½in Ella Ewing (American)
7ft 4in Maria Fassnauer (Austrian)
7ft 3in Sun Fang (Chinese)
7ft 2in Marianne Wehde (German)
7ft 2in Sophie Kaltwasser (German)
7ft 1in Kaatje Van Dyk (Dutch)
6ft 11¾in Margo Dydek (Polish)
6ft 11in Gitika Srivastava (Indian)
6ft 10¾in Uljana Semjonova (Latvian)
6ft 10½in Ella Grigsby (Beninese)
6ft 10in Ellen Bayer (American)
6ft 10in Alana Renaud (American)
6ft 10in Malee Duangdee (Thai)
6ft 9in Caroline Welz (German)
6ft 9in Nancy Mulkey (American)
6ft 8¾in Kathleen McIntyre (American)
6ft 8¾in Ekaterina Lisina (Russian)
6ft 8½in Lindsay Kay Hayward (American)
6ft 8¼in Zheng Haixia (Chinese)
6ft 8in Svetlana Singh (Indian)
6ft 8in Tanya Angus (American-Polish)
6ft 8in Liz Cambage (Australian)
6ft 8in Elisany Silva (Brazilian)
6ft 8in Maria Zemova (Russian)
6ft 7½in Maria Stepanova (Russian)
6ft 7½in Katja Bavendam (German)
6ft 7in Zainab Bibi (Pakistani)
6ft 7in Kara Wolters (American)
6ft 7in Dora Helms (German)
6ft 6½in Amalie Schulte (German)
6ft 6½in Colleen "Coco" Smith (American)
6ft 6in Haleigh Hampton (American)
6ft 6in Alicia Jay (American)
6ft 5-6in Stephanie Towers (American)
6ft 5½in Emma Cahill (British)
6ft 5½in Heather Greene (American)
6ft 5in Svetlana Pankratova (Russian)
6ft 5in Lauren Jackson (Australian)
6ft 5in Elena Delle Donne (American)
6ft 4½in Lisa Leslie (American)
6ft 3½in Mikayla Miles (American)
6ft 3¼in Gwendoline Christie (British)
6ft 3in Amazon Amanda (American)
6ft 2¾in Gabrielle Reece (American)
Richard Moore
said on 29/Sep/19
Was Sandy a happy woman? Did she ever marry? Did she live in a special house which was built to accomodate her size?
Junior Hernandez 1990
said on 26/Jun/19
Looks like shes slouching in this 1980 photo, that car should be as high as 6'7.
Nik
said on 30/Oct/18
@ Tunman - Yes, most dudes would have been quite a bit under her shoulders.
Tunman
said on 25/Oct/18
@Nik
For sure,her shoulders must be around 6'6 or so.Most dudes are indeed way under 6'6.
Rob,is it possible to have a listing for Adam Rainer?I think it's very interesting as he was the only person who was both a dwarf and a giant in his lifetime.He was allegedly 234cm when he died aged 51.
MAD SAM
said on 11/Jul/18
Technically 7'8" at 234 cm
MSJC
said on 1/Sep/17
Sandy was an acromegalic giant, as evidenced by her cranial features. RIP Sandy.
even
said on 19/Jul/17
7'7.25" ( 232 cm ) and a weight of 300 pounds
Peruvian 1.73m
said on 15/Feb/17
Hi Rob.
Is Rita Rose your friend?
Editor Rob: no, it was just the description she had given to me to include under the photo years ago.
Nik
said on 11/Feb/17
The vast majority of men would not have come up to her shoulders.
Sandy Cowell
said on 8/Feb/17
My friend Mick reckons all Sandys are small. This one might change his mind!
jasperwazap
said on 25/Aug/12
Sandy has been gone for about two years. her failing health and back problems didn't help. Her height stopped at 7'7'' after getting tumor removed at age 22.
Alex
said on 30/Jan/12
Wow, she's taller than most basketball players!
SomePerson
said on 18/Jun/09
Happy 54th Birthday Sandy Allen!
aram x
said on 2/May/09
yeah 400 lbs is about proportionate for 7,7" although the majority of ppl that height do weigh a little less (but they are obviously very skinny).
SomePerson
said on 2/May/09
INAPPROPRIATE! by the way, the average weight for someone who is 7'7 would be 400 pounds
yoyo
said on 29/Apr/09
7ft7 women with 400+pounds weight.. huge!!
Alex5
said on 21/Apr/09
"does either one of them have a shoe advantage?"
Who cares?
SomePerson
said on 21/Apr/09
This seems like sexism to me. Everyone is on the Robert Wadlow board, yet not many people come on here.
aram x
said on 16/Apr/09
Good point Maribel, but even though women are TEND to be shorter than men on average, there can still be women who grow into the 6 foot range and not really have any major health problems. You should realize that Sandy's great height was caused by pituitary gigantism which sadly lead to acromegaly. That was what tragically caused her death at such a young age.
Maribel
said on 20/Mar/09
It's just sad that she died due to her size. I don't think women were intended to grow very tall as men do. Naturally, women are suppose I think to be no more than 5,11.5 to 6ft at the very most. For example, tall women often have hip problems because their legs are angled out of the socket rather than more straight up and down, which is, in words, "Like a giant lever prying at the joint". In general, men's bones are thicker and they have more muscle mass to support the height. There is a Chinese man who's taller than Sandy and older and still living.
SomePerson
said on 15/Feb/09
If you are referring to me, I never said she wa ugly. She's very beautiful if you ask me. I was just asking the ignorant question of why she couldn't have better fabrics to make her clothes.
the queen
said on 13/Feb/09
Not all women over 7 feet tall are ugly. I saw a very beautiful woman who was over 7 feet tall. The minimum height requirement for female runway models is 5'8" because a 7 feet tall woman would look great on the runway. No one is too tall to wear high heels. There is even a 7 feet tall woman that wears high heels.
SomePerson
said on 31/Jan/09
She didn't neccisarily shrink. Her cane that she used was too small and her back became curved, until about 40, where she couldn't stand up straight.
aram x
said on 28/Jan/09
Well Sandy Allen probably wasn't 7,7" during her later years. Yes during her prime she was 7,7 1/4" but she definitely has shrunk over the years. She looked barely 7 feet in her late 30's and onwards.
SomePerson
said on 28/Jan/09
Aram x: In case that comment that I said earlier does get posted, I'm really sorry, and I acted really immature.
aram x
said on 24/Jan/09
From what I've seen there aren't actually many females (living or throughout history) that have been verified at over 7 feet.
SomePerson
said on 6/Jan/09
Hi again. Wow, this post is dead
SomePerson
said on 29/Dec/08
Sorry if I seemed offensive. She is one of my role models.
SomePerson
said on 5/Dec/08
7'7,25 means she's 7'7 and 1/4 of an inch. Just wondering, don't you think they'd find better clothes for her though? I don't know how to make a clothing line, but she could've had fabrics cut out for her. All the time she was just wearing dresses. (When she was 30ish)
aram x
said on 15/Oct/08
That photo is quite funny for some reason. I have never met a woman over 7 feet nor do I think I will ever.
Wendy
said on 29/Sep/08
I met Sandy Allen in Niagara Falls, Canada back in the 80's when she was working at the Guinness World Record Museum. I was in my teens then and she made quite an impression on me. I was sad to hear of her passing. She was a good woman who made the very best of the cruel hand that life dealt her.
matt Thomas
said on 17/Sep/08
Yeah guru your an ass Sandy was nice as heck when i had the pleasure of meeting her and I dont see how you can just say that about someone who has passed away
Chris
said on 10/Sep/08
SHAME ON YOU GURU.... offensive comments like that can get you banned from the board....
quinametzin
said on 5/Sep/08
Guru keep your ofensive comments for other one site, here they are not welcome ):-(
they can do whatever they want, Sandy Allen was secretary, a normal job, yes, she had a fame, she was not annonymous, but she had a life, like us
Guru
said on 4/Sep/08
i am pretty sure de feng yao is taller than sandy allen even during sandy's prime...she's simply humogonous...and no offense kinda ugly but what do expect from a woman of that stature?
thekiddd
said on 31/Aug/08
Weird Question Rob. Did this women find this site and made a contribution to Sandy Allen's height in anyway for this site?
[Editor Rob: Rita has posted on the Wadlow thread on this page.]
sf
said on 29/Aug/08
No, I"m not. Sometimes the world needs to have compassion and just help people, regardless of whether they have insurance. Also, another Chines Dr. offered to treat her, and the hospital did not tell her of this offer, cause they wanted to "save face." Very sad world when trying to save face and money are all that is important to people.
chris
said on 28/Aug/08
sf - you're kidding, right? like anyone in this country (USA) can get a dr to perform surgery and a hospital to take them without any money or insurance...
sf
said on 25/Aug/08
I was watching a special last night on Yao Defen. She is measured at 7'8" now, and still growing, as the doctor who performed surgery on her years ago, did not get the complete tumor. Amazing how the Chinese people won't treat her simply because she doesn't have the money. Although, she is getting better medicines that have improved her condition, and one doctor has volunteered to operate on her in 6 months when the strenght of her heart improves.
quinametzin
said on 24/Aug/08
Sandy allen knew how to pass from being a sad and lonely woman to be famous and popular, she as great, an example for many people, for many tall women, sandy will pass the respite to Yao Defen
bye Sandy, world won.t forget you :, )
Jake
said on 20/Aug/08
I believe that she was 7'7.25", simply because a person of her stature and fame as being the world's tallest women, is definately prone to numerous medical examinations. Time and again, doctors noted her height as being 7'7. So, b/c it's medically proven, we don't need speculations. Besides, that picture above says it all.
Rut
said on 15/Aug/08
Amazing, I know this pic for years..
Did this woman (Rita) actually sent this pic in..?
[Editor Rob: yes she sent it.]
D-Lurker
said on 14/Aug/08
Actually i think i remember seeing footage where she states that she was wheel chair bound because her bones were still growing..I wish i could expand on that and sound so much more scientific :P
R.I.P Sandy :)
Johnny C
said on 14/Aug/08
Sandy Allen's life celebrated in photographs
Click Here
incline
said on 14/Aug/08
RIP sandy... I saw her on National Geographic... she expressed a great personality and value for life.
Atoadaso
said on 14/Aug/08
unfortunately she is bound to a wheelchair due to acromegalia and loss of muscle strength after being hospitalized. With her spine curved now and the other strains on her immense body it's very likely she has lost height from her 7'7.25" peak. Also, considering Yao Defen is around 7'9" and very possibly taller now means that even if she were at her peak, she would not be the tallest living women.
Anonymous
said on 13/Aug/08
Dies today, RIP
Anshelm
said on 13/Aug/08
Silly me, there was a link to the Guinness video right there
Click Here
(I had seen a shorter cut dubbed version).
Anshelm
said on 13/Aug/08
I wonder, now that Allen's dead, if Guinness will finally look into the case of Yao Defen
Click Here
So far they haven't been in a hurry, since she has been claimed taller than Allen at least since 2000. In some videoclips I've seen her measured at 233.3 cm (7'7.85") based on average of three measurements (this was on an English language Guinness TV show BTW, but it was edited so, that I couldn't tell whether her claim had been ratified or the application merely sent
thekiddd
said on 13/Aug/08
Wow! Tallest woman in the world until today. Taller than every basketball player at 7'7 1/4".
Guate30
said on 13/Aug/08
R.I.P Sandy Allen
Mamun
said on 13/Aug/08
Rest in peace Sandy !
regards
Mamun
Markus
said on 13/Aug/08
Is it just bad coincidence ? I just read Sany Allen died today...creepy
CoolJ
said on 13/Aug/08
Ironic this picture was posted. She died today.
Big Show
said on 13/Aug/08
Just read about her passing away. My condolences go out to all her relatives.
Anonymous
said on 13/Aug/08
Who's currently the world's tallest woman?
Danimal
said on 13/Aug/08
Wow, she has changed in the last 30 years. She is all bent over nowadays. Looks very crippled now. Must have shrunk like a foot since then.
runt
said on 13/Aug/08
does either one of them have a shoe advantage?
Winner
said on 13/Aug/08
awesome o.o