American actress best known for roles in films such as Blade Runner, Dune, No Way Out and Wall Street. In 80's described both 5ft 9 and 8. On her imdbResume she listed her weight as
"140 lbs"
.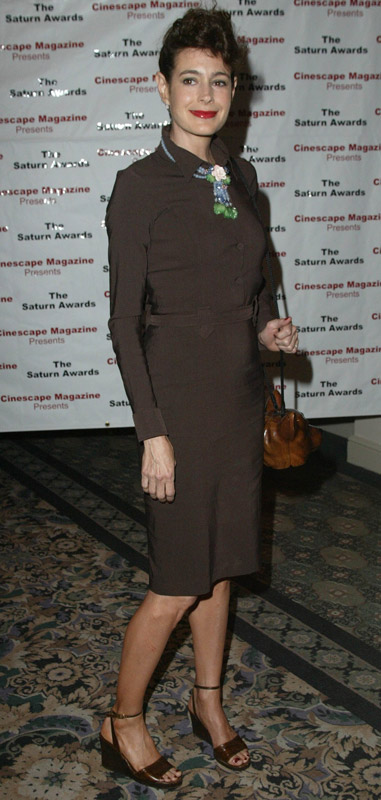 Photos by PR Photos
Nik Ashton
said on 1/Jul/20
She's probably similar in height to our Rob!
Miss Sandy Cowell
said on 7/May/19
Yes, in the film 'The Boost', which I have just started watching, I could see that Sean looked 2-3 inches shorter than 5ft11 James Woods. I shall therefore go for 5ft9.
kbhart
said on 25/Jan/17
I met her in the winter of 1995 at Betty Ford, she was with her son visiting her husband...our sons were just a few weeks apart and we were sitting outside smoking and struck up a conversation with her and her husband...they were very nice and yes, she is tall...my guess was around 5'9".
James B
said on 24/Apr/16
I thought she looked quite attractive in blade runner but yeah I could tell she was a tall woman.
ItalianGuy
said on 26/Jan/13
I had the pleasure of getting to know Sean quite well after "Blade Runner," as I was friends were her BF. This was 1981. Funny story, I actually met her in line waiting to see "Chariots of Fire." Very pretty and yes, tall. I good
5' 9". She could have been a successful model in her 20's for sure. I hope she's well and happy these days.
Just
said on 11/Jan/13
She seemed 1" or 2" shorter than Daryl Hannah in Wall Street.
maximus
said on 7/Oct/12
Had no idea she was this tall......on another site she is listed at 5'10"
Lego
said on 21/Dec/08
she barely looks 5'7 in OUT OF CONTROL where she's naked and barefoot.
no taller than 5'7 sorry.
Walking Liberty
said on 8/Apr/08
Is she wearing heels in "Blade Runner"? She looks enormous!!! I would've guessed closer to 6ft.
Dr. TCH
said on 17/Aug/07
Sean Young is the friend of my buddy's ex-fiance. I met her about ten years ago. While I did not pull out a tape measure at the time, she was much shorter than I had expected..perhaps 5-4".
Cliff
said on 1/Jun/07
I saw her yesterday in Santa Monica on Montana Avenue while on the way to a movie screening at the Aero Theatre. I would say that 172cm is definitely more correct. She did have on small heels and looked OUTSTANDING for a 47-48 year old. She could've easily passed for someone 10-15 years younger. The host at the theatre told me that she has been around a lot lately having breakfast and lunch in the area - which is known to be one of the celebrity hubs here in LA.
leonari
said on 7/Jan/07
Man she is tall!! Her careeer went ...downhill.
kampioen
said on 21/Nov/06
I mailed one day to het website, asking what her height was. I got a decent reply, with her height stated as being 5'9,75 (1.77 meter).