Joanna Cassidy's Height
5ft 8 (172.7 cm)
Peak height was 5ft 9 (175.3 cm)
American actress, best known for roles in Blade Runner, Don't Tell Mom the Babysitter's Dead, The Package, Who Frames Roger Rabbit, Six Feet Under and Ghosts of Mars. She remarked once,
"I'm 5'9, but I look imposing".
. In this photo (from a London Film Convention) she had thin footwear, about 0.6-0.7 inch less than me.
5ft 8 Rob and Joanna
You May Be Interested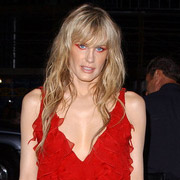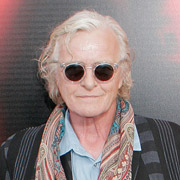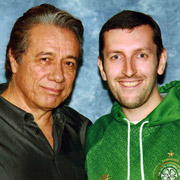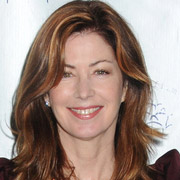 Add a Comment
15 comments
Average Guess (2 Votes)
Peak: 5ft 8.88in (174.9cm)
Current: 5ft 7.88in (172.4cm)
Sandy Cowell
said on 13/Sep/18
Now this is a hard one!
Rob looks slightly taller than Joanna, regardless of the fact that his jacket has chunky shoulders and Joanna has bigger hair.
Was Rob at his peak height that day and Joanna feeling knackered out from a day of posing with fans? Hmmmm... it's a difficult one, but even if the above scenario is the case, I am still going to have to go for a hair under 5ft8. If I could, I'd say 5ft7 and seven eighths, but instead I will have to go for 5ft7.75 and 5ft8.75 for her peak. 🤔
J.Lee
said on 5/Nov/16
Rob I see you have a peak height option. Is this only for celebs that may have lost height or is it for everyone
Editor Rob: if the celeb has lost or seems to have lost height (like half inch or more) then I will try to put a peak/current.
J.Lee
said on 5/Nov/16
Rob even with .6 inch shoes, I can still see you edging her out
Spiderman
said on 25/Oct/16
I have a huge crush on her. Did you talk with her Editor Rob? I love her laugh. She has a nice Ass by the way.
Editor Rob: out-with this photo, I never spoke to her. She was pleasant enough and greeted everybody.
modak
said on 26/May/14
i love your friends photo :)
jtm
said on 11/May/14
this is accurate.
James B
said on 10/May/14
Tall women do tend to lose more height with age don't they rob?
[Editor Rob: on average it should work out that way]
the shredder
said on 8/May/14
I see her looking 5'7 with rob , so barefoot she would be like 5'7 .75.
[Editor Rob: she did look an inch smaller, 172 is probably as good a shout.]
thatguy
said on 8/May/14
I guess people cannot read when Rob wrote this:
"...she had thin footwear, about 0.6-0.7 inch less than me". Which is why she appears to be slightly shorter than Rob.
the shredder
said on 7/May/14
I see maybe 5'7 with less shoes under 5'8 but peak I say 5'8.5 , she was a lot taller than Bob in Roger Rabbit.
[Editor Rob: with some ladies they definitely lose height by late 60's, I think she has done...]
Alex 6'0
said on 7/May/14
I agree 5'7.75 may be spot on
J.Lee
said on 6/May/14
Rob her eyes are only just above your nose. You look more than .6 inches taller. Looks like a 2 inch difference based on eye level.
thebad7
said on 1/Jun/11
I think 5'9" is spot on for her. She was terrific as Margaret Chenoweth in SIX FEET UNDER. Next to Rachel Griffiths in SFU, she looked to be the same height: 5'9". She was a looker in her day, and she still looks to have taken good care of herself.
tb7
Anthony
said on 17/Dec/07
She was on "Heroes" recently. She looked a little taller than Milo and was close to 6' David Anders.
Editor Rob
said on 9/Sep/06
1973 Bucks County Courier:
"She thinks maybe she came along a decade or so too be- cause of her height. At 5 feet 8- inches she would have fit nicely with such greats as Gary Cooper and Clark but she says to- day's leading men are too short"