English comedian and actor, best known for appearing on The Fast Show and Grass. When a fan said to Simon, "Serious question mate, how tall are you", he said
"6 foot 2"
.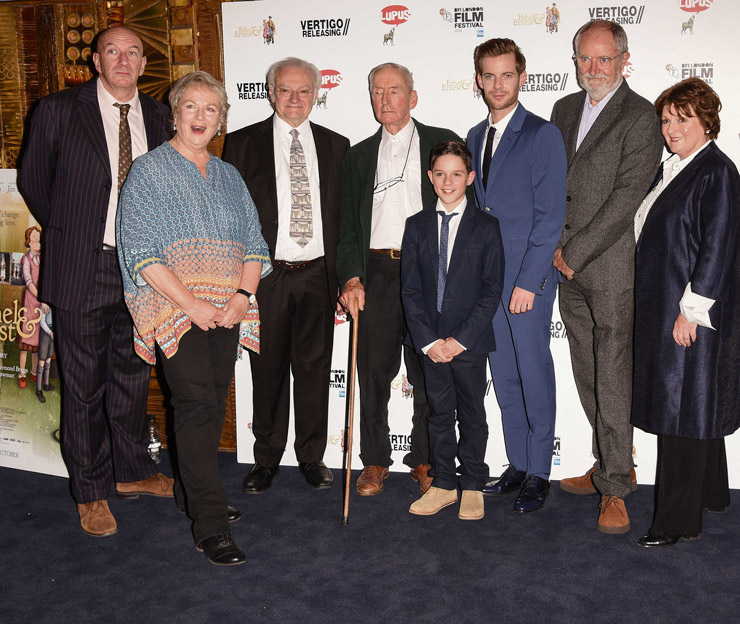 Simon Day, Pam Ferris, Raymond Briggs, Harry Collett, Luke Treadaway, Jim Broadbent, Brenda Blethyn
Photos by PR Photos
Sandy Cowell
said on 20/Feb/19
@ miko - That's seriously funny to someone like me, who used to be an avid watcher of 'The Fast Show'. He was consistently the tallest regular cast member, towering over the 5ft8 Paul Whitehouse and the (little bit smaller) John Thomson, and even Charlie Higson, at 5ft10 looks quite dinky in comparison to Simon Day!
Miko, I'm sure if you check out some local charity shops, you'll find at least one example of 'The Fast Show' being sold for peanuts. I watched them again at Christmas time, and I was still aching with laughter! Go on - give it a try!
Sandy Cowell
said on 19/Feb/19
Quelle surprise! I'd almost forgotten about those pictures I'd sent along from 'The Fast Show'! I think that just about covers each and every major male member of the most original sketch show yet to be on television.
I know that Simon based his 'competitive father' character on one - or more - Dads that he actually knew, so I guess it's just as well for the kids that they'll be grown up now!
There were some really enjoyable programmes all about the popularity of 'The Fast Show', including interviews with a classroom full of kids and their teacher. When he called the class register in the morning, each child would answer with a quotation from 'The Fast Show', for instance, one would say 'Cheesy Peas' while another would come out with 'Scorcheo' or 'Suits You Sir!'
The teacher said that it would put the children in a good and comical mood for the rest of the day, and I can't think of a better and more positive way to start the school day than with laughter! The kids were doing better at their work to boot and actually looked forward to going into school.
Simon did some deejaying for Greater London Radio and the first song I heard him play was The Who's 'Baba O'Reilly'. His taste in music was heavy and progressive rock, so I'd be in seventh heaven when I was listening to his show. It was through Greater London Radio that I started writing to Bob Harris and the late Big George, who composed the music for many a TV programme, including 'Have I Got News For You?' I met Bob Harris once when I was looning around London with my 6ft male friend. When I spoke over the intercom, Bob's helper Briony immediately recognised my voice so we were allowed to sit through Bob's show. He was watching a Manchester United football match at the same time, as they were his favourite team and I found out that evening that he was very tall - and collected model buses!
GLR was a pleasantly personal radio station, and the later the show, the more likely you'd be able to phone up the magic number, get through and ask the Deejay personally for a request. Alas, Simon Day's show was in the middle of the day, which didn't make it so easy to phone through and I never spoke to him. Then my Mum became ill, and radio and CD playing would have been a thoughtless luxury.
I recently reacquired all the 'Fast Shows' anew, and checked them out during the Christmas Season. I can honestly say that they were just as enjoyable as ever they were in the 90's, and Simon stood out as by far the tallest.
Simon also made guest appearances in the Paul Whitehouse sitcom 'Happiness', which was splendidly witty and rude and even had a sweary Bob Geldof popping up in one of the episodes! I found a series of 'Happiness' in a charity shop, and I snapped it up with precisely no forethought whatsoever!
Thanks, Rob, for adding Simon Day. He makes Jack Affuff (played by Paul Whitehouse) look quite tiny in 'That's Amazing' - and he isn't at 5ft8!
Simon gets 6ft2. 😁👍
Hooray! He's here at last and that really IS amazing!

Editor Rob
I think when you compared him to Mark and Paul back in the 90's, 6ft 2 made sense...today, maybe it is possible he is 1/4 up to 1/2 shy of that.