Paul Whitehouse's Height
5ft 8 (172.7 cm)
English actor and comedian, best known for TV series The Fast Show.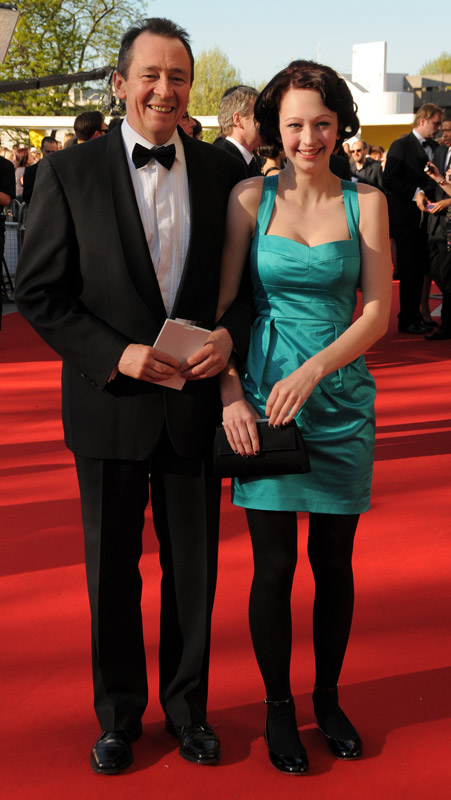 Photos by PR Photos
Add a Comment
22 comments
Average Guess (10 Votes)
5ft 7.93in (172.5cm)
Miss Sandy Cowell
said on 24/Mar/20
Last night my dinner consisted of a large portion of chick peas sprinkled with cheese. It tasted bloody awful! ☹️
You could say that I had cheesy peas!
Paul gets 5ft8. 😄😉😂
Miss Sandy Cowell
said on 15/Sep/19
Bonno estente! Farliah farliah farliah lay, Chris Waddle! *
Paul is no less than 5ft8. I was watching some 'Fast Show' yesterday and Paul is appreciably taller than John Thomson.
* The nonsense talk comes from a series of sketches in which various languages are incorporated and a few odd names and rude words. Let me tell you, it's very funny!
Miss Sandy Cowell
said on 19/Mar/19
⭐️ "I'm a fully experienced rambling hiker!"
Paul can have his usual 5ft8 and an owall! 🦉
Sandy Cowell
said on 28/Dec/18
I am absolutely over the moon to be able to tell you all that the delightful Paul Whitehouse is a star in a DVD I found yesterday in Sainsbury's!
As Johnny Depp himself said "He's the best actor ever - better even than Brando...", I'd so love to see the serious side to Paul's acting, because I feel confident that it's going to be highly impressive. I mean, just LOOK at the people Johnny has starred with - Al Pacino, Michael Madsen, Angelina Jolie -so he should know, and he's a marvel in the acting department himself. (Donnie Brasco is one of my favourite films.)
So I am about to see 'Ghost Stories', as it's called, and it was made in 2017. Martin Freeman is also starring with Paul, so that's going be enormously helpful in telling how well Paul has faired over the years. Let's see... he will have been around 58 last year. If his shrinkage rate is as efficiently slow as his quick-wittedness is, eh, FAST, it shouldn't be much!
Sandy Cowell
said on 24/Dec/18
Next to the 5ft3 Caroline Aherne, Paul looks positively tall!
How about adding him to the Comedians' page, Rob? He's one of the funniest guys EVER - I absolutely love him!
😂🎅😂🎄😂
5ft8.
Monkey knees
said on 9/Sep/18
A close pal with my ex father in law (Chelsea fans) who was/is 5ft8 too. As a 5ft 11.5in chap, who tends to wear Nike trainers, I looked huge compared to them. 5ft8 dead on.
Sandy Cowell
said on 26/Jun/18
I bet Paul is great company - a real laugh-a-minute guy!
Today he gets 5ft8 from me.
Sandy Cowell
said on 16/Apr/18
I'd like to see Paul making a comeback of one kind or another! He can turn his talents to anything!
How about starring in the next Johnny Depp movie, Paul? That would be fantastic!
5ft8 this morning.
Sandy Cowell
said on 26/Apr/17
@ Nik - Ditto! 👍
Nik
said on 20/Apr/17
@Sandy Cowell
👍
Sandy Cowell
said on 20/Apr/17
@ Nik - Thanks! The same to you! 👍
Nik
said on 17/Apr/17
@Sandy Cowell
Cheers.
👍😀
Sandy Cowell
said on 16/Apr/17
@ Nik - You're welcome! 👍😁
Nik
said on 16/Apr/17
@Sandy Cowell
Cheers for that. I was looking for something more complicated than what it was! Thanks for telling me about this fascinating fact!
Sandy Cowell
said on 15/Apr/17
@ Nik - Harry Enfield, Paul Whitehouse's 'chum', used to be the partner of popstar Lily Allen's Mum when Lily was growing up, so he was her, and her actor brother Alfie's, stepfather and he helped to bring them up!
@ Mark - It's true, isn't it? When you're a kid, everyone seems ultra tall! Then when you've grown up, you find out otherwise!
Nik
said on 15/Apr/17
@Sandy Cowell
You can get some really good items from charity and at a low price! I love to buy from charity shops because I know the money is going to a good cause. It sounds like you've filled your boots a bit at charity shops!
I do not get this fascinating fact, please explain it to me.
Cheers!
Sandy Cowell
said on 15/Apr/17
I think that the girl in the picture is one of his daughters!
Mark
said on 14/Apr/17
Ahh British comedy legend! Still got all the old Fast Shows on VHS!!
Regarding height though, i always assumed he was a 5'10ish sorta guy? But then watching the Fast Show as a 10 year old, everyone seemed 6ft!
Sandy Cowell
said on 14/Apr/17
@ Nik - Yes, I bought all my 'Fast Shows' in charity shops as well! 👍
Another thing Paul was in is 'Harry Enfield and Chums', and I picked some of them up as well.
And now it's time for another
*Fascinating Fact!*
Harry Enfield was with Lily Allen's Mum at the time of hers and her brother's upbringing. That makes him their stepdad!
(I don't know if they're still together though).
Nik
said on 14/Apr/17
@Sandy Cowell
Yes it is good that he has got a page, I certainly think that it was a good request from you. I too have found that you can get some very good stuff from charity shops!
Yesterday I sent in a page request for actress and comedian Katy Brand, you will see this request soon, I am curious to find out what her height is.
Sandy Cowell
said on 13/Apr/17
@ Nik - Yes! Isn't it great? This man has afforded everyone so much laughter over the years that I can't help but love the guy! Oh, and does anyone remember his funny little sitcom 'Happiness'? I found a copy in a charity shop and it is 18 rated, but then it is rather rude! Bob Geldof appears in one of the episodes, swearing his head off!
Paul gets 5ft8 from me and a great big WELCOME to celebheights!
Thanks very much Rob! Excellent! 👏
Nik
said on 13/Apr/17
@Sandy Cowell
Look who's got a page!
5ft 8 seems accurate to me.