Sophie Ellis Bextor's Height
5ft 8 ½ (174 cm)
English Singer. Said once in The Sunday Times,
"I got down to under 8 stone (112 pounds). I'm 5ft 9, so I was tiny."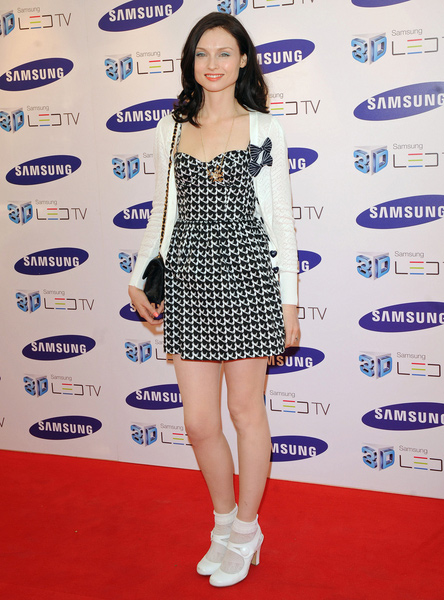 Photos by PR Photos
I want to know what it'd be like to be pocket-sized. I'm 5ft 9in and growing up, I was jealous of petite girls.
Add a Comment
33 comments
Average Guess (10 Votes)
5ft 8.22in (173.3cm)
Nik
said on 29/Jun/20
She comes from a big family but they're not all tall, far from it!
Nik
said on 29/Jun/20
She could be Rob's height twin!
Rampage(-_-_-)Clover
said on 6/Mar/20
Rob, how tall do you think her dad is?
Click Here
Click Here
I think at least 6ft3

Editor Rob
Yeah, around that range seems a distinct possibility!
Nik
said on 16/Nov/19
I would love to see a photograph of her with Rob and my good self!
Christian 6'5 3/8"
said on 2/Sep/19
@Rampage
Where's the evidence?
Rampage(-_-_-)Clover
said on 1/Sep/19
Her dad is 6ft4
jinny90
said on 2/Apr/19
Rob here is another video of cat deely and sophie ellis bextor .They seem to be wearing similar heels. Who do you think is taller?.
Click Here

Editor Rob
Not sure there was enough to tell from the clip.
jinny90
said on 30/Jan/19
Rob here is a video of Sophie being interviewed by 5'9 Cat Deeley . Who do you think is taller and by how much?.
Click Here

Editor Rob
Cat could seem a bit taller, without knowing if their footwear was similar.
jinny90
said on 22/Oct/18
here is a video of her with 5'8.5 Tess Day . There looks maybe 2 inches between . Tess is in higher heels . Which give her maybe an inch in height advantage . So that makes Sophie 5'8 at most.
Click Here
Nik
said on 27/Aug/18
@ Paul Wood - She probably isn't, it's not good for anyone to be heightist though because there are a lot more short people around.
Paul Wood
said on 23/Aug/18
Comes across as quite heightist. She might not be, but her comments give that impression. Didn't she one once say she likes men to be tall and all her friends are tall?
Christopher Clayborne
said on 3/Aug/18
I wonder how long her arms, and forearms are, in inches.
jinny90
said on 28/Jul/17
She didn't look any taller than 5'8" on Strictly come dancing when she was standing beside 5'11 to 6ft Breandan Cole. 5ft 10ins Lisa snowdon was the same height as Brendan Cole. Also women who are actually 5'9 like cat deely, florence welch, tess daly, gwyneth paltrow & taylor swift etc usually have a gangly look. Sophie is still very tall for a woman though.
jinny90
said on 19/Jun/17
Looking at her when she appeared on Chatty Man with Abbey Clancy and Tess Daly .Sophie and Abbey looked very close in height , but I think Sophie just shaded her . Tess was clearly taller than Abbey and Sophie . Tess claims 5'8.5" but I think she is downgrading herself . I think she is a solid 5'9. Sophie i think 5'8'5" max and Abbey is maybe scrapping 5'8"'
Watch the video below Rob go to 43.00 mins in . Am i right . Is Tess the tallest and Abbey the shortest?.
Click Here
Editor Rob:
it is really hard to tell height from the Conga 🙂
there was some stills out there
Here
...I did meet Ben Cohen and thought he was 6ft 2 range (though he claimed 6ft 3). I think Tess has a chance of being taller.
jinny90
said on 21/Dec/16
Here she is with 5'9 Nicky Byrne . They are in similar footwear .She looks about inch shorter . Sophie is 5'8 and no more.
Click Here
Also an old magazine article mentioning that she is just over 5'8". There are other even older articles out there that say she is 5'8 .Its only in recent times has she decided she is 5'9 . Its typical of celebrity's the more famous they become the taller they become.
Click Here
div
said on 27/Sep/15
Rob here is a video of sophie ellis bextor been interviewed
by 5'9 Cat Deely . Cat Deeley looks at least an inch taller
than Sophie.
Click Here
[Editor Rob: from the time she was on Strictly Come dancing, you could definitely argue that she appeared 5ft 8-8.5 more than 9, that may well be possible]
jacker
said on 5/Aug/15
I cant see 5'9 for her .in the photos I have
seen of her with abbey clancy they look the same height. Abbey clancy is no more than 5'8
There is a video of her online been interviewed by 5'9 cat deely . Cat is
significantly taller . Cat doesnt wear big heels. She is solid 5'8 but looks 5'9;because if her long legs and thin frame. If she was 5,9 she would be as tall as Taylor swift she clearly isnt.
he
REDO
said on 16/Jun/15
I think she is more 5'8 . Her husband isn't any more than 5'11 and in flat shoes he is about 3 inches taller than her.
Click Here
jerry
said on 16/Jan/15
On Strictly Come Dancing she was about four inches shorter than her 6 foot dance partner. Lisa Snowdon on the otherhand who is listed as 5'10 was as tall 6 foot Cole which leads me to believe that Cole is a weak 6 foot. She is about 5'8 or 5'8 and a half at a stretch . But 5'10 , no chance.
JASPER
said on 28/Nov/14
No way is she 5'9 . There is an interview of her standing face to face with 5'9 Cat Deeley on CD UK and she is two inches shorter . She is 5'7.
jack81
said on 10/Aug/14
I have seen her stand beside 5'9 Cat Deely and she was 2 inches shorter . She is 5'7.
littlesue
said on 9/Aug/14
Sophie had dance shoes on though which would only give about 1.5 inches, Tess had those huge heels with a small platform on which would give a good 3.5 inches so similar height
jack81
said on 9/Aug/14
At 5'9 she is the same height as 5'9 Tess Daly . Yet on the strictly come dancing show she looked a couple of inches shoter than 5'9 Tess Daly . I think Sophie needs a downgrade to 5'7 Rob.
joe
said on 27/Jan/14
Met her 5,8 hate her london accent
little sue
said on 2/Oct/13
Tess had a lot higher heel than Sophies low dance shoe
ollie
said on 29/Sep/13
Comparing to 5'9 tess daly she looks 5'7 at most
Arch Stanton
said on 7/Dec/12
Gordon Ramsay is nearer the camera Bausse. Gosh her husband looks creepy doesn't he.
Arch Stanton
said on 7/Dec/12
bausse says on 2/Jun/11
i doubt she's really 5'9, she looks about 5'7 maybe even 5'6.5. It could be due to camera angle/perception but look at the two following photo
Rubbish. She looks at least 5 ft 9, could pass for 5'10.
Daniela
said on 16/Aug/12
I met her in london heatrow,she's a solid 5'9" very tall and with a slender figure. She was stunning..after a 12 hours flight myself she really made me feel miserable :-(
bausse
said on 2/Jun/11
i doubt she's really 5'9, she looks about 5'7 maybe even 5'6.5. It could be due to camera angle/perception but look at the two following photos:
Click Here
Click Here
She's wearing 3-4 inch heels which would make her at around 6'0, her husband looks to have 1.5-2 inches on her so I can assume he's around 6'2 (but he looks 5'11). But Gordon Ramsay, a legit 6'1.5 has about 2-3 inches on Sophie's husband.. how does that make any sense? Unless Gordon Ramsay is really 6'5? Which I seriously doubt. In Armin Van Buuren's music video "not giving up on us" Sophie has the body proportions of a 5'6 female even given how skinny she is. Look at Blake Lively she's 5'7.5-5'8 but many people think she's 5'10, with heels on Blake even looks more towering. I'm confident that Sophie is 5'6-5'7 barefoot, 5'9 in heels.
Elle
said on 8/Feb/08
She used to model, so that doesn't suprise me. She's a stunner.
lyndsey
said on 21/Jan/08
she does not look that height i thought she would be 5ft4
Raz
said on 22/Oct/06
Using Enrique's height of 187 cm as a fixed reference, Sophie is 173 cm in that first picture. Given that she's slouching a bit, I'd definitely give her those extra 2 cm. The pixel size for that picture at her distance is close to 1 cm, so being off by one pixel measuring her introduces almost 1 cm of error. Therefore, those 173 cm are my conservative estimate - she's at least that tall even in her slouching position.