Spencer Wilding's Height
6ft 6 (198.1 cm)
Welsh actor best known for roles in films such as Guardians of the Galaxy, Green Street 3: Never Back Down, The Legend of Hercules and Jupiter Ascending (2015). This photo is from a London Film Con in 2014. He mentioned on twitter his height/weight as being:
"6'7 17st"
.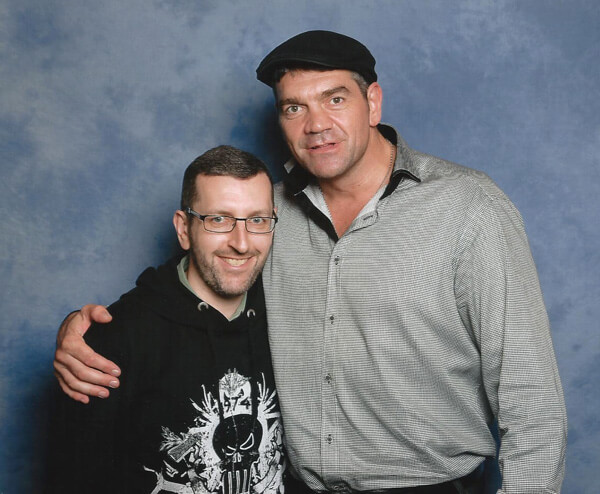 5ft 8 Rob and
You May Be Interested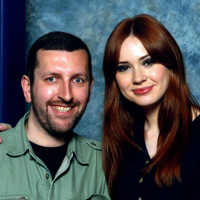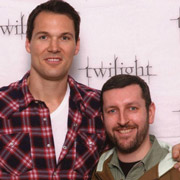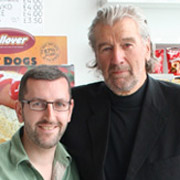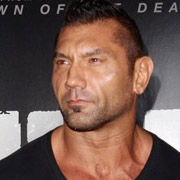 Add a Comment
89 comments
Average Guess (34 Votes)
6ft 5.38in (196.6cm)
Canson
said on 17/Aug/19
He may only be 6'5" today

Editor Rob
I'm sure if measured he's well over 6ft 5.
Hopping hopper
said on 15/Aug/19
Looks more around 6-5
Chris Junior Hernandez 1990
said on 23/Jul/19
6'5 1/2 guy claiming 6'7 wasn't too bad.
The Ben
said on 7/Mar/19
I'd agree with 6'6.
Rampage(-_-_-)Clover
said on 12/Feb/19
Easily dropping more than an inch here
197cm is possible though, standing at his tallest he's clearing 6ft5 with ease...
Jordan87
said on 8/Jan/19
@ The Ben,
If you look at the height chart you will see his head is nearly 10" Long. I mentioned that to the poster Robbe on AUgust 1st.
Christian 6'5 3/8"
said on 6/Dec/18
@The Ben
His head isn't that small for his height. I'd say around 9.75", which is similar to mine.
The Ben
said on 5/Dec/18
Met him this weekend, tiny head for such a tall guy. 6'5-6'6 maybe.
Zampo
said on 12/Nov/18
This is the problem with photos where one is substantially shorter (no offence intended Rob) than another. The taller person can a lose quite a bit in a photo from the slightest slouch. I am picturing myself taking a picture with someone 10 inches shorter and I can easily see myself losing a good 3 cm in such a pose. I can see possibly 6'5.5 range maybe. Difficult to gauge.

Editor Rob
Spencer is naturally a guy who doesn't stand that well, though this could have been worse than it turned out...he still looks a tall guy, albeit not 6ft 7 though. That always sounds like a big shoe measurement.
Christian 6'5 3/8"
said on 7/Nov/18
@Canson
He doesn't look more than 6'4" range while slouching. If he stands at his tallest, I can see near 6'6" but then again, Rob's not standing at his tallest either so 6'5.25" is fine.
Canson
said on 4/Nov/18
@Christian and Bobby: I think even accounting for the slouch, 6'5" flat is too low. I was thinking more 6'5.5 to be honest. 6'5.25 like Christian said is also realistic. I see that his neck has also developed a curve. Chances are good that he was 6'6 or a bit over when he was younger
Jordan87
said on 1/Aug/18
@ Robbe,
Look at the height chart, his head is 10" Long.
Robbe
said on 25/Jun/18
This guy has a very small head. Just compare to 6'10" Joonas Suotamo's one lol
Click Here
Looks about 5in shorter than Joonas, so reckon he is around 196cm.
Christian-6'5 3/8
said on 4/May/18
@bobby
He looks about 6'5.25" accounting for his posture, but I doubt he'd be as low as 6'5" tops.
bobbyh3342
said on 1/May/18
6'5 tops i understand he is slouching but rob isnt standing straight either,,,,,,, rob do you remember your posture when you were standing next to him? with his arm around you you look like your losing an inch?

Editor Rob
Neither of us are standing our best, but I think if you measured him he'd clear 6ft 5 easily. 6ft 7? I can't see that tall!
Yht
said on 14/Apr/18
I think standing straight he wouldn't be much taller than Daniel Naprous so 6'5 1/4
berta
said on 10/Apr/18
he looks 193-4 with the lean and standing straight he probably is the listed height.
Jordan87
said on 31/Jan/18
I think 6'5-6'5.25 is the tallest he could be.
Jason 193cm
said on 4/Jan/18
@Bobby look at his forward head posture. Looks like he's dropping at least an inch compared to Rob. That being said I agree he doesn't look 6'6. 196-197cm probably.
Bobby
said on 1/Jan/18
He's 6'4 by the scale, doesn't look anywhere near 6'6 according to the scale.
EM
said on 14/Nov/17
He's dropping some height here, but how much? Hard to imagine that he's 6'7" barefoot. I'll assume maybe that's in a decent dress shoe, and he's a weak 6'6" upright.
Arch Stanton
said on 10/Aug/17
Csimpson 6ft said on 11/Feb/17
Hey Rob if i dressed up as Vader in the exact replica suit from the films with the helmet and boots how tall would i look? 6ft 2?
Editor Rob: Darth Connor would be a real sight...I'd say go for it at Halloween, you might end up looking near 6ft 2...you already have the good voice for it too!
:-)
Pierre
said on 29/Jul/17
More 6"5' range imo
Canson
said on 15/Jun/17
Agree with SJH. Strong 6'5. Would measure 6'5.25 at his lowest and 6'7" in shoes earlier in the day
Spencer wilding
said on 14/Jun/17
Straight from the horses mouth guy ... 6"7 17st :-) thanks for the interest May the force b with u all :-)
Bard
said on 10/Jun/17
He must be dropping a lot of height here if he's anywhere near 6'6.
S.J.H
said on 8/Jun/17
I did ever believe he was close to 6'7 untill i see more of him from his movie works and instagram. 195.5-196cm strongly. At least not under 6'6 out of bed. But he did have the legs of a 6'7 guy.
S.J.H
said on 7/Jun/17
I believe spencer is at least 6'5 barefoot lowest and rob might met him at 6'5.25 here not at his lowest yet. He look very tall in lots of instagram pictures.
Editor Rob: I think he's a guy who can look shorter than he measures...6ft 7 seems impossible really.
Jordan87
said on 8/May/17
Rob,
Would you Say Wilding is sort of bending his neck a Bit more than you in this pic? He looks 6'4 in the pic but I do believe if he straitened his neck out to match yours he may push out to 6'5".
How was the footwear, did you have more?
Editor Rob: I wouldn't have thought any less than a bit over 6ft 5 in person...6ft 7 claim just is too much, he's smaller than daniel cudmore!
Christian-196.5cm (6ft5 3/8)
said on 29/Apr/17
I can't see this guy being taller than me. He isn't 6ft6.
Canson
said on 16/Apr/17
More 196 maybe 197 (weak). He isn't 6'6"
Jordan87
said on 7/Apr/17
John,
I think he could make 6'5, may be dropping more posture than Rob but agreed in this photo he is not over 6'4". The 6'7 Claims are a bit ridiculous.
If he stratenhed his head out, to match ROb's I see him at about 6'4.5-6'5" No More than That though. Good for the Role of Vader but Dave Prowse had noticeably Wider Shoulders. ( Former Bodybuilder and Powerlifter so its not a Shock there.)
John
said on 27/Mar/17
Doesn't look over 6'4.
Jordan87
said on 15/Feb/17
Sorry Guys,
Meant to Say Prowse stated was 6'6", So his 6'7 Claims should be ignored.
Csimpson 6ft
said on 15/Feb/17
@Jordan87 yeah prowse didnt pull off 6ft 6 as Vader in the original trilogy, more 6ft 4.5-6ft 5, certainly wasnt as tall as a big 6ft 7.
Jordan87
said on 15/Feb/17
Csimpson 6ft,
Wookiepedia is odd since its lists Han Solo at 5'11 when Ford was a good 6'0 in his Prime, while Listing Luke at 5'6.5 when that is likely what Mark's height actually is.
The Vader thing is bizarre. According to Wookipedia the Helmet and Boots add 6" Of Height to Anakins supposedly 6'2" Frame. They are all over the place with their Listings. Hayden is a good 6'0 I believe ( He easily has 3.5" On 5'8.5 Ian Mcdermidd who has a picture with Rob) yet they list him at 6'2".
Most people who dress up as Vader ( Yes with pretty expensive Costumes) has said the Helmet alone gives around 2" of Height yet Dave Prowse who claims he is 6'7" said he was almost 7'0 as Vader as Vader in Full Costume.
I can tell you Prowse was never 6'6" since he was been also qoated as saing he was 6'6" in his prime so its a mess.
I think the Vader helmet ( and Mask Obviously) add at least a good 2" to whatever actor is wearing the suit.
They list Kylo Ren at 6'2" when Adam Driver has gotten 6'2" and 6'3" Listings in all of his bios.
Rob would have an Uphill battle there with them.
Peter 179cm
said on 15/Feb/17
Doesn't look over 192-193 here.I'd say around 196cm is fairer.
Csimpson 6ft
said on 11/Feb/17
Rob did you know Wookieepedia has Anakin Skywalker aka Darth Vaders height at 6ft 2 (before being in the suit) maybe you could correct the site and get them to list anakin at 6ft?
Editor Rob: Connor, my main concern is always this site and it's visitors, hopefully others at times will read it, because there is on about 5000 pages an actual quote that has been said by the actor.
Csimpson 6ft
said on 11/Feb/17
Hey Rob if i dressed up as Vader in the exact replica suit from the films with the helmet and boots how tall would i look? 6ft 2?
Editor Rob: Darth Connor would be a real sight...I'd say go for it at Halloween, you might end up looking near 6ft 2...you already have the good voice for it too!
Jordan87
said on 9/Feb/17
Thomas Richard,
I have seen that Video you Are talking about. The Mask Itself gives an Inch. When the Helmet is clipped to it, its at least another inch.
If Prowse was 6'5", he was a good 6'7" when wearing the Helmet.
Thomas Rehard
said on 30/Jan/17
there is a clip on you tube from the original Star Wars where they show Vaders mask and helmet being applied to Dave Prowse`s enormous head, It appears to add about an inch to his height.When Bob Anderson donned the helmet for the light saber duels, they had to use a lot of padding and make the cheeks transparent so he could see.
Jordan87
said on 16/Jan/17
Rob,
Do you mean 3"? I have heard Prowse say its added 4" and some folks I know who actually dress up as Vader say around 3". I think the Helmet is in 2 pieces really, the mask and then the Helmet itself which goes on top of it. I have no real data, on WOOKIeepedia its says 4" between the Boots and height but you cant take that Seriously since they also say Vader weighs 300 pounds.
Editor Rob: it would make a good video, how tall in a Vader helmet, I remember the last time I had seen one up close, it did look like the head sat a couple of inches under the top plastic...but it's something worth measuring!
Jordan87
said on 10/Jan/17
Rob,
DO you know how much Height the Vader Helmet would actually add?
Editor Rob: Jordan, it might be 3cm
Csimpson 6ft
said on 6/Jan/17
Ok so 6ft 5.5 i assume then
Editor Rob: in costume he certainly could have at least that look to him.
Csimpson 6ft
said on 5/Jan/17
Rob have you seen Rogue One yet? How tall does Vader look in the film?
Editor Rob: Vader looks 6ft 5-6
Csimpson 6ft
said on 22/Dec/16
Ive yet to see how tall he looks in Rogue One but with Rob he looks more of a weak 6ft 6 range guy than legit 6ft 6
Jordan87
said on 21/Dec/16
Rob,
No doubt as far as raw power and strength, Guys like Bjornsson would steamroll right over the two gentleman previously mentioned. Bjornsson is nearly 400 pounds of pretty solid muscle at 6'7ish. Scary Fella indeed.
Jordan87
said on 20/Dec/16
Rob,
I guess Joshua and Wilding are both around the same height, Wilding however though Wide SHouldered has nowhere near the muscle mass Joshua Has ( Most Athletes don't).
I mean Joshua weighed in at 249 Pounds against Eric Molina last fight. Spencer admitted to weighed 238 however so 11 pounds may not be that big of a deal but I would guess Joshua is better put together.
Editor Rob: both of these guys up close are noticeably smaller than big fella's like Hafþór Júlíus Björnsson, who really has a couple of inches on them.

That guy is a beast 💪💪
Jordan87
said on 20/Dec/16
Wilding isnt dropping that much more posture than Rob here. How could he be 6'6.5 based on the above picture? If you straighten his head out like Rob's he is a bit over 6'5. He is about 6'5.5". 6'6.25 and 6'6.5 is not achievable in the picture above unless he is squatting which i'm sure Rob would have mentioned.
A legit 6'5 is a big dude, did a good job as Vader in Rogue One FYI. He is not 6'6 or 6'7 though. Solid 6'5.5" guy.
Editor Rob: to be fair, Anthony Joshua had a more imposing presence than Wilding up close...
Darth Vader
said on 18/Dec/16
I would give Wilding a solid 6'6 1/2".
Omar
said on 17/Dec/16
6'6.25"
Ice
said on 17/Dec/16
Looked massive as Darth Vader in Rogue One !
Christian-196.2cm (6ft5.25)
said on 8/Dec/16
"Spencer Wilding's Height is 6ft 5.25in (196.2 cm)"
He might be a bit taller than this, but I'm just making the estimation based on the photo I see him standing with Rob.
persk
said on 2/Dec/16
Solid 195cm
Michael ..Beaches
said on 9/Nov/16
Zero chance he measures 6'4", much more when straightening up. Moke should meet him before typing his imagination..
MR M D OWEN
said on 9/Nov/16
Zero chance he measures 6'4", much more when straightening up. Moke should meet him before typing his imagination..
Frank R
said on 7/Nov/16
If Spencer Wilding says that he's 6'7" then he was probably that height in his 20s and beyond. He's no shorter than 6'6" which makes him the ideal height to be the man in the Darth Vader costume. Vader's profile lists him at 2.02 meters (6 ft 7 and one-half inch). In the Vader suit Wilding is at least 2.02 meters if not taller.
Josh Jeffords
said on 5/Sep/16
Clearly 6 5 or 6 put big ass Darth Vader mask on hell look 7ft.
Rampage(-_-_-)Clover
said on 8/Aug/16
6ft7 out of bed, Rob?
Editor Rob: it is possible anywhere in 6ft 6.5-7 zone, I don't think he is over 6ft 6 afternoon.
The Man
said on 25/Jul/16
Even if he was standing at his tallest, I don't see him scraping the 6'6" mark.
Aza
said on 30/Jun/16
77 inches tall
berta
said on 3/Jun/16
Rob s he loosing 5 cm in stature in the photo? I Think he looks almost 5 cm shorter than i would look beside you (196)
Editor Rob: I felt he was maybe an inch worse than me, but whether he can measure 6ft 6 is another matter, I think he did look taller than 6ft 5 up close.
Rampage(-_-_-)Clover
said on 27/May/16
Anywhere between 6ft5-6 range.
Jordan87
said on 25/May/16
Spencer is Officially cast as the New Darth Vader in Rogue One. His Height? I see 6'4 unless he is giving up alot more posture then Rob here. Not sure how he is going to pass over 6'5, never mind 6'6.
6'4 is still a big guy, but Christ Why the inflation.
Moke
said on 24/May/16
6'6 would be a massive stretch. 6'7 is hilarious.
Jimbob
said on 19/May/16
Does look to me to be in the 6feet6 range, he's rumoured to be the new Vader...I would have done it for free!
Andrea
said on 26/Apr/16
If he's losing just a couple cm more, then he might be near 6'5...
Maybe early morning + boots, he'd manage to measure nearer 6'7...
Jordan87
said on 15/Apr/16
Rob would you say he is Loosing more Posture then you Are in the pic?
I mean if your postures are around the same then he is 6'4.
Editor Rob: a couple cm more I believe.
Rampage(-_-_-)Clover
said on 13/Apr/16
I see 6ft4 range in the photo but he's easily hiding 1in+ with that hunch. He could be a tad under this like 6ft5½(197cm). Certainly nearer 6ft6 than 6ft3!
Peter 180cm
said on 13/Apr/16
Looks 191/192 with the lean,clearly nowhere near 2.01m!He could be 194-195cm or 'almost' 6'5 if stood tall,maybe even close to 196cm,but 198 is obviously too generous,Rob.
Dino
said on 11/Apr/16
Looks six foot five. It could be the reason he's rumored to be in the Vader suit in Rogue One.
pablo77bar(184cm)
said on 17/Dec/15
Rob,Who is taller: This guy or Joshua ?
Editor Rob: spencer's standing probably an inch worse, I think he cleared 6ft 5 like Anthony.
bobby3342
said on 10/Nov/15
this guy looks a weak 6 5 if he straighten up, not a barefoot 6'6 , and he claims 6'7? oh well i guess that's normal i have a friend my size(6'4.5avgbf) who claims 6'6.5 But i guess its exceptable cuz when i used to play basketball the university would not let me claim 6'4 for my height. Lying is the standard that i just cant seem to get with. Big Rob Your 5'10 ,AliBaba Your 6'8, Big alex is 6'2 Canson your 6'6 get onboard with everybody else,lol
Tarinator
said on 24/Aug/15
At first I mistaken him for Michael Shannon. Except for the fact that Spencer is Welsh and Michael's American. Very similar in appearance. But yes, Spencer clearly has an advantage of 5-6 cm in term of height.
Tarinator
said on 24/Aug/15
I'm seeing 190 - 193 cm range with the slouch. Without it he can look 196 - 198 cm (6'5.25" - 6'6").
Modeus
said on 28/Jun/15
despite having a small head, he has a very high shoulder level,weird.
Big Grandma Atkinson
said on 8/Jun/15
Same shoulder height as Daniel Cudmore.
ice
said on 25/Apr/15
very small head
Rampage(-_-_-)Clover
said on 23/Apr/15
Taller than Clive Russell, Rob?
[Editor Rob: he doesn't have a big head for his height, but over 6ft 5 and near 6ft 6, which is pretty much what russell can look.]
Rampage(-_-_-)Clover
said on 5/Apr/15
Rob, Joe Manganiello gives a taller impression
[Editor Rob: Spencer is taller, how much I am not as sure as he was joking to me I was late, he was standing about and looked at least 6ft 5...taller in fact, I think he claimed 6ft 7!]
AlexMahone
said on 4/Apr/15
So, Spencer Wilding is a very big guy. With Rob looks 196cm but he's slouching a little bit with another words he doesn't stands straight.
Better prhoto maybee with Scott Adkins.
Click Here
If Adkins 178-179cm Wilding easly 198. And he's slouching again...
James B
said on 2/Apr/15
looks nowehere near 6'6 with rob
Oanh
said on 2/Mar/15
In this photo he does not look 6'6". Appears to be 6'4"...maybe 6'4.5"
Andrea
said on 26/Feb/15
Another "6'6" guy who looks noway that tall with you, Rob! He looks max 6'4.5 with the cap on... You should take a picture with a MEASURED 6'6 guy because this is absolutely not how a 5'8 guy would look next to a real 6'6, something which happens with most of 6'6 guys on here to be fair... The big 6'5 guy looks taller than him. If he's losing 1.5-2 inches in posture, then yeah, he might be 6'6 :)
EzioAuditore711
said on 25/Feb/15
He's 6'6".
joe 193cm night
said on 24/Feb/15
to in doubt with respect to this guy does not know if it can be 6'6
Rampage(-_-_-)Clover
said on 21/Feb/15
Looks barely 6ft4
joe 193cm night
said on 17/Feb/15
your posture is not the best but can be
Tommo
said on 17/Feb/15
Looks more 6'4 than 6'6 in this photo.