Sterling Hayden's Height
6ft 4 (193 cm)
American actor best remembered for roles in films such as Suddenly, The Asphalt Jungle, Johnny Guitar, Prince Valliant, The Killing, Dr. Strangelove, The Godfather, The Long Goodbye, 1900 and Winter Kills. In his book wanderer, he made reference to himself as
"Six feet four inches tall, weighs 220"

Hayden's O.S.S File, Height 6ft 4, Weigh 198 lbs.
You May Be Interested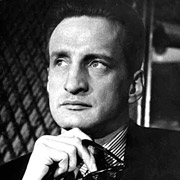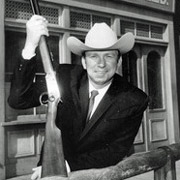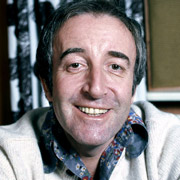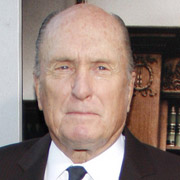 Add a Comment
72 comments
Average Guess (15 Votes)
6ft 4.33in (193.9cm)
Arch Stanton
said on 16/Oct/20
Click Here
In Top Gun with William Bishop. I see a 6'3 listing for Bishop which is laughable as Sterling looked about 3 inches taller in the film! I suspect he was more like 6'1.5 and Sterling 6'4.5.
Arch Stanton
said on 16/Oct/20
Not easy to tell as 6'4 Forrest Tucker had better posture and was nearer the camera in the very brief scenes of them near each other. Tucker if anything looked a bit taller but I think that was the camera angle. Probably a similar height actually, Sterling didn't walk around like a big 196cm man in that film anyway.
Arch Stanton
said on 16/Oct/20
Watching Flaming Feather shortly, he was in it with Forrest Tucker...
Tall In The Saddle
said on 25/May/20
Actually I think only Obama's weight was qualified as being in clothes and shoes. His first exam was 6'1". Prior to he was often reported as 6'1 1/2". In shoes I doubt Obama would only come up to 6'1" so I'm guessing he either wasn't in shoes or they were accounted for. His second half exam might've included shoes bringing him back to his pre presidential reported height.
As to Government like, whatever that was before let's just say the current POTUS has turned the meaning on its head. Height and weight attributes aren't so crucial for the position of president as they maybe for some military duties but they do provide as markers to determine potential degradation of health in the future.
Suffice to say the current POTUS didn't look particularly healthy going into office. Would Obama be perhaps one of the arguably fittest presidents, pre during and post?
Christian 6'5 3/8
said on 28/Apr/20
@Rob
Obama's official measurement was in shoes and clothes, and Trump was said to be officially measured at 6'3". (although we all know that it was rigged) You can't get any more "government-like" than those examples. So just because something comes from the government, doesn't mean that it should be taken at face value.

Editor Rob
I believe Trump self-reported his height, but Obama did get measured properly.
Rampage(-_-_-)Clover
said on 28/Apr/20
This guy really looks 6ft5 in old movies from the 50's...a bit over this is definitely more appropriate. I agree with Arch, probably rounded down like a lot of very tall guys from that era
Tall In The Saddle
said on 27/Apr/20
Well, I orig. figured that it would be prudent to accurately self report one's height, particularly on an OSS application.
Having said that, there were applicants for the armed forces who lied about a number of things, not the least being age, in order to be allowed to enlist. WW2 you had to be 18 and over though some 16-17 yo were allowed to enlist with parental consent. Some still successfully lied about the age. I was gob smacked to read the youngest to fly under the radar and manage to enlist was a mere 12 yo! Must've been a big boy.
The current height range required for the armed forces is 5' to 6'8". Height requirement for Marines is 58" to 78" Male and 58" to 72" female.
Anyway, that lead me to see if there was an upper height limit restriction during WW2. I couldn't find anything firm. Anecdotally on discussion forums some suggested that the lower limit used to be 5'6" and for Marines in particular, the upper limit used to be 6'2" before being moved up to 6'6". I guess they might've broadened the ranges in deference to equal opportunity.
So, that finally leads me to the possibility that one might in fact have a motive to understate their height on military application lest they be considered too tall/big for the given role. OSS entailed spying, espionage etc - I guess you wouldn't want someone standing out too much or literally being physically too big and ill fitting in other respects. 6'4" was big enough and maybe pushing the limits. In relative terms, would an early 1940s height of 6'5" possibly equate to something like 6'8" or more today?
Christian 6'5 3/8
said on 26/Apr/20
@Rob
A height listing on a government application doesn't necessarily mean it's accurate. It's really no different than a license or a medical record. I've seen plenty of inflations on those, so there should be a few underlistings as well.

Editor Rob
It might be less likelier if applying to something like The Office of Strategic Services. Do you want to be seen as inflating or deflating something like height?
Tall In The Saddle
said on 25/Apr/20
Addendum to my previous post with Snyder - Hayden interview link - the discussion itself time stamped the interview - October 1981 so Hayden was 65 yo. They make ref. to Anwar Sadat being assassinated the previous day (viz 6 October 1981) and also to assassination attempts earlier in the year on Reagan in March and the Pope in May.
Earlier in this thread someone ref. Hayden next to Chuck Connors in the movie NAKED ALIBI 1954 Hayden about 38 yo. Connors is clearly taller by I don't know about 2" diff. There are a few scenes in which Hayden appears to be dropping 1" but yes there other scenes where it looks more than 1". I also had a look at the movie VIRGINIA 1941 and Hayden really has clear height advantage over Fred MacMurray, so much so, he appears pretty close to 6'5" if not bang on.
Tall In The Saddle
said on 22/Apr/20
Well, this guy really interests me. As a kid I remember seeing him in re-runs of his old movies but that's about all I knew of him. Reading more on the man, extremely eye opening.
He self reported 6'4" on his OSS file. That eliminates the usual go to motive for an actor understating himself so as to not be deemed too tall for roles. This was an application for a real life role. It doesn't however eliminate the possibility of a round down from say 6'4.5".
IMO, he and Forrest Tucker were equal in height. Hayden also stood very tall next to the likes of Ward Bond and James Arness - an arguable 6'5" as compared to those men. Years later, Hayden was interviewed by talk show host Tom Snyder.
Click Here
. I think the year is 1980 putting Hayden at about 64 yo. Snyder was listed 6'4". The angle isn't great but it appears that older Hayden might've been a touch shorter than Snyder. However, don't let the cane fool you - no leg issues, Hayden just like to walk with cane. Eccentric. LOL.
I have got to buy this man's auto biog. WANDERER 1963. In terms of adventure, wanderlust, being driven by his own drum and compulsion toward real life risk taking, forget E Flynn, Hayden was the real deal. Was an alcoholic but then more than happily turned to weed and hashish in order to get off the booze, his first sampling at age 52 yo, no less but gave it a good flogging for the remaining 18 years of his life.
Arch Stanton
said on 22/Apr/20
Taller than 6'4 flat in his prime. 6'4 and change barefoot and just didn't list the change.
Tall In The Saddle
said on 19/Apr/20
I have great deference to the preceding comments of which the majority appear to lean more toward 6'5" than 6'4" for Hayden.
I just watched selected scenes from TIMBERJACK 1955 starring Hayden, David Brien listed 6'4" and Chill Wills listed 6'2". Based on how he stacked up against the above cast mates with their listed heights as reference, I couldn't see much more than 6'4". He literally looked about 2" taller than Chill Wills. Mostly he looked the same height as David Brien with a few scenes in which he might've looked a smidge taller.
I'll have to sample more comparisons. I was recently given DR STRANGELOVE as gift - I'll check out how Sterling appears in that movie.
Mon
said on 29/Nov/19
James Arness (legit 6'6'') looked a lot taller dwarfing John Wayne in Big Jim McLain that beside Hayden in Hellgate. Ward Bond looked a lot smaller beside Hayden in Hellgate than he ever did beside Wayne. Six four and half an inch is a minimum for Hayden.
Tall Sam
said on 8/Aug/19
Rob, I still think you should consider at least a bit over 6'4" for Hayden if not the full 6'5", the latter I'd bet on as his morning height.
Mon
said on 23/Jun/19
In his turn of the 19th century sailing ship novel Voyage the central character is Harwar, a sailor with a serious alcohol problem, which I think is pretty obviously Hayden himself, as that is the type of work he did and he was a real drinker. The incidents from Harwar's boyhood read like real stuff the author is using. But the main thing is Harwar recalls being six two at 15, and tells someone who inquires about how tall he is that that he is six five in his socks. The OSS was a CIA precursor organisation, which he was head hunted for, and I can't see being 6'5'' as an advantage for a secret agent. Finally, Sterling Hayden was the same height as Forrest Tucker as you can see in Flaming Feather, and Tucker was appreciably bigger than John Wayne (2 films) meaning the best part of an inch.
movieguy12
said on 14/Feb/19
I don't think he'd underestimate himself like Rob says. Perhaps he was close to 6'5'' but rounded down to 6'4'' instead of rounding up like most guys would. Could be very menacing in roles like Robert Ryan with whom he shares a vague resemblance.
Tall Sam
said on 12/Mar/18
IMO then he's gotta be one of the tallest looking of the 6'4" listed actors!
Tall Sam
said on 11/Mar/18
What do you think Rob, is underlisting himself Christopher Lee-style?

Editor Rob
I'm not sure he is under-listing himself by much really, especially if you are putting height on a government application.
Tall Sam
said on 10/Mar/18
I think he does underlist himself, he looks taller than a flat 6'4" to be certain. I'd bet he'd comfortably edge John Wayne out in a fair measurement and would've measured similarly to Rock Hudson.
Not a great shot with Ward Bond, but in Johnny Guitar Hayden can look 3-4 inches taller than Bond:
Click Here
He was roughly an inch or so taller than 6'3.5" listed Timothy Carey:
Click Here
Again not a great shot but probably more than a couple inches over Elliot Gould:
Click Here
Near 6'2" listed John Payne:
Click Here
You could say he looks around 2.5-3 inches taller than 6'1.5" listed Louis Calhern:
Click Here
w/ Ernest Borgnine & John Russell:
Click Here
Don't you think he looks more of a 195 cm range guy, Rob?
Gonzalo
said on 12/Feb/18
He looked taller than 1`93 to me. I think he downplayed his height
Greg
said on 8/Jan/18
far be it from me to imply an official doc is incorrect, but some old studio publicity pics really cast him as maybe 6'5" plus - dude was *very* tall - I doubt very much he was 6'4"
Rampage(-_-_-)Clover
said on 6/Jan/18
6ft4 flat is too low but I can believe like Arch said he did a "Christopher Lee" and deliberately put that out as his height. Being over 6ft4 in the 40's and 50's was viewed as a major casting setback...he may even have been advised to.
I think at least solid 194cm is better suited.
Tom
said on 23/Sep/17
Sterling was 6'5'. One of the tallest leading men in Hollywood.
Arch Stanton
said on 22/Sep/17
In The Asphalt Jungle he was stood near a height chart near the beginning and he looked just about 6 ft 6 in shoes. He looked the same height on screen as Hudson I thought. Is it possible he was a Christopher Lee 6 ft 4 and he didn't give himself change? I could believe 6'4.5 but 6'4 makes just about everybody I can think of shorter except Borgnine who pulled off looking 5 ft 11 with him in Johnny Guitar. I've seen some of Sterling's later films and thought he looked 6 ft 4 range then but he was at an age when he'd have lost some height. Surprising, I really had him down as a legit 195-6 guy.
Rampage(-_-_-)Clover
said on 1/Feb/17
I saw just one of his last interviews and when he walked into the room he still had to duck his head slightly to get in the door. Probably still at least 6ft4 in the last years of his life
Ron Lewis
said on 24/Jan/17
One of the best actors I finally got the eternal sea DVD it was fantastic. The Hollywood male actors today will never match the great ones like Hayden, Heston, Grant, Wayne, Boone, Martin, to name a few men. The woman the same today's women lack real woman quality's they are all political correct just as are the sissy men.
Arch Stanton
said on 8/Dec/16
I think 195 is most likely. If you really look at him in the 50s, like Rock Hudson he was close to 6'5 rather than 6'4.
Rampage(-_-_-)Clover
said on 7/Dec/16
Still looked around this in The Godfather. Virtually a foot taller than Pacino
Rampage(-_-_-)Clover
said on 14/Mar/16
195cm is always debatable. Still a very impressive height and was gigantic in those days. He had quite a presence
Arch Stanton
said on 23/Jan/16
195 is arguable like it is for Rock Hudson but I wouldn't go under that for either men. Both looked near this.
Arch Stanton
said on 25/May/15
The lowest you could really argue peak was 195cm. Too tall to be under it.
Volleybob
said on 22/May/15
He has been featured on TCM of late in a number of movies. I have noted that when he walks thru a "standard" size door, (approx 80")his his head is quite close to the top of the frame. Of course he is wearing shoes, but I am guessing he is a good 6-5 to 6-6
Gonzalo
said on 20/May/15
In Johnny Guitar Hayden looks 1`95-96. Towers over Ward Bond. Probably the tallest leading man in Hollywood in the fifties (along with Rock Hudson)
Arch Stanton
said on 5/Jan/15
Barely recognizable in 9 to 5 but I thought he looked more a strong 6'4" by his 60s in that film, didn't quite have a full 5 inches on 6 ft Coleman. Still towered above everybody in it though. Peak I think he was a genuine 6 ft 5.
Rampage(-_-_-)Clover
said on 15/Dec/14
Click Here
Towering over Elliott Gould in The Last Goodbye in his late 50's.
Rob is it possible he may have been a bit more than this in his prime?
[Editor Rob: I think his peak was near 6ft 5]
Arch Stanton
said on 6/Nov/14
Sam says on 9/Jun/14
He was kind of a Eastwood predecessor, looked and acted more like Clint than John Wayne did.
Yeah that's what I mean, I reckon Clint Eastwood was a fan in the 50s and an influence on his own acting.
Sam
said on 30/Oct/14
Can his credits be updated: "best remembered for roles in films like Suddenly, The Asphalt Jungle, Johnny Guitar, Prince Valliant, The Killing, Dr. Strangelove, The Godfather, The Long Goodbye, 1900 and Winter Kills".
Sam
said on 29/Sep/14
I'd see about 6'3.75"-weakish 6'4" for Carey if Hayden was a full 6'5", which he could certainly pull off.
Sam
said on 23/Sep/14
Rob, how tall do you think Timothy Carey is compared to Sterling Hayden in some of these shots?
Click Here
Like I said, Carey might be a nice classic character actor addition.
[Editor Rob: harder to tell just how much there is]
Felix Bill
said on 12/Sep/14
Felix Bill says on 12-09-2014: Sterling Hayden is the best He-Man from Hollywood, and as he's war record shows also one of the best outside.
Sam
said on 9/Jun/14
He was kind of a Eastwood predecessor, looked and acted more like Clint than John Wayne did.
Hayden was pretty underrated I think, really good in a bunch of film noirs and Johnny Guitar and well utilized later on by auteurs like Kubrick, Coppola, Altman and Bertolucci. I was impressed by his quick-talking aplomb with the dialogue in The Killing. I seem to remember trying to watch for his height compared to Timothy Carey in that a couple years ago but there was really no good comparisons. Carey seemed like he was genuinely crazy. Timothy Carey did seem to be close to the 6'4" mark compared to Ben Gazarra in The Killing of a Chinese Bookie but maybe under it while slouching into his fight with James Dean in East of Eden. Would love to see a page for Carey...
Arch Stanton
said on 30/Jan/14
Johnny Guitar was rather good. I vaguely remember reading that Hayden in that film was an influence on Clint Eastwood when he was looking for inspiration to play western characters and was one of his favourite films. If you watch the film you'll actually spot similar lines and looks from Hayden which Eastwood used later like Hayden's "There's nothing like a good smoke and a coffee or something and Eastwood of course said "there's nothing like a good cigar". They went to big lengths to make Hayden look several inches shorter in that film and were successful too as he didn't look this height in it like in other films and looked more 6'3". Even after people were shot etc and carrying they'd have him in lower ground!! In most scenes they had him further away from the camera than others as he walked. Borgnine somehow looked near 5'11" in comparison when they had a fight in it. Although at the end with Joan Crawford you could see how much taller he was than her.
Arch Stanton
said on 29/Jan/14
In The Killing he's got easily two inches on Timothy Carey who was listed at 6'4". I suspect Carey was no more than 6'3" though.
Arch Stanton
said on 29/Jan/14
Rob can you add Johnny Guitar, The Killing, and Suddenly? He was The Godfather too of course but his role wasn't that big. He's actually a guy who's growing on me as an actor. He's a bit wooden and stern at times but he was pretty good.
Arch Stanton
said on 29/Jan/14
At the beginning of The Aspahlt Jungle he's stood against a height chart and the top of his head is actually on the higher part of the 6'6" line edging towards 6'6.5". I'd say 196cm barefoot would be spot on.
Alex
said on 2/Sep/13
Looked around 6'4.5''-6'5'' in Godfather.
Arch Stanton
said on 30/Aug/13
Mmm he looked 6'4" range next to Sinatra in Suddenly I thought.
Arch Stanton
said on 30/Aug/13
Actually looks 6'5"-6'6" in Suddenly, looks massive and towers above all of the other actors.
Arch Stanton
said on 30/Aug/13
Certainly looked 6'4"-6'5" next to Peter Sellers in Dr. Strangeglove. There is a scene where he walks past him from the door to the desk and he really dwarfed Sellers. I didn't think he looked over 6'5" though, more a big 6'4"-6'5" guy.
tex
said on 11/May/13
Hayden was a war hero in WW 2 with the OSS and won the Silver Star. His military records list him as 6'5".
Shaun
said on 11/Aug/12
I've read 6'6" for him actually.
Sam
said on 4/Jan/12
I've read 6'4" in the past for him, but he was at least inch taller than Timothy Carey in The Killing and Carey was a big man, usually listed at 6'4".
Click Here
Shadow2
said on 21/Dec/11
In "Suddenly", Hayden is taller than Wexler ("Slim"). You would have to be 7' to tower over Sterling Hayden!
stortstarksvensk
said on 9/Jan/11
Just finished watching "Suddenly" (1954) with Frank Sinatra, Sterling Hayden, and Paul Wexler. Wexler towered over Hayden. Any idea how tall he stood?
adam
said on 21/Jun/09
Yep, he was definitely at least 6-5. And he had a very natural physique. Massive, muscular. A lot different than today`s Brad Pitt`s and others`.
Also Hayden wrote two books. Wanderer and Voyage. I have read a bit of Wanderer and Hayden seemed to be quite an intelligent (and possibly even depressed) man.
Kubrick was great. My favourite films from Kubrick are The Killing, Paths Of Glory and A Clockwork Orange. 2001 is something I`ve never watched entirely. I guess it`s too much a piece of art for me!
Patrick
said on 5/Jun/09
I agree with you adam but i still look him at more than 6'4. I wish i could see him next to Chuck. The latter was indeed "more than tall"!
I agree too about the masterpiece you are mentioning: yes, it is as to me every Kubrick film. He knew how to "exploit" the Dinosaurian physic of Sterling, his
adam
said on 8/Mar/09
Bob H. says on 29/Jul/06
Hayden wrote a book in the early 60's called Voyager. About his life leading up to his around the world trip on his personal sail boat. In the book he mentions that he appeared at a lumber jack convention around 1953 or so to promote a movie and when preparing to speak before the local folks he stretched to his full 6'4" heigth. He was also in a cop movie with Chuck Connors in the late 50's. Standing next to Connors he was about 2 inches shorter. Hayden had a massive build and at an honest 6'4" was a huge man in his day.
Hayden seems to be a pretty rare example of a man who was possibly taller than what he claimed! And not POSSIBLY taller than 6-4 -he certainly WAS taller than 6-4!
Chuck Connors was also enormous. I
Bob H.
said on 26/Dec/08
Received as gift a copy of "Hellgate", 1952 Sterling Hayden and James Arness.
While obvious that Arness is taller, he never towers over Hayden. Actually in some sceens they appear same height. Some. I think 6'5" is very possible for Hayden when he was young..
Hugh
said on 23/Oct/08
6ft5 at his peak without a doubt. However, Hayden may very well have been closer to 6ft4 by the time of his death.
thekiddd
said on 10/Mar/08
Well in godfather he was huge. But I don't think he was 6'4" back then. I would say 6'4" at peak but I don't know about 6'5.
Steevn
said on 3/Dec/07
He always looked huge in all his films. In Asphalt Jungle you can clearly see that he was more than just "tall" next to a bunch of actors of average/below-average height. I think around 195cm is spot on.
Gene C
said on 26/Oct/07
Old Sterl? MAYBE 6'4". If he claims it, I tend to agree. He certainly appeared to be that. A (loose, admittedly) rule of thumb for me is that if someone appears tall on screen he or she is probably average ot a little over height. The truly tall people like Chuck Connors and Clint Walker and James Arness look GIGANTIC on screen.
talker
said on 10/Jun/07
Like Larry says,in "the Long Goodbye" he looks 2"taller than E.Gould,the guy was 6'5" in the 70's.In fact,his character's wife in the movie,describes him to Marlowe(Gould)as 6'5".Gould was definitely 6'3"then as he looks 2"taller than-then unknown-Arnold in one other scene.
patrick
said on 23/Feb/07
AND EVERYWHERE ELSE ! He looked very tall for the good reason "he was" so!
He was also a natural mountain very impressive among other films, in "asphalt jungle" where he seems able to crush anybody! Imagine him with John Wayne and Clint Walker in the same movie; no room for any other cast!
Gonzalo
said on 11/Oct/06
He was very tall. I always thought he was 6`5. He looks enormous in Johnny Guitar
Faith Ladlow
said on 12/Aug/06
Yes I met Sterling Hayden in Santa Barbara some 45 years ago at a party. I danced with him and can verify that he was indeed at least 6'4 or 6'5" tall. I'm an expert at this because my son is 6'4".....
Bob H.
said on 31/Jul/06
My mistake. The book was titled "Wanderer". Published in 1963.
Bob H.
said on 29/Jul/06
Hayden wrote a book in the early 60's called Voyager. About his life leading up to his around the world trip on his personal sail boat. In the book he mentions that he appeared at a lumber jack convention around 1953 or so to promote a movie and when preparing to speak before the local folks he stretched to his full 6'4" heigth. He was also in a cop movie with Chuck Connors in the late 50's. Standing next to Connors he was about 2 inches shorter. Hayden had a massive build and at an honest 6'4" was a huge man in his day.
ForensicNYC
said on 26/Jun/06
If you watch very closely this scene of "Dr. Strangelove" and play it slow motion on your DVD, Sterling Hayden almost hits his FACE on that light box across the screen. HE IS THAT TALL...
Click Here
Frank2
said on 24/Jun/06
I think Hayden was closer to being 6'6". Larry is correct about Richard Carlson's height. Hayden was about a half a foot taller. And if I remember correctly, Hayden wasn't wearing cowboy boots, but instead wore moccasins while Carlson wore boots.
Larry
said on 23/Jun/06
He was STILL very tall in the 70's. In THE LONG GOODBYE he was at least 2" taller than Elliot Gould. In THE LAST COMMAND he looked 6" taller than Richard Carlson, who was 5'11".
sam
said on 16/Jun/06
He was definitely at least 6'4" based on his size compared to other actors in his films, most of whom were dwarfed by him. I would buy 6'5".