Taron Egerton's Height
5ft 9 (175.3 cm)
Welsh actor best known for roles in films such as Kingsman: The Secret Service, | Testament of Youth and TV series The Smoke. In an interview about the Kingsman movie he referenced his height, saying
"Compact? I thought 5ft 10in was a very respectable height."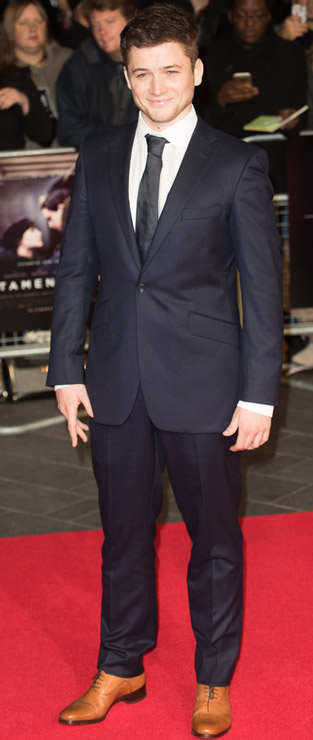 Photo by PR Photos
Add a Comment
100 comments
Average Guess (74 Votes)
5ft 8.39in (173.7cm)
Pedro Rocha
said on 17/Jul/19
I think that he is 1,72cm. All the actors below 1,80cm, improves their height on 1-2 inches as Robert Downey Jr and Richard Gere, who realy are 5'8''. And he is always on good shoes.
Pedro Rocha
said on 17/Jul/19
Someone else thinks that he is really 1,72 cm? I think that because actors under 1,80 cm, generaly improves their height on 1-2inches. Like Robert Downey Jr and Richard Gere. And Taron ia always on Nice boots.
Dann D?az
said on 27/May/19
Rob, how much do you think Taron's height is out of bed?

Editor Rob
He should clear 5ft 9.5 range easily I feel.
45555
said on 11/Mar/19
such a weird proportions and body this guy have. he's not super short, but he sure as hell does look like it. still a handsome block though
Rising - 174 cm
said on 7/Dec/18
Taron could look about an inch taller Cinemacon:
Click Here
Click Here
Here's video:
Click Here
There's pretty good footage of them posing for photos after the 2 minute mark. Though the lace area of Taron's boots shown in that first pic honestly made me wonder if he was wearing some kind of elevator boot. On the other hand, I don't know what kind of sneakers Jamie was wearing on The Tonight Show:
Click Here
Click Here
They look pretty thick. Of course, Jamie could be 176 cm.
Rods
said on 4/Dec/18
Hey Rob he looks shorter than Jamie Foxx in this interview, what do you think ? Maybe 5ft8 ? It seems he is wearing a Nike Air Force 1.
Click Here

Editor Rob
from what I've seen, I think they are pretty close
Junior Hernandez 1990
said on 20/Nov/18
He can be 175cm flat but Jamie Foxx got to be 176.5cm.
JD 5'9"
said on 14/Nov/18
He looked noticeably shorter than Jamie Foxx for most of the Robin Hood Preview. I'm thinking he's more 5'8" flat.
Cacau
said on 27/Aug/18
He looks 20 cm shorter than Colin Firth.
Monkey knees
said on 12/Aug/18
Doesn't quite hit 5'9. Wears dress shoes/heels most of the time.
Matt99
said on 11/Aug/18
This guy was listed 6'0 in kingsman 2...rob he does look 174 range, downgrade?

Editor Rob
As short as 174 I don't know, I guess with a stocky frame he can look around 5ft 8 range at times.
hcham
said on 22/Jul/18
Looks shorter than Jamie Foxx in this video
Click Here
Sonnecker
said on 7/Jun/18
Rob, do you think Taron had a small head, compared to his body?

Editor Rob
It doesn't look that small really.
Zampo
said on 13/May/18
From what I've seen of this guy, I could generally buy anything between 174-176 cm. Personally, I think he is a weak 5'9.
haxxx
said on 6/May/18
Kimsss, Elton John is 5'6 range today. He was not even 5'8 in his prime, strong 5'7.
Kimsss
said on 1/May/18
Elton John is 5'8" so Taron is easily 5'10"
Click Here
Tomm
said on 10/Apr/18
If I could I'd list him at 5'6, he looks so so so much shorter than 5'9
5'7 is my guess, if he stood barefoot alongside Tom Hardy and Jason Statham both would tower over him
RDJ
said on 30/Mar/18
This is one of the most controversial listings even with the downgrade, along with JGL. If anyone is under 175, I'd bet that JGL would fall below that mark rather than Egerton.
Maybe he seems shorter to some people because his costars are generally quite tall (Jackman, Firth, Strong, all of three of these guys have strong posture in their movies BTW), but for some to suggest that he's 173 is ridiculous. If he's that low, then Hardy couldn't be more than 174 either, yet the same people will claim 176 for Hardy and 173 for Egerton.
Also, some of you seem to be anti good posture, as if standing like a hunchback is a badge of honor. You can't fault a guy for having good posture, unless he's wearing sneaky lifts like Vin Diesel. "IF" he stood that tall, or "IF" his posture weren't so good...well, too bad if your posture is atrocious. That's your fault. We cannot draw meaningful conclusions based on conjecturing how one "might" look if he had proper posture.
5'10 lad
said on 20/Jan/18
Rob if you won't do the full 5'8.75 maybe 5'8 7/8ths? He's shorter than Tom hardy
Anonymous
said on 9/Jan/18
Looks like a 5'8.5 type guy to me
Josh
said on 4/Jan/18
I'd put him at 5'9", he's got a smaller man's head but definitely works out his torso to increase his height.
guihjakol
said on 15/Dec/17
Soild 170
Anonymous
said on 12/Dec/17
I think, he is 174 cm.
kkk
said on 3/Dec/17
He looks 5,6 max 5,7 there is no WAY this guy is 5,8 or 5,9 I am 5,6 and i can tell by the body structure that he is max 5,7
Slim 185
said on 13/Nov/17
Looked upper short/lower average in kingsman, he certainly isn't the full 5'9" I'd say 174 is a goer for him.
Fisticuffs
said on 11/Nov/17
More chance of 174 than 175 imo.
MD
said on 5/Nov/17
He is always posing in a way which I think he thinks it makes him look taller, but it really just looks awkward and draws attention to the fact that he's not.
Click Here
Click Here
Click Here
He might be a full 5'9", but he's certainly one of those guys who doesn't look it.
177cm
said on 2/Nov/17
Tom hardy seems to frequently edge him. Can get dwarfed by a lot of the 6' plus cast in kingsman aswell. Weak 5'9 I think.
Grit
said on 27/Oct/17
He is 5'9"
Slim 6'
said on 21/Oct/17
Sorry rob, he just isn't the full 5'9".
Slim 6'
said on 13/Oct/17
Needs another downgrade to weak 5'9" then the page can rest. Please!?
faza
said on 11/Oct/17
Good Looking guy in good shape so I can claim 5'10 lol, Yh I cant see him that high personally, would have said around 5'9 I mean would Taron really look any taller than Tom Hardy for example, I wouldn't say he is really
AJ
said on 10/Oct/17
Yes this is the best listing
Slim 6'
said on 10/Oct/17
Good downgrade, I think we should give Mark Strong a weak 6'2" upgrade and this guy a weak 5'9" downgrade.
Slim 6'
said on 8/Oct/17
Mark Strong had 5+ inches on this guy. Needs a 5'8" range downgrade.
Slim 6'
said on 8/Oct/17
Needs a downgrade. Sorry but after watching kingsman, he looked more of a 5'8" range guy.
Slim 6'
said on 5/Oct/17
Rob, you've overlisted him by an inch or more, he looked nothing above 5'8.25" in his new film.
Mike 1.80
said on 2/Oct/17
1.76 cm with shoes, lifts right? Barefoot 1.70 cm. Kingmans Golden Circle when He gives that old man a hug, you can see The difficult
Marty Guy
said on 30/Sep/17
Abundantly cute and good enough to eat. We need thousands of clones of him. He needs an introduction to the sexy joys of gay life. Sperm will make him free (lol).
Econ
said on 24/Sep/17
I believe around 175 or a bit less. His buff figure makes him look taller I think..
SAK
said on 19/Sep/17
I'm not convinced Taron is 176cm. I see him standing @ 174cm.
Tom
said on 13/Sep/17
Hey rob , what do you think of him as an actor? I mean he is RADA trained but he just seems a decently good actor 1.76 seems fair for him
Editor Rob: yeah I thought he was good in Eddie the Eagle, seems like he will have a big future ahead of him.
Adamz
said on 11/Sep/17
I think anything over 175cm flat is bonus.
Eddie
said on 6/May/17
He is 5 ft 8.25 and nothing more
177 cm (m|GER/NRW/CGN)
said on 29/Apr/17
Unfortunatly the link does not stop at the right second, now I missed it :(
177 cm (m|GER/NRW/CGN)
said on 25/Apr/17
In Lifts
Click Here
grizz
said on 25/Apr/17
LOL I thought he was 5'7 max
Edward
said on 25/Apr/17
He's 177cm
6'1-6'1.5 Guy
said on 13/Apr/17
His physique and proportions of the face makes me think that he is a typical 5'9 guy. In any case, it is in this range.
By the way, I forgot to mention in the photo submitted by Rob, he wears elevator shoes (or insoles).
Revisionist
said on 13/Feb/17
I disagree with those who claim that he looks much lower than 175cm in Kingsman. I've seen the 4k version a few times, and with big sneakers compared to Firth's Oxfords, he actually looks closer to 178cm.
If Harrington is 170cm, then I see 175cm max for Taron:
Here with slight footwear advantage, he doesn't appear more than 6cm taller than Kit:
Click Here
Similar footwear, he appears no more than 5cm taller:
Click Here
A safe bet for Taron is 175cm, pretty much exactly the same as Hardy. We've all seen the Legend shots of them together. It's worth noting that Taron usually has better posture than Hardy, but when Hardy actually stands up straight, he appears to edge out Taron:
Click Here
Anyone who claims that Taron is below 175cm needs to be consistent and downgrade Hardy too. There's probably no more than 1cm between these two, though I think that Hardy is the one likelier to hit 176cm.
delancey
said on 27/Jan/17
Very interesting Rob I had him comfortably in the 5'8" range. Who do you think would be taller? Hardy or Egerton?
Editor Rob: they probably are very similar range if measured. Last film I seen Taron in was that Eddie the Eagle, he is a decent actor.
josh jeffords
said on 6/Dec/16
Huh wasnt he listed at 5 8 flat?
Ive only seen him in one movie kingsman and in big heels he was under 5 9.
Did they make him look smaller, I dont think so.
He looked even 5 7 next to Firth and Thewlis different movies.
Also looked at least an inch under hardy in stills have yet to see KRAY/KRAY.
AJ
said on 18/Nov/16
Looking at him the max he could be is 5'9" flat anything over is generous.
Ali
said on 16/Aug/16
Just to add to the conversation is that before he became famous from kingsman he was listed as 1.73m there could be some sought of truth in that no?, do you consider it lying to give your max measured height, I measure approx 1.71.75m in the mornign and about 1.70.something would it be lying to call myself 1.71 on my modelling resemay, I must add that I am a women
AJ
said on 26/Jul/16
He looks somewhere btw 5'8" and 5'9" next to hugh jackman, I'll be generous and say 5'9" max.
Francis
said on 9/Jun/16
on kingsman he does look 5'8
look his eye-level is way below colin's chin
a true 5'9 man would have his eyes on the same line as colin's chin
taron should be listed as 5'8 or 5'8.25 since he looks just the same as rob next to a 6'1 man
you have decreased jude law from 5'11 to 5'10
taron is much easier to decrease with no regrets
FUTCHER
said on 1/Jun/16
He looks similar to Mark Ruffalo here, or it's just an angle?
Click Here
AJ
said on 18/May/16
Maybe shave a quarter inch off the listing. I'm seeing 4.5 inches atleast between him and hugh jackman.
Mr.Kenobi
said on 8/May/16
A true 5.9 man ... in shoes.
MD
said on 29/Apr/16
What makes it worse is his penchant for the fits he likes in suits. He likes thin/skinny and short fits in suit coats, and even the fit in pants he likes to wear accentuate his hips. I don't get it; they look bad on him because it's the opposite of his body type. So, he's shorter than his claim and looks even shorter because of his clothes.
/fit/
said on 26/Apr/16
turbomanlet
he is no taller than 5'8
David
said on 28/Feb/16
5.7 tops. He is a hobbit and it shows.
Bill
said on 27/Feb/16
Much better listing.
caliban
said on 18/Feb/16
man 5'9.5 is a joke for this guy
don't you think he is shorter than tom hardy? come on
Aaron zamora
said on 31/Jan/16
He's coming out in a new movie called "Eddie the eagle" with Hugh Jackman! That would be a good movie to have a better estimate on his height. :-)
johemoth the dog
said on 21/Dec/15
He was noticeably short compared to the rest of the cast in Kingsman. Would of guessed 5'8 ish.
chris141
said on 19/Nov/15
Tom Hardy looks a full inch taller than him AT LEAST, this guy is clearly 173cm at best.
MarcusTheSwede
said on 10/Nov/15
Taron is about same height as Tom Hardy half cm taller maybe but this listing needs to be downgraded.
BTF87
said on 21/Sep/15
There's a picture of Taron stood next to Matthew Vaughn, and they're the exact same eight. Matthew is listed as 5'10" on IMDb. It's a full picture that shows them both from head to foot.Taron is 5'10".
Colin
said on 27/Aug/15
Absurd listing
egerton can't even reach 5ft9, how can he be listed at 5'9.5?
Mees
said on 1/Aug/15
Looked just a little bit under 177 in The Kingsman, he was a notable inches shorter than Colin Firth who seems to be 184/185 nowadays.
Balrog
said on 27/Jul/15
I really struggle to see him over 5'9"...
Amaze
said on 23/Jul/15
I reckon this is accurate
5'9.5''
said on 1/Jul/15
Im talking about the one where they mention he is 5'8'' that the poster Rad was talking about lol
[Editor Rob: they picked it up from another website, Taron does try to say 5ft 10 numerous times, on twitter/interviews, he may just be about 5ft 9 and calling it in shoes.]
5'9.5''
said on 30/Jun/15
Rad can you find this interview please? I can't seem to
[Editor Rob: it's from
Here
]
Adamz
said on 30/Jun/15
lol @ 5-10 claim.
Rad
said on 17/Jun/15
There is an interview where they mention he is 5'8.
june
said on 9/Jun/15
I think the height listed on his RADA profile is most accurate,which is 1.77m
next to Kit Harington
Click Here
next to Matthew Vaughn (6',according to IMDB)
Click Here
and Sophie Cookson (5' 3½" 1.61 m)
Click Here
5'9.5''
said on 15/May/15
On a side note I find it interesting that he'd give such an absurd overstatement as 5'10'' but then seem non-height aware in photos with his posture and shoes
Rod
said on 10/May/15
@Cole I agree. I think most of the community is unanimous that Hardy is 5'9-5'9.5. I am pretty sure they would be within a quarter inch of each other. Both are notorious for slouching so it's pretty hard to compare the two side by side since one could be slouching more than the other.
cole
said on 7/May/15
5'9-9.25 could be possible, but under that is hard to believe. That would make Colin Firth 6'0.5 or less. I don't think you can look at a couple of shots of Taron and Hardy walking about on the streets and say for sure that Hardy is taller. They could be quite close of course, but I'd bet on Taron edging Hardy when they pose for premiere pics etc.
William
said on 4/May/15
so are you downgrading Taron any soon, Rob?
My contribution for his height is 5'8.5"
Click Here
Shorter than Hardy
[Editor Rob: we'll see how he looks over next year and if there's enough evidence he'll get changed. He can look just 5ft 9, but 5ft 8.5 I don't know - Hardy I'm certain in that film will have one of the twins made to look taller...]
5'9.5''
said on 3/May/15
I wouldn't go that far lol Hardy is more of a 176-177 man who rounds down and Taron has much worse posture than him, id say he's probably a solid 5'8'' like Rob
Smith
said on 30/Apr/15
He is much shorter than Tom Hardy (whom you've rated as 1,75) in their new movie Legend. If Hardy is 1,75 then this dude is 1,68 tops.
MD
said on 24/Apr/15
Well, then, perhaps its time to put him at a proper 5'9"? Not sure why this half-inch is still attached.
Chandler
said on 22/Apr/15
Rob, do you think he is shorter or same size as Tom Hardy?
[Editor Rob: he may turn out the same size, at times he has worn thin shoes, like 0.5 inch...in those situations he can look 5ft 8.5-9 range with others. He claims 5ft 10, he could be adding 1 inch.]
Ed
said on 19/Apr/15
Maybe 176 might be nearer, he is similiar range to tom hardy who is also a strong 5'9"
5'9.5''
said on 6/Apr/15
I never come across that short next to my 6'1'' friends and nobody in my life has called me short, are you sure about this one Rob? My guess is 5'8.5''
[Editor Rob: 5ft 9 is quite possible]
Bernard
said on 1/Apr/15
Hey Rob, I'd like to know where does this high listing comes from? Because I watched kingsman last week and he looked 5'7" next to Colin Firth A LOT. Okay, he did not have the best posture in the world in the film, so let's go with 5'8". But 1.5 inch above that is too much, there is no way this guy is 176,5cm
Neo 5'10
said on 31/Mar/15
"[Editor Rob: they could be very similar, both about 5ft 9.]"
so there is going to be a downgrade to 5'9?
although putting him as 5'8.5" would be the right measure
[Editor Rob: I might look at him again and see.]
Swain
said on 29/Mar/15
Rob, would like to see your coment on Mordekaiser's post.
They are on the same terrain level and taron looks shorter!
[Editor Rob: they could be very similar, both about 5ft 9.]
Gabe
said on 24/Mar/15
Rob, I am a legit 5'9.5" man, and I don't usually look that short compared to my 6'1" friends.
take a look on this pic:
Click Here
Taron is more likely to be in the 5'8" mark
[Editor Rob: remember Taron has half inch dress shoes...Colin's are at least 0.5in more and probably even 0.6-0.7in more.]
Emmie
said on 24/Feb/15
On his RADA profile, it shows him at 5'10" which presumably would be the most accurate height.
MD
said on 23/Feb/15
He comes across so squat. So, it's possible he's taller than he looks, but I still think 5'9.5" might be a bit much for him
cole
said on 21/Feb/15
5'10 is a fair claim if you are 177 cm range - which he does look compared to Firth. 5'9.5 is what I thought after seeing Kingsman.
malik
said on 19/Feb/15
no rob, he's more 174cm
MD
said on 23/Jan/15
I've got to be honest, from the pictures I'm looking at, he does not look a 5'10".
Essie
said on 20/Jan/15
about 5'9" or so.