Theo James Height
6ft 0 (182.9 cm)
English Actor best known for his role in Divergent, Underworld: Awakening, Sky tv show Bedlam and The Inbetweeners movie. SkyLiving had a biography page which mentioned his height and weight as 6'1" (185cm), 12st. 11lb. (81kg), although on his agency page he is listed as 6ft.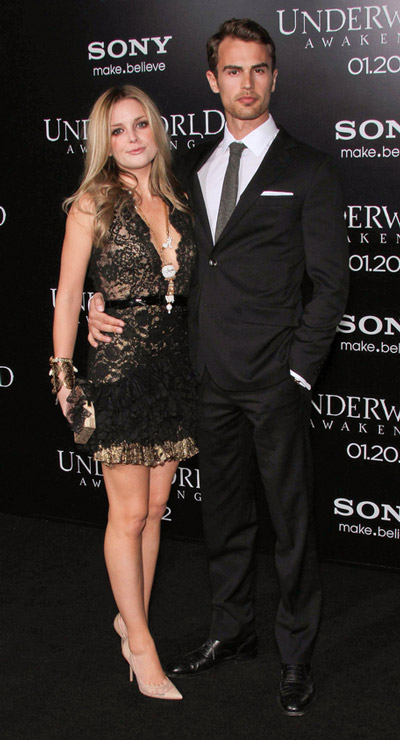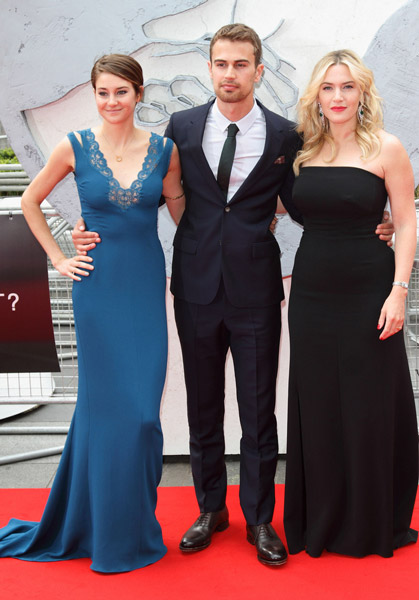 Shailene Woodley
, Theo and
Kate Winslet
Photo by PR Photos
Add a Comment
53 comments
Average Guess (55 Votes)
5ft 11.82in (182.4cm)
ALEXIZ/180cm
said on 15/Jan/21
181 cm.
Nik
said on 29/Nov/19
Shailene Woodley is probably my height twin!
Importer
said on 20/Oct/19
This guy is probably my height twin. Similar proportions too. 182.5cm
pov
said on 10/Oct/19
I reckon he'd measure bang on 183cm
Junior Hernandez 1990
said on 30/Apr/19
There is no way he is 6'1 and no way he weigh over 170lbs. 6'0 is cool and the worst he is between 5'11.75-5'11 7/8.
James G
said on 19/Feb/19
Hey Rob, do you think he would fall closer to the 182 cm mark, or the 184 cm mark?

Editor Rob
A better chance I feel towards 182 than 4
Dream(5'9.5")
said on 27/Jul/18
Who would win the measurement show down, Theo James or Douglas Booth?
Junior Hernandez 1990
said on 3/Jul/18
81kg with motor helmet and heavy sets of filming clothes and biker boots he can weigh it. Lol. Look a little under 170 pounds. Most likely 5'11 3/4.
MAD SAM
said on 30/Jun/18
182 cm can claim himself as 6' but not 6'1 !
Sonnecker
said on 27/Apr/18
Hhhmmm, compared to other actors I'd give him 182 cm, maybe 5'11" and 3/4.
But his weight, 81 kg, is overstimated! Do you agree, Rob?

Editor Rob
A weak 6ft is arguable for him.
Animus
said on 15/Mar/18
182cm?

Editor Rob
He's one of those guys who might fall into a slightly shy of 6ft range.
Psychedelic Earth 187
said on 28/Jan/18
Rock solid 181 Cm.
Jeremy
said on 26/Dec/17
Looks 6 foot
Edimar1.84
said on 26/Nov/17
At Night he is under 6ft for sure.. But on mid day he is about that range.
Animus
said on 19/Sep/17
Just from looking at his proportions, you can tell he's at least 182cm range. 182-183cm seems fine for this guy.
Editor Rob: I think it's probably fair to say there is a chance he is a little shy of 6ft.
Rampage(-_-_-)Clover
said on 2/Sep/17
6ft flat is fair. I think he's a guy who can vary in appearance...
Ben
said on 8/Aug/17
He looks very tall, 6' for sure. Might drop to 5'11.5".
Dan
said on 13/Apr/17
To me he looks 183 cm in shoes. He's probably closer to 180 cm barefoot.
S.J.H
said on 27/Mar/17
@gian92 said on 8/Jul/16
for me also he is max 5'11
I agree. He kinda look 6 feet with shoes
King
said on 7/Mar/17
I saw him. literally just a few feet away ..he came to my school for an inauguration. He's a definite 6 footer, if not even more. Could easily appear 6'1. But the guy has a terrible posture. He bends his neck a lot. If he could sort it out, he'd appear quite tall.
Victor Surratt
said on 27/Feb/17
6'0" is ok for him, no more.
joe###
said on 15/Feb/17
Theo james 5´11.75 and alexander 6´4.25-5
gian92
said on 8/Jul/16
for me also he is max 5'11
Civman
said on 11/Jun/16
In the inbetweeners he never looked tall. I would have thought 5'10. Though he was in flip flops for most of the film. So 5'11 I Guess? I can't see him that high personally
Jake
said on 28/Mar/16
1.8 m straight.
Josh
said on 23/Mar/16
Look at these two pictures:
Click Here
Click Here
Theo James is clearly shorter than Miles Teller, it's quite obvious. I really think Theo James needs a slight downgrade Rob?
Editor Rob: it's always possible Teller being a little over 6ft flat and Theo roughly 6ft
Josh
said on 23/Mar/16
Miles Teller is exactly 6 feet and he looks 0.25 inches taller than Theo James, which would put Theo at 5' 11.75" in my opinion.
Jamie
said on 22/Mar/16
What is it with people on here always trying to lower the heights? If anything some of them are taller than listed heights
Bill
said on 19/Mar/16
Rob, I think weak 6'0" would be the most reasonable mark for him. Miles teller clearly edges him although it's a small fraction.
Dan
said on 11/Mar/16
Rob do you still think he is 6 feet after watching Allegiant? I've just watched it and I personally think he looked slightly shorter than 6' 0" listed Miles Teller. He think Theo James is 5' 11.5" or 5' 11.75". What do you think Rob?
Editor Rob: 11.75 may well be a possible mark. Miles is probably the stronger 6ft guy, Theo the weaker...
Big C
said on 27/Oct/15
You don't think he's the full 6ft then Rob?
[Editor Rob: I think it could be 50/50 arguing if he is 6ft or a fraction under.]
Big C
said on 26/Oct/15
Rob do you think Theo is my height? I think we would be the same, what do you think?
[Editor Rob: you may edge him, he could fall into the 11.75-6ft range.]
Big C
said on 25/Oct/15
I doubt he's 182cm maybe a bit under 6'0 at night but he does look 6'0 in these pics.
MD
said on 28/Apr/15
Actually, looking at that picture, I'd say you can chalk it ALL up to the posture and lean.
184.9 on a bad day
said on 27/Apr/15
Rob, 182 is possible for Theo ?
[Editor Rob: yes there is a chance.]
RoDawg
said on 27/Apr/15
also, this
Click Here
He has way looser posture but the difference is too sizable to just chalk it up to that
RoDawg
said on 27/Apr/15
Click Here
I posted a similar pic on Miles's page but it seems a little more pertinent to Theo than anyone. As I said before, that's not how two people who are the same height look when next to each other, even with relaxed posture. Miles gets and upgrade or Theo gets a downgrade.
184.9 on a bad day
said on 17/Apr/15
After see some photos I think 183 is more likely than 182.
184.9 on a bad day
said on 13/Apr/15
small head and slim frame makes him looks easy 6foot but 182 is a possibility look a full inche shorter than jai courtney in divergent.
sorry bad english.
MD
said on 13/Apr/15
Anyone have any photos of him standing with Miles?
Rick
said on 11/Apr/15
Theo James looks half an inch shorter than Miles Teller in Divergent. He probably is around the 182 mark, not the full 6'0.
cole
said on 25/Mar/15
Shorter than Miles Teller in Insurgent.
mike 1.82
said on 20/Mar/15
1.83 with boots , right? divergent girl is 1.71 in that film next to him diference is 6 cm or 8 cm i think he is 1,78 or 1.90 barefoot max
Chris
said on 17/Mar/15
His head looks around 9,5 inches. But i don't find him attractive at all. You can have him, Jon. Go gurl
Hypado
said on 23/Feb/15
Theo James is a legit 72 inches guy. Spot On.
Amaze
said on 24/Jan/15
yeah he looks tall
183cm
defo tall
Jon
said on 23/Oct/14
Possibly the most handsome actor in Hollywood. He looks more like a Calvin Klein model than an actor. What would you say his head size is Rob?
Hypado
said on 13/Oct/14
Theo James is 183cm in Divergent.
Anneline
said on 20/Aug/14
Tall or short, this guy is uber hawt!
MD
said on 5/Feb/14
Okay, I was right, they were about the same height. As Jimmy does in these stage pics, he's leaning quite a bit (even more than Theo, if only slighty):
Click Here
I still question Kimmel's listing, here, though. He's always struck me as closer to 5'11" than 6'0". Anyway, again, 6'0" is the absolute roof for Theo.
MD
said on 4/Feb/14
This guy is on Jimmy Kimmel Live, right now. My initial impression when he came into the studio and greeted Jimmy was that he was just as tall as Jimmy. There will probably be Getty Images out in the next few days to see if my initial impression is correct. 6'0" definitely seems to be the very top of the scale for Theo.
MD
said on 20/Nov/13
Definitely a guy who can look taller than he is. Something about the proportions. I was actually surprised to see this listing.
Steve186
said on 12/Aug/13
Do you think he is a full 185cm? Or could he be more around the 183-4cm mark? There's a picture from the underworld premiere with 178cm Michael Ealy and I don't see a full 7cm that's all