Todd Lowe's Height
5ft 11 (180.3 cm)
American Actor best known for playing Terry Bellefluer on True Blood and Zack Van Gerbig in The Gilmore Girls. In this convention photo I'm wearing
Converse thin
, whilst Todd is in a
boot
giving him at least an inch footwear advantage over me. On twitter he mentioned his height, saying
"he [John DeLancie] is tall! I'm 5'11"."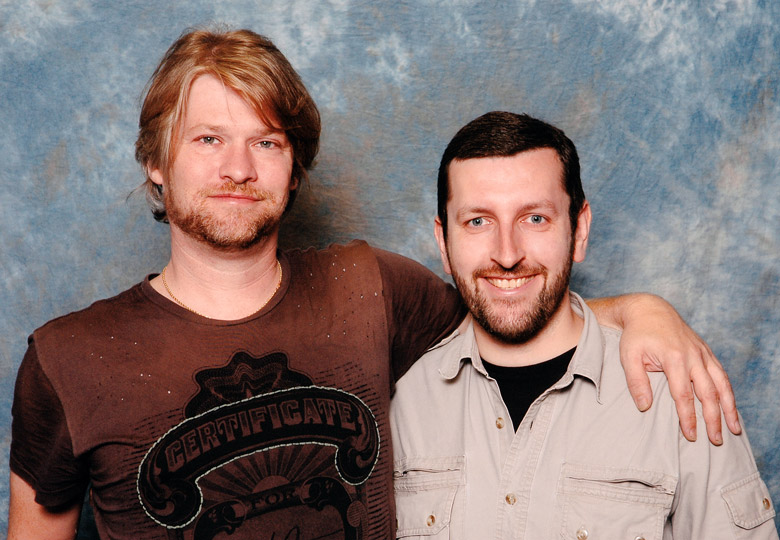 5ft 8 Rob and Todd @ Massive Events Convention, 2010
Today I had an audition where they were looking for a man "well over 6 feet tall". So I made some quick shoe lifts out of legos and gel pads. ...
[I'm] An honest 5'11". Above and below the belt. ;)
You May Be Interested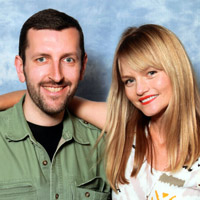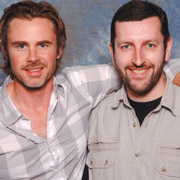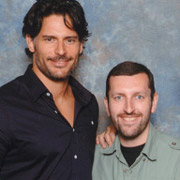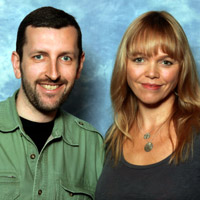 Add a Comment
45 comments
Average Guess (25 Votes)
5ft 11.35in (181.2cm)
Christian 6'5 3/8"
said on 23/Apr/20
5'11", but no more. The average guess is a bit too high.
minigolfboi
said on 8/Jun/19
Looks close to 6 foot in my opinion.

Editor Rob
He's got about an inch more footwear than me, which is quite an advantage.
Nik
said on 3/May/19
5'11" is believable, in Northampton! 19 voters offer him an average vote of 5'11.17", nuff (autocorrect tried to change it to nuffNuff!) said!
movieguy12
said on 29/Apr/19
He does look 6ft there. Maybe he's 5'11.5'' or thereabouts and unlike most guys rounds down instead of up.
Nik
said on 8/Apr/19
He's easily 5'11"!
Guru Guy
said on 7/Apr/19
6'0 there since 5'8 comes to the top of his eyebrow, and 5'6 a bit below the middle of nose. Solid 5'11 without advantage
Christian 6'5 3/8"
said on 31/Oct/18
Genuine 5'11"
Zampo
said on 31/Aug/18
Looks a flat 6'0 (182.6-183.2 cm) in the photo. Subtract an inch for footwear and you get 180.1-180.7 cm range. A solid 5'11.
Tunman
said on 1/Apr/18
Actually when comparing you with challenger 1 I thought there was at least a full 8cm difference but it wasn't,and I thought there was near 15cm difference with challenger 8 but it wasn't.Still some like challenger 2 or 13 look exactly their true mark.I don't know,some just give the general impression they're taller others shorter.

Editor Rob
Camera distance and focal length can sometimes reduce/enhance slightly a photo...
Tunman
said on 1/Apr/18
yeah more like 4" difference indeed,the ruler I put on the screen was probably tilted downwards though I could have sworn it was in the right position,it's strange how the perception can be altered sometimes.
Tunman
said on 29/Mar/18
Rob,I'm surprised by the difference in the pics you posted of you with Jenny and Alex.I mean if anything I would have thought 12 cm diffrence by drawing an approximate like of the top of your head (I'm assuming your hair gives just a little).So you seem just under Alex eyelevel,and even slightly under that with Jenny since her head is smaller.Is there a chance for their heads to be that small,though?I noticed there is the same thing in many HC (not all of them) but is it due to the pic or because Alex and Jenny rose their heads?(hence the 4"difference under eyelevel is much more plausible).

Editor Rob
That was after measuring so hair would be at most 1/8th inch.
But interesting to see how you had thought under Alex eyes, I remember someone else said that 'He is under his eyes'...
Click Here
- but it's actually a cm above his eyes.
Jenny measured a tad more than Alex in heels, but can look taller in a photo (or in person) if you have a smaller head and more hair.
Jordan87
said on 2/Mar/18
His picture he looks the 5'11 he claims. WOW, a Celeb who is honest about his height. Unlike Already tall celebs like Lundgren and Momoa who claim 6'6 and 6'5, when Lundgren was never over 6'4 and Momoa is struggling to hit 6'3.5 in his new pic with Jenny. Honestly 9/10 People, especially celebs seem to inflate their height a good inch most of the time.
Faza
said on 6/Dec/17
Legit 5ft11 guy could be 181cm actually
Pierre
said on 7/Oct/17
Yeah,without his advantage of boots i could give him up to 5"11' ,probably one hair under,Rob seem to slouch a little more than him here.
World Citizen
said on 5/Jun/17
Listing seems believable.
NBAer
said on 9/Feb/16
With boots on,he looks near 6ft,probably 5'11.75 since you're closer to 5'8.25 Rob,so take off his shoe advantage,he's probably about 5'10.75- give or take a small fraction...In that case,5'11 seems about right,but i would list him 5'10.75(which is still 180) if i were you.
pablo77bar(184cm)
said on 26/Sep/15
With this boot on He is looking 6ft 0.5-0.75
So without he is in the max 5ft 11.75 but he claims 5ft 11
anonymous
said on 10/Jun/14
5'11.25? he looks a bit more than 4'' than you rob (with shoes on)
avi
said on 6/Aug/13
@gives a 6'0.5 impression here interesting how them boots can scam you by looking 1.5 shorter. I have to pay attention to footwear more. Its more often then one would think in which wearing vans or even 1 inch sneakers can kill 1.4 to .75 inch. If I wear vans at .75 and some one wears 1.75 boots I list an inch. Who knows maybe lifts are out there a lot too.Amazing.
Stephen
said on 10/Jan/13
he looks 182 cm here with Rob , but attention Rob is wearing converse, so it's about 181, then Todd is wearing a 4cm boot so you need to cut another cm and yea this guy is really no more than 5'11 barefoot. Classic example on how the footwear difference is relevant in comparing heights..
[Editor Rob: he's got no less than an inch advantage, that weekend he looked a 6 foot guy (without considering the footwear difference)]
Sam
said on 16/Nov/12
So, Rob, do you think that Brad Pitt is the same size as Todd? It might be a good parallel because Pitt has been credited with nearly 6'1" in sizeable boots and good posture.
[Editor Rob: if the boots are 1.7 range any five eleven guy could appear six foot to many people. ]
TNTinFL
said on 14/Sep/12
The boot explains why he looked like a 6 footer in that photo.
He must wear similar footwear on True Blood as well, since I always had the impression he was a legit 6 foot.
johnnyfive
said on 10/Sep/12
Dude looks my height 6'0.5 with those boots. He sure fooled me! Brad Pitt must wear shoes like this all the time to look close to 6'1 like this guy.
Daniel
said on 7/Jun/12
Considering head of Rob 25,5cm around when Rob smile
in my led, in scale 1:1 pic , the tall guy is 8,8cm taller than Rob
173,5+8,8=182,3 less shows advantage -1cm =181,3cm
[Editor Rob: I'm wearing 0.6 inch converse this day, Todd has the boots shown in the photos so he has no less than an inch footwear advantage.]
James
said on 7/Aug/11
yeah must be a strong 6ft with the big shoes
Rampage(-_-_-)Clover
said on 6/Jun/11
Looks 6ft0.25-6ft0.5 with Rob...without the shoes he'd be 181cm
Rampage(-_-_-)Clover
said on 24/Apr/11
6"0.5(184cm) with Rob...
Probably 182cm barefoot
mr. medium
said on 9/Dec/10
rob, 6 ft is bez for him..he is like 4 inch taller than u. im sure everyone here agree with me. he is like the same height as kellan lutz(185)..but maybe, he is a litlle bit shorter. 6 ft suit him best.juz give my opinian. if im false, im sorry :)
[Editor Rob: he had an inch thicker footwear than me.]
Rampage(-_-_-)Clover
said on 28/Nov/10
184/185cm in this pic
sam
said on 25/Nov/10
Man that was funny as hell Rob!!! But hey... you can't rule out conspiracys anymore ever since it turned out that other 5'8 guy was like 5'6....
= /
Mr. R
said on 25/Nov/10
Folks, many celebs wear shoes with extra heels and lifts knowing that some heightophiles like Rob, Mamun, or myself will be reporting their lies. I think the boots of Tood, actually add at least an inch and a half, and he may be closer to 5-11. Plus, the True Blood actors love to prove that they are not shrimps dut to Alex Saars. who is a giant!
Mathew
said on 24/Nov/10
Looks kind of like baseball pitcher Derek Lowe actually. Except Derek is about 6'6" (one of the few baseball players actually near they're listed height), Todd looks around 6' here. With the footware advantage, 5'11".
Efi A
said on 24/Nov/10
From this picture regarding the shoe differance he still looks to me like a fair 5ft 11.5 inch
d wade
said on 16/Nov/10
okay stephen tobolowski is a bit taller but he doesnt look more than 1 inch taller this 5,11 guy.
d wade
said on 16/Nov/10
he looks taller next to rob than stephen tobolowski who is here listed at 6,2 .
[Editor Rob: I personally think
he is comparably taller
.
A tidbit about Stephen - 3-4 months prior to getting his photo he had broken his neck in 5 places. He had a scene to film in heroes where he was very static!]
s3b
said on 15/Nov/10
In the picture with Rob he looks around 182-183 cm max but if you subtract his 1 inch lifts he could be in the 179-180 cm tall range.
Lozzer
said on 15/Nov/10
Rob any ideas where to get a boot like this? Cheers.
[Editor Rob: some decent boots are gonna set you back a fair wack and are probably from a good store, these ain't the junk from asda or tescos ;)]
Original
said on 12/Nov/10
Looks 5'11.25 with 1 inch shoes advantage
TNTinCA
said on 11/Nov/10
Those must definitely be some major boots. I wonder if he wears them on True Blood as well. He always looked like a 6 footer on the show.
Austrian
said on 6/Nov/10
haha he looks exactly like on the show... does he talk like that too?
looks much taller on true blood too, but obviously he cant be more than 5'11
J.J.
said on 4/Nov/10
179cm @ most because of an inch shoe advantage
Larc186-188cm
said on 4/Nov/10
Looks tall, very close to 6'0 from the photo, but his boots seems pretty big, he's probably around 5'11 without them.
melpa184-186cm
said on 4/Nov/10
no way! 6'0-6'1 i reckon, 184cm at the lowest.
Matt 182cm
said on 4/Nov/10
In this shot he is maybe just over 5 ft 11.5 but minus his footware advantage
Matt 182cm
said on 4/Nov/10
He does appear near 6 ft in this photo but those are very thick shoes.
5ft 11 is spot on, no less though.