Tom Baker's Height
6ft 3 (190.5 cm)
English actor, best known for playing The Fourth Doctor in Doctor Who. In film he can be seen in The Golden Voyage of Sinbad. In the double shot I was wearing
Converse
thin, whilst Tom had a shoe that gave him 0.5 inch footwear advantage over me.
[Doctor Who] is one job people remember me for and it would be stupid of me to get irate about because it is fact of life. It would be like me complaining that I'm going grey or that I'm six foot three. It's something I have to live with. - Eye Of Horus interview, 1982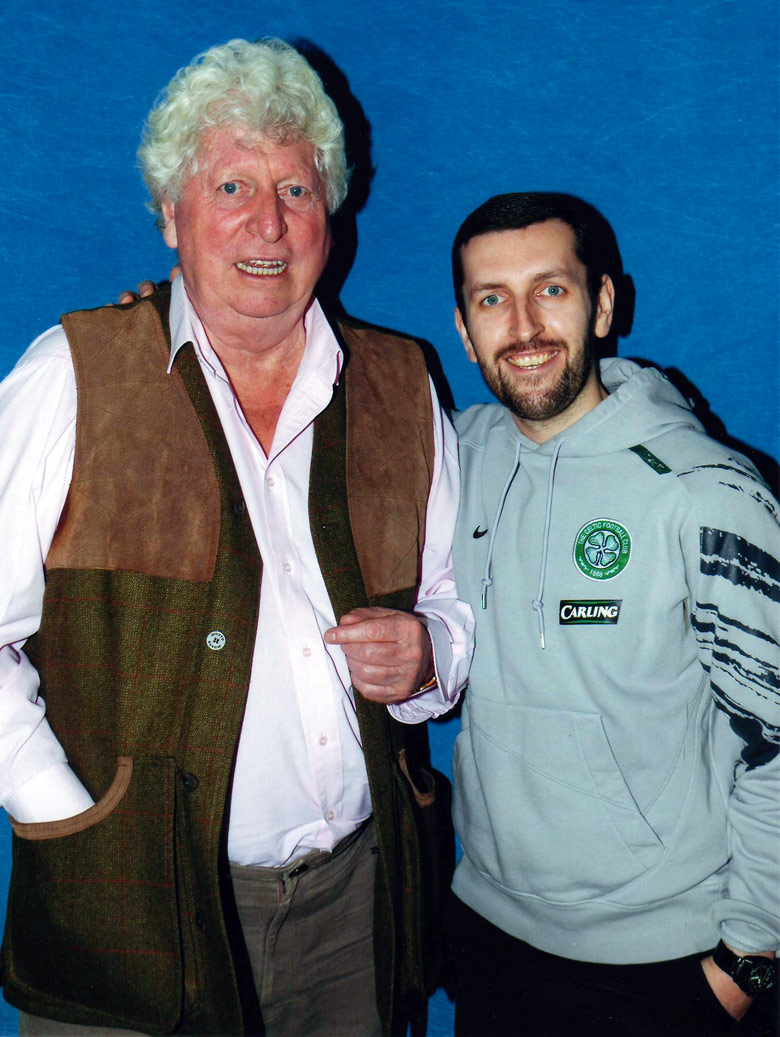 5ft 8 Rob and Tom @ Collectormania 2007
I'm 6'3" now. When I was eight, I was already about 5'9", so I was a giant, really. This made me obvious. -- DWM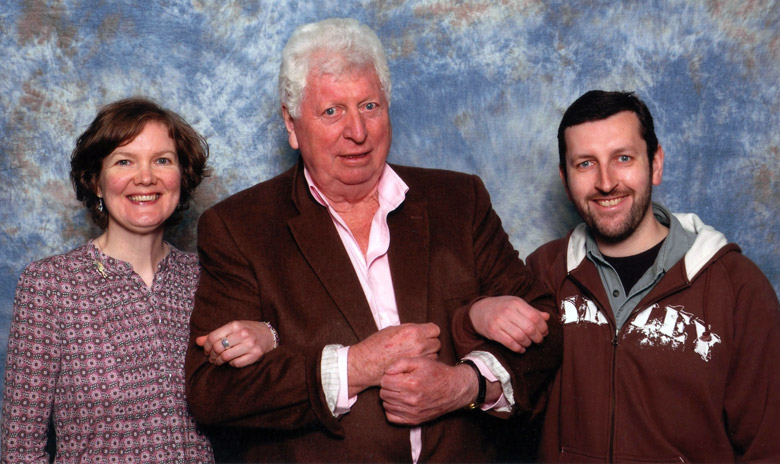 5ft 8 Rob and Tom @ Collectormania 2010
You May Be Interested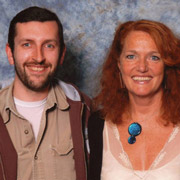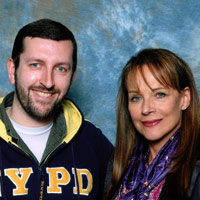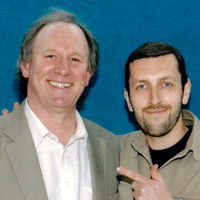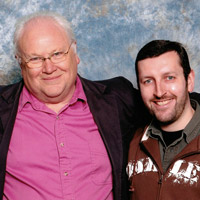 Add a Comment
122 comments
Average Guess (42 Votes)
6ft 3.17in (190.9cm)
ChaosControl 6'2.5
said on 21/Dec/20
I'm struggling to see over 6'1.5 based on the photos

Editor Rob
he'd shrunk by then at least an inch.
Jkiller
said on 22/Oct/20
6'3 peak, right under 6'2 nowadays.
Hotpots
said on 16/Aug/20
Definitely a legit 6-3 peak. Now 6-0ish.
Rampage(-_-_-)Clover
said on 14/Aug/20
Rob, surely he wasn't 6ft3 when you met him?

Editor Rob
He was nearer 6ft 2...then the next time nearer 6ft 1.
OriginalAnon
said on 8/Apr/20
He looks like a great big sheep. He may only be 6'1'' range today. 190.5cm peak no doubt.
Bob da cob.
said on 6/Feb/20
Legit 6-3 definitely. Now imo 6-0.5 range.
Miss Sandy Cowell
said on 20/Jan/20
🎁🎂🎈🍻 Happy Birthday Tom! 🍻🎈🎂🎁
Tom Baker, Dr Who and Blackadder actor, turns 86 today. Wishing him a fantastic, fun-filled time!
6ft3. 😄👍
🎁🎂🎈🍻🎁🎂🎈🍻🎁🎂🎈🍻🎁🎂🎈🍻
Caldonio
said on 22/Nov/19
Genuine 6-3 guy. Was almost always taller than the other actors apart from Cleese.
Miss Sandy Cowell
said on 19/Jun/19
"YOU HAVE A WOMAN'S BOTTOM!" 🤣🤣🤣
said Captain Rum. I think of that funny line whenever I see him!
6ft3.
Sandy Cowell
said on 17/Feb/19
In an episode of 'The Chase' just now, there were three options of which sweets Tom Baker's Doctor Who was always eating. One choice was liquorice, then there was one I have clean forgotten and finally, and correctly, there was the option of Jelly Babies. I can still hear him saying it now; "Would you like a Jelly Baby?" I'm pretty certain he even offered one to a Dalek!
Well, it broke the ice and made him easy to warm to! I also remember his long knitted scarf, which was another novelty trademark. One Christmas at that particular time, my Mum bought me a matching white knitted hat and scarf. The scarf came down almost as far as the ground, but then it was normal ladies size and I wasn't fully grown at all. I think I was nearly 14 and the scarf swamped me. I was frequently likened to having the same dress sense as Doctor Who!
Yup! Tom gave such an entertaining show that it never sank in just how very tall he was. I was aged 13 when he took on the role, and height aware by then to be sure, but he was the first truly comical Doctor Who that my subconscious was missing out on his height because it was otherwise engaged! 😂😂😂
Sandy Cowell
said on 12/Feb/19
@ Rob - Yes, he most certainly did! He even told the Queen, "You have a woman's bottom!"
Another funny thing was he was drinking his own urine even before they reached the 'urine drinking stage', which seemed an inevitability for the great explorers, but he did so because he enjoyed it! Rather him than me, but then with prospects like that, who'd want to go exploring in the first place? 🍋
(Blackadder II, episode 3, entitled "Potato").
Sandy Cowell
said on 6/Feb/19
@ Rob - Fantastic to see tall Tom receiving a slot on the 'Blackadder' page! Captain Rum indeed - and I couldn't think of more appropriate name. Well, I'd sooner drink that rum than give in to the other 'familiar-smelling beverage' that was otherwise on offer!

Editor Rob
He was a memorable character and given some funny lines from what I remember!
Sandy Cowell
said on 5/Feb/19
Tom was in 'Blackadder' too! He was legless in more ways than one!
6ft3!
Angel Howell
said on 23/Aug/18
For everyone commenting Re: 5'9 at 7-8yo. I was 5'2 at 8yo. Early on-set puberty (though within maternal family history) my last "growth spurt" I only added 1.75in. EVERY dr. I've seen since (GP, Internist, Allergist, ER, Pulmonologist, Orthopedist, Physical therapist, etc) has mentioned/looked askance at my ppw... EVERY one of them, gets further in pow and sets, "Oh, ok. Now I understand" or a variation, thereof.
I don't have ANY medical "conditions" nor disorders...I just matured earlier than "average", though normal for my family. BTW- my hands and feet kept growing to the size they "should have been". Had I kept growing, I would've been 5'9-5'10.
Luckily, by body is perfectly proportioned (same height from top of head to waist, as waist to bottoms of feet) so I don't look out-of-balance. Except to folks trained to notice, ie- drs, nurses,PTs, coaches, etc.
Rourke
said on 5/Aug/18
Still looks like he's about 6'2 in this picture, and he's about 84, mad! 5'9 at the age of 8 would make him 7 foot easily, Andre the Giant was about 5'9 at 8.

Editor Rob
In that single photo with me, Tom was age 73, he had lost some height by then. I don't know what he looks like at 84, I'm sure he doesn't stand as well and probably lost at least 1-1.5 more inches.
Man in Black
said on 5/Jul/18
Funny but I never thought of him being as tall as 6'3" in Doctor Who. Thinking back to his first season of Who in particular he tended to have a bit of an arch in his back he walked,a little hunched over, in that way some tall people almost try to hide their height.

Editor Rob
He could look 6ft 1-2 at times on Doctor Who, but even the second time I seen him (double shot) he was still quite tall, albeit shrunk a bit.
Bobby
said on 14/May/18
5'9 at the age of 8? Is he exaggerating? Why didn't he end up over 7ft tall then?
Sandy Cowell
said on 2/May/18
@ Yht - Hi! Surely, though, a boy as young as 8 at 5ft9 would have that condition: gigantism? I'm inclined to believe your comment that he was rather shorter, say 5ft3 - 5ft7!
Yht
said on 1/May/18
@Sandy Cowell
People develop early but with gigantism grown taller than 7 ft but people without gigantism they grown naturally just either late or early
Sandy Cowell
said on 30/Apr/18
@ Nik - That's how tall Tom reckoned he was at 8 - 5ft9! Wouldn't he have grown taller than 6ft3? I think so! He'd have to have been an exceptionally early developer! I think kids who develop that early have an unfair disadvantage. It's much better for them to grow up together!
As far as the urine drinking goes, what DON'T they get up to in 'Blackadder'? There are even reports that they've been so hard up that they had to pick the weevils out of biscuits, and I think it was the same episode! Stale, stagnant biscuits to eat and urine to drink! No wonder people didn't grow very tall in the 16th century! Mind you, it didn't apply to most of the 'Blackadder' cast! 😉
Nik
said on 29/Apr/18
@ Sandy Cowell - Good evening!
An 8-year-old measuring 5'9"! I've never seen one either, it's frightening wondering what a 5'9" kid of 8 may end up as!
As for someone who drinks urine, they wouldn't get a good night kiss from me nor would I want them breathing out near me, do it through yer nose or keep away from me!
Tom seems a solid 6'3" er to me!
Sandy Cowell
said on 29/Apr/18
Mind you, Tom wasn't quite so tall in 'Blackadder'!
He had no legs AND he was legless, as in drunk! But didn't he end up drinking urine?!! Didn't they all end up drinking that dubious, last-resort beverage? Yes! And they gave some to Stephen Fry at the end of the (Blackadder the Second) episode, who reckoned it tasted 'familiar'! I know I like STEPHEN, but S🚽D giving him a goodnight kiss! Yuk!
Sandy Cowell
said on 29/Apr/18
An 8-year-old measuring 5ft9? I've never yet seen one of those in my entire life! 🙊
Yht
said on 26/Apr/18
Legit 6'3
but 5'9 at age of eight? He probably doesn't remember well (more like 5'3-5'7)

Editor Rob
Maybe slightly exaggerated, but later in that magazine he also said he'd have liked being more average range as he could have played more types of roles.
Jim Hopper
said on 25/Dec/17
Genuine tall guy in his day. Now Id say 6-1 ish. Peak 6-3" for sure
Rampage(-_-_-)Clover
said on 21/Oct/17
Near 6ft3 peak but not a solid one...
RichardSpain
said on 18/Jul/17
191 cm young
188 cm today
Rob, this actor has a lot of hair to be older.
Editor Rob: he had even more hair in his 30's and 40's!
World Citizen
said on 28/May/17
Hey Rob does celebs or other people also use terms like "a weak 5 ft 10" in real life?
Btw he looks 6 ft 1 in the picture above.
Editor Rob: Baker did shrink a bit and in Doctor Who his posture was awful.

Actually he wasn't much different when near Chaske Spencer at the event jenny and myself got a double shot with him...by then he was mid 70's, today I don't know if he is under 6ft 1, but it is likely now in 80's...I doubt he even stands for photos anymore.

On Doctor Who he had variable posture, he did one episode with Julian Glover and I think did possibly edge him a bit, so the worst I'd say was 6ft 2.5 on that show.
Christian-196.5cm (6ft5 3/8)
said on 16/May/17
I would have to agree with Rampage on this one. 189-190cm max peak, not a full 6'3" (190.5)
Rampage(-_-_-)Clover
said on 2/Mar/17
Yeah he's probably somewhere in the 6ft1 range today, he's at an age where it's normal to lose a couple of inches ....but like Mike said, he's been quiet the last few years and hasn't shown up in anything. That photo is from 10 years ago, so it's more likely he was still 6ft2 then
Sandy Cowell
said on 10/Jan/17
I didn't know that I was watching a 6ft3 Doctor Who when he first appeared!
I grew fond of him quickly as he introduced that bit of eccentricity to the part, what with his long scarf and his fondness for jelly babies!
He was also very funny as a 'legless' - literally and otherwise - seafarer in Blackadder II!
Rampage(-_-_-)Clover
said on 9/Dec/16
Peak: 189-190cm
Today: 186-187cm
Mike
said on 18/Jul/16
This guy isn't really in anything nowadays, but looks closer to 6ft 1 now...
Rampage(-_-_-)Clover
said on 9/May/16
Rob, why did you take away the current height?
For a second I thought he had died!
Mark:
said on 17/Jan/16
Tom Baker was 6'3, just half an inch of 6'4.
Craig
said on 2/Dec/15
Tom was never 6'5, but he was about 6'3 at his peak in his 40's when he was on 'Doctor Who' in the 1970's. You can see that he was about the same height as Ian Cuthbertson, who was about 6'3-6'4.
Now that Tom Baker is in his 80's, he has probably lost a couple of inches. He also has a bad leg and walks with a cane now, so he sometimes stoops a bit.
Jim Hopper
said on 1/Aug/15
6-3" peak imo. Now perhaps 6-1" ish.
modeus
said on 7/Jun/15
6 ft 5 is laughable
Oanh
said on 30/May/15
JPDB says on 6/Mar/15
i'm sure in his day, tom was about 6'5". i think he's lost a couple of inches since then. he was the tallest doctor, i'm sure of it. he was at least 2 inches taller than jon pertwee.
No, Tom wasn't that tall. I think Rob has it correct for his peak and current height.
Joel12
said on 15/Apr/15
looks like 187cm today
120
said on 22/Mar/15
Were there 2 photographers taking the same shoot or was it just two takes?
[Editor Rob: it is the same photographer shooting a landscape and then portrait...]
JPDB
said on 6/Mar/15
i'm sure in his day, tom was about 6'5". i think he's lost a couple of inches since then. he was the tallest doctor, i'm sure of it. he was at least 2 inches taller than jon pertwee.
Mike
said on 22/Dec/14
Today: 6ft 1.5in 187 cm
Peak: 6ft 2.75-3in 190-191 cm
Rampage(-_-_-)Clover
said on 25/Oct/14
He seems to be carrying a lot of baggage these days and he is 80.
Rob, could Tom have shed another fraction since you're last meeting?
[Editor Rob: doesn't he have a stick nowadays, I'm sure he's lost a cm since 3-4 years ago as he got nearer to 80.]
Emil 182.5 cm
said on 18/Aug/14
Overweight and a horrible posture these days.. 6'3.peak is more than likely
Sam
said on 7/Aug/14
So, I guess he would be the tallest Doctor if Jon Pertwee was really half an inch under him.
Sam
said on 17/Mar/14
In the underrated anthology Vault of Horror (or Tales from the Crypt 2), he looks similar or a smidge taller than Daniel Massey and Curd Jurgens, both 6'3". He also looked not much shorter than 6'5" John Philip Law in The Golden Voyage of Sinbad, although I don't know if his big hair made Baker give more of a 6'4"ish look in these movies.
James B
said on 16/Mar/14
6'2.5 peak
Rampage(-_-_-)Clover
said on 11/Dec/13
Solid 189cm peak, maybe 190cm. Not as sold on the full 6ft3.
Probably weak 6ft2 range now
Kyuss
said on 30/Nov/13
yeah Id say matt was on some sorta height box because when you see full bodies on screen they use matt closer to camera giving him a boost by the angle. Toms around 6-2" or 6-1.5 now imo min.
tom
said on 30/Nov/13
In the dr who episode I believe matt was on a small lift platform to correct his height to be same as toms.
davezz5
said on 28/Nov/13
to be fair tom baker seems to be wearing flat shoes,Matt smith sporting pretty big boots.
miko
said on 25/Nov/13
Saying that Rob, here in good posture it does look like he might be able to stretch out a bit more than 6'1...
Click Here
[Editor Rob: with some older men they can carry themselves lower at times and seem shorter, but might still be tall - I haven't seen Tom for a few years now. Colin Baker is now at the stage of being nearer 5ft 11 at age 70.]
Rhonda
said on 23/Nov/13
On the 50th anniversary episode an inch taller than Matt Smith.
miko
said on 23/Nov/13
Looked a flat 6'1 on Dr Who with Matt Smith.
[Editor Rob: almost 80 years old now, he's probably nearer 6ft 1 today yeah, although he's looking a bit more frailer.]
Sam
said on 6/Nov/13
He definitely looked at least a solid 6'3" next to 6'5" John Philip Law in The Golden Voyage of Sinbad.
Prince of Darkness
said on 16/Oct/13
With regard to Elisabeth Sladen, I saw an interview in which she mentioned being 5ft 4.
Gracie2345
said on 20/Apr/13
Just wondering does anybody know the height and weight of elisabeth sladen??
[Editor Rob: I met her and saw her she looked about 5ft 3ish, but for a photo she sat down...I understood why as she was ill at the time and 6 months later she passed.]
Arch Stanton
said on 2/Apr/13
Put his head in the top pic on the body of Ian Whyte and you have the Jolly Green Giant!!
Steve
said on 4/Jan/13
Keep in mind, in the second picture, his shoulders aren't even. He's leaning a bit, so that's going to make him look a little bit shorter than he actually is. I'd go mainly by the first picture. I'd agree he's probably about 6'3"
Trent
said on 2/Nov/12
I think having a big head really contributes towards his appearance of enormity. He looks around 6'2 in those pics. His 6'3 peak is certainly possible. Maybe he was even more.
TNTinFL
said on 12/Oct/12
Great pic!
And he has actually aged very well. Other than the white hair, he still looks like the charismatic Doctor Who I knew and loved back when I was a kid! :-)
Rampage(-_-_-)Clover
said on 29/Sep/12
He looks 186-187cm max in both pictures. Probably a solid 6ft2 at peak as opposed to 6ft3
Shaun
said on 27/Sep/12
If this guy was a good 8 inches taller he'd be perfect for playing the Jolly Green Giant!
LG69
said on 11/Sep/12
In the top picture, Tom looks at least 6'2"...possibly 6'3". The bottom photo makes him look 6'1".
Len
said on 19/Aug/12
Holy crap. I had no idea he was this tall.
Rampage(-_-_-)Clover
said on 12/Aug/12
Max 6ft2 now. It's pretty obvious judging by those pics that he's down from his peak by at least 1in. Aswell was he 6ft3 in his prime?
ramiz
said on 31/Jan/12
minimum 6'2 now.tall men
fricanman
said on 13/Jan/12
Wow! Just picked this up on random shots. Always had him tall - but he is massive! Look at that frame, big guy all round! Biggest Dr Who? By miles would be my guess.
Tman
said on 7/Nov/11
Rob his head :0
Tom101
said on 10/Sep/11
Met tom in manchester england,i'm about 6ft2.5,he seemed very much the same height as me.
Rampage(-_-_-)Clover
said on 24/Aug/11
I for once agree with Hansen...
186-187cm nowadays
Hansen
said on 21/Jul/11
at peak looks a good 6ft2.5
Hansen
said on 19/Jul/11
much likely push down his hair next to rob he is about the mark at 186.5cm. so 6ft1.5
Lenad
said on 6/Jun/11
probably 6'2ish today.
James
said on 3/Jun/11
defo 6'1.5 today
rob do you think a weaker 6'3 is possible for his peak?
dmeyer
said on 27/May/11
considering converse he looks 6 ft 1 1.5 range did he look full 6 ft 2 in person rob pretty tall guy anyway
[Editor Rob: I think he was near 6ft 2 but then he could be 6ft 1.5]
James
said on 21/May/11
He might have been 6'3 although there is a very good chance at his peak he could have been slightly under it?
Rampage(-_-_-)Clover
said on 3/May/11
Strong 6"1/Weak 6"2 nowadays
Lenad
said on 2/May/11
I reckon he was close to 6'3 in his prime. Nowadays hes 6'2 at best
Rampage(-_-_-)Clover
said on 25/Apr/11
Yeah he's 186-187cm today
Lenad
said on 25/Apr/11
6'2 max nowadays. Maybe closer to 6'3 in his younger days
Rampage(-_-_-)Clover
said on 12/Apr/11
187cm at best nowadays
James
said on 11/Apr/11
Actually looking at the new pic if rob shaved his head i would agree that toms eye level looks about 1cm of over robs head so 186cm and maybe 187cm in the older photo?
to James
said on 8/Apr/11
hair can make people look taller but it doesnt change the looking at the pics,i mean if we are comparing him with rob then we should look at the top of robs head not toms and where robs top ends is the defining place of toms height which means that he is really 6'2 because robs top is 1 inch lower than his eye lewel.
Matt
said on 8/Apr/11
probably 6ft 1 ish
James
said on 1/Mar/11
His hair in the new pic might give him the illusion of looking 6'2 though since it adds 1 inch to his height.
Anyway today 6'1
peak strong 6'2
Chameleon
said on 27/Feb/11
I agree, looks about 185/186 now
James
said on 22/Feb/11
In the double shot with rob appears no bigger than 6'1 (185cm) in the older pic looks 186cm or 187cm.
And juding from Mr.V's video 6'3 looked a stretch for his peak.
I think 6'2.25 (189cm) Peak
6'1 (185cm) today
Mr.V
said on 7/Dec/10
Here's a clip where Tom appears next to 6'4 Iain Cuthbertson :
Click Here
Cuthbertson is usually closer to the camera but I would say he has likely a couple of inches on Tom . Just look at them from 1:46 on . Cuthbertson was listed at 6'4 by his agency and some obituaries gave him at the same height last year . I think Tom was probably closer to 6'2 but could easily look 6'3 + with his big hair .
Rampage(-_-_-)Clover
said on 14/Nov/10
6"1.25(186cm) now
Newt
said on 31/Oct/10
He has a tall head, would guess he's 6'1.5. You can't base a verdict on something like "where the top of robs heaad is compared to x", some people have bigger heads than others.
James
said on 26/Oct/10
Not as low as 6'1 flat but I think he's a weak 6'2 guy nowadays.
RICHARD
said on 5/Jul/09
He looks like Ryan O'Neal,only Tom aged better.LOL
Phil
said on 4/Jul/09
He was absolutely superb as Captain Rum on Blackadder II. Although we dont get to see how tall he is cos his character was "legless". "Rubbish,I havent touched a drop" was his reply to those who called him so.
Hugh 190cm
said on 1/Jul/09
6ft2ish today.
yeahyeah
said on 29/Jun/09
thats clearly 6 inch difference but more likely 7
J.J.
said on 26/Jun/09
I see about a bit over 6" on Rob so might be close to 6'3" but in this picture he is more like 6'2.625"/6'2.75". Huge head though.
Anonymous
said on 25/Jun/09
Rob is a bit below his eyes, so that's a 5.5inch difference. Since rob is 5'8.25 then Tom is probably about 6'1.75 nowadays
James
said on 22/Jun/09
If you think about it imagine rob standing straight in the pic and take away Toms 2 inch hairstlye then I'd say he would look closer to 6'1.
Hugh 190cm
said on 26/May/09
around 6ft2 (188cm) nowadays.
senga Bayne
said on 13/May/09
luky rob Tom Backer is my favourit Doctor
hope i meet him one day soon
[Editor Rob: he's at london film con in july.]
Gene Frisco
said on 16/Feb/09
Always knew this guy was a tall fella was always taller than most people while on Dr Who ,yes 6'3 for Tom just like Jon Pertwee.
stephen
said on 4/Nov/08
tom is the narrator on little brittain
its nice to hear him say dirty ****ter
tracy
said on 28/Oct/08
tom is 6ft 3 and sexy ive been a long time fan
adam
said on 2/Oct/08
Anyone seen an underground horror movie called "Vault Of Horror"? Baker was in that movie and looked tall. 6-3 is on the money, I`d say. Pretty good film also!
Lego
said on 5/Jul/08
they used to call him The SHARK and he does look like one, he's great.
6'2.5 - 6'3 is right
Yaspaa
said on 4/Jul/08
6'2.5,but 6'3 possible.
sf
said on 3/Jul/08
6'3" and that damn scarf still dragged the ground...
Realme2008
said on 2/Jul/08
When I first saw his picture on this page I immediately thought 6'2" without even looking at his height listing. 6'2" is what he looks too.
maximus
said on 2/Jul/08
minimum 6'2"......
Atoadaso
said on 30/Jun/08
I would put him at 6'2" based on this photo. His large hair is giving him a slight boost and I do not see 7" between the two.
Ian
said on 30/Jun/08
He looks 6ft 1-2 here. Maybe he isn't standing straight. I guess he could be 6ft3 if he stands straight.
[Editor Rob: he's 73 in this photo, he looked near 6ft 2 nowadays. And a very very eccentric 'dazed' but 'is he really putting that on' kind of personality.]
runt
said on 30/Jun/08
i don't quite see 7"
D-Lurker
said on 26/May/08
Steve says: "Had a girlfriend who smelt of chocolate, then she stopped working at the chocolate factory, so I dumped her, the silly cow!
Lovely guy."
That gave me the biggest laugh of the morning, thanks for sharing that!!
"
Steve Rose
said on 14/Mar/08
I met Tom Baker a couple of times on the way to London on the train; he is a larger than life personality. It was in the late 1980
D-lurker
said on 22/Jan/08
I can't stand the latest doctor..I thought Christopher Eccleston was Brilliant, this new one is a tad Daft..I remember feeling colin didn't quite have the charm of the 4th and 5th doctors, but still enjoyed it....didn't think much of the seventh doctor..
[Editor Rob: this guy is very eccentric in person, whether he's coming or going I don't know if he even knows.]
Ted
said on 11/Dec/07
I think Davison was one of best Dr who's and he predated the modern version, people now seem to want a young good-looking doctor. Not an older eccentric one.
Bill
said on 4/Jan/07
In his autobiography he said that his years as a monk in the monastery gave him a permanent stoop (praying, being humble not standing out et.c) so perhaps he could have been taller than 6-3.
TNTinCA
said on 27/Feb/06
Agree with the height and I agree with Richard's assertion. Tom Baker was, hands down, the best of all the Doctor's.
Incidentally, I just heard that the SciFi channel is bringing back Doctor Who into a regular television series. If they do as good a job as they did with Battlestar Galactica, us 'Who Heads' might be in for a treat. :-)
CelebHeights Editor
said on 20/Feb/06

1982 Eye of Horus interview:
"I'm six foot three"
Richard
said on 16/Feb/06
I think he looks this height, very accurate listing.
This might be besides the point but I consider him to be the greatest Dr.Who ever.