Tom Wopat's Height
5ft 11 (180.3 cm)
Peak height was 6ft 0 (182.9 cm)
American actor, best known for playing Luke Duke in The Dukes of Hazzard. In film he appeared in Jonah Hex and Django Unchained. His official website listed him at 6ft 1, an earlier TV superstars book from the 70's listed him 6ft. In this photo I was wearing
Clarks Boots
, whilst Tom's footwear was quite similar in thickness.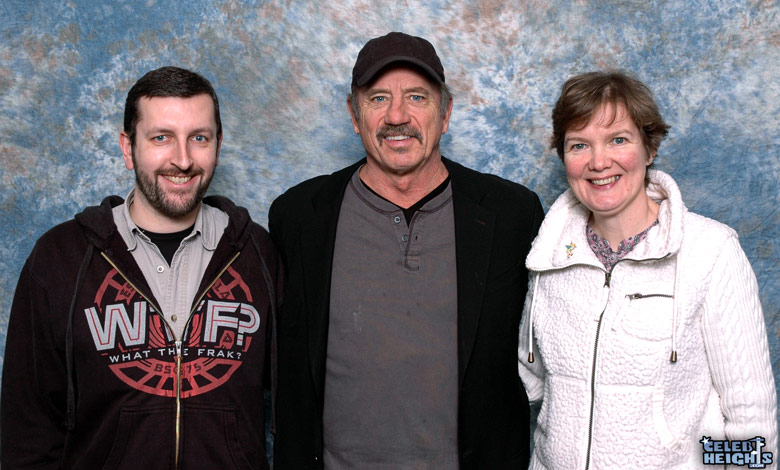 5ft 8 Rob and Tom @ Collectormania London, 2010
You May Be Interested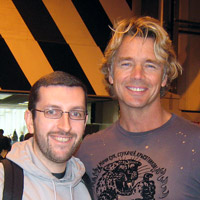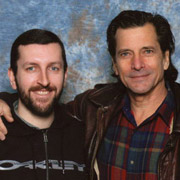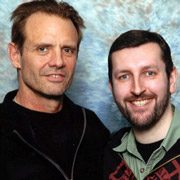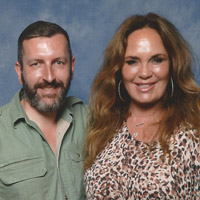 Add a Comment
60 comments
Average Guess (14 Votes)
Peak: 6ft 0.11in (183.2cm)
Current: 5ft 10.86in (180cm)
LexiAD
said on 4/Sep/19
Perhaps his peak height was a fraction under 5ft11 but now he's barely 5ft10. He's wearing a cap and he still looks roughly the same height with Rob in this pic. Rob says he's 5ft8 and that he and Tom Wopat are in similar footwear so Wopat is 5ft10 in shoes and a bit below that barefoot. John Schneider must be a bit less than 6ft3, arguably around 6ft2, nowadays.
Christian 6'5 3/8"
said on 16/Nov/18
Could be a fraction under like 5'10.75"
Nik
said on 12/Nov/18
He looks 5'11" much more compared to Rob!
Nik
said on 13/Jun/18
He may scrape 5'10.75"!
Anonymous
said on 1/Sep/17
looks exactly that in the photo
Whatdidthehandsaytotheface
said on 3/Aug/17
He just got arrested for groping and cocaine possession. ......Come on!!!! he's just a good ol boy never meanin no harm. I guess that was just a little bit more than the law would allow.
Yournie
said on 16/Mar/17
He is tall
Keithg
said on 8/Jan/17
Solid 6 foot
S.J.H
said on 29/Oct/16
5'10.25 now and 5'10.75 peak
NBAer
said on 11/Mar/16
Certainly looks 179 range next to Rob,but could be close to 180,so 5'10.75 seems fair to me.
Anonymous1
said on 11/Apr/15
I me and stood right next to Ben Jones, who plyed Cooter, at a car show, about 11 or 12 ears ago. Jones would have been just past 60. I'm 6 even. He wa, to my surprise, easily an inch and a half or more shorter. Yeah, he as 61 or 62. But, people, generally, don't lose inches by that age. But certainly, he was no 6'1 on the Dukes, or 6'3 as his official height says. It made me call into question the official heights of all other actors on the show, from Schneider, to Wopat, to Best and Hurst (sometimes listed as 6'5). Jones never looked that much shorter than those guys...if even shorter, at all (In some cases).
Brad
said on 18/Nov/14
As listed. Back as Luke Duke in that TV commercial with Bo and the G-L 01.
Rampage(-_-_-)Clover
said on 17/Nov/14
It's just funny, that's all. I'm sure there's plenty of fools arguing 5ft11 for Stallone on those old boards.
Rampage(-_-_-)Clover
said on 15/Nov/14
Rob you should have a celebheights archive of all the old listings and comments. It'd be a real laugh to look at what the general consensus was 8 or so years ago!
[Editor Rob: I like the immediate discussion, I have databases saved from certain points should anyone in the future ever want to try to reconstruct a 7 year conversation of say Sly's page...might take 2 weeks to read it though]
Sam
said on 4/Nov/14
Saw him years ago onstage in Glengarry Glen Ross and he looked a bit sub-six feet then. Rough estimate from memory, he was more than an inch under Jeffrey Tambor, maybe 2.5 under Alan Alda & Frederic Weller and maybe a bit more than 3 inches under Liev Schreiber.
Rampage(-_-_-)Clover
said on 26/Oct/14
Wasn't he listed 6ft1 here once upon a time, Rob?
Lee Whit
said on 3/Oct/14
You should add James Best(dukes of hazzard) also was in Hooper with Burt Reynolds. I think he was a bit over 6' i would estimate.
Emil 182.5 cm
said on 4/Sep/14
Kat says on 7/May/13
I can't believe Tom has gone from 6'1 to 5'11 he's shrinking.
You dont say, brethren
Mike
said on 31/Jan/14
I would put Tom Wopat at 6'1. He was the same height as Denver Pyle and James Best on the Dukes Of Hazzard.
Connor 184cm
said on 9/Nov/13
Tom looks exactly bang on 5ft 11 flat, would be nice to see more 181-2cm guys in a photo with you rob?
Viper
said on 13/Oct/13
5'11 looks about right. He was never 6'1 or 6'0.
lelman
said on 7/Oct/13
Looks 179-180cm, weak 5'11". Could see 6'0" back in the day.
RandomHuman
said on 22/Jul/13
I got to meet Tom Wopat at one of his shows and I would say he was an even 6'0". I'm 5'7" and he was pretty significantly taller than me.
Rampage(-_-_-)Clover
said on 20/Jul/13
Looks 181-182cm with the hat. Plus he has 1in more sneaker.
About 5"10.5"(179cm) max today. The peak height is questionable aswell.
Yaspaa
said on 27/Jun/13
The guy was never 6'1 or 6'0, always looked at least 3" shorter than Schneider.
Kat
said on 7/May/13
I can't believe Tom has gone from 6'1 to 5'11 he's shrinking.
Mark
said on 19/Feb/13
...I don't know if Ben Jones is on this site (Coter), but I always thought he was right up there with all these other Dukes stars listed as 6'1 or so. I met him ten years ago. Super, super nice, but I'm 6 even and would put him at 5'10. Whatever stars are listed as, on various other sites or magazines, is rarely the case.
Dmeyer
said on 9/Dec/12
Legit 5'11 CAN give 181cm impression in thé photo probably Dosnt drop under 180.3cm 5'11 unlike patrick
Elijah
said on 20/Nov/12
Looks like he would be Miley Cyrus' father. LOL.
Danimal
said on 10/Aug/12
He's lost a solid inch since his peak. You can see it in his neck. He seems hunched forward in the neck.
brandys
said on 27/Jan/12
Rob, does anyone not know they are being pictured for their height in all this?
[Editor Rob: If someone like Mamun can go and tell Leno about this site and then leno goes and pulls a big lean for a photo, you can see why sometimes an actor might 'spoil' your photo.

of course seeing as the site has been (compared to other 'celeb height' sites) mentioned a number of times in magazines, radio shows etc, it's not unheard of that some actors know about it ;)
]
LG69
said on 27/Jan/12
Max 5'11", min 5'10.5"
ChiasmataX
said on 23/Dec/11
This is what a legit 180.34cm or 5'11 guy should look like with you Rob. You should do a stadiometer comparison with Brian Austin Green and this guy. BAG will be shorter than him no doubt.
ChiasmataX
said on 12/Dec/11
He raised his head up a little in the picture which made him looked taller than 180cm. He's about 180cm spot on. A 178cm dude would've had eye-level across the middle forehead of Rob and Jenny (173cm).
Rampage(-_-_-)Clover
said on 14/Nov/11
In the pic he's 5"10.25(178cm)...
Mathew
said on 9/Nov/11
He looks like he could be a little over 5'11" to me in the pic. Not much over it though.
Rampage(-_-_-)Clover
said on 11/Sep/11
Actually take away the hat and he's 5"10(178cm) max if not a wee bit shorter.
Peak height was 5"11.5(182cm) and today is 5"10.5(179cm).
Can't believe he was once listed here as 6"1.
jake
said on 12/Aug/11
Same difference here as between Charlie Bewley and Rob. He's 5ft10.75 now, near 6ft at peak.
Mr. R
said on 3/Aug/11
I met Tom when he was on Broadway a while back. Rob is right...he is 5-11.
Greg Stephen
said on 2/Aug/11
look near 6'
Legend
said on 22/Jun/11
5'10?
[Editor Rob: he didn't look 5ft 10, nor 6ft to me.]
Rampage(-_-_-)Clover
said on 13/May/11
Potentially a shade over 5"11 with better posture in the pic
Matt
said on 30/Apr/11
Rob, does this guy have a very high eyelevel or something?
[Editor Rob: in that shot his eyelevel is smaller than mine. Is he raising his eyelevel a little, yeah maybe a fraction.]
James
said on 24/Apr/11
Yeah actually he does look 180cm with rob.
rob just curious are you standing as straight as tom because he seems to be standing with almost army posture next to you and jenny.
Van
said on 19/Apr/11
How can you list as 5'11" for him, Rob? He's clearly 5'10" max in this picture.
[Editor Rob: he looked the height here, 5ft 11]
Steve
said on 15/Apr/11
I met John Schneider at the Cleveland AutoRama years ago, and he was a legit 6'3". On the Dukes, he looked a good 3" taller or so then Tom Wopat, so I would think Tom was around 6'0" in his prime, or close to that, maybe even a little under 6'.
Brad
said on 14/Apr/11
5' 10.5". Wore big boots on the Dukes.
Linetoot
said on 13/Apr/11
I'd say he's more 5-10.
SAK
said on 13/Apr/11
180cm seems a little too strict, he could be 181cm.
James
said on 13/Apr/11
rob did he have footware advantage over you? He does not appear over 5'10 (178cm) to me in the photo even less if he had footware advantage.
Maybe
5'11 (180cm) peak
5'9.5 (177cm( today
Matt
said on 13/Apr/11
Lol, 5ft 8 and 1/8th jenny? do you think she has lost 1/8th of an inch with age?
patrick
said on 13/Apr/07
He looked more in the SMALLVILLE 5th season 6th episode "exposed" where he seems to be 6'1; I am sure they managed to make look so, by respect toward the "dukes" vet he will remain for ever;
I'll add just he is much better looking now than younger; I also find John Schneider much interesting now than with his teenage angel face!
Glenn
said on 2/Aug/06
I heard 5-11.but agree more 6ft.
Viper652
said on 2/Aug/06
Always looked 6-0 max on Dukes. Could be 5-11 but probably not. John Schneider had 2-2.5 inches on him.
sf
said on 8/May/06
Rob - did you realize you've got Wopat on this site twice? Also, I really don't trust these books - mine has Tony Danza at 5'11", which, of course, is probably 3 inches too high...
[Editor Rob: 2 wopat's? Thanks, I'll delete the taller version...some of the heights in these books are of course way off (the worst are robert blake 5ft 9 and Linda Carter 6ft), but a lot are close to what I'd estimate them aswell (fonzy 5ft 6.5, Travolta 6ft, majors 6ft etc). They are useful for showing heights that were around before the web. You see, on some websites (no name given ;-) ) it won't state where a height comes from, be it a quote from an actor, a mention in a magazine, a guess by someone, a publicity agent or a book.

Many of them in those books will be from agents though, so a proportion of them are naturally inflated.]
Glenn
said on 5/Mar/06
Hmm.I saw 5-11.
Mr. R
said on 28/Feb/06
At this point, 6 foot is right.
6' & 18
said on 25/Feb/06
i think 6' is bang on right personally, but I guess we could let him off with an extra half inch.
Glenn
said on 24/Feb/06
I thought 5-11 when I saw him.I could be wrong.
D. Ray Morton
said on 23/Feb/06
I met Wopat last year at the Glengarry Glen Ross previews. I'll second that 6'.