The 28th Prime Minister of Australia, from 2013 to 2015.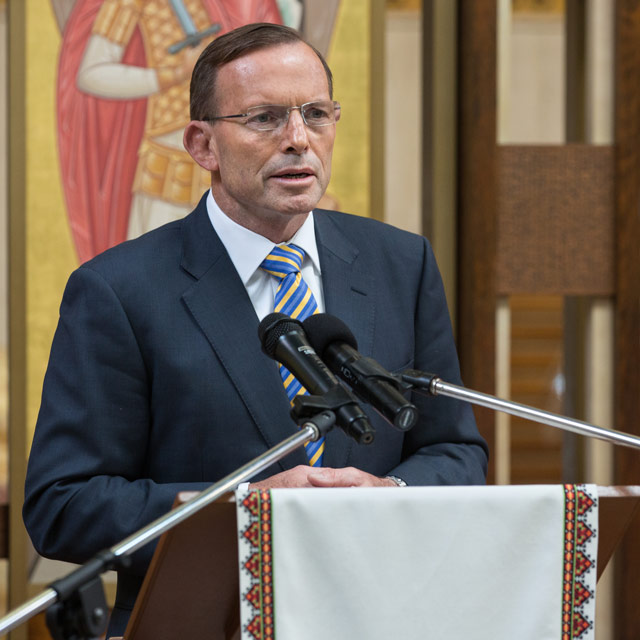 Photo by palinchak/BigStock.com
Gerald S
said on 7/Sep/23
Rob, what height might you give former Australian PM, Scott Morrison? He is typically listed as 5'11.5".

Editor Rob
At least that height, would have thought he could be almost 6ft
Gerald S
said on 28/May/23
Rob, do you think Australia's current Prime Minister, Anthony Albanese, could be a touch taller or shorter than Abbott? No doubt they are in the same height range.

Editor Rob
From a brief look at what's available, either could look taller, so it may turn out they are closer in height.
Sinclair
said on 21/May/22
Rob, I hear Australia has a new prime minister, Anthony Albanese. Can he please get a page? He's listed 5'10" and looks 5'10" like Abbott. I know next to nothing about Australian politics but I have a feeling Albanese may remain in power for quite some time. He looks like a respectable and long-lasting kind of leader.
w/Abbott
Click Here
w/Abbott
Click Here
w/Russell Crowe
Click Here
w/Crowe
Click Here
w/Crowe
Click Here
Miss Sandy Cowell
said on 4/Nov/19
It was Tony Abbott's Birthday today and he turned 62. I hope he had a good, kick-free time!
👢🌰🥜......❌
🎂🎁🍻......✔️
Mr Abbott can have a Birthday guess of 5ft9.75. I'm agreeing with the average as he is now in his 60's, and shrinkage has more than likely occurred by now.
Tunman
said on 14/Apr/18
Looks taller than 5'9 unless he wore lifts.If Abe is 174 then definitely 5'10.Also with Hollande,he looks like 8cm taller at least but Hollande could very well be 169 in his early 60's.Not under 177 for sure.
Strange that the article gave him 5'9 as they often overestimate heights,must have been simply to underline that many world leaders are unimpressive in height terms.
Not very familiar with Australian politics,do people dislike him that much?
Sandy Cowell
said on 30/Mar/17
He looks as though he's just been kicked in the nuts!
If he hasn't, that can easily be arranged!
🙋 👢👟👟👞👞👠👠👡👡 👍
Mr X
said on 5/Oct/16
Met him the other evening. I'm about 5'10 and he was roughly half an inch taller than me. 5'11 out of bed I think.
Dave178
said on 18/Sep/15
How tall do you think his successor Malcolm Turnbull could be? He looks slightly taller than Abbott, so maybe 5'10" 1/2 - 5'11" ?

Editor Rob
from a quick glance they actually look similar height range. Maybe in video footage together he could appear taller than Tony.
Anon
said on 15/Sep/15
Er, he is now the former PM.
anonymous
said on 30/Aug/15
There was an article saying he was 175
Click Here
Do you think that's just a guess at his height Rob

Editor Rob
yes it's just a guess, you can see
Abbott with Francois Hollande
who that chart has at 5ft 7 and also
Abbott with Shinzo Abe
who the Daily Mail put down as 5ft 10.
it of course doesn't add up, Abbott is more than 2 inches taller than Francois and taller than Shinzo
Chase Witherspoon
said on 2/Aug/15
A colleague had a photo taken with him at night and thought he looked 5'11" (wearing RMs which have a 3.2 cm heel - I wear these too)... so 5'10" flat seems likely.
185cm
said on 17/May/15
yeah 5'10 is reasonable. it's a shame he's such an incompetent prime minister though
MD
said on 14/May/15
The more I see of him with 6'1.25" Prince Harry, the more I wonder if 5'10" may be a bit generous? I'd originally thought him 5'11", but that's completely out of the picture.

Editor Rob
at times he can look a bit under this mark, but I think around 5ft 10 is ok, he can look a good 3 inches under obama I feel.