William Zabka's Height
5ft 11 (180.3 cm)
American actor best known for playing Johnny in The Karate Kid, Back To School and Just One of the Guys. On TV he had a role in The Equalizer.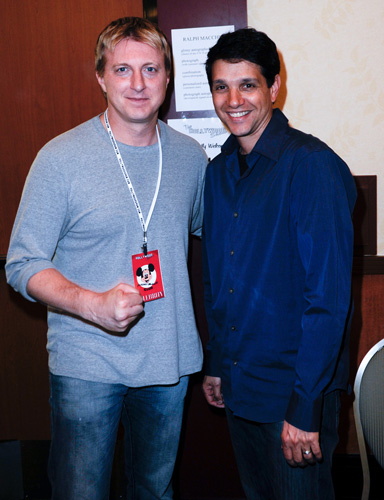 William with
Ralph Macchio
Photo by PR Photos
Add a Comment
22 comments
Average Guess (21 Votes)
5ft 10.52in (179.1cm)
Danimal 5'9 3/4"
said on 6/Aug/19
This picture was just taken and posted on reddit's Cobra Kai page. I asked the guy personally how tall he is and he stated he's 6'3.5". Here he is with William Zabka. Take into account, Zabka is 53 years old now and it's possible he's 0.5" shorter than he was 30-35 years ago. Anyway, I see him very close to 6'0" with this 6'3.5" guy from a few days ago:
Click Here
Danimal 5'9 3/4"
said on 6/Jun/19
William with 5'10" Vanessa Rubio:
Click Here
William with 5'8" Xolo Mariduena:
Click Here
William with 5'8.5" Chad McQueen:
Click Here
Amit Jha
said on 31/May/19
I got to admit Danimal has some pretty damning evidence. Ya I'd put him now at 5'11"
celebheights lover
said on 29/May/19
hey rob, huge fan of the site!
just wondering how tall solo mariduena is, like in feet and inches?
cheers.

Editor Rob
Could be 5ft 8
heightdude
said on 13/May/19
Hey Rob, how tall would you say Xolo Maridueña from Cobra Kai is?

Editor Rob
He seems average range
Danimal 5'9 3/4"
said on 1/May/19
William is bare minimum 5'11". Here he is with Hulk Hogan (and Martin Kove who has lost a lot of height):
Click Here
Here's William with 5'8" listed Xolo Maridueña (teen actor from Cobra Kai):
Click Here
William in the 80's looking taller than 6'0" listed Edward Woodward:
Click Here
William with several inches on Robert Downey Jr. in the 80's and he's not even standing straight:
Click Here
William looking 3" taller 5'9" Ralph Macchio):
Click Here
(yes, there are picture where Ralph looks closer to 2" shorter at times).
William is bare minimum 5'11" Rob.
slc
said on 7/Apr/19
If Macchio is, in fact, 5'8.5" (which he does look in the photo with you, Rob), Zabka looks approximately 5'10" here. His posture is a tad straighter than Ralph's. Of course, we can't see the footwear...
Danimal 5'9 3/4"
said on 26/Mar/19
No, just no. Ralph Macchio is bare minimum 5'9" (taller in the morning). William is at least 5'11". He lists himself as being over 6'0".
Benny
said on 30/Aug/18
6'0" next to 5'10" Macchio
DanTheGuy
said on 9/Jul/18
Only looks an inch or so over 5'8.5 Ralph Macchio these days. 5'10 - 5'10.25 these days. 5'10.5 would have been max for a peak height. 1/4'' loss is pretty common for 50's
MrTBlack
said on 15/Jun/18
@Campbell
Kove is listed here as 6'0".
Frank R
said on 27/Jan/18
Billy Zabka "looked taller" standing next to the 5'8" Keith Gordon in 'Back to School'.
Rampage(-_-_-)Clover
said on 2/Jun/17
I used to believe he was 6ft1!
bob
said on 27/Sep/16
i think he had increased his height a bit at 18
charlie
said on 22/Mar/16
I have to say he is 5 feet 8 inches flat feet and in shoes yes maybe 5' 9" or 5'10" in shoes.That would make perfect sense putting Ralph Macchio's height at 5'6" flat feet and 5' 7 to 5' 8" with shoes. There is no way he is physically 5 feet 10 inches. Not to mention every where on the internet shows his height to be 5' 8 inches.
campbell41004
said on 11/Feb/16
I don't know why it says everywhere else he's only 5' 8". When standing next to Martin Kove (who's 6' 1") he looks around 5' 10".
Nick22
said on 27/Nov/15
5ft 10.5 is fair for him.
MrTBlack
said on 27/Oct/15
He claimed 6'0" on his MySpace page when it was active but 5'10-5'10.5" sounds more accurate.
the shredder
said on 12/Jun/15
A good 5 ft 10 er
an anonymous peach
said on 10/Jun/15
That half inch can be removed.
Rampage(-_-_-)Clover
said on 28/Mar/15
He looks barely taller than Macchio...
Olay
said on 20/Jan/15
He certainly doesn't look like 6 feet, but under that.