Rockstar Spud's Height
5ft 4 (162.6 cm)
James Michael Curtin is an English wrestler who has wrestle with TNA wrestling and under the WWE brand as Drake Maverick. In a GiveMeSport interview he said
"I'm 5'4", 150lbs and not the stereotype format for what a 'pro wrestler' should look like."
and in 2017
"I am just really confident with who I am, I am a man's man but I am 5ft 4ins tall. It is really strange but I just never had any fear"
. In this photo, I was wearing
Converse
, whilst Rockstar's footwear wasn't much different.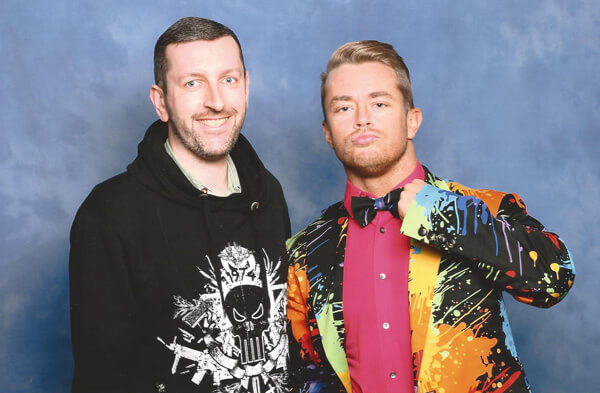 5ft 8 Rob and Rockstar @ Collectormania 2014
You May Be Interested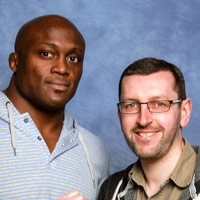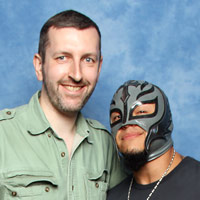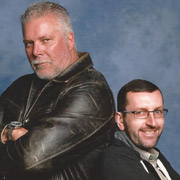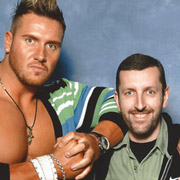 Add a Comment
24 comments
Average Guess (24 Votes)
5ft 4.23in (163.1cm)
Littlelee5ft6
said on 13/Sep/19
It's funny if you tilt your phone to the right when looking at the photo he suddenly looks a full 4 inches shorter than u rob but when you have the phone upright he looks only 2 inches shorter
Christian 6'5 3/8
said on 20/Jan/19
@Rob
You should fix the pic then. Same thing with the pic with Steven Seagal.

Editor Rob
If you notice, at this event I asked Giles (the photographer) to take all photos in portrait (Stephen Marcus, Rusty Goffe, Bruce Grobelaar, Socal Val, Anneke Willis, Martin Klebba,Freema, David Haye, Kerry Ingram)....except this one, because sometimes it is interesting to see how height can be reduced.

Tunman
said on 18/Jan/19
Funny I don't know why but he gives me the impression he could be more a jockey than a wrestler,really something strange about him.Looks near 5'6 but I doubt Rob would underestimate him by 2".

Editor Rob
There's near 8 degree tilt on that photo favouring Spud.
Camera Tilt
article shows how much you can gain.
Ali
said on 15/Nov/18
Hello Rob,
Just wondering how tall is 205Lives Mustafa Ali if Spud is 5'4 in real life, Ali looks his listed 5'10 judging by this photo.
Click Here
He looks at least 5 inches taller than him and does pretty much tower over Spud. What would you say Rob?

Editor Rob
Between 5 and 6 inches sounds reasonable difference for them.
berta
said on 1/Dec/17
photo seems to be taken from below so the guy can looks 166 cm guy here because of that
Nick
said on 13/Jan/17
If Spud is 5'4 then Damien Sandow is definitely every single cm of his 6'4 billing right?
Click Here
Y2A
said on 30/Mar/15
Click Here
Rob, I'm curious, my photo with Shauna Macdonald looks like it may have been subject to the same tilt that we see in your photo with Spud. Does this happen often with shoots at SM events?
[Editor Rob: is it the guy with black hair who took them at NFCC? His name is Giles. I only took the photo with Spud as an example to show how you can reduce height. Normally we take them vertically (portrait) - because sometimes he might tilt the camera, although sometimes he doesn't...it can depend also what side he is standing beside the spotlight he uses, that might add/take some height!]
TJE
said on 22/Mar/15
Tilt your screen to the right side everybody!
The shredder
said on 21/Mar/15
He looks over 5'5 but not much
Kourosh
said on 20/Mar/15
Rob dont be angry with me i just stated my opinion base on the picture and i was not the only one who thought he could be taller than 5'4. Well, they are people who downgrade their owns heights although they are not as many as those who upgrade theirs.
Thanks for your explanation.
[Editor Rob: I'm not angry, I asked the photographer to take it this way...simply just to remind people that you can reduce height differences with angles and position of camera.
Normally I ask him to take portait shots.]
CD
said on 19/Mar/15
Even with the tilt only looks 5ft 5
Kourosh
said on 19/Mar/15
This is not 4 inches difference. he is well over 5'4. I put him 5'5 or 5'5.25
[Editor Rob: see the problem with rotation and camera positioning? You can fool people, because you disbelieve his own 5ft 4 claim (in person he looked this - see the height challenge girls at 5ft 5 and 5ft 5.2? Both an inch taller than Spud in person)...
He's the same height as Sylvester McCoy, check my recent photo with McCoy...Spud is that guys height...
This Spud photo has the photographer angling the camera to reduce height difference, plus he has military posture, I don't.
Here's a useful pic showing how much a 4 degree or 8 degree tilt can have on the same image,
Click Here
. 4 degrees gives near 1 inch...with a flat canvas background there are many cases where 1-4 degree tilts aren't so obvious but can add or take 1/4-1 inch from differences...even more depending on photographer's height or subject heights and even bigger angles.]
nayhole
said on 19/Mar/15
he looks 5'2-5'3 on tv.
Sammy Derrick
said on 19/Mar/15
NOT THE TYPICAL PRO-WRESTLER!!!
5'4 AND 150LBS
Judd
said on 19/Mar/15
5'4" seems right...strange look...XD
Shamrock
said on 19/Mar/15
if you tilt your head to the side slightly before looking at the photo he does look about 5'4" in comparison with rob, taken at face value he looks 5'5 range
[Editor Rob: this is why I normally ask Giles to take his photos portrait (vertical) to reduce camera tilts like 7-8 degrees (this case). An 8 degree tilt can knock 1.5 inches from one person and add 1.5 to another...]
Sam
said on 18/Mar/15
Camera-wise, he can maybe pass for 5'4.5. Whatever camera advantage he has, its not that much if he's looking more just 5'4 flat in person.
MD
said on 18/Mar/15
Yeah, probably not the most accurate photo to use to display his height then, no? Besides the that, though, his arms look ridiculously out of proportion. His head and torso look fairly average, but the length of the arms make him look like a little person; it's weird.
the shredder
said on 17/Mar/15
He looks 5 '5 to 6 in the pic , I am glad Rob is using this as an example of tilts.
Height183
said on 17/Mar/15
Nothing more than 5'4''. You can tell he looks taller because of the camera.
Mathew
said on 17/Mar/15
Does he have a footwear advantage? He looks over 5'4" flat here to me.
Vegas
said on 17/Mar/15
seeing him on tv i would have assumed shorter than 5'4 but he easily looks it in this shot if not a little taller.
[Editor Rob: this shot I asked Giles to take landscape, I wanted to show an example of how you can reduce height between people by being in the right position and using camera rotation (10 degrees here) and downward tilt.

My eyes in reality are above his hairline...
]
miko
said on 17/Mar/15
Is he on one foot here Rob?
[Editor Rob: no, it's all in camera advantage.]
the shredder
said on 17/Mar/15
Tip Toes ? He looks weak 5'6
[Editor Rob: see what I said to Vegas, he is 5ft 4 in person like he says.]