Aidan Gillen's Height
5ft 8 ½ (174 cm)
Irish Actor famous for original Queer as Folk tv series, more recently in tv series The Wire and Game of Thrones. In film he can be seen in The Dark Knight Rises and Shanghai Knights, The Darkling. His agency resume lists him
175cm
and 10stone.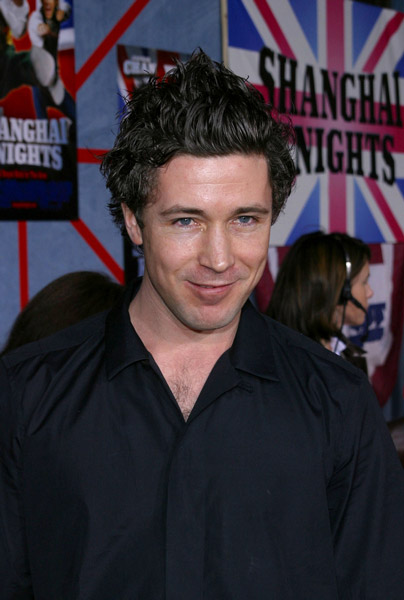 Photo by PR Photos
Add a Comment
41 comments
Average Guess (19 Votes)
5ft 8.32in (173.5cm)
Jkiller
said on 20/Feb/20
Saying he is 5'7 is a joke, he's atleast 5'8. I'd put him at 173.5cm
Miss Sandy Cowell
said on 19/Feb/20
The contrast in Aiden's acting performances in 'Wake Wood' and 'Blitz' is quite amazing.
In the first film, you see Aiden playing a sensitive and bereaved father, who is a lovely husband to his wife. In 'Blitz', he is anything but personable, as he goes about killing members of the police force, including women. It's hard to believe that it's the same actor playing these parts!
I had a good look at him while watching 'Wake Wood' last night and reckoned on 5ft9 or just under. I see now that he's 5ft8.5, but I think 5ft8.75 is likely for the early afternoon hours. I will settle for 5ft8.5.
truthteller25
said on 14/Dec/19
He is 5'7 max throughout the day at 140 pounds that looks right he has a small man built not an average skinny man built. He was shorter than many people and his shoes were thick and its obvious.
Sandy Cowell
said on 10/Sep/18
Aidan was brilliantly cast as a psychopath in the film 'Blitz', with Jason Statham and Paddy Considine and that same year he was unrecognisable playing a bereaved father in the horror film 'Wake Wood', alongside Timothy Spall.
I found his height online to be 178cm, but I will opt for Rob's 174cm, or 5ft8.5.
robson
said on 21/Jul/17
I think 5'8 barefoot at average is accurate for him, most disturbing thing of course when we see Sophie Turner towering him for about 3-4 inch while they are listed with similar height.Of course Turner usually wears quite high heels so with shoes she can be 6'0, 5'11 easily.With good shoesm he can be 5'9-5'9.5 max so 3-4' difference in pictures seems to be solved.Anyway with his fragile build he really looks like young brat compared to other people.
James
said on 19/Apr/17
Good listing. He's that tall looking 5'8.5" like Gary Oldman
Rick
said on 16/Feb/17
He must have been wearing thick footwear in season 1 of Game of Thrones because he rarely looked more than an inch shorter than solid 5'10 Sean Bean.
T
said on 15/Jun/16
Recently got to game of thrones and obsessed with all the actors was surprised at how tall Sansa was and there is a scene where little finger and Sansa are discussing about leaving on the first episode of season 3 and they are side by side , even from a distance Sansa is taller so the listing with them at same height can't be right ?
Editor Rob: I believe she wears a heel on the show.
Lendal
said on 23/May/16
You can Google up pics at a premiere where 5'9" Sophie Turner is absolutely towering him in multiple side-by-side shots. To the point where, even accounting for her being in heels, Gillen is likely no more than 5'7".
So, Littlefinger is pretty little. But a terrific actor.
Rampage(-_-_-)Clover
said on 13/May/16
5ft8-9 range was my guess...
Marianito10
said on 12/May/16
"Little finger" isn't that little
Duhon
said on 6/Dec/15
CIA said on 3/Dec/15
He is a big guy
For you.
lelman
said on 5/Dec/15
It doesn't matter how tall he is... what matters is his plan
Cee Yaiyay
said on 4/Dec/15
Is getting listed as 5ft 8.5in was part of his plan?
CIA
said on 3/Dec/15
He is a big guy
TJE
said on 19/May/15
Didn't think he'd be downgraded, but 174 is believable. He wouldn't be as tall as Tom Hardy, and would be nearly identical in height to Gary Oldman, if they were to ever meet.
This throws away any chances of Conleth Hill being over 5'9.
Littlefinger
said on 20/Apr/15
What do you think about Aidan Gillen with Jonathan Pryce who's 6 foot?
Click Here
5'8-8.5in looks about right I'd say
shortmen
said on 19/Mar/15
Short men never attracted me, it's just funny to see them with their short leg
Poor
[Editor Rob: be grateful for short men and women...without them you wouldn't exist. ]
Vibram
said on 16/Feb/15
looks 5ft8.5 with 6ft confirmed Robert Sheehan
Click Here
Ian
said on 24/Jan/15
There is no way. Sophie Turner towers over him.
Tunman
said on 20/Jan/15
Just watched Blitz,no way is he the same as 5'9 Statham,he looked near 1" shorter but I could still buy something around 5'8.25-8.5
Andrea
said on 4/Dec/14
O yeah, and Lance is in that zone where he can look 190/1 and 192!
Andrea
said on 3/Dec/14
Yeah, but the fact is that it's only one shot! There are several shots of Aidan and Lance together and Lance does tower him!!! There's no chance in hell Aidan is a big 5'9 guy, if Lance is just 6'2! It's IMPOSSIBLE...
[Editor Rob: he's in that zone where he can look 173/4 and 5.]
Andrea
said on 1/Dec/14
Ok, at some point it becomes quite useless trying to find photos or video to help for a better guess... You can't have Aidan Gillen and Lance Reddick at 5'9 and 6'2! If Aidan is 5'9, Lance is easily 6'3! Of course, it's your site and you can even have Aidan at 6'8 if only you want... It kinda reminds me of what happened with a Dave Annable or a Kim Coates, after showing you some pics where they look nowhere near their listings...
[Editor Rob: remember it's all still a guess. Nothing is ever proven unless measured, aidan can look anywhere in 5ft 8-9 range, 5ft 8.5 might be a best shout, I will keep an eye on him.]
Andrea
said on 30/Nov/14
5'8.5 is still a stretch but not 100% impossible... 5'9 is ruled out with Lance at only 6'2! I'd say no more than 5'8 next to him! I rarely use the word "tower" but in this case you can safely say Lance towers him, 5'8.25 is the most you can argue, IMO.
Andrea
said on 30/Nov/14
Nothing... If you don't trust me see The Wire (which is btw a great show). Lance literally towers over him (by at least 5.75-6 inches i'd say)!
[Editor Rob: 5ft 8.5 is a possibility ]
Andrea
said on 29/Nov/14
If Lance Reddick is only 6'2, you can certainly rule out anything over 5'8.5 for Aidan (and i'm being very very very generous because he looks nothing over 5'8 next to him, to be fair)! 5'9 is possible only in shoes! Rob, downgrade him if you wanna be coherent!
TJE
said on 25/Jul/14
Put a little more thought into this one. I think he's somewhere between 174 and 175. Like 5'8.75.
TJE
said on 22/Jul/14
Also, take a gander at this pic of Gillen with Conleth Hill on GoT
Click Here
TJE
said on 20/Jul/14
Can't see this guy as the same height as Tom Hardy. 5'8.25-8.5 is a better range for him.
Andrea
said on 13/Jun/14
Rob, here three interesting shots with Lance Reddick on The Wire:
Click Here
There are other scenes and he always does look way shorter than Lance... Could he be closer to 5'8? He struggles to look 5'9 with him!
[Editor Rob: he can look anywhere in 5ft 8 to 9 range.]
Jack
said on 8/Jun/14
Looked shorter than Sophie Turner in GOT. 5'9" max.
A Big Guy
said on 6/Jun/14
He ain't no big guy.
Bakura
said on 26/Aug/13
Click Here
How tall would you estimate Conleth Hill, Rob? I'd say 5'10 as he always looks a solid inch taller than Aiden.
[Editor Rob: I think on the show they are pretty close, maybe 5ft 9-9.5 range.]
Balthier
said on 30/Oct/11
He looks about the same height as Sean Bean...or a little shorter. so 175 might be right.
Hullywood
said on 18/Oct/11
Cant belive this, in "blitz" with Jason Statham, Statham stood in front of him and look easy 5cm taller.
Click Here
Sure, Statham has shoes on, Gillen not, but Statham looks taller.
Wirefan
said on 30/Nov/08
He' shorter than almost everybody in "The Wire"
Anonymous
said on 7/Nov/08
He is at least 5'10 beside Jackie Chan he's more than a inch taller than him.
Anonymous
said on 6/Oct/08
I will say 5'9.5 tall.
Anonymous
said on 3/Oct/08
I met him a couples of days i am 5'8.75 (172 cms) and he was a bit taller than me nearly 5'10(176 or 177 cms seems possible)but not a full 5'9.
J.
said on 14/Jun/06
Listed here twice. One as 5'9", the other as 5'10". Which one is it? ;-)
[Editor Rob: ok thanks, pick the height he declares on his cv ;-0]