Alice Eve's Height
5ft 5 ½ (166.4 cm)
English Actress best known for roles in movies like She's Out Of My League, The Decoy Bride and Starter for 10.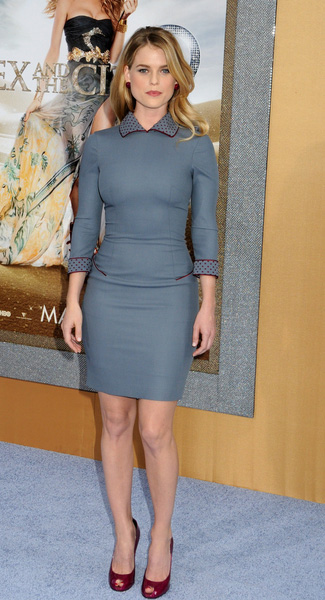 Photos by PR Photos
Add a Comment
32 comments
Average Guess (6 Votes)
5ft 4.88in (164.8cm)
Fezz123
said on 24/Apr/20
Isn't above 5'5". Very beautiful gal.
Miss Sandy Cowell
said on 6/Feb/20
💐🎂🎁🎈 Happy Birthday Alice! 🎈🎁🎂💐
Congratulations to Alice Eve on turning the beautiful age of 🌠38🌠 today! I recently saw her in a Christmassy horror film on the Horror Channel, and she has a great figure and could pass for taller.
5ft5.5. 😁👌🎉
💐🎂🎁🎈💐🎂🎁🎈💐🎂🎁🎈💐🎂🎁🎈
James B
said on 22/Aug/17
A bit overrated in the looks department if you ask me.
Someone like Rachel Weiz I think is more beautiful facially.
Alex
said on 18/Mar/17
She always comes across as a 5'4-5'5 type of gal, at least to me.
Balrog
said on 5/Feb/17
She is stunning.
Eva
said on 2/Jun/16
Click Here
I think Alice is about 165 cm and Amber 167 cm
J.Lee
said on 30/Sep/14
Rob, how tall is she in those heels above?

Editor Rob
they do look a high angle although not that big a front, probably very close to 3.4-3.5
Sam
said on 19/Aug/14
One of the best bodies on a modern actress if you ask me. Accurate listing I think.
linke
said on 30/Sep/13
Would have guessed 5'4-5'5 tops. Jay Baruchel looked pretty tall compared to her.
Len
said on 18/May/13
Curvy girl, looks 5'4" or 5'5" in most things, tops.
Alice5-2
said on 9/Jan/13
I've always thought she was smaller like 5'3...
Justsomedude
said on 5/Dec/12
She has nice curves
Paige
said on 8/Jun/09
I'm 5'11" and when I met him at farm-aid, looked more 5'6", but could be wrong
glenn
said on 5/Feb/09
5-7.in boots above.but bruce is 5-9 to 5-10.more on the 5-10
Brad
said on 5/Feb/09
5' 7". Notorious boot & heel guy like Bruuuce. Looks short in anything.
jim
said on 4/Feb/09
You have him too tall. Even 5'6" would be pushing it with John.
mark
said on 26/Sep/07
I was standing right next to Mellencamp in a Bloomington, Ind., restaurant a year ago. I'm 5-7 and I was looking down at him slightly. In my book, he's 5-6, maybe even shorter.
glenn
said on 11/Jun/07
cowboy boots.
Derek
said on 11/Jun/07
Glenn- Does John have an advantage in pavement or footwear? He looks slightly taller.
Anthony
said on 14/May/07
I think he's 5'7 at a max, personally. In the video for "Authority Song" I myself thought he looked 5'6-ish.
Brad
said on 1/Apr/07
Meet Tommy Lee....he's the coolest.
Anonymous
said on 12/Feb/07
I met john last week in front of the hotel in NYC he was staying at.I stopped the truck and yelled yo John,Whats up?He turned around and I asked him to shake the hand of a working man,He did and asked how I was.I have met countless celebrities,But Mr Mellencamp was without a doubt the coolest real american dude I have ever met.Personally I thought he looked better than ever.So john thanks for making my day here in NYC
Regus
said on 14/Sep/06
Yeah. Cougar is my height, more or less.
Brad
said on 11/Aug/06
5' 7" when I met him. He's starting to look old. The punk-kid is still in him but not outside.
Danimal
said on 7/Aug/06
American Girl, Refugee and You Got Lucky are 3 great old tunes by Petty.
Glenn
said on 5/Aug/06
Most of the times it boots.I saw him in dress shoes plenty of times too.5-7.Im a fan.like the first 3 or so petty lps.not much after.depends on how straight stands on those boots and some heels are only 2 inches.
Danimal
said on 5/Aug/06
Hey sorry Glenn, if he was wearing Cowboy boots, which can give up to 3", then maybe he's just 5'7", but with his boots, you guys are the same height, if anything he has a half inch on you.
Danimal
said on 5/Aug/06
He looks 5'8" to me. YOu guys are the same height in that pic Glenn. At least by my account. BTW, I think his music is great. Him and Tom Petty are great at what they do.
Glenn
said on 5/Aug/06
I agree.5-7.saw him too many times.
Viper652
said on 5/Aug/06
Yeah, he looks 5-7.
Anonymous
said on 4/May/06
I was about 10-15 away from Mellencamp and his 5-10 wife (former model Elaine Irwin), and I'd say Mellencamp is definitely around 5-7. He's a short guy, but not ridiclously so.
Glenn
said on 27/Apr/06
He could be 5-7.he is a big cowboy boots guy.

Editor Rob
he wore the boots with you that day, maybe he's not quite then 58