Anthony Montgomery's Height
5ft 10 ¼ (178.4 cm)
American actor best known for his portrayal of Ensign Travis Mayweather in the science-fiction tv series Star Trek: Enterprise. In this London Expo photo he had about 0.3-0.4 inch less footwear than me. On his twitter page in 2011 he mentioned his height, claiming
"I'm 5'11" and change"
.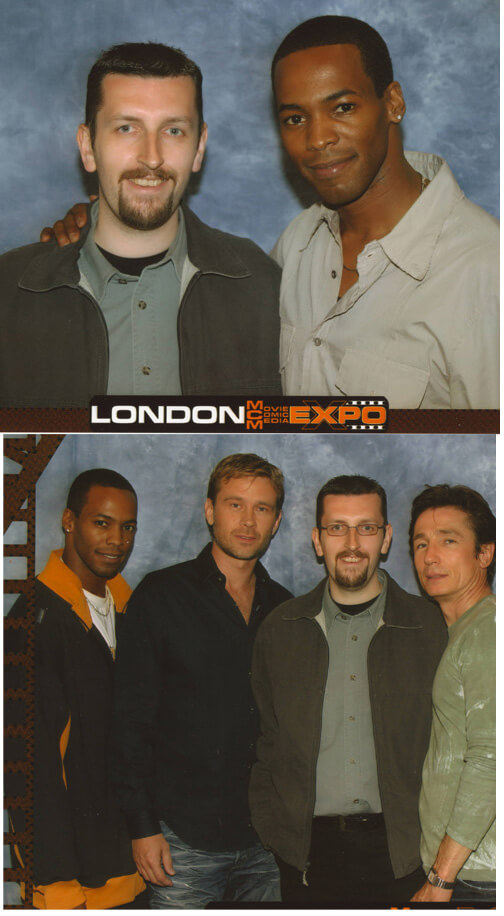 5ft 8 Rob and Anthony
You May Be Interested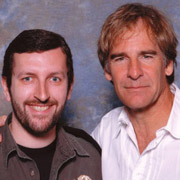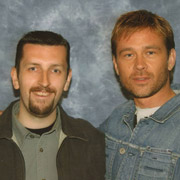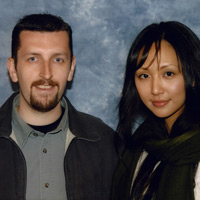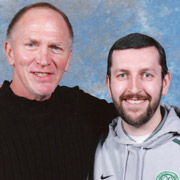 Add a Comment
29 comments
Average Guess (19 Votes)
5ft 9.97in (177.7cm)
Zampo
said on 26/Oct/18
Possibly a solid 5'10, I see him measuring a hair over 5'10 (177.8 cm) flat.
Christian 6'5 3/8"
said on 24/Sep/18
Those who're saying that he looks 5'9" are forgetting the fact that his posture's looser than Rob's. The very worst he can look is 5'9.75", but 5'10" is fine for him.
Monkey knees
said on 22/Sep/18
Inch and half on rob
RedFire
said on 26/Jul/18
He looks to be around 175-76 cm. Yet his head is tilted in the picture.
Christian-6'5 3/8
said on 13/Sep/17
5'10" is the best listing
Charlie
said on 24/Jun/17
He looks 5'9. In the photo's you have what appears to be 5'11 Connor Trinneer is a good 2 inches taller than him in the bottom Photo.When i see the photo's of Rob and Anthony they almost look the same height but their is a small difference.When you look at Connor and Rob in the Box photo you can see a big difference. I say 5'9 for Anthony sounds accurate.
Editor Rob: he's well over 5ft 9 in person.
World Citizen
said on 28/May/17
Looks as listed in the picture above.
Realist
said on 3/Apr/17
A weak 5'10 but he looks 5'12 in every movie lmao!
charlie
said on 19/Jul/16
He looks 5 ft 9 1/4 beside Rob. % ft 10 his head would be touching the top of the screen perhaps a little higher.
Peter 179cm
said on 8/May/16
177cm or just under 5'10 imo considering less footwear and maybe posture.
matheuscore
said on 24/Aug/13
@LG69
I forgot see the commentary of him footwear advantage... he is really 5'10
avi
said on 8/Aug/13
@rob
how much taller do you feel when you are behind someone like this (who has about 2 inches on you) as opposed to facing them face to face.
thnaks
[Editor Rob: I have spent time trying to improve guessing the top of a head/object from my own eyes perspective, sometimes it helps if I think the person's eyelevel is noticeable less/more than mine...]
LG69
said on 28/Apr/13
@Matheuscore, 5'9" is too conservative. The least he stands is 5'10". He does have a footwear disadvantage according to Rob, plus he tilts his head. This guy has 2" over Rob.
LG69
said on 14/Aug/12
5'10.25" is spot on.
anonim
said on 21/Nov/11
like 175 cm
Gil
said on 13/Sep/11
Centimeters aren't inches. Half a centimeter registers as nothing. D :
Rampage(-_-_-)Clover
said on 4/Jun/11
I think 178cm is his maximum...
Rampage(-_-_-)Clover
said on 16/Apr/11
Potentially 179cm in the top pic...
Rampage(-_-_-)Clover
said on 12/Apr/11
177cm-178cm or a weak 5"10 in the top pic...5"9 flat in the group pic
Milky
said on 11/Apr/11
strong 5'9"
SAK
said on 24/Feb/11
Looks 176/177cm tbh
Anonymous
said on 6/Jan/11
Taller than I thought
Anonymous
said on 1/Dec/10
The 2nd picture makes him look 175 to be fair. But the first picture shows him at 177-178...with a 1cm disadvantage I'd put him 178-179. No more than 179 No less than 177.
Samwise
said on 7/Nov/10
He's no more than 177cm,5ft9.75. I agree with Lenad. 2nd picture comfirms this.
James
said on 1/Jul/09
He's slouching a bit. I think he's close to 5'11.
Anonymous
said on 31/May/09
5'10.25" sounds like a fair estimate for this guy.
wacko
said on 3/Jan/09
I'm through with white girls...he's about 2 inches shorte than the white dude...his best friend and he's about 6 foot...so 5'9 is right....great movie...
dmeyer
said on 24/Jun/07
i guess the sloush and 1 cm shoes advantage he looks only 5'9.25
[Editor Rob: I spoke to him again last month, this time he had equal trainers, and looked strong 5ft 10, I give him that now.]
Gonzalo
said on 9/Feb/07
Rob, probably you have mentioned this before in another page, but where are all those pics taken? They are all in the same place, aren`t they?
You are becoming a new Glenn with those pictures next to celebrities!
[Editor Rob: different conventions, london/birmingham/manchester.

Its impossible for me to do what glenn does, I'd have to decamp myself to london. Now if this site ever doubled in size, you never know, I could maybe then afford it!]