Benjamin Bratt's Height
6ft 1 ¾ (187.3 cm)
American actor best known for roles in films such as Miss Congeniality, Red Planet, Traffic, Snitch and TV series 24: Live Another Day and Law & Order, where he played Detective Rey Curtis.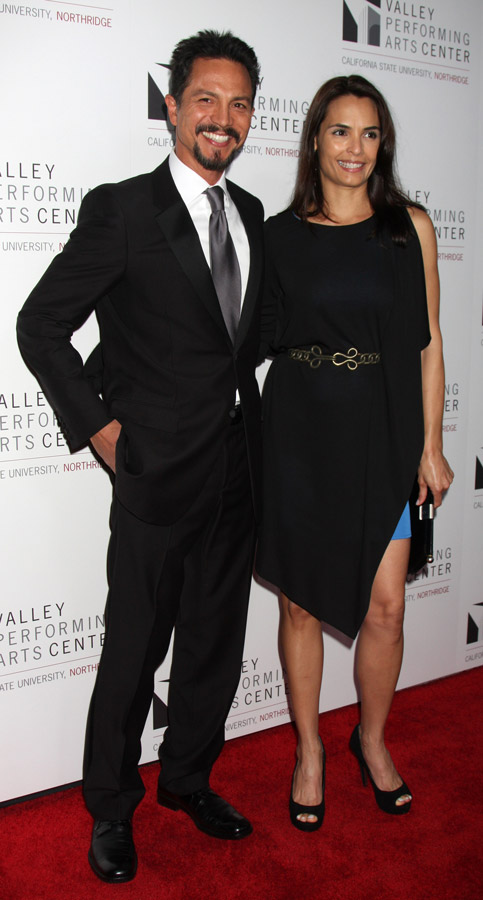 Photos by PR Photos
Add a Comment
47 comments
Average Guess (8 Votes)
6ft 1.28in (186.1cm)
James Grossman
said on 2/Jun/20
Looks not so tall in photos. 6'1.25" MAX. Honestly could be 184-185.
Importer
said on 7/Jul/19
@Rampage(-_-_-)Clover
While I myself have been guessed as high as 6'3 at 182cm...
Rampage(-_-_-)Clover
said on 13/Mar/19
184cm is a joke. This guy easily looks close to 6ft2. Probably gets guessed as high as 6ft3
PD 213
said on 17/Jan/18
S.J.H
Yeah those rumours were true in turn. Rapper Quavo has a pic of him with Ben on IG. Quavo is about 5'11 Ben looks no more than 6'0.5, considering they both have same footwear
Fred84
said on 19/Sep/17
I have found a picture from Movie "Demolition Man". There are Sandra Bullock (170cm), Sylvester Stallone (174cm) and B. Bratt (187cm). What do you think, Rob? Are Sly and B.B. wearing the same kind of shoes? Because - look, Stallone seems to have a huge amount of height compared to Sandra ... and he looks almost same height as B.B.
Click Here
berta
said on 9/Apr/17
willes189 i dont know why.He really looks like he could be close to 6 `2 i havent seen him in that many movies that i can remeber and never really thought he was a big guy intil i looked at photos of him now. i Think he can be somewhere in this range 186.5-187,5
S.J.H
said on 8/Apr/17
I recently heard rumors that he is about 6'0 in real. i don't buy that. I think he is 6'2 with shoes and maybe 6'1 barefoot
Rampage(-_-_-)Clover
said on 15/Mar/17
@Canson: interesting...I personally would have gravitated more toward B, a weak 6ft2
Canson
said on 8/Mar/17
@Rampage: D is what I'd class him as
Willes189
said on 21/Feb/17
Berta
Why did you think that he was 184cm, he looks like a 187.5cm guy to me, maybe even 188
berta
said on 21/Feb/17
i dont get it how i have thought this guy to be 184 all the time.
Anonymous
said on 13/Feb/17
My cousin is about 6'2 and took a picture with him less than a week ago so unless he wearing platform shoes, he has to be over 6ft2 he was a couple inches taller than my cousin.
jessman
said on 25/Jan/17
Looked taller than Jerry Orbach in L&O. Easily 6'2. Maybe he wakes closer to 6'3. No way as low as 6 even.
Andrea
said on 25/Jan/17
He can look anywhere between 6'1 and 6'1.5 in 24...
Willes189
said on 23/Jan/17
He could be 6'2 if you ask me, he looked it in Catwoman
berta
said on 23/Jan/17
really this tall :O i have thought this guy was no taller than 185 . like 184 ore something. but now after looking at photos. maybe he is this tall. bit more chance of 186 than 188
I'm comfortable in my height
said on 21/Nov/16
Why do people here try to give people a height of their comfort? This is a legit 6'2 guy if you ever saw one
Rampage(-_-_-)Clover
said on 7/Apr/16
Rob, which of these would you choose?
A) 190cm/188cm
B) 189.5cm/187.5cm
C) 189cm/187cm
D) 188.5cm/186.5cm
E) 188cm/186cm
Rampage(-_-_-)Clover
said on 21/Mar/16
Still looks near 6ft2 today...
Paleman
said on 4/Dec/15
Always looked an inch taller than the legit 184-185cm (6'0.5-6'1) Ed O'Neill on Modern Family. I think the current listing is spot-on. Definitely taller than just six feet like some people are trying to claim...
Rampage(-_-_-)Clover
said on 12/Dec/14
187-188cm fits.
Hypado
said on 2/Dec/13
6'2
great actor
Arch Stanton
said on 26/Feb/13
He looks legitimately around 6'2", see him next to 5'9 ish Talisa Soto in heels
Click Here
Shaun
said on 23/Jul/11
Looks about 5 inches taller than Talisa when they are both in even footwear. She's listed at 5'10", which means 5'8.5"-5'9". Looks close enough to 6'2" for me to claim it. If Bratt is 187cm then Talisa is about 174cm I think.
Shaun
said on 23/Jul/11
Looks about 5 inches taller than Talisa when they are both in even footwear. She's listed at 5'10", which means 5'8.5"-5'9". Looks close enough to 6'2" for me to claim it.
Big Dub
said on 5/Jun/11
Saw him last night though wasn't able to get right next to him. He looked to be Better than an inch taller than me (over 6' 1" with shoes on) from where I was standing, about 10 feet away from him. His mother is Peruvian and his father English/German.
Rampage(-_-_-)Clover
said on 10/Apr/11
Looks 6"1 flat in Ms Congeniality...but on Law and Order he actually looks close to 6"3 in some scenes
TheVerve180
said on 25/Feb/11
Is he Italian descent?
Midget
said on 23/Jun/09
He towered over a lift wearing Sly-Dog in the movie "Demolition Man" and easily accounted for Wesley Snipes as well. He loked very close in height to Dennis Leary listed here as 6'2" but they never stood side by side for a good comparison though.
Josh.J
said on 11/Jan/09
with morgan freeman and kevin bacon. although freeman is leaning i would say bratt is slightly taller.
Click Here
With keanu he looks like he has a good inch+ on him. not sure about the camera position but if keanu is a legit 6'1" then bratt is at least 6'2".
Click Here
Anonymous KinG
said on 5/Apr/08
he does look 6ft2 in some event.. But looks more like 186cm(6ft1.25) in movies.
aquarius
said on 12/Jun/07
what about benjamin's wife,talisa soto?
Josh
said on 4/Oct/06
He looks more like 6'0 to 6'1 the most, 6'2 i dont think so.
kerry
said on 8/Sep/06
think he more a barefeet 185cm tall..
john link
said on 30/May/06
Is he as tall as Michael Caine in Miss Congeliality?
Frank
said on 20/Apr/06
I work next store of where he lives and i walked past him and im 5ft 11 1/2 and he was taller than me I would say 6ft 1 to 6ft 2
richinkle
said on 21/Dec/05
I believe he's between 6'-0" and 6'-1". I walked by him in NYC a few years back and thought we were about the same height (I'm 6'-1/2".)
Jay
said on 30/Nov/05
I've met Ben Bratt and we talked for about tem minutes so I hada chance to size him up. Ben is a legit 6'2."
kenneth patrickson
said on 18/Nov/05
yeah.. 6ft0.5(184cm)tall comfirm and garantee.. while i'm 6"2 approximate 1.87cm tall while i bare foot at a beach and walk pass bratt ,his wearing an inches shoe stands at my height tall...
Brett
said on 4/Nov/05
ah yeh well Im friends with the pope and I know that he is 6'2" aswell, why bother comming on here and saying that, all I can say that, is Letterman always use to mock Julia Roberts about how Benjamin Bratt was small, and she use to go his 6'2" and then Letterman use to say, yeh yeh, yeh right. He did the same thing to her about Brad Pitt, he kept referring to how short he was, so I have no doubt in my mind, that both Brad and Ben are not as tall as they claim, Although Benjamin I reckon is over 6ft, I dont think hes 6'2".
Friend
said on 3/Nov/05
I am friends with him and he is definitively at least 6'2", tall guy
Brett
said on 2/Nov/05
To be honest he doesnt really look taller then Keanu, as hes upright and Keanu just looks like his in a daze haha (like woooah dude). So Id give him about 186cm, no more then that as I reckon Keanus more 183-184cm, as most guys who are above 6ft like at 184cm will say they are 6'1" ( like keanu does) and those above 6'1" like 186 ir 187cm will say they are 6'2". Benny boys at best 185-186cm, but I wouldnt be surprised if he less though Rob.
CelebHeights Editor
said on 30/Oct/05
In sunday telegraph, article said:
"He is tall, about 6ft 3"
Anonymous
said on 19/Oct/05
David letterman always referred to him as being small, especially infront of julia roberts when they were an item. He does this to brad pitt, among others, and he cleary does this as he feels its true, so letterman wouldnt call someone small if they were his height, would he now haha
Anonymous
said on 18/Oct/05
Saw him on Leno last night. Looked 4" taller than Robert Downey Jr. 6'?
Leno was only about 2" taller. he must be 5'9-10".
Xhamlliku
said on 1/Sep/05
6-2 no way, seen pics of him with julia and she about 1 inch shorter (no hi heels)
Anonymous
said on 13/Jun/05
Not 6 feet 2. He's commonly listed at 6 foot.