Bo Svenson's Height
6ft 5 (195.6 cm)
Swedish Actor best known for the original Walking Tall, The Inglorious Bastards, The Great Waldo Pepper and Heartbreak Ridge. In the 1970's described 6ft 5, for instance 1976 lima news,
"If you're 6-foot-5 and weigh 225 pounds"
.
Look, I'm stuck. I'm 6 feet 6 inches tall and I weigh 235 pounds.How many people are going to hire me to play an intellectual? I love Shakespeare. I've studied Shakespeare, but it doesn't do me any good.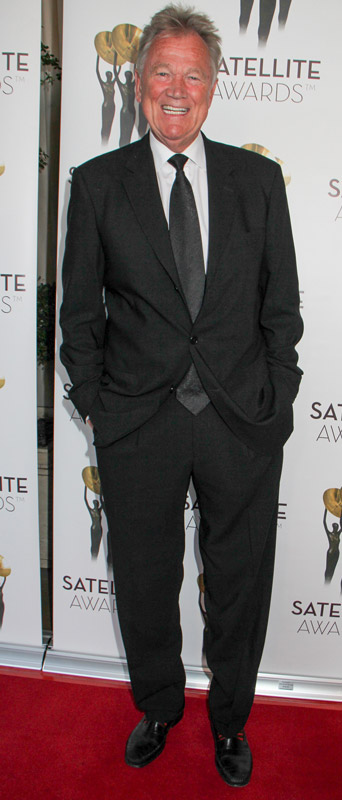 Photos by PR Photos
My size is a more difficult problem. Robert Redford didn't mind I was taller than him in 'Waldo Peper.' I respected him for that. Redford is secure and knows what he can do. There's no way I can compete with his looks. But I've been eliminated from lots of roles by actors and actresses who are intimidated by my size.
I did a Western once and was amazed to see the other actors in the cast growing taller as the production progressed. Day by day they seemed to inch up a little at a time.
Half way through the picture I discovered they were stuffing paper towels in their boots. They were leaning so far forward in their toes they looked like they were walking into a stiff wind.
At least Cybill Shepherd was delighted to work with me...She's a tall girl and was able to wear high heels for the first time in a movie.
- Valley News, 1977
You May Be Interested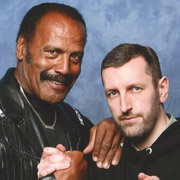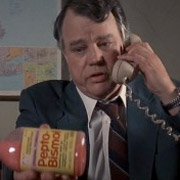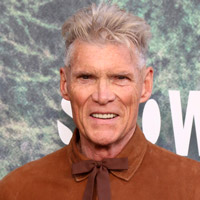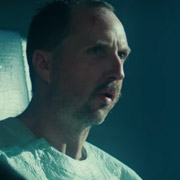 Add a Comment
104 comments
Average Guess (7 Votes)
6ft 5.5in (196.9cm)
Tall Sam
said on 19/Oct/20
Interesting find, Hyper, I've always contended that Bo looked a little too tall for 6'5" flat. I could see him matching folks like Howard Stern and Rory McCann but edged very slightly by Bo Burnham and Kevin Durand.
Hyper
said on 17/Oct/20
Rob, maybe 6'5.25"? Look at him with peak Muhammad Ali. —
Click Here
Svenson looks taller than Michael Jordan, next to Ali. —
Click Here
I seriously can see a very strong 6'5", if not close to Bo Burnhum or Ralf Moeller.
Tall Sam
said on 24/Jun/20
He was really talented at playing cruel, rageful characters, per his comments, wonder how he would do with a meaty character like Iago. I'd be surprised if at peak Svenson would've been shorter than Rory McCann.
Rampage(-_-_-)Clover
said on 31/Dec/19
A bit over 6ft5 peak I think. Same neighborhood as Stern, Burnham and Rory McCann
Mon
said on 25/Jun/19
Bo probabally was handicapped with his height, given that he was a really good actor. I wonder if he (or his agent) maybe wasn't losing an inch, thinking he would get less work with A list actors if he was truthful. My recollection is he looked the equal of Clint Walker in some scenes of Snowbeast.
Joe Don Baker was the original lead of Walking Tall. Bo was in the two sequels. In a still from Walking Tall Final Chapter he dwarfed Forrest Tucker to an unbelievable extent. A very strong 6'5'' at LEAST.
Canson
said on 5/Jun/19
Peak 6'5 maybe 6'5.25. I can't see him below solid 6'5" peak
Junior Hernandez 1990
said on 4/Jun/19
Talking about peak height, Bo could be 6'5 1/2 round up 6'6 claim and rounded down a few times at 6'5. 6'5 could be now.
berta
said on 9/Mar/19
average guess is probably what he measured. beetween 196-97
Tall Sam
said on 26/Nov/18
Any chance you'd upgrade Bo's peak height, Rob? I agree that 6'5.25" might be a better fit for him, just by his appearance near John Matuszak.

Editor Rob
I've not decided on that, but he is a possible solid 6ft 5 and change guy.
Dream(5'9.5")
said on 15/Nov/18
@berta
Agreed. I do see 6'5.25" for Bo Svenson, just like the other Bo: Bo Burnham.
berta
said on 14/Nov/18
Yeah Dream Bo was never under 196 cm at his peak. I Believe he was 196-197 range. Nick nolte looks like child beside him at 183-184 cm( but he is barefoot)
Dream(5'9.5")
said on 8/Nov/18
@Canson Honestly, I actually think Bo Svenson is 'underlisted.' After seeing Svenson with John Matuszak, 6'5" flat seems low.
Dream(5'9.5")
said on 5/Nov/18
I agree Rob. I would say John would still be taller than Bo (Svenson), but this is my opinion: (I'd be surprised if Svenson was ever 'under' 6'5", and I wouldn't be surprised if he was over 6'5".)
I'm still amazed Svenson was able to nearly match Matuszak in height, and that's taking into account Svenson is standing further away from the camera by a lot.
Dream(5'9.5
said on 2/Nov/18
Rob, you might want to check this out.
Here's Bo Svenson with possibly strong 6'7" John Matuszak. Bo only looks an inch shorter. (1:23 seconds in the video. Svenson isn't standing at his tallest, but so is Matuszak.)
Click Here
Here's another clip with Bo Svenson and John Matuszak. In the second clip, Bo Svenson actually has a 'massive disadvantage' in camera favor, and he nearly matches John Matuszak. John edges him out, but slightly.
Click Here
What do you think Rob?

Editor Rob
Neither were standing fully tall, but it's hard to say exactly if there was near 2 inches or not.
Dream(5'9.5
said on 27/Oct/18
Rob, maybe a slight upgrade to 6'5.25"? I think he could be height twins with the other, Bo: Bo Burnham.

Editor Rob
It's a possible case for him.
Canson
said on 2/Oct/18
@Dream: I can see that! Def not under 6'5" for sure
Dream(5'9.5")
said on 29/Aug/18
@Canson Agreed! I would be shocked if Bo Svenson fell under 6'5" even on a bad day! I'd say an upgrade 6'5.25" would be better. I mean, he matched or some times edged out Clint Walker. (Though that maybe the camera tricks doing its job!)
Canson
said on 26/Aug/18
@Dream: maybe a strong 6'5" like Klitschko or Burnham or he may lose the full inch and go from 6'6 out of bed to 6'5 at a low. I would have a difficult time seeing him sub 6'5 however even at a low in his peak
Canson
said on 25/Aug/18
@Dream: it still is to many people. They assume 6'3 guys are 6'5. So much hasn't changed since people claim their shoes more today than back then
Dream(5'9.5")
said on 24/Aug/18
6'5.25" like the other Bo (Bo Burnham).
Back in the day, 6'5" was 6'7".
berta
said on 23/Aug/18
i think we all can agree that bo was taller than a guy like vince vaughn!!!! i really think he was 197 cm while a guy like vince was 195,5.
Dream(5'9.5")
said on 4/Aug/18
Two Bo's and both of them are strong 6'5" guys.
6'5.25" really sounds like the best listing for this guy. In the film, Snow Beast, Bo Svenson did match Clint Walker in height or some times edged him out.
Dream(5'9.5")
said on 4/Aug/18
Two Bo's and both of them are strong 6'5" guys.
6'5.25" really sounds like the best listing for this guy. He did match Clint Walker in height or some times edged him out.
Miiiiiiighty_-
said on 22/Jul/18
@MrTBlack Except very tall ones, like James Cromwell, or especially tall actresses ( and even tall girls in general ).. Regular girls because they have complexes because of their height, and tall actors/actresses because they know that the sheer number of their height on a profile can disqualify them from even being cast for many roles...
Dream(5'9.5
said on 7/Jun/18
Could I argue 6'5 1/8" for Bo Svenson, just like the other Bo (Bo Burnham)?

Editor Rob
Yes it's possible he was a bit over 6ft 5.
Canson
said on 24/Apr/18
@MrTBlack: agreed!
berta
said on 23/Apr/18
i think this guy and ralph moeller was same height. 197 guys.
MrTBlack
said on 15/Feb/18
@Canson
Yeah I'm sure the 6'4" was fabricated by an idiotic guy on the web. I think overall Svenson is probably a fraction over 6'5" or 6'5.5" but I'm not too sure about the 6'6" or even 6'7" estimates on him.
Canson
said on 13/Feb/18
@MrTBlack: he may have shrunken a bit. That surely is odd tho. He to me looks around 6'5". I think he's closer in height with Christian than he would be with me to be honest
MrTBlack
said on 12/Feb/18
@Canson
That's another possibility. I remember Svenson being listed as 6'4" as well which is interesting because most actors are listed higher than their real height.
Canson
said on 11/Feb/18
I agree with MrTBlack. Maybe a strong 6'5 like Nonso. Or could be a guy who loses an inch in a day from 6'6" to 6'5 or a bit over. But he really doesn't look like the height of Bill Deblasio. Looks more Victor Williams Height or Howard Stern Peter Hermann
MrTBlack
said on 10/Feb/18
Hey Rob from what I've seen I think at his peak he'd be another 6'5.25" guy and 6'6" is his morning height just like Nonso Anozie?
Arch Stanton
said on 13/Sep/17
Click Here
With Ali and Travolta there this does look more accurate than 6'5.5-6'6. Standing his best I think a smidge over 6'5 isn't impossible though.
Arch Stanton
said on 13/Sep/17
Mm didn't look over 6'5 with John Travolta though.
Arch Stanton
said on 13/Sep/17
Is 6'5.25 or 6'5.5 peak really that unreasonable? Looked more than 6.5 inches taller than Redford.
Editor Rob: he was described as 6ft 5.5 in late 70's, I've seen that mentioned before...always a chance he could have been between the 2 figures and sometimes rounded up.
Arch Stanton
said on 13/Sep/17
Rob can you add The Great Waldo Pepper? He did look a decent 6'5 with Robert Redford in The Great Waldo Pepper. 6'5.25 isn;t impossible for peak.
anonymous
said on 8/Apr/17
At least 6'6 way back in the early 70's which would have been peak height time. In "Big MO" 1972-3, he was so much bigger than Bernie Casey who was NFL Database 6'4 215 he was like 3 inches taller.
berta
said on 17/Mar/17
rob maybe giving him half inch more could be a better listing? dont think he was shorter than me at peak
Anonymous
said on 25/Dec/16
Was listed on this very site as being 6'6.5 years ago. Rob,..wondering where that very specific listing would have come from? Also I saw him called 6'7 on some circus of the stars episode back in about 78-79.
Editor Rob: he was added at 6ft 6.25 in 2004.
berta
said on 19/Oct/16
this is the absolute smallest he was. i think he was between his claims
LoganNoll1996
said on 20/Dec/15
Seems as though almost everyone on here is convinced he's 6'6". Seeing him in Snowbeast(great movie by the way), he towered everyone except Clint Walker who was 6'6" himself. 6'5.5" is as low as I would put him but I agree with the 6'6" listings.
Sam
said on 2/Dec/15
As I've said before I think he was a bit over the 6'5" back in the day...any chance you'd split the difference between his claims Rob?
Sam
said on 31/Mar/15
This is one of the few guys who claims 6'5" who is slightly downgrading rather upgrading himself. I believe at peak he'd be somewhere between the 6'5" and 6'6" marks.
Sam
said on 13/Nov/14
Actually, I agree with KROC, when straightened up Svenson and Clint Walker seem roughly equal.
Click Here
Sam
said on 11/Nov/14
I'd bet he'd be very similar size to Clive Mantle, I think a 6'5.5" listing would be better for Svenson.
MrTBlack
said on 11/Nov/14
I believe he's around 6'6". 6'5" isn't totally out of the equation but the 6'4" listing is ridiculous.
KROC
said on 23/Apr/14
Looked the same height as Clint Walker in the movie SnowBeast. 6'5 it is.
Sam
said on 24/May/13
I actually think at peak he was 6'5" and change, if not a full 6'6". Looking at him next to other actors and I believe he was taller than myself (6'5"). Next to pro footballer turned "Sloth" John Matuszak in North Dallas 40, who I believe had a verified 6'7" height in his football days, there is not much height difference between Matuszak and Svenson there.
Stark
said on 23/May/13
Bo is at least 6'5". If you've seen him in North Dallas 40, he towers over Nick Nolte who is six feet.
tstark
said on 8/Feb/13
He's every bit of 6'5". He could pass for 6'6", though he's definitely one of Hollywoods big men.
A-Jax
said on 24/Nov/11
He has to be taller than that. Rob, all though that article said 6'5", I really think we should put him at 6'5 1/4 even then that underestimating this guys height. He's like 6'6" at least.
LAN Jiao
said on 6/Nov/11
peak 6'4.5-6'5 , now probably 6'4.
greg
said on 15/Jun/11
made some nice clips for Bo on my youtube page, I'm 5'8 and he is at least a full head taller, really nice guy to work with, still working too!!
greg lewolt youtube page
Sam
said on 31/May/11
Compared to guys slightly over 6 feet like Nick Nolte or Quentin Tarantino, this guys just looks towering. I think he's downplaying his height to 6'5". I think 6'6" or 6'6.5" is probably closer to true peak height.
TERRY
said on 25/May/11
SERVED WITH HIM IN CUBA DURING THE CRISIS. HE CAME IN TO MY UNIT AND LEFT IN A SHORT TIME. THIS WAS A COMMUNICATION COMPANY.
THE LAST TIME I SAW HIM HE WAS WORKING IN A MENS CLOTHING SHOP IN JACKSONVILLE NC. RIGHT OUTSIDE CAMP LEJUENE. COULD HAVE BEEN A PART TIME THING, NOT SURE.
AGAIN, HE WAS ONLY IN THE COMPANY A VERY SHORT TIME. NO ONE SEEMED TO GET TO KNOW HIM AT ALL. BUT, HE WAS TALL, NOT SURE OF NUMBERS THO. I'M 6FT, HE WAS TALLER THAN I WAS, IF THAT MATTERS AT ALL.
Danno
said on 30/Mar/11
I heard that he was once 6'6"!
Don't know if that is true, but 6'5" is tall itself!
Danno
said on 13/Mar/11
Joe Bob is absolutely right. We were watching the episode with Merlin Olson as the guest star and when Bo Svenson stood next to him, I couldn't believe the difference. Bo is one tall guy!
nick
said on 8/Mar/11
I know Bo...he's still huge even in his 70's he' atleast 6-5 now. Im 6-2 and he dwarfed me. Great guy.
V.C
said on 9/Feb/11
Bo is over 6'6" because he is slightly taller than Tom Selleck, Fred Dryer and Clint Walker. He obviously 6'6" or 6'6.5" without shoes & probably 6'7" with shoes. I recalled Tom is 6'4", Fred & Clint are both 6.5".
Shadow2
said on 18/Dec/10
In the "Hunter" episode, Svenson and Dryer are exactly the same height facing each other, but Svenson seems to be wearing cowboy boots and Dryer normal shoes. This was one of the very rare scenes in "Hunter" where Dryer's 6'6" character met an adversary equal to him in height.
Greg
said on 7/Jul/09
Bo lived in my area (Sunshine Coast-B.C.) Canada a few years ago.While standing in line on a ferry for coffee one morning,my buddy 6ft.4in. was 2 inches shorter than Bo.He towered over most people around here.
thekiddd
said on 13/Jun/09
Last time I checked, Rob had him at 6. But now 6'1" for his peak? That's still debatable IMO. I'd say 6 in his peak. About 5'10 1/2 or 5'11 today.
Anonymous
said on 7/Jun/09
I don't think that 6'1 is out of line for a young, 1970's (The Deep) Nolte. Given the fact that he is always bantered about between 6'0 and 6'2. I understand that he played some Junior College football and was listed at that.
thekiddd
said on 25/May/09
Nolte isn't 6'1".
Anonymous
said on 29/Apr/09
He was in the Marines for 6 years. When he came out and went into acting he was listed at 6'6.5. That would seem to indicate his service height. He completly toward over 6'1 Nick Nolte.
Anonymous
said on 25/Apr/09
Boris was 6'6
Anonymous
said on 6/Jan/09
He is written about as being 6'6 in the Synopsis of NBC's 1978 Battle of the Network Stars. Also he is put at 6'6 in similar write ups about 1973's Walking Tall, and 1977's Snowbeast. At other Height sites, he is put at 6'6 1/2.
Anonymous
said on 27/Sep/08
He was put at 6'7 for a long time, that was probably rounding up, but that means he was a little over 6'6.
Anonymous
said on 12/Sep/08
6'6.5 That height was listed for a reason.
thekiddd
said on 30/Aug/08
Rob, this guy has to be taller than 6'5". Just put him at 6'5 1/4" if not 6'5 1/2". He was more than an inch taller than 6'4" Selleck in season 3 of Magnum PI and the same height as Clint Walker. But maybe he just said 6'5" instead of 6'5 1/2" because people will sometimes go to the lower half inch instead of the upper half inch.
Anonymous
said on 25/Jun/08
I saw back in the 70's when he was on some sort of Circus of the Stars thing and was doing a car stunt that the announcer said he was 6'7 230. I don't think he was quite that big but he was close.
Anonymous
said on 4/May/08
Gotta give this guy 6'6. He was about a half a head taller than 6'2 Quintin Tarritino. I hear that he was measured at 6'6.5, that's being pretty precise to be inaccurate.
Anonymous
said on 3/Apr/08
In the movie Snowbeast, he and Clint Walker are standing together and there is no difference between them. If you know anything about Clint Walker then you know how tall that is. 6 foot 6.
Anonymous
said on 19/Mar/08
I really think that Svenson was 6'6 at his peak, he was always more than just a little taller than the 6'4 guys he acted with like Selleck,Casey,Eastwood,Frazier ect.
thekiddd
said on 11/Mar/08
You know Rob. I think it might have been just a small estimate about the 6'5". He did look alot taller than Tom Selleck as a guest star in Magnum PI. He could be 6'5 1/2" and just used 6'5" as an estimate.
Anonymous
said on 1/Dec/07
Svenson was in his prime at least 6'6+ and 225+. And maybe as much as 6'7 235. In Big Mo, 1973, he was way bigger than 6'4 215 Bernie Casey.
Anonymous
said on 25/Nov/07
Svenson was no less than 6'6, maybe a hair more.
Anonymous
said on 12/Nov/07
He was one of the rare star/celeberties who pooh-poohed his height a good inch. Almost all male celeb's give themselves at least an inch. When he was young he was 6'6+ but called himself 6'5. When he got real old and shrunk up to about 6'5+ he called himself 6'4. Almost all of the celeb's who call themselves 6'3 or 6'4 are about an inch or more less than that. Bo was a guy that the 6'4 guys looked up at.
Anonymous
said on 8/Nov/07
I think the 6'6 1/2 listing was right. Just watched Heartbreak Ridge with 6'4 Clint Eastwood. In the bar scene Bo is standing next to Mario Van Peeples and towers over him, about a minute later things move outside and Clint is standing next to Van Pepples and is not nearly as much taller. He is about a spot on, 2 1/2 inches less taller.
Anonymous
said on 2/Nov/07
I don't think he was quite 6'7 but, no less than 6'6. maybe 6'6.25-6'6.50.
Anonymous
said on 17/Oct/07
I did look at the BIG MO pictures and he was 6'7. He was 3 inch taller than Bernie Casey, no less. Casey is looking up at him.
Anonymous
said on 14/Oct/07
A perfect way to see how tall svenson was back in his prime in the 70's is to look at some still shots of him and Bernie Casey in their basketball attire from the the movie 'Big Mo' from 1973. Casey was a very sucsessful actor who played 'Big Mo', and was a star N.F.L. pro football player for years back in the 60's for the San Fransico 49ers and the L.A Rams. He is listed by the offical databasefootball.com as 6'4 and 213. In the two still promotional photos from the movie the two are standing shoulder to shoulder basically in a stairdown. The best thing about the photos is that they have the same uniform on and the photos go from head to toe and you can see that they have the same shoes on, so everything is equal. Rarely is a photo so imume to angels and footware ect. Svenson towers over Casey minimum 2.5 inches and more like 3 inches. I can see why Svenson has been put at 6'6 1/2 because he is at least that and maybe 6'7. Also Svenson looks at least 15-20 lbs heavier than the 215 lb Casey. Svenson was 6'6 1/2 to 6'7 230-235 back in the 70's. I think the 6'5 stuff comes from what he says he is today, which is possible because he is a 66 yr old man, a shadow of his former self.
Anonymous
said on 11/Oct/07
I've seen Quintin Tarritino put at 6'2 1/4 and is said to be one of the tallest directors. If that's true, then Svenson must be about 6'7.
Fred
said on 15/Sep/07
thekidd, You say that their is as much as a 7" difference between Svenson and Carradine, and you say Carradine was 6'1. That would put Svenson at 6'8 in the boots. Which would mean that he was probably at least 6'6 without them, but you say he was not a 6'6 guy. I just see some conflicting there.
tops
said on 4/Sep/07
He was 6'6 and about 240. He was about the same height as Doug France(alcie Weeks)in North Dallas Forty, who was the guy who was beating him on every play in the big game before they broke his leg. France played for the LA Rams and is listed by the NFL as 6'6 270, Although there are some 6'7 listings of him.
fp
said on 18/Aug/07
I've seen pictures of him with Quentin Tarantino from Kill Bill, he looks about 5" taller. Tarantino Height is always put at 6'1 - 6'2, usually 6'1.5 footware seemed the same, Hard not to put him at 6'7 when he was young, because he would be 6'6-6'7 now even according to those pictures, and he was a senoir citizen in Kill Bill, he's 69 now.
thekiddd
said on 18/Aug/07
Here is one thing I did notice on Svenson. In the Kung Fu episode "The Spirit Helper" You see him next to Carradine. It does look like a 6 or 7" height difference, but Carradine is 6'1" ( I know he is listed as 6' but I think he is 6'1") And he was barefoot. As Svenson was wearing really big boots to make him look very tall when he really isn't that much taller than him. So he wears big shoes that is why he looks like a 6'6" plus guy.
thekiddd
said on 1/Aug/07
This guy really has a way looking very tall. I remember previously on this site, even Rob thought he was at least 6'6". I guess he found a quote from the 70's saying he was 6'5" so he got changed to it. If someone's height is quoted in the times, the subject is automatically dropped, period.
Paul
said on 28/Jul/07
SN, Clint Frazier was listed at 265 by the NFL.
jake
said on 28/Jul/07
Soild 6'6. I always thought that Clint Walker was about the biggest, most impressive actor from back in the 60's & 70's. I thought that nobody was as big as him, but I've seen some still shots of him and Bo Svenson on set behind the scenes from back in the mid 70's and much to my surprise Svenson was about the same size in both height and physical build(broad shoulders ect). The fact that he was as tall was'nt so suprising, but I did'nt know he was that bulky too. Now I'm sure that Walker was more chisled out and had a little more of a weightlifter look, but again, Svenson looked just as broad and looked to weigh about the same, which was surprising because I've seen Walker's weight listed at between 235-270. Svenson was a monster back in his day.
DOW
said on 7/Jul/07
I saw him and Fred Dryer together in L.A. in the early 80's, they looked like they could be brothers. They were about the same size, although Svenson was a little taller, 1/2 inch or so, and a little heavier, 10 lbs.
SN
said on 1/Jul/07
I think he was 6'6, in North Dallas Fourty he looked about 2 inches bigger than Cliff Frazier (Monroe) Who played football for UCLA, Kansas City Chiefs, Philadelphia Eagles, and was listed at 6'4 260.
Anonymous
said on 27/May/07
I think Svenson was about 6'6" and 230. Back in the late 60's early 70's it was said that Svenson was the 2nd tallest leading man in Hollywood behind James Arness, about a half an inch shorter, and nobody even seems to debate that Arness was 6'6 1/2 to 6'7". In the movie Snowbeast Svenson stood the same height as Clint Walker who was 6'6' and 245.
Kid-Icarus
said on 16/Apr/07
He can appear taller than 6'5" but I really think he isn't. 6'5" is the truth for when he was younger. It did say 6'4" on some site but I think they shaved off an inch right there.
Pat
said on 24/Feb/07
I ran into Bo Swenson in Rome about thirty years ago. He was drunk and carousing. I recognized him and called out to him. I believe I called him Sven Boson. He came over and asked me if I knew him. I said no and he lurched away down the Via Veneto. I thought at the time he was supposed to be 6'7". He had been in a movie "The Great Waldo Pepper" with Robert Redford where he dwarfed little Bob. I think they were adding to Bo's size to explain Redford's alarming size on screen.
Svenson looked me in the eye. I'm 6'4". He might have been as much as 6'5" but not 6'7".
BTW Redford also made a film around that time called "Little Fauss and Big Halsy" in which Redford played Big Halsy. Michael J. Pollard who was in fact bigger than Redford played the "little" guy.
The studios were pushing Redford as a romantic, action lead. It didn't help his image much when he played next to Svenson. It would be like Alan Ladd working with John Wayne.
sam
said on 12/Sep/06
Tarantino is 6'1.5", according to this site. He has passed for 6'2" in the past, but 6'3" is way too tall a listing for him.
thelasttiger
said on 12/Sep/06
Tarantion is 6'1 right? all though he is listed as 6'3" all the time. So even if Tarantino was 6'3" it's more than a 1 inch difference. Bo might be 6'5 3/4" but I wouldn't even go as low as that. He is more than 6'5".
sam
said on 11/Sep/06
Svenson looks about 5 inches taller than Tarantino, which would make 6'6.5" about right.
thelasttiger
said on 10/Sep/06
Someone has to convice imdb he is at least 6'6" if not 6'6 1/2. 6'4" is a laugh
[Editor Rob:
first mention I can see of svenson is 1977 Chronicle Telegram, describing him 6ft 5.

Bo and Quentin Tarantino
]
wavemaster
said on 10/Jun/06
Whoever said he was 6'4" is an idiot.
Anonymous
said on 9/Jun/06
How interesting that all the bios on him say he is 6'4. He sure looks taller than that.
Leon
said on 2/May/06
He's probably a shade under 6'7.
sam
said on 25/Apr/06
Yeah, Matuszak looked about an inch or so taller than Svenson. Svenson's definitely more than 6'6" (not 6'4"!)
sage
said on 8/Nov/05
He stood eye to eye with Clint Walker in the movie "Snowbeast". Neither guy was taller than the other.